++++++++++
–
For a list of daily Santa Fe area events
–
++++++++++
Statement from Bandelier National Monument on the Resumption of Full Operations 
Los Alamos, NM – With the enactment of the continuing resolution, staff at Bandelier National Monument will resume regular operations on January 30, 2019. Winter Visitor Center hours are, once again, 9am-5pm. Currently, staff is working diligently to safely clean sidewalks and trails of ice and snow that accumulated during the 5-week federal government shutdown. "Warmer days and cold nights have left a dense blanket of icy white on everything. For the safety of park visitors, clearing the trails of hardened snow and ice is imperative before the park can reopen," stated Superintendent Jason Lott. Please visit www.nps.gov/band for updated information about the park.
When venturing back into the park, the public is asked to stay vigilant as many areas may remain snow packed and icy. Hikers should be aware of current winter conditions and plan accordingly. Know the limits of your abilities and carry the gear necessary to enjoy the beauty that winter brings while enjoying Bandelier's winter resources safely.
Bandelier's employees are happy to be back at work, serving the American people and welcoming visitors to their national parks. Please visit www.nps.gov/band, call the Visitor Center, 505-672-3861, ext. 517, or visit Facebook, BandelierNPS, for updated information about the park.
###
About the National Park Service. More than 20,000 National Park Service employees who care for America's 418 national parks and work with communities across the nation to help preserve local history and create close-to-home recreational opportunities.
++++++++++
Statement from Pecos National Historical Park and Fort Union National Monument
Pecos is reopened once more. We anticipate being open our regular schedule from 8:00 am to 4:30 pm seven days a week until Memorial Day, when our park and visitor center hours will increase.
Thanks and we look forward to seeing you sometime soon!
(For more information call: 505-757-7211)
Eric Sainio, Lead Interpretive / Education Ranger
Pecos National Historical Park, P.O. Box 418, Pecos, NM 87552-0418 
"National parks are the best idea we ever had. Absolutely American, absolutely democratic, they reflect us at our best rather than our worst." 
-Wallace Stegner

++++++++++
WESST Celebrates 30 Years of Impact
2019 marks the 30th anniversary of WESST's impact in NM and we are celebrating all year long! Due to the generosity of an anonymous donor, WESST will make twelve $1,000 investments in client businesses to recognize the contributions these businesses make in their communities every day. We will also highlight a number of individuals, businesses and organizations that demonstrated a key role in WESST's growth over the past 30 years in our "30 Faces of WESST" feature.
Many thanks to our 30th Year Anniversary Sponsors: Affordable Solar, Garcia Automotive Group, New Mexico Gas, PNM, Presbyterian, Southwest Capital Bank!

For more information:

Region Contacts
Albuquerque»
Kris Crowell, Regional Mgr.
505-246-6900
Farmington»
TBD, Regional Mgr.
505-566-3715
Las Cruces»
Humberto Hijar-Alvídrez, Regional Mgr. 575-541-1583
Río Rancho»
Brad Crowson, Regional Mgr.
505-892-1238
Roswell»
Rhonda B. Johnson, Regional Mgr.
575-624-9850
Santa Fe»
Bette Bradbury, Regional Mgr.
505-474-6556

Click map for detailed view
++++++++++
++++++++++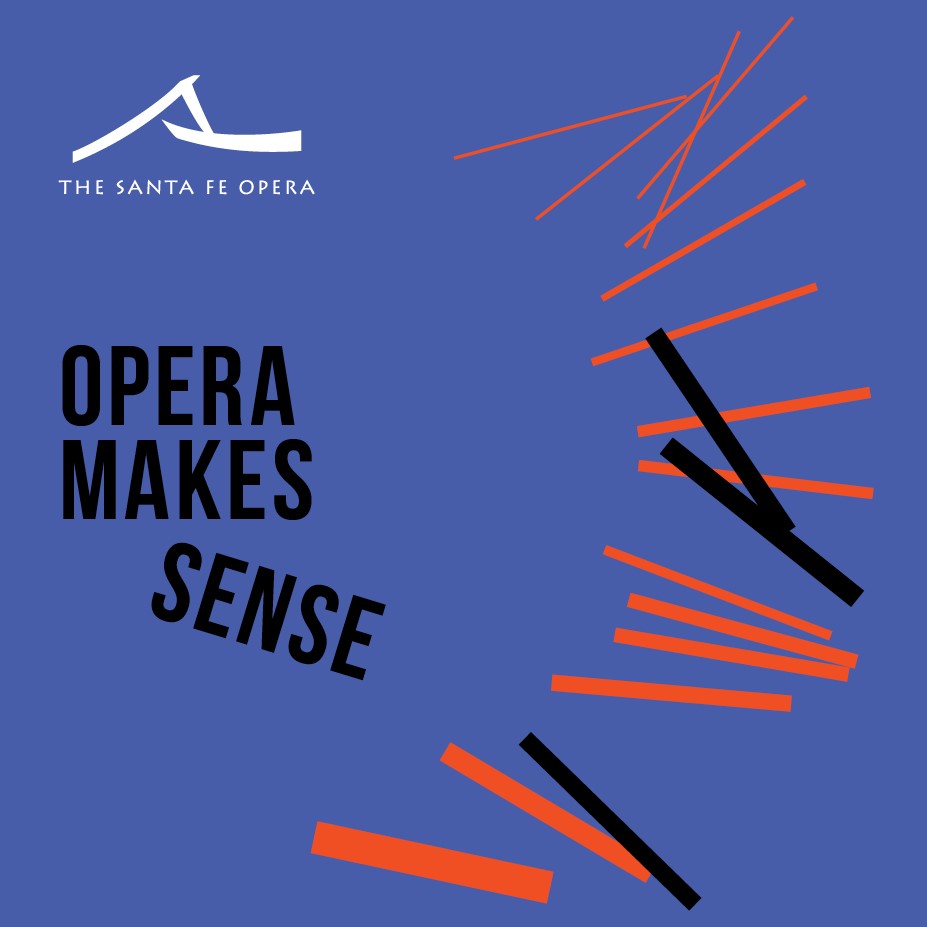 Created just for children ages 3 to 5, to explore the world of opera through a variety of activities and games addressing different developmental levels of toddlers. Participants move from one station to another based upon their personal interest level. Through poetry, songs, music and dance, with costumes and art activities related to scenery and props – opera is translated through the five senses.
Saturdays, 10:30 am -12:00 pm
February 2 – Main Library, 145 Washington Ave
February 9 – La Farge Library, 1730 Llano Street
February 16, 23; March 2 – Southside Library, 6599 Jaguar Drive
Free event, no reservation required….!
In partnership with:


Principal Education Sponsor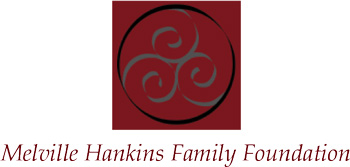 ++++++++++
–
2019 Mar 06 – May 08

Business Building Series
FREE….!
WESST SFE is launching an exciting  Free "Business Building" Series in Espanola beginning on  March 6, 2019 that will run thru May 8, 2019.  We will begin with Etsy and additional workshops will include  business and Personal Financials, Instagram, Facebook for Business, Cash Flow Management, Basics of Marketing, Pricing for Profit and QuickBooks for Beginners.
Roseanna Perea
Program Coordinator
WESST Santa Fe, 3900 Paseo Del Sol, Suite 351, Santa Fe, NM 87507
For more information call: 505-474-6556
Connect with WESST …..!
++++++++++
2019 Apr 04
A Conversation with Dr. Greg Valerio of the British Isles
and Pueblo Indian Elder, Larry Littebird
Thursday, April 4 | 7:00 PM
South Broadway Cultural Center
1025 Broadway SE, Albuquerque, New Mexico
Listening Ground presents a special engagement with
Dr. Greg Valerio,
founder of a
Celtic Monastic community
on the South Downs of England, near the mythic Neolithic Chanctonbury Ring. Dr. Valerio will join Pueblo Elder/Master Storyteller,
Larry Littlebird
in a timely spoken word conversation
Walking Backward into the Future.
 Exchanging stories rooted in the ancient wisdom traditions of the indigenous Celtic people and tribal American Indians they illuminate historical layers of racial injustice, settler colonialism and climate disruption. Set apart by land, water and time, they offer a fresh look into our human connections, one to another and to God as Origin. Embarking on this migratory journey of healing and forgiveness, they ask us to join them in charting a way toward peace, justice and reconciliation.
–
++++++++++
2019 Apr 06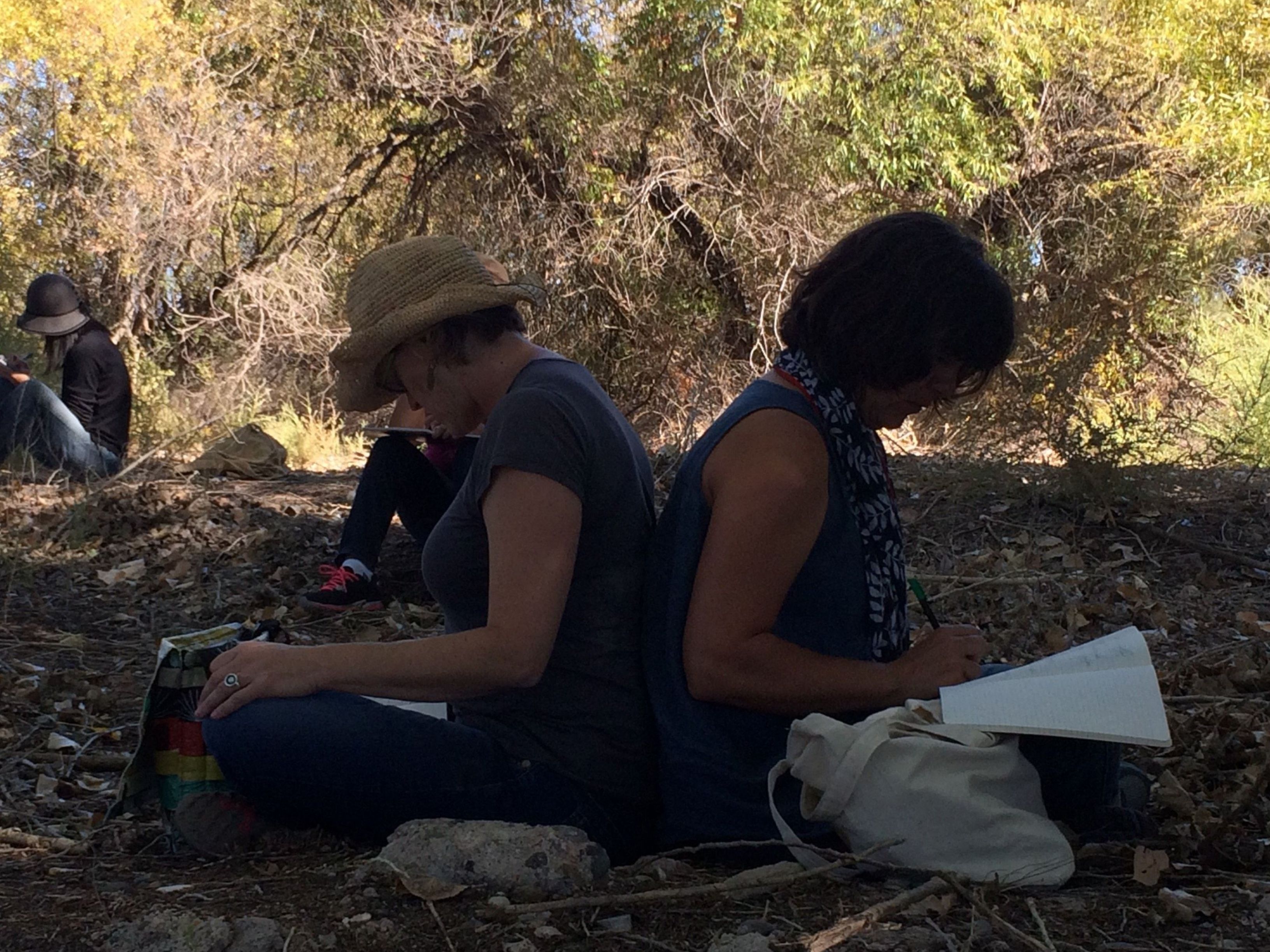 The Path Forward

The Path Forward in Challenging Times: Building Resilience through the Practice of Awareness is our collaborative workshop with The Sky Center that invites educators and service professionals to practice reflection and awareness. Working together, we will find practices that help us respond rather than react to school and community based challenges while enriching our experiences of life and capacity for reflection.
The Path Forward is a one-day workshop gathering on Saturday, April 6th from 9am to 4pm.
Upcoming Events
Facilitated by Lisa Faithorn and Marianne Murray
Here and Now explores ways to be present through reflective and somatic practices.
The workshop asks what helps you to stay present when you're confronted with uncertainty? Together we'll experience practices and share resources for being in the here and now.
Join us for a free Evening of Exploration on Thursday, April 18th at 6:30pm.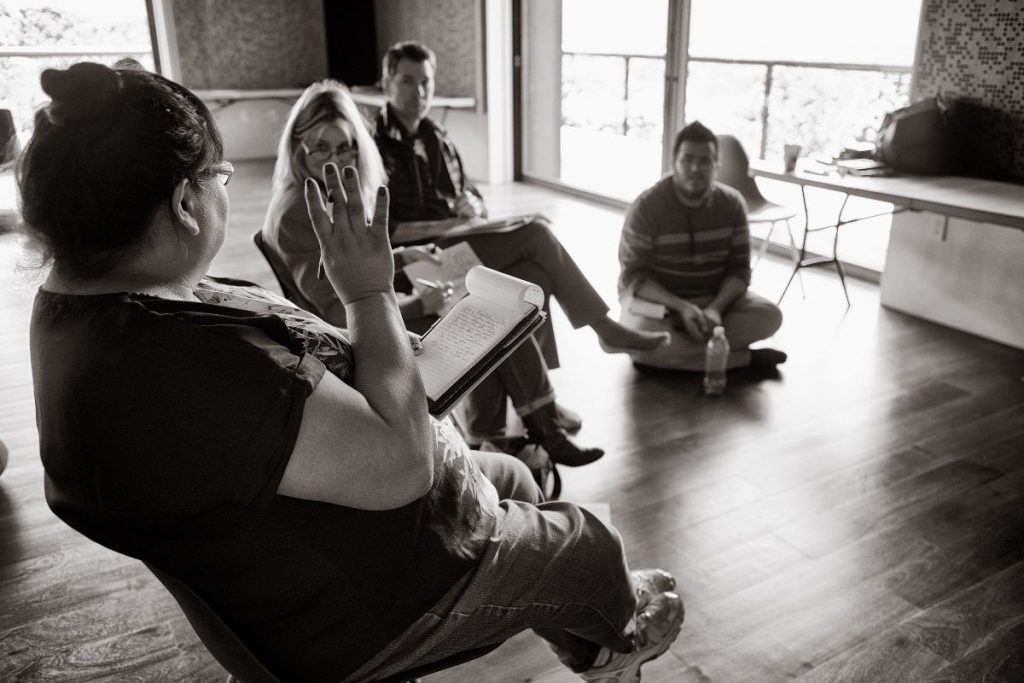 Facilitated by Aaron Stern and Chrissie Orr
The Power in Story Series,
designed by Chrissie Orr and Aaron Stern, explores how story lives in self, community, and the larger systems in which we are all situated.
Intensive 1 is a stand-alone workshop offered on May 3rd-5th and a prerequisite for continuing the series.
Learn more about the transformative nature of story in an interview with Chrissie Orr.
For more information on upcoming Academy events please call: 505-995-1860
++++++++++
–
2019 Apr 18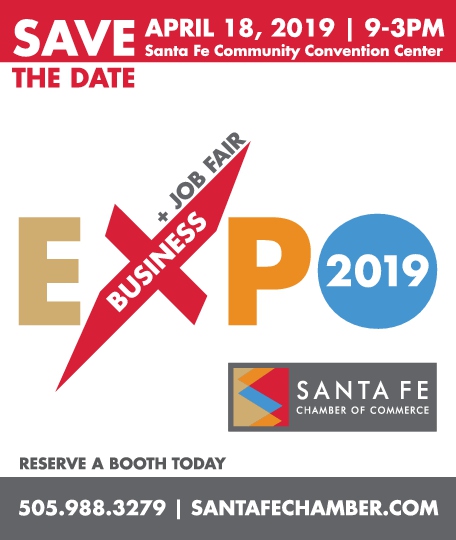 ++++++++++
–
2019 May 04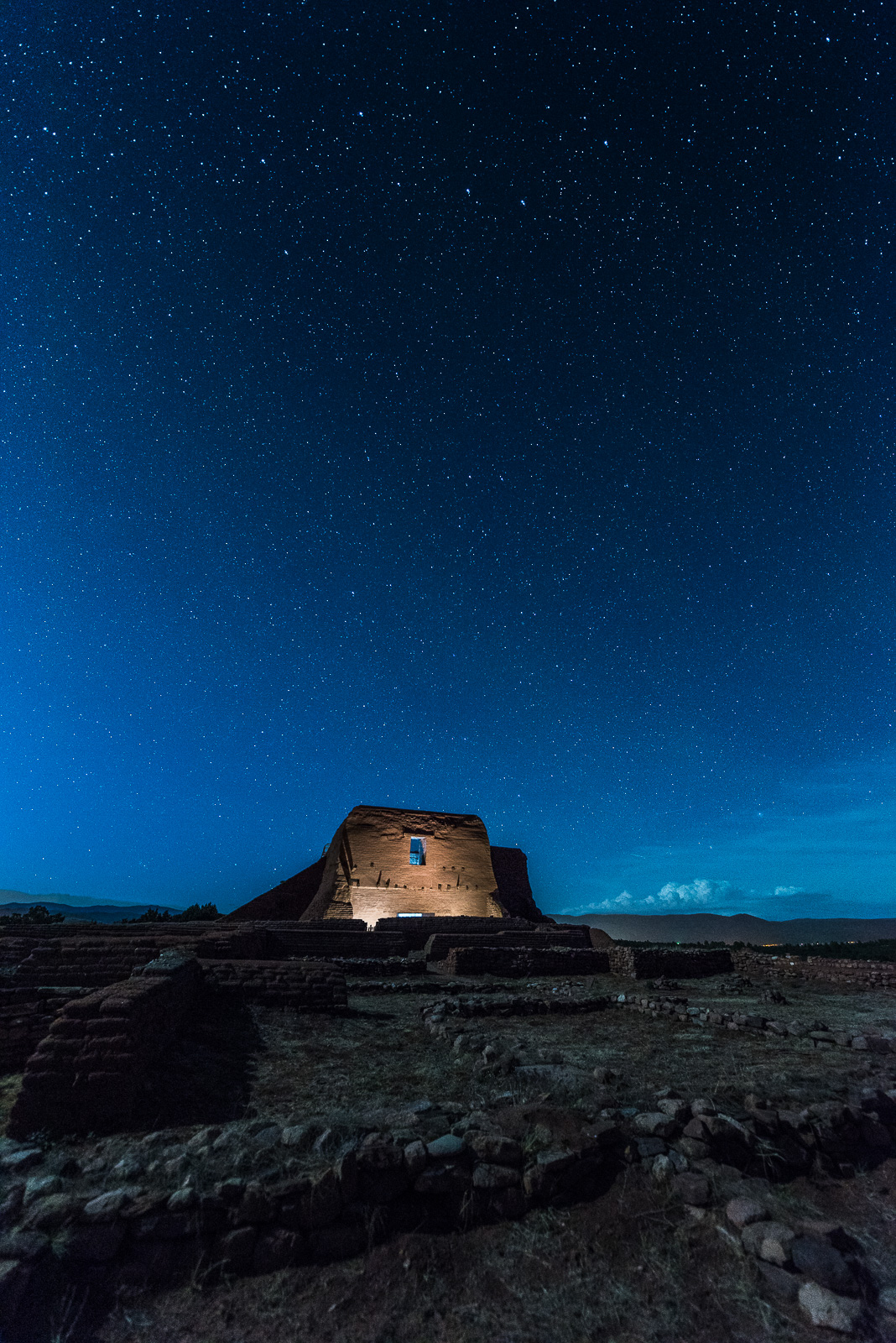 Photo by Stan Ford, © 2018p
by Stan Ford, c. 2018–
Starry Nights at Pecos
–
Pecos, NM:– Join us for an evening under the wonderful Western sky on Saturday, May 4th at Pecos National Historical Park near the 18th century mission church.
Brass Band Music and Night Sky Viewing 7:30 p.m. – 10:30 p.m. Kick off the evening with the Santa Fe Brass Quintet as they perform a star-themed 30-minute music session at 7:30!
Afterwards, park staff will bring out telescopes and binoculars to gaze at the stars and check out Venus, Jupiter, and other planets. Visitors are also invited to bring their own telescopes and spotting scopes to explore the night skies. This event is weather-dependent and red-bulb flashlights and appropriate clothing are strongly recommended. No reservations are required, but parking is limited to the first 40 vehicles for this event.
Introduction to Night Photography – Methods and Practice 6:30 p.m. – 10:30 p.m. Park volunteer Stan Ford will lead an introductory night photography session for a limited number of participants. Participants should plan to bring their own manual mode-enabled cameras, tripods, red-bulb flashlights, and weather-appropriate clothing. Reservations are required and space is extremely limited; please call the visitor center at 505-757-7241 to make reservations.
The class will cover basic methods of nighttime photography at the Pecos Room by the Visitor Center starting at 6:30 and will be followed by practice at the Church area around 7:30.
The park entrance gate will open at 6:00 p.m. and will shut at 8:00 p.m. Please note that after 8:00 no further entry will be permitted.
You will also find our listings on the New Mexico True website (newmexico.org) and Tourism Santa Fe (santafe.org). Please like us on Facebook at https://www.facebook.com/PecosNHPnps or follow us on Instagram (https://www.instagram.com/pecos_nps).
From I-25 N: Take the Pecos/Glorieta Exit, #299. Left onto overpass, right onto Route 50; proceed on Route 50 for eight miles. At the village of Pecos, take a right at the four-way stop onto Route 63. In two miles, the visitor center will be on your right.
From I-25 S: Take the Rowe Exit, #307. Follow signs. From Highway 63, the visitor center will be on your left.
Contact: Becky Latanich at 505-757-7210 or email peco_visitor_information@nps.gov
–
For more information call: 505-757-7241
++++++++++
2019 May 11

For ticket information call: 505-988-1234
++++++++++
–
2019 Jun 04-14
–
–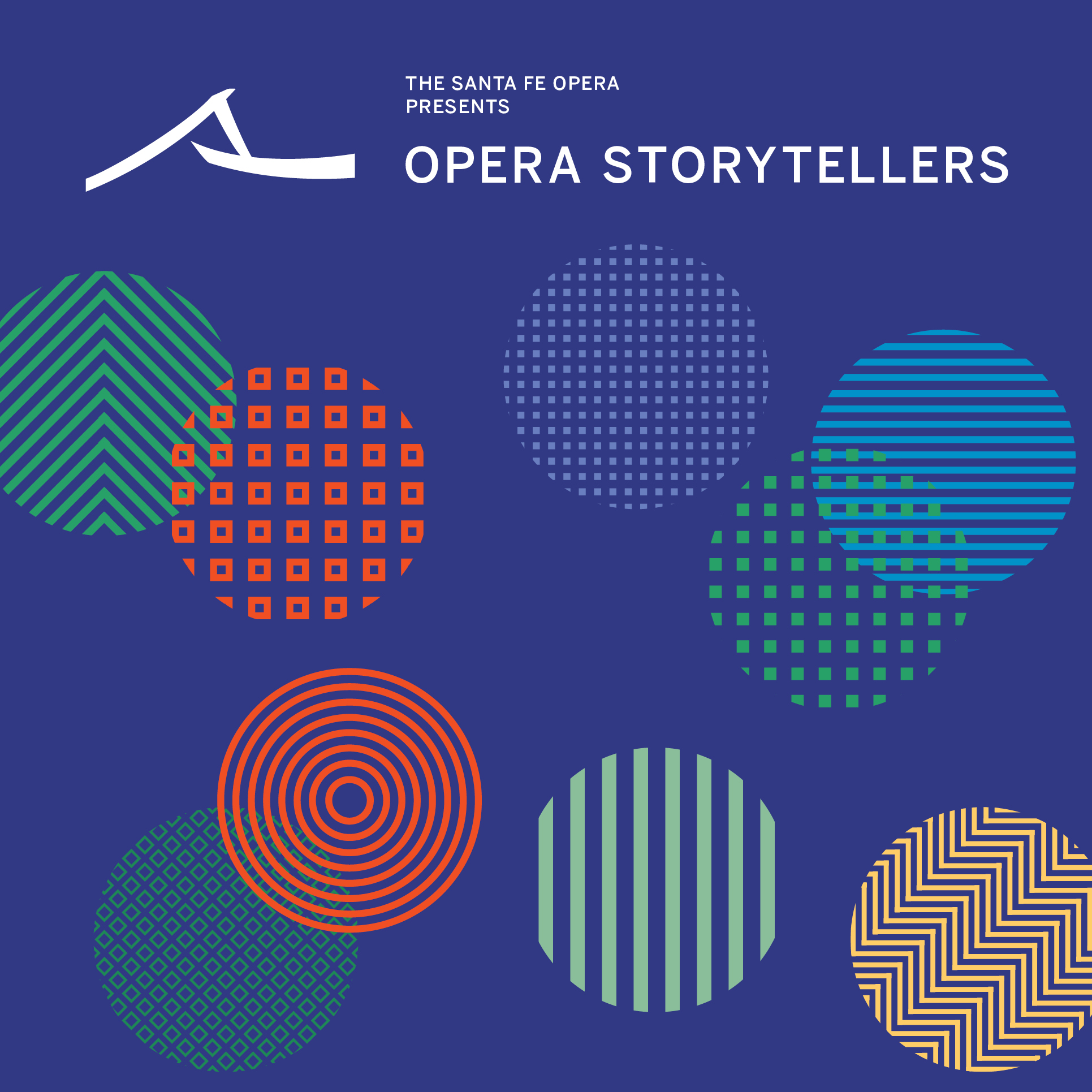 WRITE, COMPOSE, SING, ACT, DANCE, DESIGN, PERFORM, PLAY…
Opera Storytellers create original opera activating their voices, bodies, and imaginations, expanding their individual potential through creative exploration and discovery. Opera Storytellers is for children entering 3rd through 8th grades.
OPERA STORYTELLERS SUMMER CAMP SCHEDULE
JUNE 4 – 14, 2019, MONDAY THROUGH FRIDAY, 9:00 AM – 4:00 PM
Campers should be entering grades 3-8 in school year 2019-20.
Sessions are at The Santa Fe Opera. $495 per camper, $450 for each additional sibling.
Snacks and water will be provided and lunch is available for purchase.
Please return this form by email to operastorytellers@santafeopera.org
or by phone 505-946-2417
or by mail:
The Santa Fe Opera
P.O. Box 2408, Santa Fe, NM 87504
Attn: Opera Storytellers
Please note: you will receive an email confirmation once your registration has been processed.
Principal Education Sponsor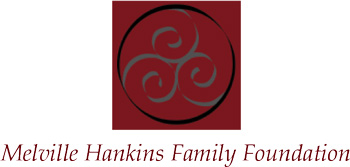 ++++++++++
2019 Jun 16
Geology Train….!

For all students of geology….! – See the amazing geology of Northern New Mexico and Southern Colorado. See the effect of the geological forces at play.
On June 16th, a special train will depart to traverse spectacular geology along the 64 miles of Cumbres & Toltec track.  But simply experiencing the incredible overviews of the Rio Grande Rift, the eruptive evidence of the San Juan Volcanic Field, the Precambrian core of the Tusas Mountains, recent glacial deposits, and snapshots of the Jurassic, will not be enough. This special train will stop at many outcroppings and rail cuts along the right of way, so passengers may mingle, marvel and collect photographs.These unique experiences are only accessible on the train route.
The opportunities are priceless:
Join a cadre of distinguished Geologists for a truly extraordinary day on the Cumbres and Toltec Scenic Railroad.
Traverse the entire 64 miles of the Cumbres & Toltec Scenic Railroad!
The railroad passes through one of the most unique, varied geologic areas in the U.S. and it is the ONLY way to see all those sights.
See metamorphic rock as old as that at the bottom of the Grand Canyon.
The train will make a number of stops along the route to allow the Geologists to interpret the various Geologic points of interest.
Lunch at Osier, Colorado is included in the ticket price.
View and marvel at volcanoes, unusual rock formations, multiple volcanic deposits, tunnels, and an untouched landscape.
A mile by mile Geologic rail log will be provided to each participant.
All participants will be able to disembark to walk through Rock Tunnel and then have the opportunity to photograph the locomotive as she emerges from the tunnel!
Ride the Historic Cumbres & Toltec Scenic Railroad and be prepared to "Get Rocked!"
All Fares Are Subject To A 7% Historical Preservation Fee.
Monday – Friday 8AM – 4PM MST.
Please be careful to book the trip you want,
either leaving from Antonito at 8:30 a.m.
or leaving from Chama at 7:00 a.m.
Lunch is at 2pm and is included in the ticket price.  Small coolers of non-alcoholic beverages and snacks are allowed.
Please bring sunglasses, sunscreen, layered clothing, and enclosed toe shoes.
Most of the day is spent at or above 9,000 feet.  Please make sure you are able to handle long periods of time at this elevation.