After turning heads at last year's Geneva Motor Show with its production-ready flying car, Pal-V has returned for 2019 with a special edition that it says will actually be first out of the gate. The Pal-V Liberty Pioneer is based on the same flying car shown last year, but with a few extra trimmings to give its limited run of 90 an extra air of exclusivity.
Some fifteen years have passed since we first covered the Pal-V flying car, but fundamentally the design remain the same. Part-gyrocopter, part-car and part-motorbike, the two-seat tilting three-wheeler can reach a top speed of 160 km/h (100 mph) on the tarmac and be driven by anyone with a driver's license.
And with at least 330 m (1,000 ft) of runway it can lift off into the skies, following some pre-flight checks and a five-minute switchover process that involves pulling out the tail section and unfurling a pair of rotor blades. Operators will need a pilot's license to take off, and once airborne, the flying car can hit speeds of 180 km/h (112 mph) over a possible range of 500 km (310 mi), and only requires 30 m (98 ft) of runway to land.
"The gyroplane principle not only provides us with a very safe and easy to operate a flying car but it also enables us to make it compact and within existing regulations, which is the most important factor to build a useable flying car," says Mike Stekelenburg, Chief Engineer at Pal-V.
After showing off the standard version of its flying car last year, Pal-V has this year wheeled out the special edition Liberty Pioneer. Joris Wolters, Sales Officer at PAL-V, tells us this is distinguished from the run-of-the-mill standard version thanks to Pioneer logos, tailor-made leather interior, carbon materials and two-tone coloring, as well as some extra bells and whistles under the hood.
"The Pioneer is full-option, meaning, for example, dual control, carbon package and EFIS (Electronic Flight Information System)," he says.
Only 90 of the Liberty Pioneers will be built, and the company expects to start deliveries of that version first in 2020, ahead of the standard version.
(For the source of this article, and to view all 18 photos, please visit: https://newatlas.com/pal-v-liberty-pioneer-limited-edition/58749/)

How much more fun could drones be if you got fiddly hand controllers out of the way and flew them with your mind? That's the question EEGSmart poses with its UDrone mini-quad, which responds to brainwaves and head movements instead of thumbsticks. It's not perfect, but it does give a glimpse of a mind-controlled future.
How much more fun could drones be if you got fiddly hand controllers out of the way and flew them with your mind? That's the question EEGSmart poses with its UDrone mini-quad, which responds to brainwaves and head movements instead of thumbsticks. It's not perfect, but it does give a glimpse of a mind-controlled future.
The Udrone itself is fairly unremarkable; it's a lightweight mini-quadcopter with 2-inch props, nice plastic bumpers to save it from damage when it bumps into a wall, and an 8-megapixel, 1080p-capable camera. You can fly it using your mobile phone, in which case it works like most similar small quads, but also has some smarts under its belt with face tracking, subject tracking and gesture recognition.
In a second box, you get EEGSmart's UMind Lite headset, and here's where things get interesting. The headset has a number of sensors built in. There's an EEG, or electroencephalography sensor, which measures electrical activity in the brain. There's an EOG, or electro-oculography sensor that measures eye movements by monitoring the electrical potential between the front and back of the human eye. There's an EMG, or electromyography sensor, that measures electrical activity in response to a nerve's stimulation of muscles. It also has gyros and accelerometers, and patented gear built in to amplify signal and squash noise from the finicky brain and nerve sensors.
It charges via USB, like the drone itself, and sits over the ears across your forehead, just above your eyebrows. You pair it to your phone through the UDrone app, and then set the drone into "mind control mode" to activate it.
To launch the thing, you have to attain a state of Jedi-like focus. Which is fine, I've been doing my Sam Harris meditation tapes. You can watch your mental focus activity summarized into a number in the UDrone app. If your thoughts are a little skittery, you might find that number hovering around 15 or 20. When you zen out into a space of relaxed focus, it rockets upward. I've seen as high as 400 or so, which made me feel like Yoda.
To launch the drone, you pop it into mind control mode, then focus your way to 150 or more, and the drone lifts off to a chest-high hover. Focusing hard on the drone can convince it to rise, letting your mind wander makes it fall, in little stepped levels.
To move it, you tilt your head. This feels extremely intuitive for right-to-left movements, and works really well; the drone tilts whichever way you tilt your head. EEGSmart has decided, however, to reverse things for forward and backward flight – probably thinking that you want to be looking up rather than down as your drone is flying forward. I thoroughly disagree with this assessment and would much rather the drone simply tilted whichever way I tilt my head.
Yaw control is done by turning your head sideways then back again, and this happens in 45-degree increments. You blink twice to start the camera timer, and clench your jaw when it's time to land.
After burning through half a dozen battery charges, I'm definitely getting the hang of it. Altitude control is by far the hardest and least responsive control, since it's difficult to know exactly when you're building or shedding focus, but the drone does eventually do what you want. The head tilt control works great – it'd be even better if the forward/backward inputs weren't reversed – and while the camera does fire off a lot of shots without me asking for it, I've done pretty well with the landing command. Here, check out a short video. Pardon the bare feet, I'm a hippie at heart:
It's a pretty nifty feeling controlling a drone this way. It does suffer from being very digital –especially the stepped altitude changes and 45-degree turning implements, which are not a smooth way to fly. But it does give you a real sense of what hands-free flight could feel like, and as such we'd rate it a fun little toy to have around.
It's quick enough to learn that you can pass it around for visitors to play with, and the prop guards do a good job stopping this thing from banging off the walls. You'll want to fly it indoors, too, because wind does blow it around a bit, and that can be hard to correct for without the rock solid thumbstick controls you'd normally be using.
I do see a future in this kind of thing. I think UDrone should build some sort of training feature into the app, which lets you watch your control inputs in real time so you can make sure of exactly what signals you're sending. That'd make the learning curve quicker without burning battery on the drone. It's a pretty remarkable little gadget to play with, and I look forward to seeing where this kind of tech goes.
Udrone will launch on Kickstarter on March 12, at an early bird price of US$279 for the UDrone + Umind kit.
(For the source of this article, and to watch a video of Loz actually flying a mind-controlled drone, please visit: https://newatlas.com/udrone-mind-controlled-drone-umind-review/58791/)
Jetpack Aviation has leap-frogged its own flying car project with the announcement that it's taking pre-orders now on a self-stabilizing, jet turbine-powered flying motorcycle capable of 150 mph speeds, 20 minute endurance and 15,000 ft altitudes.
The Speeder builds on JPA's jet turbine expertise, developed over the years working on the company's astounding JB-series jetpacks. It uses a cluster of four turbojet engines putting out a combined maximum thrust of 705 lbf – enough to lift the 231-lb (105 kg) airframe and a pilot up to 240 lb (109 kg).
Crucially, they're also rigged up to a fly-by-wire control system that allows the Speeder to self-stabilize in the air, much like a quadcopter drone. Running on kerosene, JetA or diesel, you can get yourself between 10 and 22 minutes in the air, dependent on pilot weight and density altitude.
All hail!
San Francisco's monarch who once "ruled" America.
Joshua Norton lost his wealth and his mind before declaring himself Emperor of the United States and Protector of Mexico in 1859.
His first act as emperor was to abolish Congress and the Republican and Democratic parties. He also requested the formation of the League of Nations, demanded a bridge and tunnel between San Francisco and Oakland (both of which now exist), and issued his own currency – which people in the area accepted.
While Emperor Norton's decrees were not respected in the capitol, his royal personage was absolutely sacrosanct in San Francisco.
He was a popular character, sporting a royal blue uniform with gold epaulettes, a hat set off with a peacock feather and a decorative rose, and a sabre on his hip. Businesses gave him free goods, others paid him "taxes".
When a security guard arrested Emperor Norton for vagrancy, the public outcry was immense. According to one daily newspaper, "since he has worn the Imperial purple he has shed no blood, robbed nobody, and despoiled the country of no one, which is more than can be said for his fellows in that line." Emperor Norton was quickly freed, and from then on, all police officers saluted him in the streets.
When he died in 1880, 10,000 people attended his funeral.
He was the first and last Emperor of the United States of America.
(Source of this and other interesting articles: BigThink.com)
Joshua A. Norton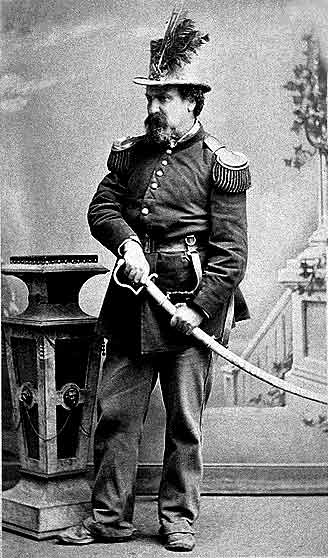 So much has been written about Emperor Norton, and interest in this ninteenth-century character continues into the twenty-first century.
Many of the "decrees" attributed to Norton I were fakes; written in jest by newspaper editors at the time for amusement, or for political purposes. Those "decrees" listed here were, we believe, actually issued by Norton.
---
September 17, 1859 – Joshua A. Norton, who lost his money in an attempt to corner the rice market, today declared himself Norton I, Emperor of the United States and Protector of Mexico. December 2, 1859 – Norton I dismissed Gov. Wise of Virginia for hanging John Brown and appointed John C. Breckenridge of Kentucky to replace him.
February 1, 1860 – Decree from Norton I ordered representatives of the different states to assemble at Platt's Music Hall to change laws to ameloriate the evils under which the country was laboring.
July 16, 1860 – Decree from Norton I dissolved the United States of America.
October 1, 1860 – Decree from Norton I barred Congress from meeting in Washington, D.C.
February 5, 1861– Norton I changed the place of his National Convention to Assembly Hall, Post and Kearny, because Platt's Music Hall had burned.
September 17, 1861 – A new theater, Tucker's Hall, opened with a performance of "Norton the First," or "An Emperor for a Day."
October 1863 – Death of Lazarus, Emperor Norton's dog.
February 14, 1864 – Norton I arrived in Marysville to join the celebration of the opening of the railroad.
November 11, 1865 – Mark Twain wrote an epitaph for Bummer, the long-time companion of Lazarus.
January 21, 1867 – An overzealous Patrol Special Officer, Armand Barbier, arrested His Majesty Norton I for involuntary treatment of a mental disorder and thereby created a major civic uproar. Police Chief Patrick Crowley apologized to His Majesty and ordered him released. Several scathing newspaper editorials followed the arrest. All police officers began to salute His Majesty when he passed them on the street.
July 25, 1869 – Decree from Norton I that San Franciscans advance money to Frederick Marriott for his airship experiments.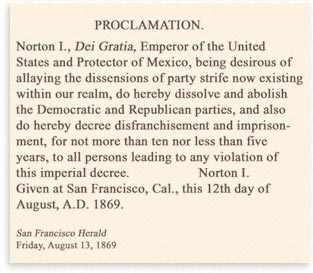 August 12, 1869 – Decree from Norton I dissolved and abolished the Democratic and Republican parties because of party strife now existing within our realm.
December 15, 1869 – Norton I, Emperor of the United States and Protector of Mexico, left San Francisco to seek his yearly tribute from the legislature and lobbyists. He inspected the new capitol during the gala ball celebrating the buildings' inauguration.
December 16, 1869 – Decree by Norton I demanded that Sacramento clean its muddy streets and place gaslights on streets leading to the capitol.
August 1, 1870 – Norton I was listed by the Census taker with the occupation of "emperor," living at 624 Commercial St.
September 21, 1870 – Decree from Norton I that the Grand Hotel furnish him rooms under penalty of being banished.
March 23, 1872 – Decree by Norton I that a suspension bridge be built as soon as convenient between Oakland Point and Goat Island, and then on to San Francisco.
September 21, 1872 – Norton I ordered a survey to determine if a bridge or tunnel would be the best possible means to connect Oakland and San Francisco. He also ordered the arrest of the Board of Supervisors for ignoring his decrees.
January 2, 1873 – Decree from Norton I that a worldwide Bible Convention be held in San Francisco on this day.
March 18, 1873 – David Belasco made his stage debut at the Metropolitan Theatre playing Emperor Norton in the play "The Gold Demon."
January 8, 1880 – Norton I dropped dead on California St. at Grant Ave. He was on his way to a lecture at the Academy of Natural Sciences.
January 9, 1880 – Headline in the Morning Call: "Norton the First, by the grace of God Emperor of the United States and Protector of Mexico, departed this life."
January 10, 1880 – Norton I was buried today at Masonic Cemetery. The funeral cortege was two miles long. 10,000 people turned out for the funeral.
June 30, 1934 – Emperor Norton I reburied in Woodlawn Cemetery by citizens of San Francisco.
January 7, 1980 – The city marked the 100th anniversary of the death of its only monarch, Emperor Norton, with lunch-hour ceremonies at Market and Montgomery streets.
---
Emperor Norton chronology from Gladys Hansen's San Francisco Almanac
©1995 Chronicle Books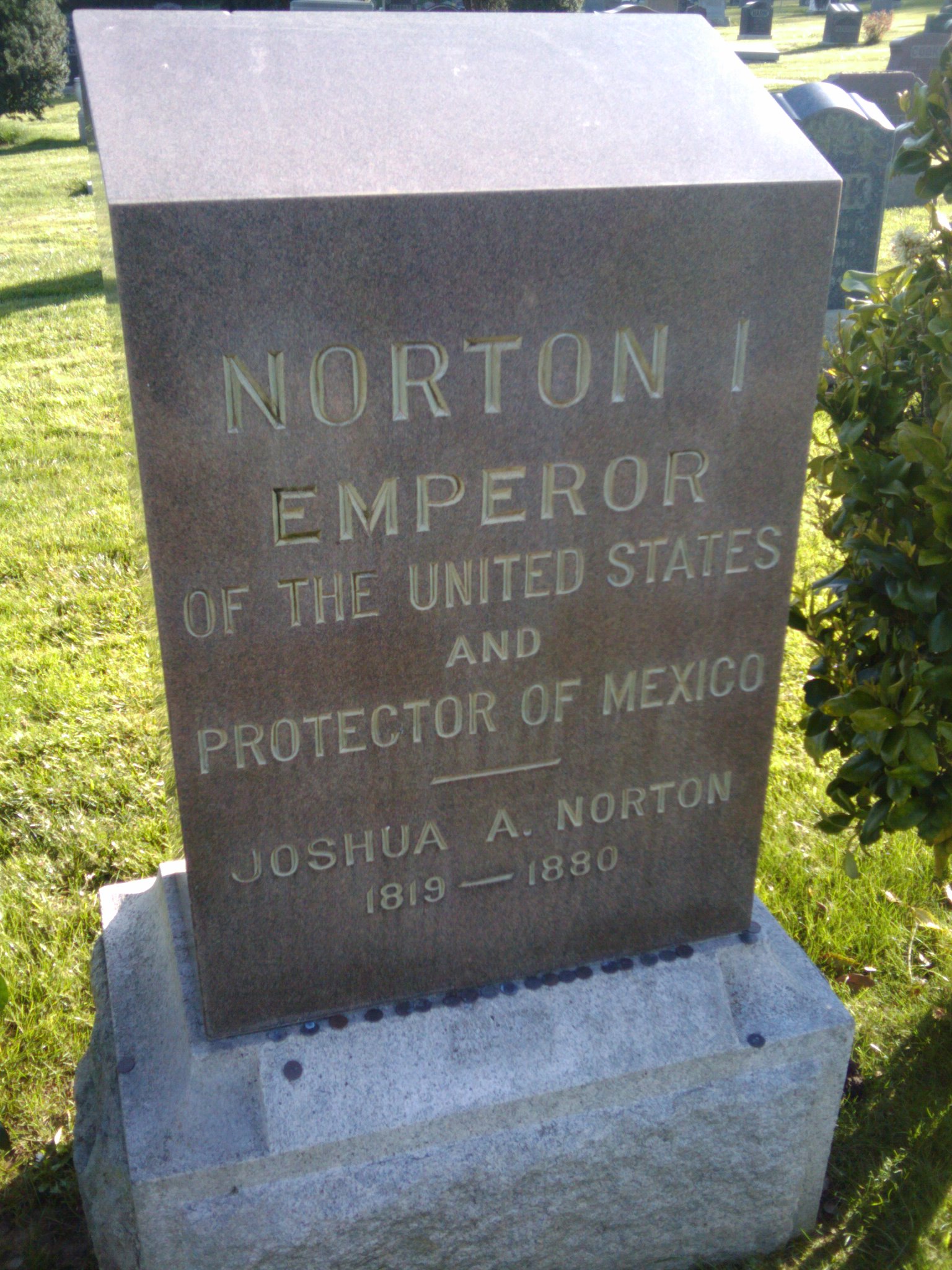 Emperor Norton's grave, which was moved from the Masonic Cemetery in San Francisco to Colma. (Joshua Neff/Flickr)
https://www.kqed.org/news/11652705/americas-emperor-san-franciscos-treasure-who-was-emperor-norton
Emperor Norton_01 from the collection of C. B. Turrill
By Mike Brown

 –
Seeing Spots
No matter how big-brained your dog is, it probably can't load a dishwasher or do a dance on command. Those are just two of the reasons why Boston Dynamics, creators of the surprisingly cute robo-dog SpotMini, received $37 million from its owner, Softbank. The people want their protean pups!
And man, will they get them. By the middle of 2019, production of the mechanical mutts will ramp up to 1,000 units a year. Their sporty, plastic yellow coats may not be as fuzzy as a golden retriever's, but at least you won't have to pick up their poop. Softbank is betting big on elder care and in-home robots, as the population ages.
Watch the unexpectedly adorable pups in action.
Boston Dynamics has received a big funding injection to get its robots moving. A recent report revealed that the robo-dog development firm has received $37 million from its owner Softbank. The funding comes amid the team's efforts to bring its SpotMini to market this year.
The Yahoo report found that the Japanese multinational, which purchased the group from Google parent company Alphabet in June 2017 for a reported $100 million, made two major loans to Boston Dynamics in June and September 2018. The loans, made through U.K.-registered firm Softbank Group Capital, were translated into common shares in January 2019. Boston Dynamics was first founded in 1992, borne out of a Massachusetts Institute of Technology team, but beyond military projects it has yet to release a commercially available product. Boston's breakthroughs include the towering Atlas bipedal machine and the SpotMini robot dog that inspired an episode of Black Mirror.
(See more: Boston Dynamics Is Building Its Robot Dog Empire at a Construction Site)
Boston Dynamics is now gearing up to bring its SpotMini to market. At the CeBIT conference in Hanover, Germany, in May 2018, founder Marc Raibert told the audience that "this robot will be available next year…we've built ten by hand, we're building 100 with manufacturers at the end of this year, and in the middle of 2019, we're going to begin production at the rate of about 1,000 a year."
The machine could help with a variety of home tasks. Its claw is capable of hauling 30 pounds despite only weighing 66 pounds itself, and its small height of two feet nine inches make it useful as a not-too-imposing house bot. Newer versions sport a yellow casing, and its programmed abilities include picking up cans, loading a dishwasher and doing a dance.
Pricing and release dates for the SpotMini are as yet unclear, but more information is likely to follow later this year as production ramps up.
Just hope it doesn't learn any tricks from Black Mirror.
(For the source of this article, and to watch a video associated with it, please visit: https://www.inverse.com/article/53106-boston-dynamics-gets-huge-cash-boost-ahead-of-robo-dog-launch-this-year/)

Fears of an incoming natural disaster in Japan are swirling online after sightings of a deep-water fish believed to be a harbinger of earthquakes and tsunamis.
On Friday, two oarfish were discovered after being caught in fishing nets off the northern prefecture of Toyama, bringing the total found this season to seven. Earlier this week, a 3.2 meter (10.5 foot) oarfish washed up on the shore of Toyama Bay, while a 4-meter (13 foot) long oarfish was tangled in a fishing net off the port of Imizu.
The elusive oarfish live between 200 and 1,000 meters (650 to 3,200 feet) deep and are characterized by silvery skin and red fins.
Traditionally known as "Ryugu no tsukai" in Japanese, or the "Messenger from the Sea God's Palace," legend has it that they beach themselves on shores ahead of underwater earthquakes. But scientists dispute such claims.
"There is no scientific evidence at all for the theory that oarfish appear around big quakes. But we cannot 100% deny the possibility," Uozu Aquarium keeper Kazusa Saiba told CNN.
"It could be that global warming might have an impact on the appearance of oarfish or a reason we're just not aware of."
The myth of oarfish as harbinger of destruction gained some traction after the 2011 Fukushima earthquake and subsequent tsunami, which killed more than 20,000 people. At least a dozen oarfish had washed up onto Japan's coastline in the year prior to the disaster, according to Kyodo News.
While he doubted the theory's validity, Saiba said one possible scientific explanation could be that subtle changes in the earth's crust at the bottom of the sea ahead of an earthquake "might cause the current to stir and push creatures at the bottom to the surface."
But Osamu Inamura, director of Uozu Aquarium, had a more scientific theory about the Toyama Bay sighting — that oarfish are following the movement of their food supply, a kind of a micro shrimp.
"When their shrimp supply rises toward plankton during the daytime, the oarfish may sometimes follow and get caught in fishermen's nets," Inamura said.
(Source of this article: https://www.msn.com/en-us/weather/topstories/sightings-of-rare-oarfish-in-japan-raise-fears-of-earthquake-and-tsunami/ar-BBT2tBi?ocid=spartandhp#image=1))

No snuggling, either.
Mr Pokee the Hedgehog – thetimes.co.uk.

After an unwitting human kissed Sonic the Hedgehog in 2006, you would've thought we'd learned our lesson. But 13 years later, humans are as foolish as ever, and now the United States' major public health agency has to step in to stop the interspecies romance.
Recently, the US Centers for Disease Control and Prevention announced an ongoing investigation into a multistate Salmonella outbreak linked to pet hedgehogs. According to the CDC announcement, 11 people in eight US states have been infected with the bacterial strain Salmonella Typhimurium, and investigators have traced the infections back to the spiky pets. One of the infected individuals has been hospitalized, but, so far, there have been no deaths.
Based on lab tests and interviews with infected individuals, CDC investigators concluded that 10 out of the 11 sick people had come into contact with hedgehogs before getting sick. They haven't identified whether all the hedgehogs came from the same place, though.
Here's the CDC's map of the outbreak: (See map at: https://www.inverse.com/article/52770-salmonella-outbreak-linked-to-hedgehogs/)
As you can see, the cases are spread out geographically, which suggests that the hedgehogs probably didn't all get sick from having a playdate together.
The main symptoms of Salmonella Typhimurium are diarrhea, fever, and abdominal cramps. Most people show symptoms anywhere from 12 to 72 hours after exposure, and the infection usually lasts between four and seven days. Patients typically recover without treatment. In rare cases, the severity of diarrhea can require a patient to be hospitalized to prevent excessive dehydration, but for most patients, the illness runs its course without treatment.
The people at highest risk of complications from Salmonella infections are the very young, the very old, and those with compromised immune systems.
The CDC reports that 1.2 million people get sick from Salmonella each year, resulting in 23,000 hospitalizations and 450 deaths annually. So all in all, these 11 individuals sickened by hedgehogs are a drop in the Salmonella bucket. Nonetheless, getting sick from snuggling your animal companion is no fun. So how does it happen?
"Hedgehogs can carry Salmonella germs in their droppings while appearing healthy and clean," reports the CDC. "These germs can easily spread to their bodies, habitats, toys, bedding, and anything in the area where they live. People become sick after they touch hedgehogs or anything in their habitats."
So even if your little spiky pal seems happy and healthy, running around collecting gold rings and Chaos Emeralds, he could be carrying Salmonella. That doesn't mean you need to give him antibiotics or anything, just don't kiss him on the mouth.
(For the source of this article, plus a ridiculously cute video, please visit: https://www.inverse.com/article/52770-salmonella-outbreak-linked-to-hedgehogs/)
++++++++++
A new study, led by researchers from the University of Auckland, has described the phenomenon of "super donors," people who contribute stool samples for use in trials whose poop seems to be significantly more effective in leading to clinical improvements for fecal transplant subjects.
Despite a long history of anecdotal use, the science behind fecal transplantation is still in its infancy. Altering a person's gut microbiome via a fecal transplant has proved mildly successful across a variety of different trials, but results have proved frustratingly inconsistent. The mixed results have led some researchers to try to understand whether there are particular fecal donors whose poop is more effective than others. A new study has investigated this "super-donor" phenomenon, suggesting that it does indeed exist.
"We see transplants from super-donors achieve clinical remission rates of perhaps double the remaining average," says Justin O'Sullivan, senior author on the new study. "Our hope is that if we can discover how this happens, then we can improve the success of fecal transplantation and even trial it for new microbiome-associated conditions like Alzheimer's, multiple sclerosis and asthma."
Homing in on exactly what specifically constitutes super poo has presented a complicated challenge for researchers. One of the most fundamentally significant features of good donor stool seems to be a broad microbial diversity – the larger the variety of species in the stool, the more effective the outcome when delivered via fecal transplant. The study also suggests high levels of what are referred to as "keystone species" are important in the efficacy of a fecal transplant.
"In inflammatory bowel disease and diabetes for example, keystone species that are associated with prolonged clinical remission produce butyrate – a chemical with specialized functions in regulating the immune system and energy metabolism," says O'Sullivan.
Interestingly, however, research has shown that when these beneficial keystone species are isolated and administered individually, for example in the form of a probiotic, they are not as effective as when delivered as part of a whole stool sample. The researchers hypothesize the failure of this kind of precision medicine implies that microbial structure as a whole plays a greater role in the success of fecal transplants than simply the actions of a single microbial species.
"For example, the success of fecal transplants has been associated in some studies with the transfer of viruses which infect other gut microbes," explains O'Sullivan. "Some cases of recurrent diarrheal infection have even been cured with transplants of filtered stool, that has had all the live bacteria filtered out but still contains DNA, viruses and other debris."
Ultimately, the researchers conclude that while it may be incredibly difficult to clearly characterize what makes an effective fecal super-donor, it is vital for future fecal transplant research to take into account the specificities of individual donor microbiomes. On a general level, a broad diversity of gut microbiota is the best metric to identify a super-donor but it is also suggested that supporting the transplanted microbiome through an adjusted diet in the recipient may be fundamental to a fecal transplant's success.
(For the source of this, and other equally exciting articles, please visit: https://newatlas.com/fecal-transplant-super-donor-microbiome-gut-bacteria/58148/)

Flying taxi services like Uber Elevate may take some time to arrive, but if you want to be among the first to pilot a manned multicopter, you'll have the chance in 2019. Lift Aircraft is preparing to debut a personal flight experience in an 18-prop electric VTOL aircraft for about the price of a skydive.
Now, Lift Aircraft, a company started in Austin, Texas, is bursting out of stealth mode with a beautiful single-seat multirotor design called the Hexa, which it has already flown with its CEO on board (see video at the end of this article). And instead of selling these things, it plans to rent them out for personal flight experiences all over the United States.
The Hexa is an 18-rotor electric multirotor with a simple, lightweight, carbon fiber single-seat cabin, four landing floats suitable for land or water, and a very simple control system based on a joystick and an iPad Pro.
Unlike a helicopter, which is complex and finicky to fly, the 432-lb (196-kilo) Hexa really is just like a big drone with a seat in it; a flight controller and a raft of sensors do most of the flying for you. It can take off and land at the touch of a button, and if a pilot lets go of the stick, it will hover in a GPS-locked position and stable altitude. If a pilot really freaks out or starts causing trouble, ground staff can take over with hand controllers and bring them back down.
Unusually, the Hexa doesn't have one central battery pack. Instead, it has 18 small batteries, one clipping on underneath each rotor. Lift CEO Matt Chasen explains why over a Skype call: "Batteries are one of the least reliable parts of the powertrain. The motor and the prop are reliable, there's very few moving parts, but the batteries tend to have more failures than those. So even though such events are very rare, we didn't want to have large, centralized battery packs. We have our batteries mounted at the top and the perimeter, away from the pilot. So if there's an event, a thermal runaway in a battery, it's controlled, and won't injure the pilot."
A side benefit to this design is that each small battery sits right in the cooling airflow of the prop above, negating the need for any liquid cooling. And it plays perfectly into Lift's intentions to run the things all day long: the batteries will last around 10-15 minutes per flight, and as soon as Hexa lands, ground staff can unclip them, switch them over with charged batteries, and prepare the aircraft for its next flight.
The Lift flight experience
Pilots will undertake a brief VR training session before they head out to the launch pad, to familiarize themselves with the control scheme. On the joystick, it's as simple as push to go in any direction, with a thumb control for altitude and an index finger control for yaw (the company initially thought a twist-to-turn yaw control would be more intuitive, but found it harder to use in flight tests than a separate control).
The iPad touchscreen console will make things even simpler for beginner pilots, enabling one-touch takeoff and landing, and walking you through simple beginner tutorials much like you'd do as a first timer on a DJI drone. "There's not a lot of training required," Chasen tells us. "It's sort of like a video game, a game that you get to fly in."
From there, you're off. As the Hexa will be flying under the powered ultralight classification (meaning it requires no certification or pilot's license), you'll be limited to flying under 700 feet, or 1200 feet in some locations, and not over any populated areas. Maximum speed for ultralights is 55 knots, or about 63 mph/101 km/h in terms of ground speed, and Chasen says if the Hexa turns out to be capable of going faster than that, it'll be electronically restricted from doing so. The aircraft will also be geofenced to a permitted flying area.
In the future, Lift will roll out a level-based system that lets you unlock extra speeds or maneuvering abilities, as well as potentially some augmented reality gaming ideas. "Yes! We expect to game-ify it a little bit," says Chasen. "After all, this is an entertainment business. We'll do augmented reality dogfights, and let groups fly. Maybe it's a bit less fun if you're by yourself, but we expect people will be able to go up in groups, fly in formations, race through virtual rings, that sort of thing."
The aircraft should be fine for any pilot over 18, under around 250 lbs (113 kg) and shorter than around 6 foot 7 (200 cm). It could carry heavier pilots, says Chasen, but "we're doing a tradeoff between weight and flight time there, we don't want people to have too short a flight time, and it does trail off quite quickly with additional weight."
The price? "We're going to charge around about the same price as for other similar adventure-type activities, like skydiving, hang gliding, those sorts of things," says Chasen. "It's gonna be in the area of US$150 to $250."
It goes without saying that safety is of the essence in any sort of public-facing operation – and Lift plans to take no chances. For starters, they'll only take off if the weather conditions are optimal.
The aircraft will be networked to know each others' locations, and the flight controller won't allow them to fly within a certain radius of each other. "You've probably seen videos of these swarms of drones doing complex maneuvers," says Chasen. "We're going to be using some of the same technology there to make sure there's adequate spacing. In fact, each aircraft will have a kind of geo-sphere around it. You could try to fly two aircraft into each other, but they'd literally bounce off one another without touching."
The Hexa is able to operate safely with up to six of its motors down, but it also runs a ParaZero ballistic parachute in case of total failure. As we've noted in previous manned multirotor stories, though, such 'chutes can't slow you down in time below a certain height, leaving a "death zone" between about 10 feet and their minimum safe operating zone.
We ask Chasen what he's planning to do about this death zone. "Great question," he says. "The ballistic parachute we're using is specifically designed for multirotors, and it's effective down to about 12 meters (40 ft). This is a patented design made by an Israeli company called ParaZero, it's a great product. I think we're the first of that company's customers to be flying a manned multirotor.
"Despite that, 12 meters is still high enough, so we intend to take off from raised platforms, or have our locations built with helipads on top of existing structures like large parking garages. So we'd operate out of buildings that are already at least that high off the ground. So you can hover at a few meters high, and as soon as you fly away from the helipad, you're already at that safe deployment altitude."
While that clearly restricts the places Lift can operate in, it seems like a terrific way of getting things up and running in a way that's as safe and simple as possible.
Matt Chasen is thinking big with Lift Aircraft. While he's got an aviation background (including a mechanical and aerospace engineering degree, and a CV including time working at Boeing and NASA), he's spent the last 15 years building up uShip, a large, venture-backed, international transport marketplace.
So the plan isn't to get a few of these Hexa aircraft up and running. It's to get at least 25 cities on board. "We're looking at options for our first locations at the moment," says Chasen. "We haven't yet decided. Starting next week, we're going to take advance reservation requests from people, and we're picking 25 cities in the US. We'll try to launch our locations based on the order of interest and demand from people out there.
"Twenty-five locations will take years and years to build out. But we expect to have our first location up and running by mid to late next year. Hopefully the following year in 2020, we can have 3 to 5 more locations. We think we'll start with just 2 or 3 aircraft per location. It's quite expandable, so it's relatively easy, if the location permits, to add more aircraft if there's more people that wanna fly.
"We recognize that people living in the communities nearby need to get used to having large drones flying around. They're not very loud, but they're also not whisper-quiet, either. Actually, one of our ideas is to take these 25 cities, and bring a mobile, experiential entertainment trailer, and bring three aircraft around on a roadshow tour of the US, letting people fly in each city we go to. Meanwhile, we'll also be figuring out which cities are most receptive to having us operate. Flying will also be seasonal in different parts of the US. We'll time things so that Lift is in your area when it's time to fly."
The service will likely be restricted to the United States, simply because of the FAA's peculiar rules that allow powered ultralights to fly without certification or pilot's licensing. In most other regions, pilots would need a ticket, making this kind of experience a lot less time- and cost-effective.
The public will get its first look at Lift and the Hexa in March 2019 at the South by Southwest Airshow in Austin, Texas, where Chasen tells us the company will likely run its first flights with civilians at the helm. There may be a chance for media folk to get in and have a go, and you better believe we'll have our hand up for that if the possibility arises!
Check out a video of Chasen flying the Hexa.
(For the source of this article, additional photos, and a video related to it, please visit: https://newatlas.com/lift-aircraft-manned-multirotor-drone-experience/57605/)
Washington Is About to Decide Whether Human Remains Should Become Compost
A person who dies in Washington has the option of being either buried or cremated. But when the legislative session opens, life after death could become a lot more interesting: State Senator Jamie Pederson plans to introduce a bill allowing bodies of the deceased to go through the process of "recomposition." Instead of transforming from ashes into dust, the dead could become the compost nourishing a tree.
Traditional afterlife practices are notoriously energy costly and are terrible for the environment. Recomposition, meanwhile, is an environmentally friendly way to return to the earth, conceptualized by Katrina Spade in 2012 while she was studying architecture in graduate school. Now, Spade is the founder of a public-benefit corporation called Recompose who dreams of opening the world's first public recomposition facility in 2020.
"Recomposition offers an alternative to embalming and burial or cremation that is natural, safe, sustainable, and will result in significant savings in carbon emissions and land usage," Spade says. "We look forward to working with our state's elected leaders to approve this new alternative to traditional after-death practices."
An artist's vision for a future recompose facility.
Some Washington residents are already on board with recomposition as their afterlife option. In November, 84-year-old Sonia Baker told the Seattle Times that she hopes she'll be recomposed and spread around an apple tree that grows on her granddaughter's property, when the time comes.
Spade's idea, which stemmed from her disappointment in the mainstream funeral industry and the poor environmental ethics of cremation and burials, is now poised to become the new normal. After a successful Kickstarter campaign in 2016, Spade transitioned her nonprofit Urban Death Project to Recompose and partnered with Washington State University, leading to a pilot program led by Lynne Carpenter-Boggs, Ph.D..
Carpenter-Boggs, fittingly, is an expert in soil sciences who hypothesizes that the methods used for livestock mortality composting could be effective for human disposition, to use the industry term. Composting livestock is nothing new: Farms across the country, including a third of Washington's dairy farms, compost the bodies of dead livestock. For Recompose, Carpenter-Boggs changed the materials of composting to "socially acceptable" options, adapted the basic principles, and created a process that works for humans.
The process begins with placing an unembalmed person, wrapped in a shroud, into a 5-foot-by-10-foot cylindrical vessel. Crucial organic materials, like wood chips, alfalfa, and straw, are stuffed inside too. During the process of composting, microorganisms break down organic material and produce carbon dioxide, water, heat, and the organic end product. Air, periodically pulled into the vessel, accelerates the microbial activity. Any potential pathogens are destroyed by the heat naturally generated by the microbes. Through their actions alone, the vessel can reach a temperature of 131 degrees Fahrenheit.
Between March and July 2018, Spade and Carpenter-Boggs conducted this process on six deceased people who had donated their remains to the research. In 30 days, their bodies turned into, in the words of Carpenter-Boggs, a "beautiful, compost-like material I would have been happy to take home and use in the gardens." The bodies had broken down into their natural elements: nitrogen, amino acids, and phosphorous.
Recomposition, Carpenter-Boggs and Spade claim, uses just one-eighth of the energy of cremation and saves over a metric ton of CO2 per person compared to traditional methods. If every deceased Washington resident chose to be recomposed, a half-million metric tons of CO2 could be saved in ten years. Cremation, meanwhile, requires about two SUV tanks' worth of fuel per person.
Their study documenting this process will be published sometime this year, possibly even after Washington decides to make recomposition a legal option for the dead, alongside another method called alkaline hydrolysis. The current law, Pedersen told the Seattle Times in November, "reflects concerns as old as organized religion about spreading dangerous pathogens."
"Now that the testing has happened at WSU," she said, "we're in a good position to say it's safe, effective, and environmentally friendly."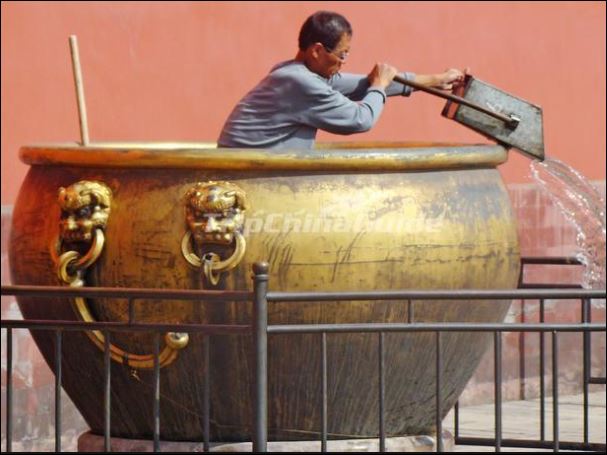 I was traveling in India and visited an ancient fortress complex. There they displayed a huge copper vat, mounted on two large wooden beams. The guide said, "When the king traveled to other lands, this was his water container. It was made of copper for purity and health."  I saw similar giant copper water pots in China and later Mongolia. I love history and love what we can learn from observing the "knowledge of the past".  So when I heard that scientists in Europe and America are suggesting copper surfaces as a disinfectant for hospitals, I made note of this.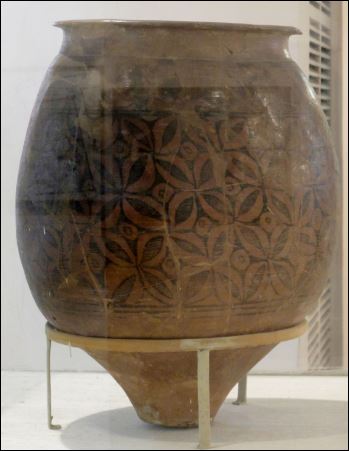 Ancient priests, doctors and holy men believed that copper would protect against sickness. From there I traveled to Mongolia and observed that Mongolians historically used copper tools, cooking utensils and water containers for good health.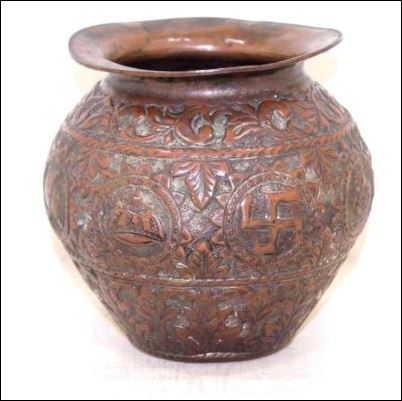 In recent years hospitals in Europe and a few in the USA have found that copper on surfaces when tested are more potent in killing some germs and viruses than Clorox or other accepted chemical cleansing agents. Old Germany, Switzerland, England used copper to produce cheese and later on beer.  Why?  Because of the purification powers of copper.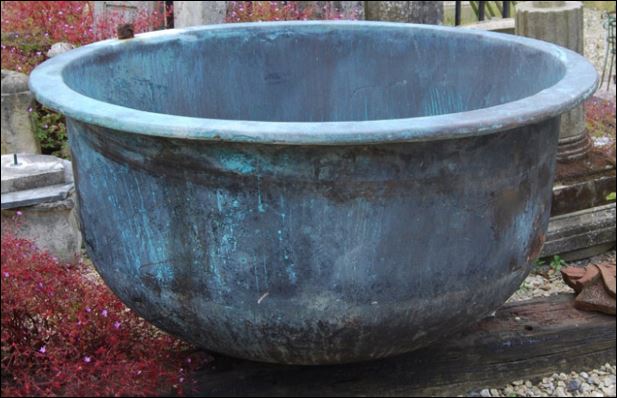 Then I spoke to my swimming pool "cleaning man" and asked him what was the best way to keep my pool water clear.
He replied: "Copper ionization is a safe way to clean your pools. It kills viruses and bacteria including black algae. Unlike chlorine, copper ionization does not cause skin, hair or eye problems. "
So with interest I saw an article about a copper device to kill cold viral elements in nasal cavities. Hundred of people report that colds have been made less severe or even prevented by use of this little method.  I was already curious about copper.
Years ago, on a whim,  I had the steering wheel of my truck covered and wrapped with pure copper sheets and during that time (2 years) I had no cold or flu episodes. My idea was that my hands touched my steering wheel several times a day, perhaps it would keep me healthy, reports said touch or contact with copper would kill or disrupt viral elements.
Go to Germany and visit the ancient beer drinking places with their copper cups, mugs, bowls, water jugs, bar coverings of copper and even door knobs for sanitation.
So, we invite you to read the below.  I have no financial interest in the company, but do think it is an interesting concept. I  can tell you this, I have had a cold for months, sneezing constantly, and I tried a copper tool, to reach into my sinus cavity, and the sneezing and constant cold sores disappeared.  I had a fever blister on my upper lip and rubbed it a couple of days with copper and it disappeared. I do not know if this is a real cure or if it is psychological, but my sneezing episodes have stopped.  So its  something that worked for me.
I travel all over the USA in my commercial real estate appraisal business and just don't have time to be sick. In constant contact on airplanes, terminals, stairwells, with "germy" places, so I am always seeking ways to be clean and healthy. Washing hands 10 times a day, still can't cover all things.  So this is another tool to stay healthy.
But read the article below and do your research. Evaluate this for yourself and see if it makes sense.  It is another idea, that may be helpful in your "living".  Be responsible and be careful. Stay healthy! Ben Boothe
More on Copper….
Article from:  Arizona Daily Independent, Tucson, Arizona
SEARCH FOR: Tucson Inventor's Mix-Up Between Zinc And Copper Leads To Discovery
BY: ADI NEWS SERVICES OCTOBER 10, 2014   Reprinted: BootheGlobalPerspectives.com, January, 2019.
"Tucson inventor Doug Cornell says he stumbled on how to stop a cold after he stuck a penny in his nose, thinking the penny was zinc. "I hated getting colds," says Cornell, "so when the zinc gel I had used for cold prevention was taken off the market and I started getting a cold, I almost panicked." The gel had side effects and in 2012 was gone from the shelves. "I felt a warning tickle in my nose," recalls Cornell. "I needed something fast that could stop a cold." He racked his brain for a quick source of zinc. "I collected coins as a kid. I remembered pennies are mostly zinc. So I rubbed a penny in my nose. The tickle lessened, which surprised me, but soon increased again." "The penny couldn't reach the tickly area in back where cold viruses multiply," he says. "Besides, what if I couldn't get it out?"
Scientist Tests Copper on Cold and Flu Viruses:
Then he remembered only the inside of a penny is zinc. The outside is copper. "What was I thinking?" he laughs. "It was copper touching my nose, not zinc. It shouldn't have worked at all. So I searched online and found out – yes it should." A huge body of research says copper kills bacteria and viruses by touch, starting in under a minute, Cornell reports. "Many scientists have confirmed this in labs and hospitals. Who knew?"
Tests by the Environmental Protection Agency (EPA) and others show copper kills cold and flu viruses plus dangerous germs like MRSA. (It has not been tested on Ebola yet.) The EPA now urges hospitals to install copper "touch surfaces", like doorknobs, faucets, and bed rails.
Several hospitals have tried copper in hospital rooms with good results. Infections caught by patients dropped by half. Based on his research experience while earning a doctorate, Cornell concluded copper can stop a cold after all. He also knew it is generally safe to absorb traces of copper, because it is in many foods and is necessary for health.  So he fashioned a smooth copper probe that could reach the cold viruses. He rubbed it gently in his nose. Almost instantly, he says, the tickle was gone. The cold stopped completely. That gave him the idea of a personal copper touch surface for stopping colds and other illnesses. He created a handheld instrument made of pure copper, he says, because tests indicate pure copper works best.
"It's called CopperZap, because science confirms, copper zaps germs," says Cornell.
It has a smooth tip to rub in your nose and a curvy handle to touch with your fingers. "Whenever your fingers touch copper you may reduce your risk," says Cornell, "because 80 percent of infectious diseases are transmitted by touch, experts say."
Relatives, Friends, Coworkers Try It Out.
He asked relatives, friends and co-workers to try copper when they felt a cold starting. They rubbed it gently for about 60 seconds in each nostril. All said they believed it stopped a cold or, if symptoms had already developed, made it shorter or milder, Cornell reports. So in 2013 he started a Tucson company, CopperZap LLC, applied for trademarks and patents, set up CopperZap.com, and hired two employees to start production and shipping. "Since then we estimate it has been used several thousand times," says Cornell. "Almost 100 percent of reports by users say copper seemed to stop a cold if used within 3-4 hours of the first sign, or reduce a cold if used within 48 hours, with no side effects reported. Some say it stopped flu and other illnesses, too."
Jen Rickard admits it seemed weird at first to stick something in her nose. "As kids we were told not to," she laughs, "but I'd rather have copper in my nose for a minute than a cold in my nose for a week." Cornell's first invention, in 1980, was the Cornell Solar Water Heater, chosen as the world's best solar water heater by the 1984 World's Fair, he recalls fondly. Cornell Energy Inc. manufactured the product in Tucson and shipped it nationwide and to several other countries before the solar tax credits of the time expired.
"Scientists say copper kills over 100 different disease germs, some deadly."
"CopperZap is even more exciting," he says, "because scientists say copper kills over 100 different disease germs, some deadly. It may have saved lives already. We will never know." Cornell may be right. Health System Review says, "Copper is the new gold standard for saving lives." "Plus," he says, "this is the Copper State (Arizona). A new use for copper is good for Arizona and can help our state do good for the world."
Christmas is an all consuming holiday, celebrated even in cultures where Christianity never took root.
However, some people just can't take it anymore. Some of them even invented new holidays as alternatives.
While some of the holidays are celebrated half jokingly, they all offer an escape from an often overbearing Christmas season.
Christmas can be maddening. Between the endless barrage of tacky songs, rampant commercialization, and saccharin sentimentality, some of us can't wait for it to end.
Others have taken a bolder stance, however, and created new holidays for themselves. These holidays are celebrated with varying degrees of seriousness and good humor, but do offer alternatives to Christmas and the issues many people have with it. From the secular to the silly, here are five of the best.
The Winter Solstice
Winter Solstice Is Marked At Stonehenge.  (Matt Cardy/Getty Images).

Representing the shortest day of the year and the beginning of a long trudge back to days with reasonable amounts of sunlight, the winter solstice has been celebrated since time immemorial. Recently, the holiday has been taken up again by a wide variety of people for an even wider range of reasons. Those who celebrate it include neo-pagans, non-theists, and those in need of a break from Christmas.
Celebrations can vary dramatically. Common practices include feasting, attending secular parties, undertaking elaborate rituals of rebirth, and gathering at Stonehenge to watch the sun pass by. The hemispheric event that prompts the holiday has been used by many cultures for their holidays, and the people turning to it today continue a long tradition of making it their own.
Newtonmas
On December 25th many people celebrate the birth of a man whose radical thinking changed the world forever, who showed humanity the light and lead us into a new age. While many have turned away from his thinking, the influence he had on the world is unmatched by another other thinker, sage, or prophet.
That man was Isaac Newton. Were you expecting somebody else?
Dating back to a meeting in 1890, the holiday is only half serious. Named by The Skeptic's Society when they realized they needed another name for their annual Christmas party, celebrations including wishing people "reason's greetings," eating apples, and gifting others science related items. Since Newton's birthday is technically on January 4th on our modern calendar, some celebrate the holiday over ten days. The following for the holiday is growing, and it was once featured on The Big Bang Theory.

HumanLight
A holiday explicitly created for humanists who wanted an alternative to Christmas, HumanLight dates back to 2001. Created by the New Jersey Humanist Network, the holiday has attracted some attention over the years and has a decent following. This year, at least 18 large celebrations are planned.
Typically observed on the 23rd , the holiday is celebrated anyway you want. Holiday co-founder Gary Brill tends to celebrate with family, but others exchange science books and throw large festive parties. There is a general agreement that candles should be burning, and the event should be open to everybody. While many people are happy to have a secular alternative to Christmas, some non-theists have written on why the holiday might be a bad thing; showing that every holiday has a Grinch.
Holiday
The Flying Spaghetti Monster reaches out to Adam. Public Domain.

The winter festival of the Pastafarians, this tongue-in-cheek holiday lacks any official date and is often considered to last from late November to early January. It also doesn't have much in the way of formal practices, so followers of the Flying Spaghetti Monster may do as they please. This is fitting, as the church rejects dogma. The wiki for the church does encourage eating a feast and having an orgy.
Several leading officials of the Pastafarians have erected holiday displays at state capitals and are celebrating the increasing acceptance of their faith as evidenced by people saying "Happy Holidays" instead of "Marry Christmas."
Festivus
Created by the father of television writer Dan O'Keefe, Festivus was made famous by its appearance in the classic Seinfeld episode The Strike. The television form of the holiday was created in response to the commercialization of Christmas and is celebrated by many people today both for a laugh and as an anti-consumerist statement. It is typically observed on December 23rd.
There is no tree, only an unadorned aluminum pole (since tinsel is distracting). Other celebrations practiced by the orthodox include the "airing of grievances" and "feats of strength." More than a few people celebrate the holiday, which has a website. Not least among the people who celebrate is former Wisconsin governor Jim Doyle, who gave his pole to the state historical society.
(For the source of this article, and to watch three videos associated with it, please visit: https://bigthink.com/culture-religion/alternative-holidays-to-christmas/)
SO YOU THINK YOU KNOW EVERYTHING???
For an affluent Western country, the United States has an usually high proportion of its people living in warm-to-tropical climates, which are breeding grounds for parasites.
Schistosomiasis and toxoplasmosis may sound like something you would pick up in a developing country, but the reality is that more and more so-called "third world" parasites are becoming endemic to the United States. Already, some 60 million people — that's right 60 million — are infected with toxoplasma gondii or, as it's more fondly known as, the "cat poop parasite."
But don't freak out about your pet just yet — it could be worse, and by worse I mean having a tapeworm eat your brain. There have been at least 2,000 cases of neurocysticercosis in the U.S. and 5 million or more cases worldwide, which cause epileptic-like symptoms when this normally gut-eating parasite takes up residence in the cerebrum. There's also Chagas disease, most commonly found in Latin America, which affects the cardiovascular system and can lead to heart failure. In 2007, U.S. blood banks began screening for the disease and found alarmingly high rates among poor communities in Florida and Texas.
Not only are parasites a public health concern, but also they take an untold toll on human intelligence.
So why are parasites flourishing in the U.S.? For an affluent Western country, the United States has an unusually high proportion of its people living in warm-to-tropical climates, which are breeding grounds for parasites. Moreover, as global warming continues, these parasites find more areas that are amenable to their proliferation. In addition, there is relatively low public awareness about the likelihood of contracting such parasites — malaria happens only in Africa, right?
If parasites aren't reined in effectively, they not only threaten public health, but also could reduce human capital.
Not only are parasites a public health concern, but also they take an untold toll on human intelligence. Researchers at Johns Hopkins found ACTV-1, a chlorovirus, in two out of every five subjects. Normally found in algae, the pathogen somehow made a rapid evolutionary leap from infecting plant matter to humans and the cost was diminished cognition in those participants who were infected. According to The American Scholar, "When compared with those who did not harbor the virus, those infected were about 10 percent slower to make calculations and had a reduced attention span, suggesting that the virus compromised their ability to calculate, to focus, and to process visual information — disadvantages in the classroom, on the job, and in other familiar learning situations."
These findings are disturbing on many levels and further reinforce the need for greater access to health care, especially for the nation's poorest. If parasites aren't reined in effectively, they not only threaten public health, but also could reduce human capital.
—
Daphne Muller is a New York City-based writer who has written for Salon, Ms. Magazine, The Huffington Post, and reviewed books for ELLE and Publishers Weekly. Most recently, she completed a novel and screenplay. You can follow her on Instagram @daphonay and on Twitter @DaphneEMuller.
Photo courtesy of iStock
(For the source of this article, and to watch videos relating to this subject, please visit: https://bigthink.com/ideafeed/thank-global-warming-for-the-tapeworm-in-your-brain/)
The winners of the 2018 Laka Competition have been revealed, collecting an exciting array of strange and innovative conceptual designs that focus on providing architectural or technological solutions to current environmental or social problems.
The Laka Competition is subtitled "Architecture that Reacts" and the main thrust of the contest is to celebrate designs that, "are capable of dynamic interaction with their surroundings." This is the fourth year the competition has been running and the winners, selected from 130 designs spanning more than 30 countries, are as innovative, experimental and mind-bending as ever.
The top prize in this year's competition went to American architect Mary Denman, for a fascinating piece entitled Tidal Terrains. The project considers the inevitable nature of rising global sea levels and proposes a hypothetical structure on the Thames River in London. The buoyant structure joins both sides of the river with a landscape spanning restaurants, boulevards and algae farms.
Other highlights selected by the judges for special mentions include the remarkable Platinum City from Sean Thomas Allen, an industry city conceived as an asteroid mine; VolcanoLite, a buoyant research station that can harvest helium ejected from volcanos allowing for a semi-permanent structure to sit above unstable ground; and Surftopia, a beach-pod structure that expands when needed for human habitation and contracts when unoccupied.
The Laka Competition is perhaps one of the more heavily academic and conceptual architectural competitions around, however, it always presents a vast array of innovative designs that push the limits of what we would define as a building.
Take a look through our gallery at the winners and some honorable mentions from this year's competition.
MIT's cyborg plant can drive itself into the light
The Zapata Ezfly looks for all intents and purposes like a Segway of the sky. You stand on a small platform equipped with a series of jet thrusters, holding two handgrips that come up from the base, then rise up into the air and zoom around, steering with your bodyweight.
–
++++++++++
++++++++++
++++++++++
++++++++++
++++++++++
++++++++++
++++++++++
++++++++++
World's largest performing arts center opens in Taiwan
++++++++++
++++++++++
The Giant Marionettes of Royal de Luxe
++++++++++
By Ben Hooper –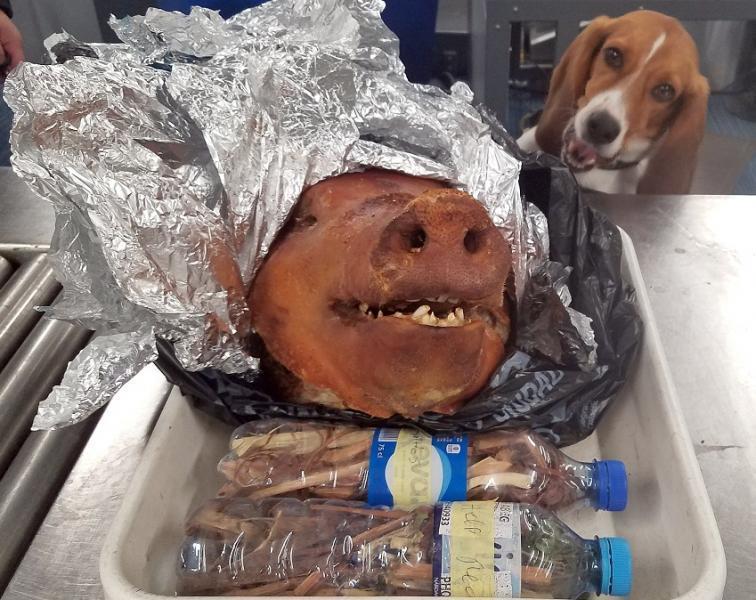 Hardy, a beagle employed by Customs inspectors at Atlanta's Hartsfield-Jackson International Airport, poses with the pig head he sniffed out in the checked luggage of a traveler arriving from Ecuador. Photo by U.S. Customs and Border Protection.
Oct. 16 (UPI) — Customs officials at Atlanta's Hartsfield-Jackson International Airport said a K-9 beagle sniffed out a roasted pig head in a traveler's luggage.
U.S. Customs and Border Protection said Hardy, a CBP Agriculture Detector and member of the agency's "Beagle Brigade," alerted officials to the presence of the pig head in the checked baggage of a traveler arriving from Ecuador.
The nearly 2-pound pig head was destroyed by authorities.
"Our best defense against destructive pests and animal diseases is to prevent the entry of prohibited agriculture products from entering the United States," said Carey Davis, CBP area port director for the Port of Atlanta. "This seizure at ATL illustrate the tremendous expertise of our four-legged K-9 partners in protecting the United States."
Customs said pork products are banned from being transported to the United States from other continents as they could carry animal diseases including Foot and Mouth Disease, Classical Swine Fever and Swine Vesicular Disease.
(For the balance of this article please visit: https://www.upi.com/Odd_News/2018/10/16/Customs-beagle-sniffs-out-pig-head-in-luggage/1001539703224/)
++++++++++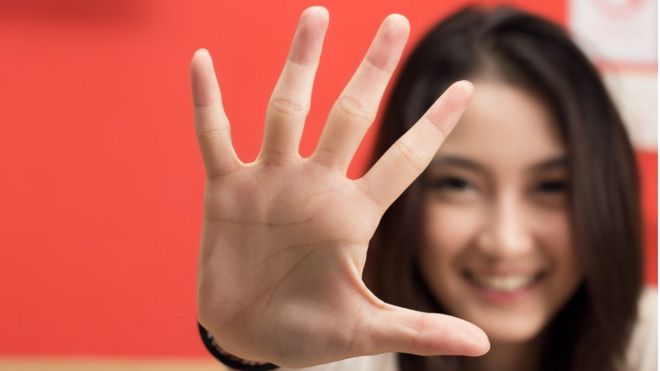 Women whose left index and ring fingers are different lengths are more likely to be lesbians, a study suggests.  Getty Images.

Scientists measured the fingers of 18 pairs of female identical twins, where one was straight and the other gay.
On average, the lesbians, but not the straight twins, had different sized index and ring fingers, typically a male trait, but only on the left hand.
This may be the result of exposure to more testosterone in the womb, the University of Essex researchers said.
The scientists also measured the fingers of 14 pairs of male identical twins, where one was straight and the other gay, but found no link.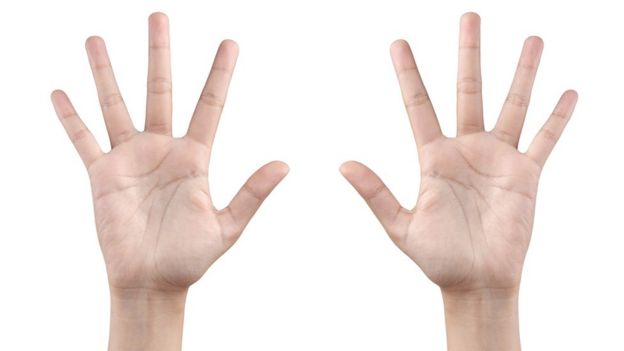 Getty Images.

Both men and women were exposed to the "male" hormone, testosterone, in the womb – but some may be exposed more than others, the scientists said.
Study author Dr Tuesday Watts, from the psychology department at Essex University, said: "Because identical twins, who share 100% of their genes, can differ in their sexual orientations, factors other than genetics must account for the differences.
"Research suggests that our sexuality is determined in the womb and is dependent on the amount of male hormone we are exposed to or the way our individual bodies react to that hormone, with those exposed to higher levels of testosterone being more likely to be bisexual or homosexual.
"Because of the link between hormone levels and difference in finger lengths, looking at someone's hands could provide a clue to their sexuality."
(For the balance of this article please see: https://www.bbc.com/news/health-45887691/)
++++++++++
++++++++++
++++++++++
Sol's Pocket Rocket straddles the awkward space between e-bikes and e-motos
++++++++++
++++++++++
The best of Germany's biggest motorcycle expo – Intermot 2018
++++++++++
++++++++++
++++++++++
Miners in Australia discover 'mother lode'
++++++++++
++++++++++
++++++++++
++++++++++
"[He sleeps for] about an hour, then he'll wake up and switch cats," said the founder of Safe Haven Pet Sanctuary.
++++++++++
++++++++++
++++++++++
Recently, Irish fishermen pulled up the skull and horns of an extinct great elk, which could have 12-foot-wide antlers
By Jason Daley – Smithsonian.com –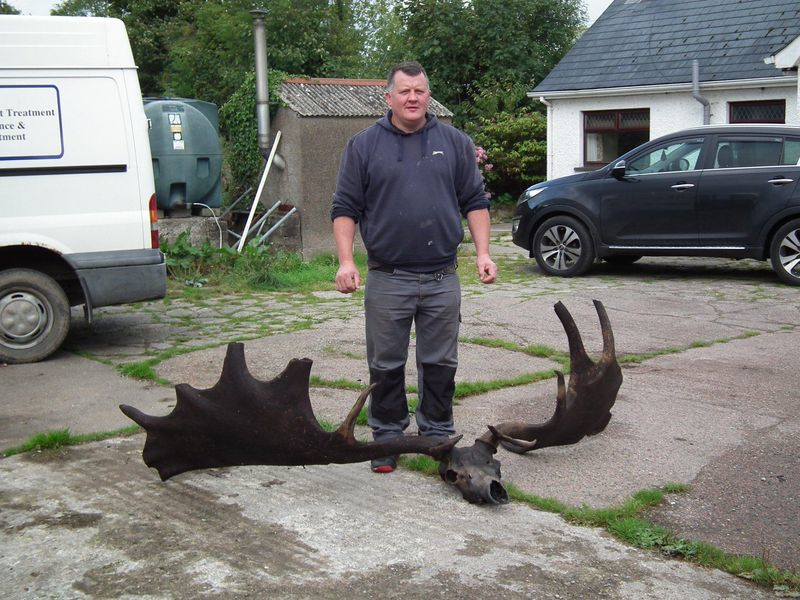 (Pat Grimes/Ardboe Heritage).
Recently, fishermen Raymond McElroy and Charlie Coyle were out on Lough Neagh, a lake near the town of Ardboe in northern Ireland, when they tried to pull up one of their nets. It would barely budge, so they assumed it was caught on a piece of driftwood. But Ronan McGreevy at The Irish Times reports what they pulled up wasn't wood, it was bone. The fisherman landed the massive skull of a Great Elk (Megaloceros giganteus), the largest deer species to ever exist which died out in Ireland about 10,500 years ago.
This particular great elk probably stood 6.5 feet tall at the shoulders. More impressive, however, are its antlers, which in this case were also over 6 feet wide.
"I thought it was the devil himself," Coyle tells McGreevy. "I was going to throw it back in. I didn't know what to do with it."
Luckily, however, McElroy knew just what the skull was since a huge jawbone from one of the elk—and possibly from the same animal—was fished up from the area in 2014, also making the local news.
The Great Elk, also known as the Irish Elk, has a misleading name. It's not an elk, but a huge deer species—some individuals had antlers up to 12 feet wide. And it's not Irish; according to the University of California Museum of Paleontology, the species actually roamed all of Europe, north Africa, northern Asia and a related species lived in China. The reason it is associated with Ireland is because intact fossils of the giant beast are sometimes found in lake beds and bogs on the island, which are especially good at preserving the bones.
The elk also has another claim to fame. In the eighteenth and nineteenth centuries, many scientists believed that the extinction of animals was impossible. Fossils, they believed, were just the remains of animals that explorers would eventually find somewhere hidden on Earth. The remains of the Great Elk was one of the animals used by French scientist Georges Cuvier to show that extinction did in fact take place.
Mike Simms at the Ulster Museum tells Shauna Corr at Belfast Live that the Great Elk was well-suited to the early Pleistocene when Europe was full of grassy plains, but when the last glaciers receded and the habitat changed, the elk couldn't cope.
"They came in [to Ireland] when the weather was great on the grass plains, but then the trees started to grow," he says. "Giant antlers aren't great in the forest. Environmental change is what caused their extinction."
Simms says that the species went extinct in Ireland about 10,500 years ago but managed to hold on in Siberia until about 6,500 years ago.
Currently, the plans for the antlers are unclear, and McElroy is keeping the massive skull in his garage. Kimberley Hickok at LiveScience reports that in 1987 another fisherman pulled up a massive set of antlers from the lake and donated them to a local school for display.
(Read more: https://www.smithsonianmag.com/smart-news/catch-day-7-foot-tall-deer-180970247/)
Give the gift of Smithsonian magazine for only $12! https://bit.ly/1cGUiGv
Follow us: @SmithsonianMag on Twitter
++++++++++
by Matt Davis –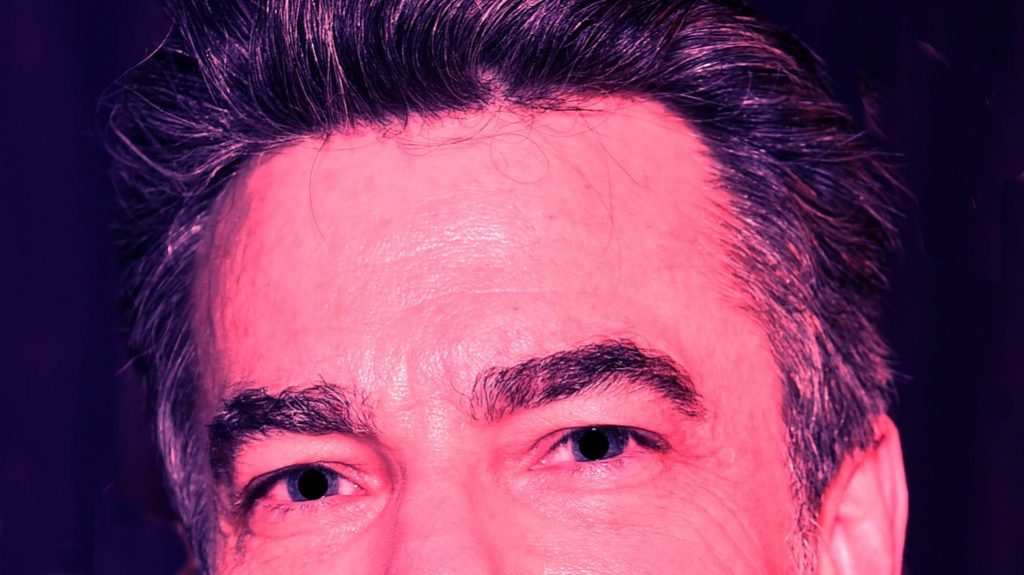 Big Think illustration / Actor Peter Gallagher attends the 24th and final 'A Night at Sardi's' to benefit the Alzheimer's Association at The Beverly Hilton Hotel on March 9, 2016 in Beverly Hills, California. (Photo by Alberto E. Rodriguez/Getty Images)
Life is already hard enough, but some people seem hell-bent on making it harder. We've all met people who refuse to accept blame, exploit their relationships, or elevate themselves by knocking everyone else down a peg or two. You might be able to minimize contact with these folks, but it's impossible to avoid them. They're narcissists, and they're everywhere. In America, narcissism is actually on the rise, so maybe it's a good time to get back into that soothing meditation practice you've been putting off.
Fortunately, new research has provided an excellent clue for identifying the narcissists lurking among us: the eyebrows. A study by Miranda Giacomin and Nicholas O. Rule has shown that bushier eyebrows are associated with higher levels of narcissism.
There are a few different flavors of narcissism, but this study examined the classic type: grandiose narcissists. They're the kind that craves attention, are extroverted, have a high opinion of themselves, and fail to recognize their inner emptiness. According to Giacomin and Rule's results, this type of narcissist has far more distinctive eyebrows than non-narcissists.
What do eyebrows have to do with narcissism?
Research has already shown that people can judge narcissism by appearance. After all, narcissists tend to wear flashier clothes or apply more extravagant makeup. But even unadorned and unaltered faces offer a cue for narcissism. This study strove to find out whether it was the whole face that gave the impression of narcissism or a single feature, and if so, to identify which feature was tipping people off.
Eyebrows are one of, if not the most, expressive features on the face. They are crucial to recognizing identities—for example, a study found that people had more trouble recognizing celebrities with their eyebrows removed than with their eyeballs removed (in Photoshop, relax guys). Eyebrows have been found to influence attractiveness and mate selection as well.
"Because grandiose narcissists strongly desire recognition and admiration," the researchers said, "they may seek to maintain distinct eyebrows to facilitate others' ability to notice, recognize, and remember them; hereby increasing their likability and reinforcing their overly positive self-views."
How did the study find this out?
First, the researchers administered the Narcissistic Personality Inventory (or the NPI) to several undergraduate students. This test is designed to measure the narcissism personality trait through how much respondents agreed with statements like "The world would be a better place if I ruled it." Narcissists (surprise, surprise) tend to agree with such statements.
It's important to note that the NPI doesn't measure clinical narcissism. Rather, it measures the personality trait of narcissism. To one degree or another, we all have some element of self-love in our personalities, only some people love themselves to excess.
After taking the NPI, the students' faces were then photographed, and the researchers asked a sample of participants to judge how narcissistic the photographed faces appeared. At this stage, all participants were able to accurately guess how highly each photographed person had scored on the NPI. This result was no surprise since it's already known that observers can judge narcissism from a person's appearance alone.
Using a clever cognitive trick, the researchers could determine if it was the faces as a whole or a distinct feature of the faces that conveyed narcissism: People process upright faces as wholes, but inverted faces are processed as collections of features. Because the participants could predict narcissism when the faces were inverted, the researchers concluded that one specific feature of the face was clueing people in.
Then, the researchers obscured different features of the faces until they had narrowed down which was giving off the telltale vibes of a narcissist. Surprisingly, participants could judge how narcissistic someone was even if they could only see a single eyebrow.
The participants were also asked to rate eyebrows in terms of femininity, grooming, and distinctiveness, but only distinctiveness was correlated with accurately judging narcissism. What exactly does distinctiveness mean? Density, bushiness, brow power; a narcissist's calling card.
Of course, the study was not able to tell whether people who are more likely to be narcissists also have inherently bushy eyebrows or whether narcissists tend to deliberately cultivate bushy eyebrows. And, although it ought not to need to be said, not everybody with bushy eyebrows is a narcissist and not every narcissist has bushy eyebrows. Regardless, the study provides insight into how we process faces and our latent ability to detect toxic people before it's too late. For more information on how best to deal with narcissists and other high-conflict personalities, check out the video below.
(See the video at: https://bigthink.com/matt-davis/if-you-want-to-spot-a-narcissist-look-at-the-eyebrows)
++++++++++
++++++++++
++++++++++
All those tiny discs add up.
Every day, 45 million Americans stuff slivers of flexible plastic into their eyes, hoping to look less like nerds. While contacts-wearers become quite adept at poking them into place, a new study from researchers from Arizona State University suggests users are not very good at dealing with lenses once they're done with them. All those tiny discarded plastic discs, they report, are adding up to a big environmental problem.
According to the findings, presented Sunday at the 256th National Meeting & Exposition of the American Chemical Society, anywhere from six to 10 metric tons of plastic lenses end up in United States wastewater annually. Because of the way wastewater is treated, all that plastic ends up contributing to microplastic pollution currently building up in waterways, which eventually makes its way into the food chain. It's an especially timely problem as the use of contact lenses is steadily rising.
"This began as an exploratory venture but we have information to support the fragmentation of contact lenses into microplastics within a wastewater treatment plant," study co-author and Arizona State University graduate student Charles Rolsky tells Inverse.
++++++++++
++++++++++
++++++++++
++++++++++
by Mike Colagrossi –
Shangri-La concept art, Far Cry 4, Wikimedia Commons.

Throughout history, mankind has often been enthralled by stories of mythical places, cities, and paradises shrouded in secrets and lost to the sands of time. These legendary locations pervade all great cultural histories. Some have served as allegories for more prosperous and peaceful times, others as places to find and conquer!
While philosophers weaved tales about lost cities, ancients also dreamt of places that once gave rise to utopian golden ages. A journey through the history of these fabled lands has captivated many. Some people might even be inspired to believe in them all over again.
Here are the 7 most famous mythical places in the world.    
Artists depiction of Atlantis, Werner Brigette, Pixabay.
Atlantis
Unlike many stories whose appearance have been lost to the historical record, we know exactly when and who invented the story of Atlantis. The story was first told by Plato around 330 BCE, in two of his dialogues "Timaeus" and "Critias." It's been established that there was no record of Atlantis before these texts and that Plato created this place as a plot device in his stories.
The Sunken City of Atlantis was supposed to be an incredibly powerful civilization that was sophisticated, wealthy and founded by demigods. It was made up of many concentric islands with exotic plants and animals aplenty. He used these people as an example of what befalls a nation when they succumb to hubris.
Despite this story's origin in pure fiction, many people over the millennia have sought out this mythical place. A lot of the speculations were inspired by a book written by a Minnesota politician, Ignatius L. Donnelly, in 1882. He believed that Plato considered Atlantis a real place. He went on to explain its histories and supposed rule over large swathes of the world, his theory being that all ancient civilizations descended from this one land.
The Last Sleep of Arthur, Wikimedia Commons. Supposedly, the background is Avalon. 
Avalon
Glastonbury, a town in England, well known for its neo-pagan beliefs and local Arthurian legends was once thought of the location for the legendary, idyllic and lost paradise of Avalon. The first mention of Avalon was in 1136 through Geoffrey of Monmouth's Historia Regum Britanniae. According to Arthurian legend, the island was ruled by Morgan le Fay, an enchantress who nursed King Arthur back to health after a battle.
The mystical land was sometimes referred to as the Island of Apples because it was supposedly covered in wild grapevines and apple forests. Its inhabitants were immortals as well. This was the place that the great sword Excalibur was forged. This magical place is where King Arthur was laid to rest and laid on a bed of gold.
Thomas Cole's 'The Arcadian', Public domain. 
Arcadia
A couple of hundred years before Plato's time, the Ancient Greeks imagined a place called Arcadia. This early vision utopia is also the name of a region in modern-day Greece. In ancient mythology, Arcadia was a pastoral back-to-nature place. The wilderness housed Pan, a woodlands God who resided with his nymphs and satyrs as his guards of a never-ending hedonistic paradise. This was a place where beings greater than humans ascended to and lived in prosperous delight for hundreds of years. It was an Eden where spirits and gods gallivanted in ecstasy and longevity.
Arcadia has remained a popular muse for artists from antiquities onwards. Virgil and Ovid set many of their poems in these primeval forests. Medieval European writers and Renaissance painters all tried to capture the spirit of this golden age land. Arcadia is the archetypical view of a place untouched by civilization where humans live as gods.
 Hessel Gerritsz from 1625, depicting the city of Manoa / El Dorado on the left of the lake.
El Dorado
Conquistadors riding through 16th century South America scoured the land for a mythical city of gold. El Dorado started out as a story about a king named "The Gilded One." He was said to be a native king who powdered his body with gold and tossed ornate jewels into a lake as part of his coronation. These stories eventually would morph into a tale of a kingdom rather than an individual man.
The legends grew over the years as the Europeans spread and discovered more of South America. The golden city was a place of untold prestige and wealth, which captivated plenty of adventurers. El Dorado was said to be next to Lake Guatavita – a real space they'd eventually find. When explorers found the lake, they lowered the level of the water and found hundreds of gold pieces. But the fabled city remained out of their grasp until all swathes of South American land were eventually covered and the myth was no more.
Map of Lemuria according to William Scott-Elliott.
Lemuria
This hidden land was told through stories many ages before Atlantis. There are many origins to Lemuria, some occult writings, pseudo-histories and even scientific musings of a lost continent as well. Many texts from the east talk about a land called 'Ra-Mu.' In some sacred Tibetan texts, this land is also known as Muri or Lemuria.
Madame Blavatsky, a Russian occultist who co-founded the Theosophical society in 1875, wrote a thrilling fiction about this secret land. Blavatsky claims in her "The Secret Doctrine" text that Lemuria contained a third race of Lemurians, she also posited that Atlantis also existed. Her Lemurians were described as having four arms and a psychic eye on the back of their head, which they used to communicate with one another through telepathy. This is a definite favorite amongst occultists and esoteric conspiracists.
Far Cry 4 concept art, apparently of Shangri-La. 
Shambala/Shangri-La
Shambhala is a Sanskrit word that means "place of peace." This is an ancient mythical paradise that predates Tibetan Buddhism. The name was first seen in the scriptures of Zhang Zhung in western Tibet. According to the legend, it's a kind of heaven where only the purest can live in a place bountiful with love and wisdom. There is no old age or suffering here in this mythical kingdom.
Also known as Shangri-la, this place has been called by many names throughout the years. Sometimes called the Forbidden Land, Land of Radiant Spirits and Land of the Living Gods. Many westerners believed it to be a real place for some time, hidden deep within the Tibetan mountains. In Buddhist traditions it's said to be ruled over by a future Buddha named Maitreya and when the world declines into abject war and degeneracy, a great war will come as the Shambhala Kings ride out to defeat "dark forces" It is after this time in which the world will be ushered into a new Golden Age.
Thule as Tile on the Carta Marina of 1539 by Olaus Magnus, where it is shown located to the north west of the Orkney islands – wikipedia.org
Thule
A place of intrigue for many explorers, poets, and even Nazi occultists, Thule was a territory that was said to be located in the frozen north near the Arctic. The tale dates back to 4th century BCE when a Greek explorer named Pytheas claimed to have traveled to an icy island north of Scotland.
Many of Pytheas' fellow explorers doubted the validity of his claims, but the Thule legend would live on through the ages. Eventually, the original location was most likely a mistaken Norway or Iceland. The myth of the island is most famously connected to the Thule Society, a post World War I organization that believed Thule to be the ancestral home of an Aryan race.
(Source, and for a video, please visit: https://bigthink.com/mike-colagrossi/7-most-famous-mythical-places/)
++++++++++
++++++++++
++++++++++
++++++++++
++++++++++
++++++++++
++++++++++
++++++++++
++++++++++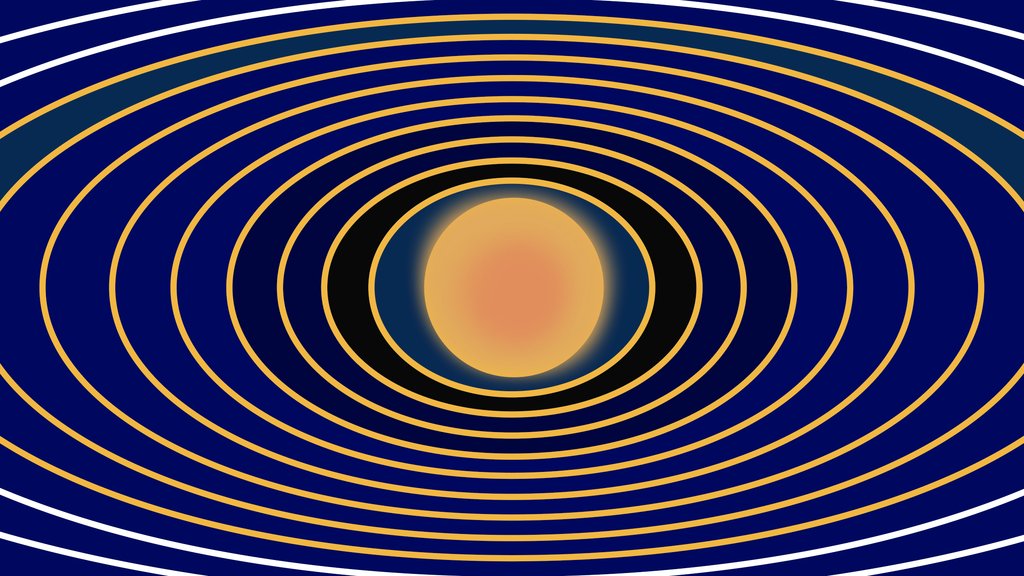 The flag of Asgardia, Wikimedia Commons
If you believe that the technology to live in space will be available to you within your lifetime; if you agree with the political philosophy outlined by the 'World Passport'; if you find yourself in China, India, the U.S., Indonesia, or Brazil with a hankering to take to the stars, then perhaps you should consider becoming a citizen of Asgardia, an organization that hopes to be the first 'country in space.'
What do you need to do to become a citizen of Asgardia?
Read the Asgardian Constitution. If you agree with it, then you can apply.
Where is Asgardia located?
Stubenring 2/8-9, 1010 Wien, Austria.
How big is Asgardia?
They currently claim around 200,000 citizens — many of them Russian.
Where will Asgardia be eventually?
Asgardia seeks to live in space stations circling the earth and on a moon base, perhaps in the next twenty-five years. There are no current designs for the space stations or moon base at this time.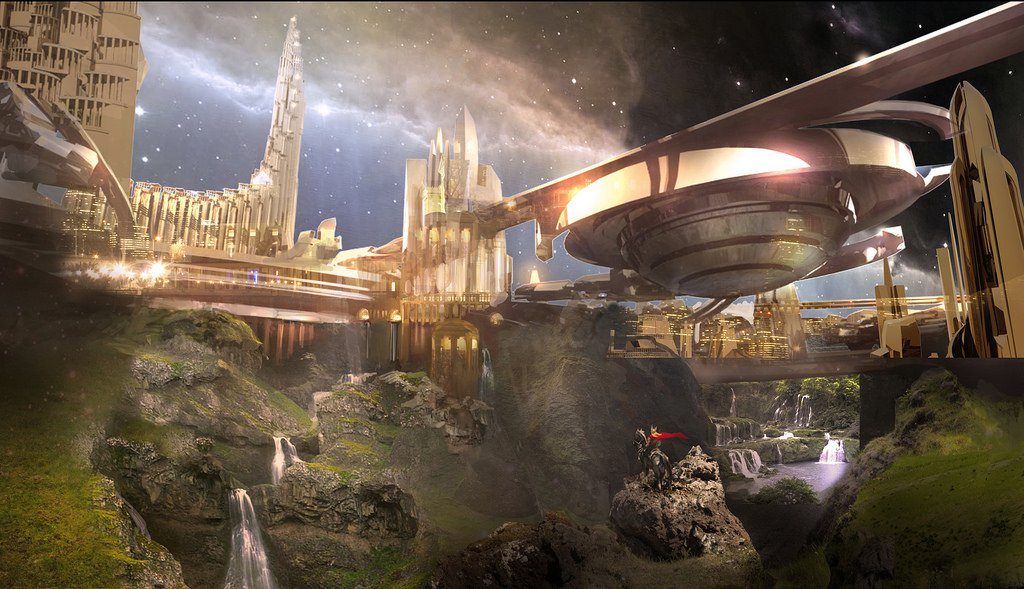 An artist's depiction of Asgardia. Flickr user CarlosR38.
That's it? All I need to become a citizen of Asgardia is to read something and then apply?
Once you join — and they are accepting applications — they ask for your information: where you live, your education, the best way to contact you, and that's pretty much it.
The Independent has reported that Asgardia might consider an IQ test for prospective citizens, but the potential of citizens having to take an IQ test sets up a decent (and relevant) follow-up question.
Is this all a scam?
There's not an implausible chance. Outsiders being offered IQ tests and then being told that they either have 'just the intelligence' needed for a 'special project' or that there's something wrong with them that only someone else can fix — as Scientology has done for years — sounds like a scam.
The website Stop Fake — a collection of Ukranian journalists seeking to point out Russian propaganda — notes that Asgardia "encourages people to buy shares in its joint stock company, Asgardia AG" and invest in their own cryptocurrency.
There's also a not implausible chance that this might also be a Russian thing.
(For the balance of this story please see: https://bigthink.com/evan-fleischer/the-first-space-nation-asgardia-is-accepting-applications-for-citizenship-but-is-it-a-hoax/)
++++++++++
Michio Kaku: Let's not advertise our existence to aliens

Michio Kaku – Theoretical Physicist, Author, and Science Educator Professor of Theoretical Physics, CUNY.

If advanced alien civilizations do exist, theoretical physicist Michio Kaku asks, why would they want anything to do with us? It would be like an academic talking to a squirrel, he suggests, and he has a great point. Hollywood and science fiction novels have conditioned us for years to believe that aliens either want to hang out on our intellectual level and learn from us… or destroy us. If alien life really does have the technology and know-how to make it all the way here, perhaps we should just play it cool and not assume that we are the top species in the universe. Besides, if we play our cards wrong and go all Will Smith in Independence Day on our smart new neighbors, it could be the end of us. Mankind's biggest folly, Kaku suggests, might just be in its insistence that we are an exceptional species. Michio Kaku's latest book is the wonderful and enlightening The Future of Humanity: Terraforming Mars, Interstellar Travel, Immortality, and Out Destiny Beyond Earth.
Michio Kaku: We have this mental image that a flying saucer will circle the White House lawn, land on the White House lawn and give us a bounty of all sorts of technological goodies to initiate an age of Aquarius on the planet earth. Personally, I don't think that's going to happen. For example, if you're in the forest do you go out and talk to the squirrels and the deer? Maybe you do for a while, but after a while, you get bored because they don't talk back to you because they have nothing interesting to tell you because they can't relate to our values and our ideas.
If you go down to an anthill do you go down to the ants and say I bring you trinkets; I bring you bees; take me to your aunt queen; I give you nuclear energy. So I think for the most part the aliens are probably not going to be interested in us because we're so arrogant to believe that we have something to offer them. Realize that they could be thousands, maybe millions of years ahead of us in technology and they may have no interest in interacting with us in the same way that we don't necessarily want to deal with the squirrels and the deer in the forest.
Now some people say that we should not try to make contact with them because they could be potentially dangerous. For the most part, I think they're going to be peaceful because they'll be thousands of years ahead of us, but we cannot take the chance. So I personally believe that we should not try to advertise our existence to alien life in outer space because of the fact that we don't know their intentions.
Then the other question is what happens if they're evil? Well, I think the question of evil is actually a relative question because the real danger to a deer in the forest is not the hunter with a gigantic rifle; he's not the main danger to a deer in the forest. The main danger to a deer in the forest is the developer; the guy with blueprints; the guy in a three-piece suit; the guy with a slide rule and calculator; the guy that's going to pave the forest and perhaps destroy whole ecosystems.
In other words, the aliens don't have to be evil in order to be dangerous to us, they might not care, they just might not care about us and in the process pave us over. In fact, if you read the novel War of the Worlds the Martians in HG Wells seminal novel were not evil in the sense they wanted to torture us and they wanted to do all sorts of barbaric things to humanity. No, we were just in the way. And so I think that is a potential problem. We could be in the way of a very advanced civilization that simply is not evil but simply views us as we would view squirrels and deer in the forest.

So personally I think that we should not advertise our existence when we go into outer space. For the most part, however, I do think they are going to be peaceful, they're not going to want to plunder the earth because there are plenty of planets out there that have nobody on them that they can plunder at will without having to worry about restive natives called humanity. And so I think they're not going to come to visit the earth to plunder us, to do all sorts of mischief. For the most part, I think they'll just leave us alone.
(Source: https://bigthink.com/videos/michio-kaku-michio-kaku-lets-not-advertise-our-existence-to-aliens/)


++++++++++
The ear, grown to replace one lost in a car crash, will have functional blood vessels and nerve endings.
++++++++++
++++++++++
++++++++++
++++++++++
by Angel San Juan, KFDM Staff

Photo: KFDM Staff
++++++++++
++++++++++
++++++++++
++++++++++
++++++++++
++++++++++
Outbreak of Sea Lice in Water…!
+++++++++
++++++++++
++++++++++
++++++++++
++++++++++
Eindhoven, the Netherlands, looks poised to become something of a 3D-printed architecture boom town. Following the construction of a 3D-printed bridge in the city, a total of five rental homes made using the cutting edge tech are now planned too.   Read more
++++++++++
by Conner Flynn
I thought that the urinal was the only safe place left to get away from ads being played, but nope. And once you start peeing you are a captive audience as long as that stream is going with these new video urinals from Dutch toilet company Mr.Friendly. Brilliant idea, marketing guys.
This high-tech urinal actually has several nice features like a waterless/flushless function and an anti-bacterial surface, but the big new upgrade is the built-in display with an automatic sensor that'll play advertisements while you pee.
I know that online they use ads based on your browsing and buying habits, so I can only guess that this thing chooses the ads based on peeing technique? I hope it doesn't have any other sensors that give it info about your junk because it could be pretty embarrassing if several guys are peeing and watching ads, and one guy gets the erectile dysfunction ad.
Also, we probably shouldn't be distracted in the bathroom unless you want pee everywhere. Let's just focus on the task at hand and leave the urinal an ad-free zone, guys. And how many people are going to be pissed off at the ads so that they piss on them for real? People are nasty after all. This is a bad idea.
(Article source: https://technabob.com/blog/2018/04/20/video-ad-bathroom-urinal/)
++++++++++
++++++++++
I'm going through a divorce. It's amicable, mature, and adult. We just don't work together as a couple anymore, but we'll try and remain friends. As a writer, I work from home. I'm alone all day and now, no one is coming home at night. As a result, I'm taking great pains to be social, to go out, to see friends and family, to make phone calls, and to avoid social isolation. There's no shame in admitting as much, although our rugged individualist society may look down on opening up about such things, especially as a straight male. Aren't we supposed to be stoic mavericks, able to set out on our own, without anyone's help at all? Turns out, not so much.

A young man sits by himself in a stadium. Image credit: Getty Images.

In fact, staying connected is the healthiest thing to do, and not just psychologically. According to a 2014 University of Chicago study, loneliness can have a significant negative impact on physical health. It can increase the rate of atherosclerosis—the hardening of the arteries, increase the risk of high blood pressure and stroke, and decrease retention, which can even hurt learning and memory. What's more, the lonely often make worse life choices and are more prone to substance abuse.
Some research suggests loneliness is worse for you than smoking or obesity. It can even increase the risk of type 2 diabetes. Seniors are often the focus. Those who face social isolation actually see a 14% increased risk of premature death.
(To continue with this article visit: bigthink.com/philip-perry/theres-a-loneliness-epidemic-in-the-us-and-its-getting-worse/)

++++++++++
Ireland gives us whiskey, Bitcoin gives us… hmm.
++++++++++
(Source: https://www.popsci.com/what-is-horsepower)
++++++++++
The Nuclear Regulatory Commission (NRC) wants public input on a "scoping study" intended to justify calling some nuclear waste "very low-level waste" or VLLW. We call it "Very Large Loophole Waste."
Comments are due by May 15th. Tell the NRC to keep all nuclear waste regulated, and to increase radioactive controls.
Radioactive gasses seep into concrete lodging and decay becoming other radioactive elements. Metal parts in the reactor are bombarded with neutrons during nuclear power production process and become activated radioactive metal.
As reactors and other processing factories that are a part of the nuclear fuel chain shut down, the buildings and their parts, the soil, the uniforms employees wore, the tools used to service reactors and other machinery, etc., all have become contaminated with radioactivity, and must be isolated from the environment and the public.
Instead of paying to manage these contaminated items as the nuclear waste they are, the Department of Energy (DOE) and nuclear industry are attempting to reclassify the waste as "Very Low-Level" and allow it to be dumped in landfills and/or incinerators, or recycled with consumer goods.
Huge amounts of dangerous but hard-to-detect nuclear wastes would no longer be regulated as radioactive and would have "alternative methods of disposal," not at licensed radioactive waste sites.
Send your comments to the NRC by May 15th.
The term "low-level" radioactive waste is already deceptive and can mean very high risk to humans and other life. Help protect us, our communities, and future generations!
Thanks for all you do, Diane D'Arrigo, Radioactive Waste Project Director
Nuclear Information and Resource Service, 6930 Carroll Ave, Ste. 340, Takoma Park, MD 20912,(301) 270-6477, www.NIRS.org
++++++++++
++++++++++
++++++++++
Can you raed this?
Olny 55 plepoe out of 100 can.
I cdnuolt blveiee that I cluod aulaclty uesdnatnrd what I was rdanieg. The ph aonmneal pweor of the hmuan mnid, aoccdrnig to a rscheearch at Cmabrigde Uinervtisy, it dseno't mtaetr in what oerdr the ltteres in a word are, the olny iproamtnt tihng is that the frsit and last ltteer be in the rghit pclae. The rset can be a taotl mses and you can still raed it whotuit a pboerlm. This is bcuseae the huamn mnid deos not raed ervey lteter by istlef, but the word as a wlohe. Azanmig huh? Yaeh and I awlyas tghuhot slpeling was ipmorantt! If you can raed this forwrad it. 
++++++++++
Walk With Me While I Age
++++++++++