++++++++++
–
For a list of daily Santa Fe area events
–
++++++++++
WESST Celebrates 30 Years of Impact
2019 marks the 30th anniversary of WESST's impact in NM and we are celebrating all year long! Due to the generosity of an anonymous donor, WESST will make twelve $1,000 investments in client businesses to recognize the contributions these businesses make in their communities every day. We will also highlight a number of individuals, businesses and organizations that demonstrated a key role in WESST's growth over the past 30 years in our "30 Faces of WESST" feature.
Many thanks to our 30th Year Anniversary Sponsors: Affordable Solar, Garcia Automotive Group, New Mexico Gas, PNM, Presbyterian, Southwest Capital Bank!

For more information:

Region Contacts
Albuquerque»
Kris Crowell, Regional Mgr.
505-246-6900
Farmington»
TBD, Regional Mgr.
505-566-3715
Las Cruces»
Humberto Hijar-Alvídrez, Regional Mgr. 575-541-1583
Río Rancho»
Brad Crowson, Regional Mgr.
505-892-1238
Roswell»
Rhonda B. Johnson, Regional Mgr.
575-624-9850
Santa Fe»
Bette Bradbury, Regional Mgr.
505-474-6556

Click map for detailed view
++++++++++
2019 Sep 01
–
Pecos NHP to Keep New Trail Open
for Year Round Hiking
–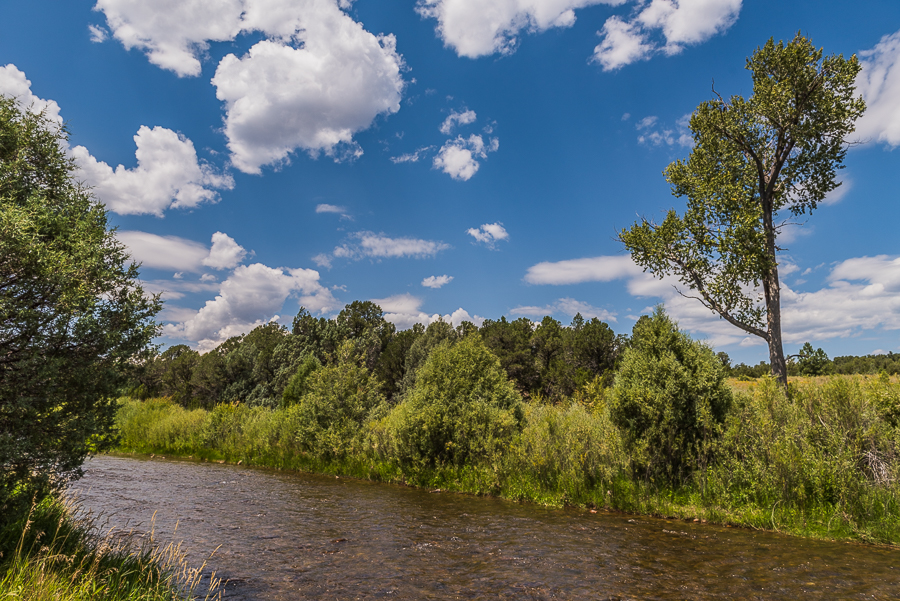 Pecos, NM: Pecos National Historical Park is pleased to announce that beginning September 1st, 2019 the 3.8 mile South Pasture Loop trail on the grounds of the historic Forked Lightning Ranch will be open to hikers from 8:30 a.m. to 1:00 p.m. on weekends throughout the year. The process of opening the trail began in earnest during a trial period in 2018 when the South Pasture Loop was accessible on special occasions and staff could easily remedy safety issues and evaluate impacts to the resource. Based on the success of these endeavors, Superintendent Karl Cordova has given approval to open the trail on weekends year round. Supt. Cordova notes, that he and the park staff "have a duty to explore ways to make our park more accessible while meeting the mission of the National Park Service."
This moderately difficult trail follows old ranch roads through a shady cottonwood grove, along the bluffs of the Pecos River, and through the open pasture lands of the Forked Lightning Ranch. Hikers must first check in at the Visitor Center to receive driving directions to the trailhead and a hiking map.  The trailhead is open from 8:30 a.m. to 1:00 p.m.; visitors must complete their hike no later than 3:00 p.m.  Dogs are not permitted.  This trail is exposed to the elements; exercise appropriate caution with regard to weather.
Legislation in the 1990s added the Forked Lightning Ranch property to the park, which expanded park lands from 342 acres to more than 6,700 acres.  This vast scenic expanse of land offers visitors a unique opportunity to explore the beauty of the Upper Pecos River watershed.
For more information about the park contact Pecos NHP at (505) 757-7241 or visit our website at www.nps.gov/peco. You will also find our listings on the New Mexico True website (newmexico.org) and Tourism Santa Fe (santafe.org). Please like on us on Facebook at https://www.facebook.com/PecosNHPnps or Instagram (https://www.instagram.com/pecos_nps).
From I-25 N: Take the Pecos/Glorieta Exit, #299. Left onto overpass, right onto Route 50; proceed on Route 50 for eight miles. At the village of Pecos, take a right at the four-way stop onto Route 63. In two miles, the park will be on your right. From I-25 S: Take the Rowe Exit, #307. Follow signs. From Highway 63, the park will be on your left.
NPS Pecos River Photo © Stan Ford.
Becky Latanich, Chief of Interpretation and Education, Pecos National Historical Park, P.O. Box 418 Pecos, NM 87552-0418    Ph: (505) 757-7210
Please like the park on Facebook and Instagram!
++++++++++
–
2019 Nov 1-2
at
The Feed Bin
November 1st. and 2nd. – Friday and Saturday
Feed and Pet Food Vendors on hand….!
Hourly specials on select items…!!

!!!

1202 West Alameda, Santa Fe

Ph: 982-0511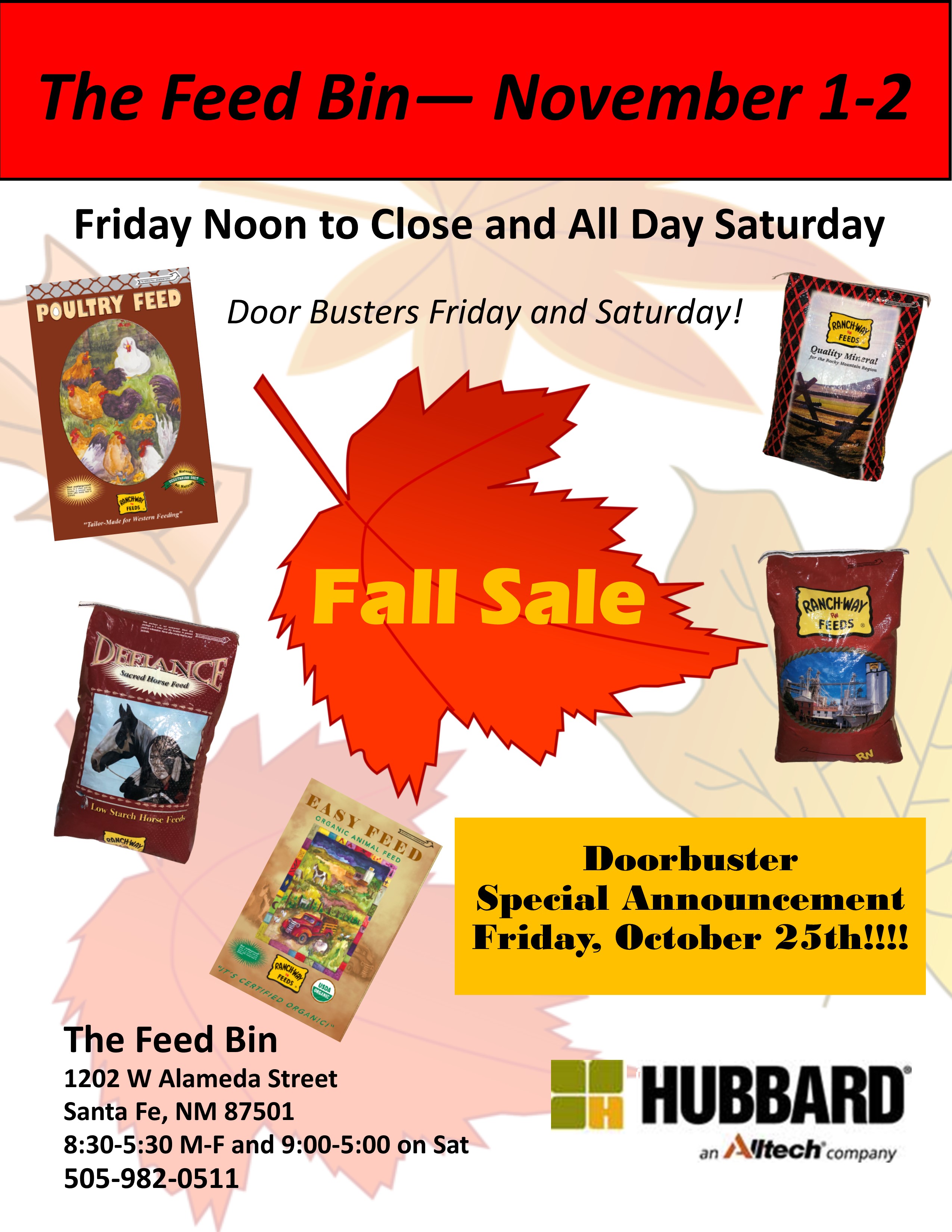 Saturday, November 2nd, 9am – 4pm
The Path Forward in Challenging Times: Cultivating Well Being 
The Academy for the Love of Learning and The Sky Center are collaborating to offer a day of learning, practice and reflection focused on the power of presence and awareness to build our resilience as we respond to life's daily challenges. This event is open to all local educators from schools and other service organizations – including teachers, administrators, counselors, social workers and nurses.
++++++++++
2019 Nov 06 – Nov 30
–
FEED BIN BIRD SEED SALE…!!
–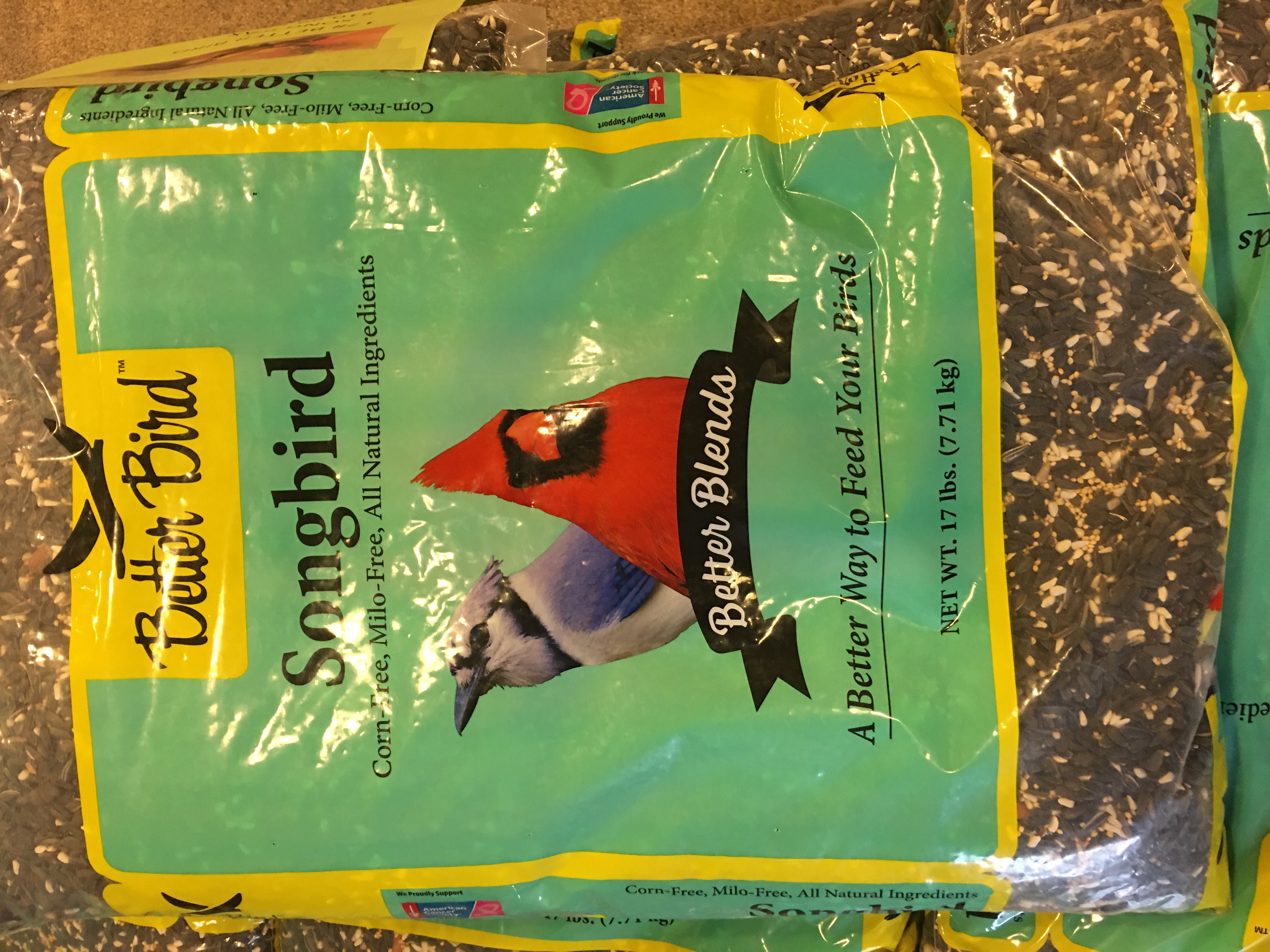 17# bags of Better Bird Songbird seeds – Limited Time Only: $10.99 …!!
Call for more information: 982-0511
–
++++++++++
2019 Nov 13

–
Wednesday, November 13th, 6:30pm – 9pm 
Drawing from Experience 
Family, culture, land, food, sound…Knowing our roots, and remembering the people, places, and experiences that make us who we are, can strengthen our confidence. Sharing our own stories, and hearing other people's stories, invites insight and a deepening of compassion, as well as an increased sense of connection within a group or community – personal or professional.
++++++++++
–
2019 Nov 16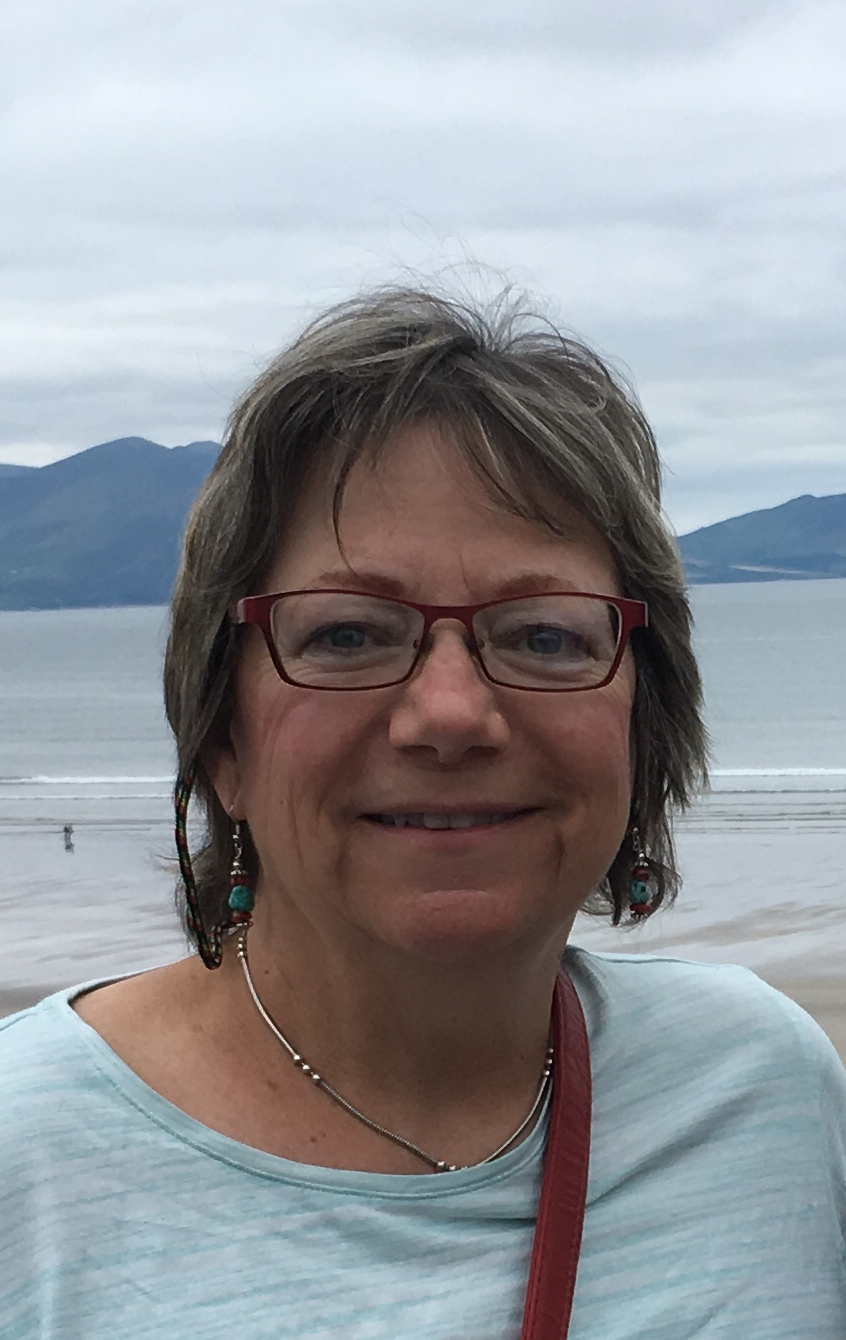 Bandelier Artist in Residence, Judy Mosher, to offer "Prose & Poetry in the Park" Writing Workshops 
Bandelier's third and last artist in residence for 2019, writer and poet Judy K. Mosher PhD., will offer two writing workshops for the public on Saturday, November 16; one from 10am-12noon and another from 1-3pm.  Each session will include writing tips and prompts and a walk around various sites in Frijoles Canyon, weather permitting. Place based writing in Bandelier, whether prose or poetry, is the focus of this generative (non-critique) workshop. Pre-registration not required, simply meet at the Bandelier Visitor Center in Frijoles Canyon. Participants are asked to bring any preferred writing materials, snacks/lunch and water. Bring comfortable walking shoes and dress in layers for any outdoor activity.
Ms. Mosher has made Santa Fe, New Mexico her home for over 30 years. Her poetry chapbook, Shrinking Bones, won First Prize and publication in 2018 by the Poetry Box Press in Oregon.  Judy co-authored the anthology, Bosque Rhythms, from writing in the Bosque del Apache National Wildlife Refuge, and has prose and poetry published nationally. Her love of poetry and the natural world led her to seek an Artist Residency at Bandelier National Monument.
Artists living in national parks gather inspiration during their residency to create and compose. Bandelier Superintendent Jason Lott adds, "Regardless of their media, artists are sure to find meaning and be inspired by national parks. The Artist in Residence program allows us to share another interpretation of Bandelier with the public."  
For details or information, contact the Bandelier National Monument Visitor Center at 505-672-3861 x 517, check the website at www.nps.gov/band, or follow the park Facebook page at BandelierNPS.
About the National Park Service. More than 20,000 National Park Service employees who care for America's more than 417 national parks and work with communities across the nation to help preserve local history and create close-to-home recreational opportunities. Visit us at http://www.nps.gov, on Facebook www.facebook.com/nationalparkservice, Twitter www.twitter.com/natlparkservice, and YouTube www.youtube.com/nationalparkservice.
++++++++++
–
2019 Nov 16
–
–
A Quest for Freedom
An empowering evening of live music and dance, A Quest for Freedom is a music and dance collaboration between the Nai-Ni Chen Dance Company and the world-renowned Ahn Trio. The athletic physicality of 7 exquisite dancers, mesmerizing choreography of Nai-Ni Chen combined with the virtuosity of the Ahn Trio are integrated seamlessly throughout the program.
In this production, the Ahn Trio performs their most popular and engaging music, including their sassy, classical version of Space Oddity by David Bowie, Night Flight by Kenji Bunch, among others. The Nai-Ni Chen Dance Company also commissioned new music from composer Kenji Bunch. Concrete Stream with passages that allow dancers to interact with musicians.
About Nai-Ni Chen
Nai-Ni Chen has been creating dances professionally for over thirty years in the US. She has built a diverse repertory of over 80 original works and toured to major venues in the US and international festivals in 12 countries around the world. A cross-cultural choreographer who aims to bring audience across the cultural boundaries, she has developed her unique movement and choreographic styles that reflect the grace and splendor of the Chinese cultural traditions she studied in Taiwan since youth and the dynamic spirit of modern dance that she acquired in New York from luminaries such as Mary Anthony, Bertram Ross, Doris Rudko and Patricia Rowe.

About The Ahn Trio
Hailed as "exciting musicians with virtuosity and flair," the three sisters of the Ahn Trio (Lucia on the piano, Angella on the violin and Maria on the cello) have embraced 21st century classical music while redefining the art of chamber music. Born in Seoul, Korea and educated at the Julliard School in New York City, the Ahn Trio brings a new energy and an ever evolving vision of music to the performance stage, whether it be Vienna's Musikverein, New York's Lincoln Center, Beijing's Concert Hall or The White House.
++++++++++
2020 Jan 18

–
Saturday, January 18th, 2020, 8:30am – 8:30pm
Holotropic Breathwork Workshop
Holotropic Breathwork™ is a simple yet profound method for expanding our understanding of who we are and what it means to be human. It invites potentially transformative learning about aspects of self that may be unfamiliar or unexplored, the possibility for healing, and the emergence of fresh insight.
++++++++++
2020 Mar 12

–
Thursday, March 12th – Sunday, March 15th, 2020, 9:30am – 8pm
Holotropic Breathwork Retreat
Holotropic Breathwork™ is a simple yet profound method for expanding our understanding of who we are and what it means to be human. It invites potentially transformative learning about aspects of self that may be unfamiliar or unexplored, the possibility for healing, and the emergence of fresh insight.
++++++++++