++++++++++
++++++++++
++++++++++
++++++++++
++++++++++
++++++++++
++++++++++
++++++++++
++++++++++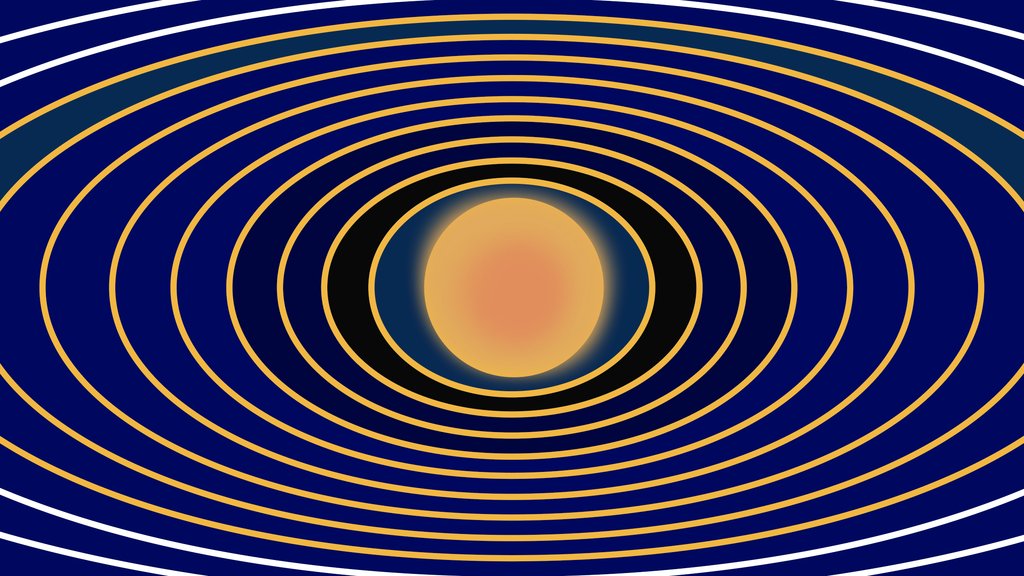 The flag of Asgardia, Wikimedia Commons
If you believe that the technology to live in space will be available to you within your lifetime; if you agree with the political philosophy outlined by the 'World Passport'; if you find yourself in China, India, the U.S., Indonesia, or Brazil with a hankering to take to the stars, then perhaps you should consider becoming a citizen of Asgardia, an organization that hopes to be the first 'country in space.'
What do you need to do to become a citizen of Asgardia?
Read the Asgardian Constitution. If you agree with it, then you can apply.
Where is Asgardia located?
Stubenring 2/8-9, 1010 Wien, Austria.
How big is Asgardia?
They currently claim around 200,000 citizens — many of them Russian.
Where will Asgardia be eventually?
Asgardia seeks to live in space stations circling the earth and on a moon base, perhaps in the next twenty-five years. There are no current designs for the space stations or moon base at this time.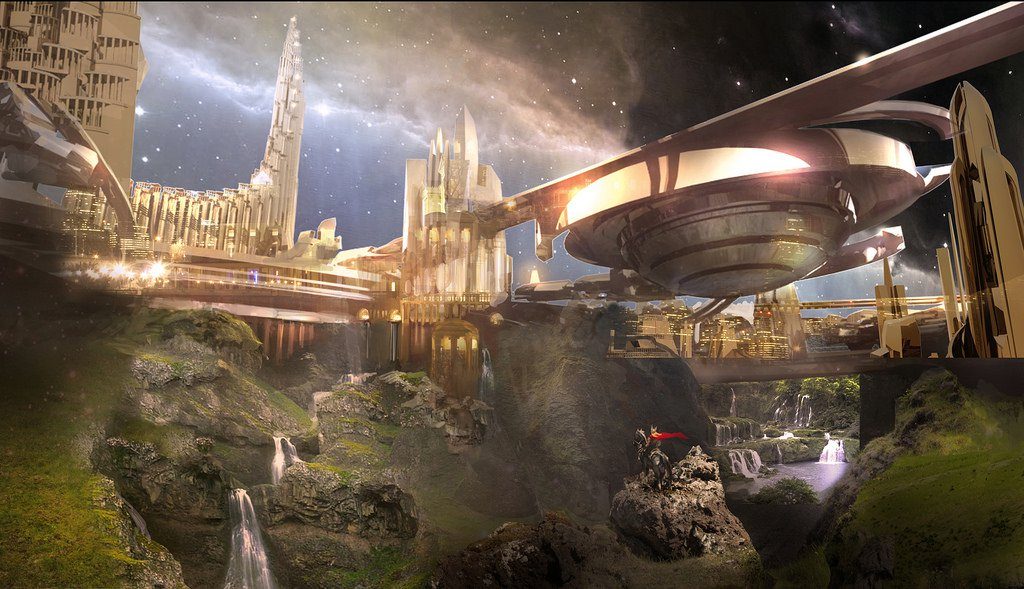 An artist's depiction of Asgardia. Flickr user CarlosR38.
That's it? All I need to become a citizen of Asgardia is to read something and then apply?
Once you join — and they are accepting applications — they ask for your information: where you live, your education, the best way to contact you, and that's pretty much it.
The Independent has reported that Asgardia might consider an IQ test for prospective citizens, but the potential of citizens having to take an IQ test sets up a decent (and relevant) follow-up question.
Is this all a scam?
There's not an implausible chance. Outsiders being offered IQ tests and then being told that they either have 'just the intelligence' needed for a 'special project' or that there's something wrong with them that only someone else can fix — as Scientology has done for years — sounds like a scam.
The website Stop Fake — a collection of Ukranian journalists seeking to point out Russian propaganda — notes that Asgardia "encourages people to buy shares in its joint stock company, Asgardia AG" and invest in their own cryptocurrency.
There's also a not implausible chance that this might also be a Russian thing.
(For the balance of this story please see: https://bigthink.com/evan-fleischer/the-first-space-nation-asgardia-is-accepting-applications-for-citizenship-but-is-it-a-hoax/)
++++++++++
Michio Kaku: Let's not advertise our existence to aliens

Michio Kaku – Theoretical Physicist, Author, and Science Educator Professor of Theoretical Physics, CUNY.

If advanced alien civilizations do exist, theoretical physicist Michio Kaku asks, why would they want anything to do with us? It would be like an academic talking to a squirrel, he suggests, and he has a great point. Hollywood and science fiction novels have conditioned us for years to believe that aliens either want to hang out on our intellectual level and learn from us… or destroy us. If alien life really does have the technology and know-how to make it all the way here, perhaps we should just play it cool and not assume that we are the top species in the universe. Besides, if we play our cards wrong and go all Will Smith in Independence Day on our smart new neighbors, it could be the end of us. Mankind's biggest folly, Kaku suggests, might just be in its insistence that we are an exceptional species. Michio Kaku's latest book is the wonderful and enlightening The Future of Humanity: Terraforming Mars, Interstellar Travel, Immortality, and Out Destiny Beyond Earth.
Michio Kaku: We have this mental image that a flying saucer will circle the White House lawn, land on the White House lawn and give us a bounty of all sorts of technological goodies to initiate an age of Aquarius on the planet earth. Personally, I don't think that's going to happen. For example, if you're in the forest do you go out and talk to the squirrels and the deer? Maybe you do for a while, but after a while, you get bored because they don't talk back to you because they have nothing interesting to tell you because they can't relate to our values and our ideas.
If you go down to an anthill do you go down to the ants and say I bring you trinkets; I bring you bees; take me to your aunt queen; I give you nuclear energy. So I think for the most part the aliens are probably not going to be interested in us because we're so arrogant to believe that we have something to offer them. Realize that they could be thousands, maybe millions of years ahead of us in technology and they may have no interest in interacting with us in the same way that we don't necessarily want to deal with the squirrels and the deer in the forest.
Now some people say that we should not try to make contact with them because they could be potentially dangerous. For the most part, I think they're going to be peaceful because they'll be thousands of years ahead of us, but we cannot take the chance. So I personally believe that we should not try to advertise our existence to alien life in outer space because of the fact that we don't know their intentions.
Then the other question is what happens if they're evil? Well, I think the question of evil is actually a relative question because the real danger to a deer in the forest is not the hunter with a gigantic rifle; he's not the main danger to a deer in the forest. The main danger to a deer in the forest is the developer; the guy with blueprints; the guy in a three-piece suit; the guy with a slide rule and calculator; the guy that's going to pave the forest and perhaps destroy whole ecosystems.
In other words, the aliens don't have to be evil in order to be dangerous to us, they might not care, they just might not care about us and in the process pave us over. In fact, if you read the novel War of the Worlds the Martians in HG Wells seminal novel were not evil in the sense they wanted to torture us and they wanted to do all sorts of barbaric things to humanity. No, we were just in the way. And so I think that is a potential problem. We could be in the way of a very advanced civilization that simply is not evil but simply views us as we would view squirrels and deer in the forest.

So personally I think that we should not advertise our existence when we go into outer space. For the most part, however, I do think they are going to be peaceful, they're not going to want to plunder the earth because there are plenty of planets out there that have nobody on them that they can plunder at will without having to worry about restive natives called humanity. And so I think they're not going to come to visit the earth to plunder us, to do all sorts of mischief. For the most part, I think they'll just leave us alone.
(Source: https://bigthink.com/videos/michio-kaku-michio-kaku-lets-not-advertise-our-existence-to-aliens/)


++++++++++
The ear, grown to replace one lost in a car crash, will have functional blood vessels and nerve endings.
++++++++++
++++++++++
++++++++++
.
++++++++++
by Angel San Juan, KFDM Staff

Photo: KFDM Staff
++++++++++
++++++++++
++++++++++
++++++++++
++++++++++
++++++++++
Outbreak of Sea Lice in Water…!
+++++++++
++++++++++
++++++++++
++++++++++
++++++++++
Eindhoven, the Netherlands, looks poised to become something of a 3D-printed architecture boom town. Following the construction of a 3D-printed bridge in the city, a total of five rental homes made using the cutting edge tech are now planned too.   Read more
++++++++++
by Conner Flynn
I thought that the urinal was the only safe place left to get away from ads being played, but nope. And once you start peeing you are a captive audience as long as that stream is going with these new video urinals from Dutch toilet company Mr.Friendly. Brilliant idea, marketing guys.
This high-tech urinal actually has several nice features like a waterless/flushless function and an anti-bacterial surface, but the big new upgrade is the built-in display with an automatic sensor that'll play advertisements while you pee.
I know that online they use ads based on your browsing and buying habits, so I can only guess that this thing chooses the ads based on peeing technique? I hope it doesn't have any other sensors that give it info about your junk because it could be pretty embarrassing if several guys are peeing and watching ads, and one guy gets the erectile dysfunction ad.
Also, we probably shouldn't be distracted in the bathroom unless you want pee everywhere. Let's just focus on the task at hand and leave the urinal an ad-free zone, guys. And how many people are going to be pissed off at the ads so that they piss on them for real? People are nasty after all. This is a bad idea.
(Article source: https://technabob.com/blog/2018/04/20/video-ad-bathroom-urinal/)
++++++++++
++++++++++
I'm going through a divorce. It's amicable, mature, and adult. We just don't work together as a couple anymore, but we'll try and remain friends. As a writer, I work from home. I'm alone all day and now, no one is coming home at night. As a result, I'm taking great pains to be social, to go out, to see friends and family, to make phone calls, and to avoid social isolation. There's no shame in admitting as much, although our rugged individualist society may look down on opening up about such things, especially as a straight male. Aren't we supposed to be stoic mavericks, able to set out on our own, without anyone's help at all? Turns out, not so much.

A young man sits by himself in a stadium. Image credit: Getty Images.

In fact, staying connected is the healthiest thing to do, and not just psychologically. According to a 2014 University of Chicago study, loneliness can have a significant negative impact on physical health. It can increase the rate of atherosclerosis—the hardening of the arteries, increase the risk of high blood pressure and stroke, and decrease retention, which can even hurt learning and memory. What's more, the lonely often make worse life choices and are more prone to substance abuse.
Some research suggests loneliness is worse for you than smoking or obesity. It can even increase the risk of type 2 diabetes. Seniors are often the focus. Those who face social isolation actually see a 14% increased risk of premature death.
(To continue with this article visit: bigthink.com/philip-perry/theres-a-loneliness-epidemic-in-the-us-and-its-getting-worse/)

++++++++++
Ireland gives us whiskey, Bitcoin gives us… hmm.
++++++++++
(Source: https://www.popsci.com/what-is-horsepower)
++++++++++
The Nuclear Regulatory Commission (NRC) wants public input on a "scoping study" intended to justify calling some nuclear waste "very low-level waste" or VLLW. We call it "Very Large Loophole Waste."
Comments are due by May 15th. Tell the NRC to keep all nuclear waste regulated, and to increase radioactive controls.
Nuclear power reactors generate nuclear waste, and the reactors themselves become nuclear waste.
Radioactive gasses seep into concrete lodging and decay becoming other radioactive elements. Metal parts in the reactor are bombarded with neutrons during nuclear power production process and become activated radioactive metal.
As reactors and other processing factories that are a part of the nuclear fuel chain shut down, the buildings and their parts, the soil, the uniforms employees wore, the tools used to service reactors and other machinery, etc., all have become contaminated with radioactivity, and must be isolated from the environment and the public.
Instead of paying to manage these contaminated items as the nuclear waste they are, the Department of Energy (DOE) and nuclear industry are attempting to reclassify the waste as "Very Low-Level" and allow it to be dumped in landfills and/or incinerators, or recycled with consumer goods.
If the NRC starts classifying radioactive waste as "Very Low-Level", massive amounts of nuclear power waste would be allowed to go into regular garbage dumps, to industrial or hazardous waste sites, and into recycling facilities that reuse materials to make everyday household and personal-use items.
Huge amounts of dangerous but hard-to-detect nuclear wastes would no longer be regulated as radioactive and would have "alternative methods of disposal," not at licensed radioactive waste sites.
Send your comments to the NRC by May 15th.
The term "low-level" radioactive waste is already deceptive and can mean very high risk to humans and other life. Help protect us, our communities, and future generations!
Thanks for all you do, Diane D'Arrigo, Radioactive Waste Project Director
Nuclear Information and Resource Service, 6930 Carroll Ave, Ste. 340, Takoma Park, MD 20912,(301) 270-6477, www.NIRS.org
++++++++++
++++++++++
++++++++++
Can you raed this?
Olny 55 plepoe out of 100 can.
I cdnuolt blveiee that I cluod aulaclty uesdnatnrd what I was rdanieg. The ph aonmneal pweor of the hmuan mnid, aoccdrnig to a rscheearch at Cmabrigde Uinervtisy, it dseno't mtaetr in what oerdr the ltteres in a word are, the olny iproamtnt tihng is that the frsit and last ltteer be in the rghit pclae. The rset can be a taotl mses and you can still raed it whotuit a pboerlm. This is bcuseae the huamn mnid deos not raed ervey lteter by istlef, but the word as a wlohe. Azanmig huh? Yaeh and I awlyas tghuhot slpeling was ipmorantt! If you can raed this forwrad it. 
++++++++++
Walk With Me While I Age
A BEAUTIFUL POEM ABOUT GROWING OLDER
*
*
*
*
*
*
++++++++++