MIT's cyborg plant can drive itself into the light
The Zapata Ezfly looks for all intents and purposes like a Segway of the sky. You stand on a small platform equipped with a series of jet thrusters, holding two handgrips that come up from the base, then rise up into the air and zoom around, steering with your bodyweight.
–
++++++++++
++++++++++
++++++++++
++++++++++
++++++++++
++++++++++
++++++++++
++++++++++
World's largest performing arts center opens in Taiwan
++++++++++
++++++++++
The Giant Marionettes of Royal de Luxe
++++++++++
By Ben Hooper –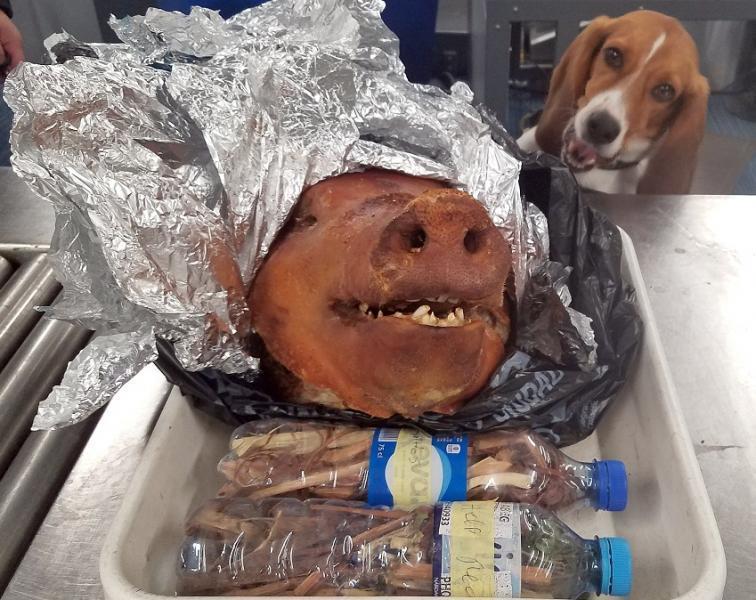 Hardy, a beagle employed by Customs inspectors at Atlanta's Hartsfield-Jackson International Airport, poses with the pig head he sniffed out in the checked luggage of a traveler arriving from Ecuador. Photo by U.S. Customs and Border Protection.
Oct. 16 (UPI) — Customs officials at Atlanta's Hartsfield-Jackson International Airport said a K-9 beagle sniffed out a roasted pig head in a traveler's luggage.
U.S. Customs and Border Protection said Hardy, a CBP Agriculture Detector and member of the agency's "Beagle Brigade," alerted officials to the presence of the pig head in the checked baggage of a traveler arriving from Ecuador.
The nearly 2-pound pig head was destroyed by authorities.
"Our best defense against destructive pests and animal diseases is to prevent the entry of prohibited agriculture products from entering the United States," said Carey Davis, CBP area port director for the Port of Atlanta. "This seizure at ATL illustrate the tremendous expertise of our four-legged K-9 partners in protecting the United States."
Customs said pork products are banned from being transported to the United States from other continents as they could carry animal diseases including Foot and Mouth Disease, Classical Swine Fever and Swine Vesicular Disease.
(For the balance of this article please visit: https://www.upi.com/Odd_News/2018/10/16/Customs-beagle-sniffs-out-pig-head-in-luggage/1001539703224/)
++++++++++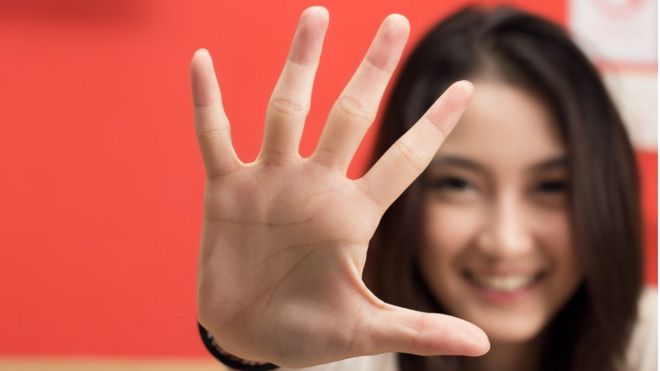 Women whose left index and ring fingers are different lengths are more likely to be lesbians, a study suggests.  Getty Images.

Scientists measured the fingers of 18 pairs of female identical twins, where one was straight and the other gay.
On average, the lesbians, but not the straight twins, had different sized index and ring fingers, typically a male trait, but only on the left hand.
This may be the result of exposure to more testosterone in the womb, the University of Essex researchers said.
The scientists also measured the fingers of 14 pairs of male identical twins, where one was straight and the other gay, but found no link.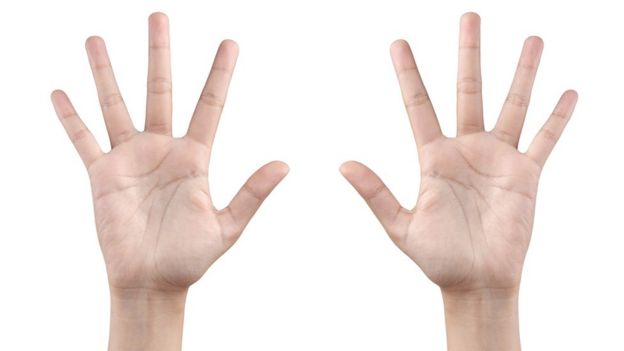 In women, typically the index (second) and ring (fourth) fingers are a similar length, while in men there is a larger difference between the two.  Getty Images.

Both men and women were exposed to the "male" hormone, testosterone, in the womb – but some may be exposed more than others, the scientists said.
Study author Dr Tuesday Watts, from the psychology department at Essex University, said: "Because identical twins, who share 100% of their genes, can differ in their sexual orientations, factors other than genetics must account for the differences.
"Research suggests that our sexuality is determined in the womb and is dependent on the amount of male hormone we are exposed to or the way our individual bodies react to that hormone, with those exposed to higher levels of testosterone being more likely to be bisexual or homosexual.
"Because of the link between hormone levels and difference in finger lengths, looking at someone's hands could provide a clue to their sexuality."
(For the balance of this article please see: https://www.bbc.com/news/health-45887691/)
++++++++++
++++++++++
++++++++++
Sol's Pocket Rocket straddles the awkward space between e-bikes and e-motos
++++++++++
++++++++++
The best of Germany's biggest motorcycle expo – Intermot 2018
++++++++++
++++++++++
++++++++++
Miners in Australia discover 'mother lode'
++++++++++
++++++++++
++++++++++
++++++++++
"[He sleeps for] about an hour, then he'll wake up and switch cats," said the founder of Safe Haven Pet Sanctuary.
++++++++++
++++++++++
++++++++++
Recently, Irish fishermen pulled up the skull and horns of an extinct great elk, which could have 12-foot-wide antlers
By Jason Daley – Smithsonian.com –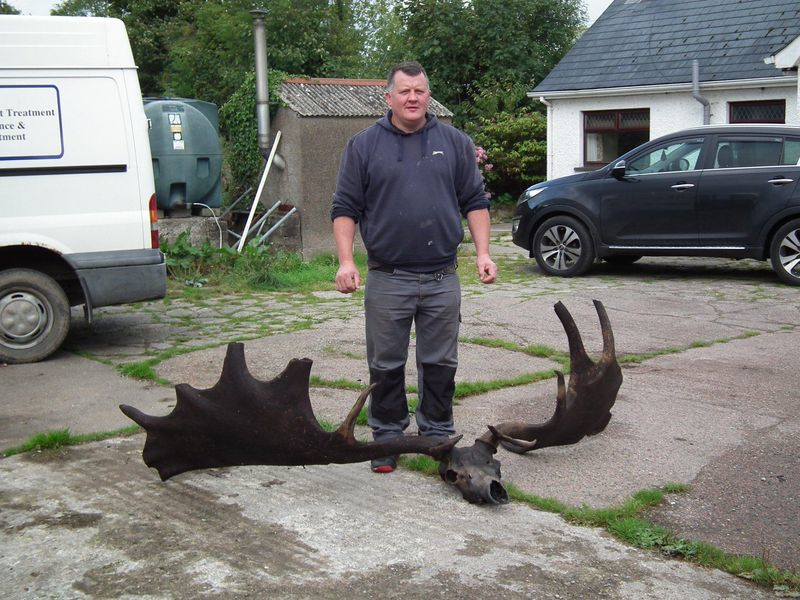 (Pat Grimes/Ardboe Heritage).
Recently, fishermen Raymond McElroy and Charlie Coyle were out on Lough Neagh, a lake near the town of Ardboe in northern Ireland, when they tried to pull up one of their nets. It would barely budge, so they assumed it was caught on a piece of driftwood. But Ronan McGreevy at The Irish Times reports what they pulled up wasn't wood, it was bone. The fisherman landed the massive skull of a Great Elk (Megaloceros giganteus), the largest deer species to ever exist which died out in Ireland about 10,500 years ago.
This particular great elk probably stood 6.5 feet tall at the shoulders. More impressive, however, are its antlers, which in this case were also over 6 feet wide.
"I thought it was the devil himself," Coyle tells McGreevy. "I was going to throw it back in. I didn't know what to do with it."
Luckily, however, McElroy knew just what the skull was since a huge jawbone from one of the elk—and possibly from the same animal—was fished up from the area in 2014, also making the local news.
The Great Elk, also known as the Irish Elk, has a misleading name. It's not an elk, but a huge deer species—some individuals had antlers up to 12 feet wide. And it's not Irish; according to the University of California Museum of Paleontology, the species actually roamed all of Europe, north Africa, northern Asia and a related species lived in China. The reason it is associated with Ireland is because intact fossils of the giant beast are sometimes found in lake beds and bogs on the island, which are especially good at preserving the bones.
The elk also has another claim to fame. In the eighteenth and nineteenth centuries, many scientists believed that the extinction of animals was impossible. Fossils, they believed, were just the remains of animals that explorers would eventually find somewhere hidden on Earth. The remains of the Great Elk was one of the animals used by French scientist Georges Cuvier to show that extinction did in fact take place.
Mike Simms at the Ulster Museum tells Shauna Corr at Belfast Live that the Great Elk was well-suited to the early Pleistocene when Europe was full of grassy plains, but when the last glaciers receded and the habitat changed, the elk couldn't cope.
"They came in [to Ireland] when the weather was great on the grass plains, but then the trees started to grow," he says. "Giant antlers aren't great in the forest. Environmental change is what caused their extinction."
Simms says that the species went extinct in Ireland about 10,500 years ago but managed to hold on in Siberia until about 6,500 years ago.
Currently, the plans for the antlers are unclear, and McElroy is keeping the massive skull in his garage. Kimberley Hickok at LiveScience reports that in 1987 another fisherman pulled up a massive set of antlers from the lake and donated them to a local school for display.
(Read more: https://www.smithsonianmag.com/smart-news/catch-day-7-foot-tall-deer-180970247/)
Give the gift of Smithsonian magazine for only $12! https://bit.ly/1cGUiGv
Follow us: @SmithsonianMag on Twitter
++++++++++
by Matt Davis –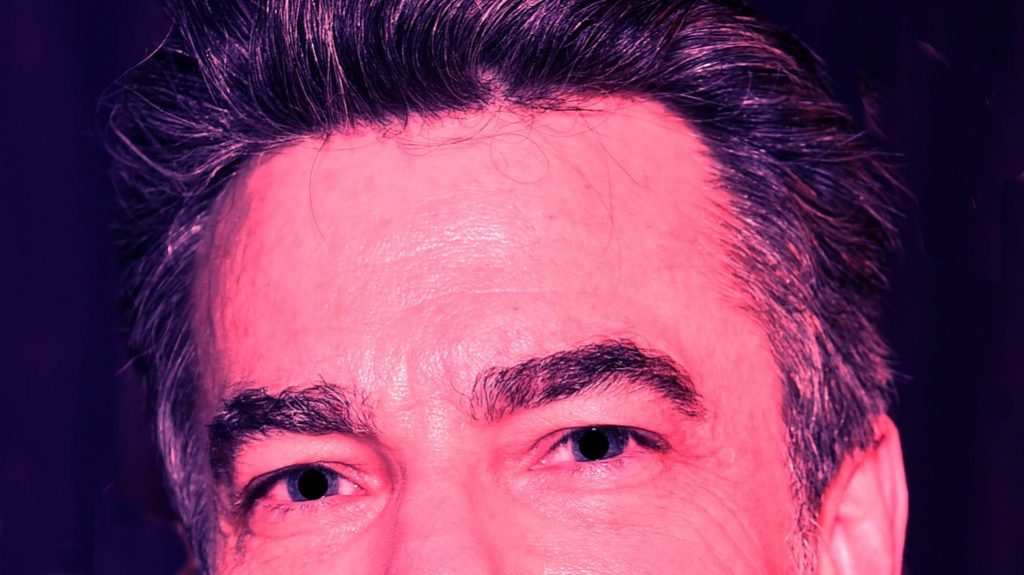 Big Think illustration / Actor Peter Gallagher attends the 24th and final 'A Night at Sardi's' to benefit the Alzheimer's Association at The Beverly Hilton Hotel on March 9, 2016 in Beverly Hills, California. (Photo by Alberto E. Rodriguez/Getty Images)
Life is already hard enough, but some people seem hell-bent on making it harder. We've all met people who refuse to accept blame, exploit their relationships, or elevate themselves by knocking everyone else down a peg or two. You might be able to minimize contact with these folks, but it's impossible to avoid them. They're narcissists, and they're everywhere. In America, narcissism is actually on the rise, so maybe it's a good time to get back into that soothing meditation practice you've been putting off.
Fortunately, new research has provided an excellent clue for identifying the narcissists lurking among us: the eyebrows. A study by Miranda Giacomin and Nicholas O. Rule has shown that bushier eyebrows are associated with higher levels of narcissism.
There are a few different flavors of narcissism, but this study examined the classic type: grandiose narcissists. They're the kind that craves attention, are extroverted, have a high opinion of themselves, and fail to recognize their inner emptiness. According to Giacomin and Rule's results, this type of narcissist has far more distinctive eyebrows than non-narcissists.
What do eyebrows have to do with narcissism?
Research has already shown that people can judge narcissism by appearance. After all, narcissists tend to wear flashier clothes or apply more extravagant makeup. But even unadorned and unaltered faces offer a cue for narcissism. This study strove to find out whether it was the whole face that gave the impression of narcissism or a single feature, and if so, to identify which feature was tipping people off.
Eyebrows are one of, if not the most, expressive features on the face. They are crucial to recognizing identities—for example, a study found that people had more trouble recognizing celebrities with their eyebrows removed than with their eyeballs removed (in Photoshop, relax guys). Eyebrows have been found to influence attractiveness and mate selection as well.
"Because grandiose narcissists strongly desire recognition and admiration," the researchers said, "they may seek to maintain distinct eyebrows to facilitate others' ability to notice, recognize, and remember them; hereby increasing their likability and reinforcing their overly positive self-views."
How did the study find this out?
First, the researchers administered the Narcissistic Personality Inventory (or the NPI) to several undergraduate students. This test is designed to measure the narcissism personality trait through how much respondents agreed with statements like "The world would be a better place if I ruled it." Narcissists (surprise, surprise) tend to agree with such statements.
It's important to note that the NPI doesn't measure clinical narcissism. Rather, it measures the personality trait of narcissism. To one degree or another, we all have some element of self-love in our personalities, only some people love themselves to excess.
After taking the NPI, the students' faces were then photographed, and the researchers asked a sample of participants to judge how narcissistic the photographed faces appeared. At this stage, all participants were able to accurately guess how highly each photographed person had scored on the NPI. This result was no surprise since it's already known that observers can judge narcissism from a person's appearance alone.
Using a clever cognitive trick, the researchers could determine if it was the faces as a whole or a distinct feature of the faces that conveyed narcissism: People process upright faces as wholes, but inverted faces are processed as collections of features. Because the participants could predict narcissism when the faces were inverted, the researchers concluded that one specific feature of the face was clueing people in.
Then, the researchers obscured different features of the faces until they had narrowed down which was giving off the telltale vibes of a narcissist. Surprisingly, participants could judge how narcissistic someone was even if they could only see a single eyebrow.
The participants were also asked to rate eyebrows in terms of femininity, grooming, and distinctiveness, but only distinctiveness was correlated with accurately judging narcissism. What exactly does distinctiveness mean? Density, bushiness, brow power; a narcissist's calling card.
Of course, the study was not able to tell whether people who are more likely to be narcissists also have inherently bushy eyebrows or whether narcissists tend to deliberately cultivate bushy eyebrows. And, although it ought not to need to be said, not everybody with bushy eyebrows is a narcissist and not every narcissist has bushy eyebrows. Regardless, the study provides insight into how we process faces and our latent ability to detect toxic people before it's too late. For more information on how best to deal with narcissists and other high-conflict personalities, check out the video below.
(See the video at: https://bigthink.com/matt-davis/if-you-want-to-spot-a-narcissist-look-at-the-eyebrows)
++++++++++
++++++++++
++++++++++
All those tiny discs add up.
Every day, 45 million Americans stuff slivers of flexible plastic into their eyes, hoping to look less like nerds. While contacts-wearers become quite adept at poking them into place, a new study from researchers from Arizona State University suggests users are not very good at dealing with lenses once they're done with them. All those tiny discarded plastic discs, they report, are adding up to a big environmental problem.
According to the findings, presented Sunday at the 256th National Meeting & Exposition of the American Chemical Society, anywhere from six to 10 metric tons of plastic lenses end up in United States wastewater annually. Because of the way wastewater is treated, all that plastic ends up contributing to microplastic pollution currently building up in waterways, which eventually makes its way into the food chain. It's an especially timely problem as the use of contact lenses is steadily rising.
"This began as an exploratory venture but we have information to support the fragmentation of contact lenses into microplastics within a wastewater treatment plant," study co-author and Arizona State University graduate student Charles Rolsky tells Inverse.
++++++++++
++++++++++
++++++++++
++++++++++
by Mike Colagrossi –
Shangri-La concept art, Far Cry 4, Wikimedia Commons.

Throughout history, mankind has often been enthralled by stories of mythical places, cities, and paradises shrouded in secrets and lost to the sands of time. These legendary locations pervade all great cultural histories. Some have served as allegories for more prosperous and peaceful times, others as places to find and conquer!
While philosophers weaved tales about lost cities, ancients also dreamt of places that once gave rise to utopian golden ages. A journey through the history of these fabled lands has captivated many. Some people might even be inspired to believe in them all over again.
Here are the 7 most famous mythical places in the world.    
Artists depiction of Atlantis, Werner Brigette, Pixabay.
Atlantis
Unlike many stories whose appearance have been lost to the historical record, we know exactly when and who invented the story of Atlantis. The story was first told by Plato around 330 BCE, in two of his dialogues "Timaeus" and "Critias." It's been established that there was no record of Atlantis before these texts and that Plato created this place as a plot device in his stories.
The Sunken City of Atlantis was supposed to be an incredibly powerful civilization that was sophisticated, wealthy and founded by demigods. It was made up of many concentric islands with exotic plants and animals aplenty. He used these people as an example of what befalls a nation when they succumb to hubris.
Despite this story's origin in pure fiction, many people over the millennia have sought out this mythical place. A lot of the speculations were inspired by a book written by a Minnesota politician, Ignatius L. Donnelly, in 1882. He believed that Plato considered Atlantis a real place. He went on to explain its histories and supposed rule over large swathes of the world, his theory being that all ancient civilizations descended from this one land.
The Last Sleep of Arthur, Wikimedia Commons. Supposedly, the background is Avalon. 
Avalon
Glastonbury, a town in England, well known for its neo-pagan beliefs and local Arthurian legends was once thought of the location for the legendary, idyllic and lost paradise of Avalon. The first mention of Avalon was in 1136 through Geoffrey of Monmouth's Historia Regum Britanniae. According to Arthurian legend, the island was ruled by Morgan le Fay, an enchantress who nursed King Arthur back to health after a battle.
The mystical land was sometimes referred to as the Island of Apples because it was supposedly covered in wild grapevines and apple forests. Its inhabitants were immortals as well. This was the place that the great sword Excalibur was forged. This magical place is where King Arthur was laid to rest and laid on a bed of gold.
Thomas Cole's 'The Arcadian', Public domain. 
Arcadia
A couple of hundred years before Plato's time, the Ancient Greeks imagined a place called Arcadia. This early vision utopia is also the name of a region in modern-day Greece. In ancient mythology, Arcadia was a pastoral back-to-nature place. The wilderness housed Pan, a woodlands God who resided with his nymphs and satyrs as his guards of a never-ending hedonistic paradise. This was a place where beings greater than humans ascended to and lived in prosperous delight for hundreds of years. It was an Eden where spirits and gods gallivanted in ecstasy and longevity.
Arcadia has remained a popular muse for artists from antiquities onwards. Virgil and Ovid set many of their poems in these primeval forests. Medieval European writers and Renaissance painters all tried to capture the spirit of this golden age land. Arcadia is the archetypical view of a place untouched by civilization where humans live as gods.
 Hessel Gerritsz from 1625, depicting the city of Manoa / El Dorado on the left of the lake.
El Dorado
Conquistadors riding through 16th century South America scoured the land for a mythical city of gold. El Dorado started out as a story about a king named "The Gilded One." He was said to be a native king who powdered his body with gold and tossed ornate jewels into a lake as part of his coronation. These stories eventually would morph into a tale of a kingdom rather than an individual man.
The legends grew over the years as the Europeans spread and discovered more of South America. The golden city was a place of untold prestige and wealth, which captivated plenty of adventurers. El Dorado was said to be next to Lake Guatavita – a real space they'd eventually find. When explorers found the lake, they lowered the level of the water and found hundreds of gold pieces. But the fabled city remained out of their grasp until all swathes of South American land were eventually covered and the myth was no more.
Map of Lemuria according to William Scott-Elliott.
Lemuria
This hidden land was told through stories many ages before Atlantis. There are many origins to Lemuria, some occult writings, pseudo-histories and even scientific musings of a lost continent as well. Many texts from the east talk about a land called 'Ra-Mu.' In some sacred Tibetan texts, this land is also known as Muri or Lemuria.
Madame Blavatsky, a Russian occultist who co-founded the Theosophical society in 1875, wrote a thrilling fiction about this secret land. Blavatsky claims in her "The Secret Doctrine" text that Lemuria contained a third race of Lemurians, she also posited that Atlantis also existed. Her Lemurians were described as having four arms and a psychic eye on the back of their head, which they used to communicate with one another through telepathy. This is a definite favorite amongst occultists and esoteric conspiracists.
Far Cry 4 concept art, apparently of Shangri-La. 
Shambala/Shangri-La
Shambhala is a Sanskrit word that means "place of peace." This is an ancient mythical paradise that predates Tibetan Buddhism. The name was first seen in the scriptures of Zhang Zhung in western Tibet. According to the legend, it's a kind of heaven where only the purest can live in a place bountiful with love and wisdom. There is no old age or suffering here in this mythical kingdom.
Also known as Shangri-la, this place has been called by many names throughout the years. Sometimes called the Forbidden Land, Land of Radiant Spirits and Land of the Living Gods. Many westerners believed it to be a real place for some time, hidden deep within the Tibetan mountains. In Buddhist traditions it's said to be ruled over by a future Buddha named Maitreya and when the world declines into abject war and degeneracy, a great war will come as the Shambhala Kings ride out to defeat "dark forces" It is after this time in which the world will be ushered into a new Golden Age.
Thule as Tile on the Carta Marina of 1539 by Olaus Magnus, where it is shown located to the north west of the Orkney islands – wikipedia.org
Thule
A place of intrigue for many explorers, poets, and even Nazi occultists, Thule was a territory that was said to be located in the frozen north near the Arctic. The tale dates back to 4th century BCE when a Greek explorer named Pytheas claimed to have traveled to an icy island north of Scotland.
Many of Pytheas' fellow explorers doubted the validity of his claims, but the Thule legend would live on through the ages. Eventually, the original location was most likely a mistaken Norway or Iceland. The myth of the island is most famously connected to the Thule Society, a post World War I organization that believed Thule to be the ancestral home of an Aryan race.
(Source, and for a video, please visit: https://bigthink.com/mike-colagrossi/7-most-famous-mythical-places/)
++++++++++
++++++++++
++++++++++
++++++++++
++++++++++
++++++++++
++++++++++
++++++++++
++++++++++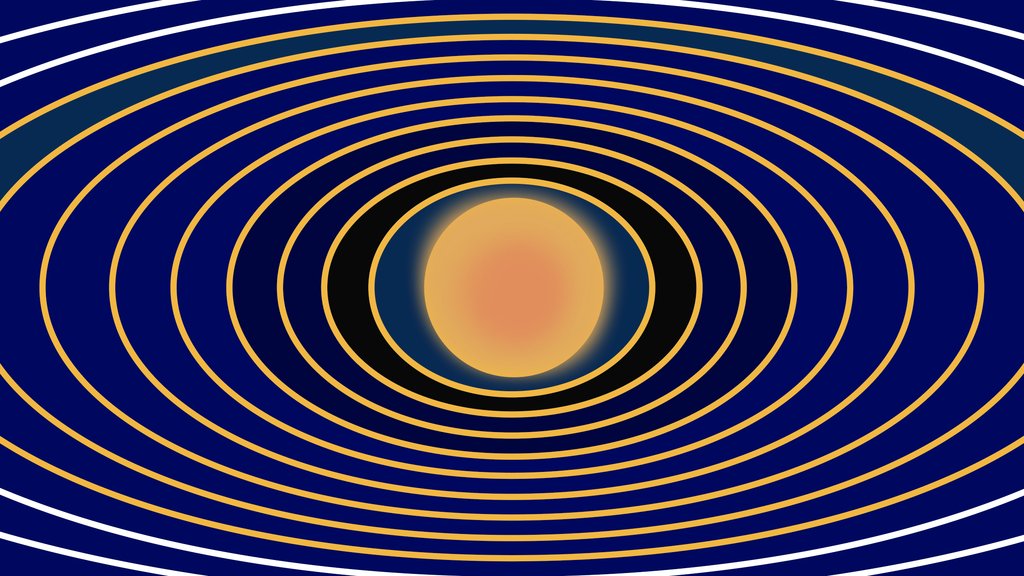 The flag of Asgardia, Wikimedia Commons
If you believe that the technology to live in space will be available to you within your lifetime; if you agree with the political philosophy outlined by the 'World Passport'; if you find yourself in China, India, the U.S., Indonesia, or Brazil with a hankering to take to the stars, then perhaps you should consider becoming a citizen of Asgardia, an organization that hopes to be the first 'country in space.'
What do you need to do to become a citizen of Asgardia?
Read the Asgardian Constitution. If you agree with it, then you can apply.
Where is Asgardia located?
Stubenring 2/8-9, 1010 Wien, Austria.
How big is Asgardia?
They currently claim around 200,000 citizens — many of them Russian.
Where will Asgardia be eventually?
Asgardia seeks to live in space stations circling the earth and on a moon base, perhaps in the next twenty-five years. There are no current designs for the space stations or moon base at this time.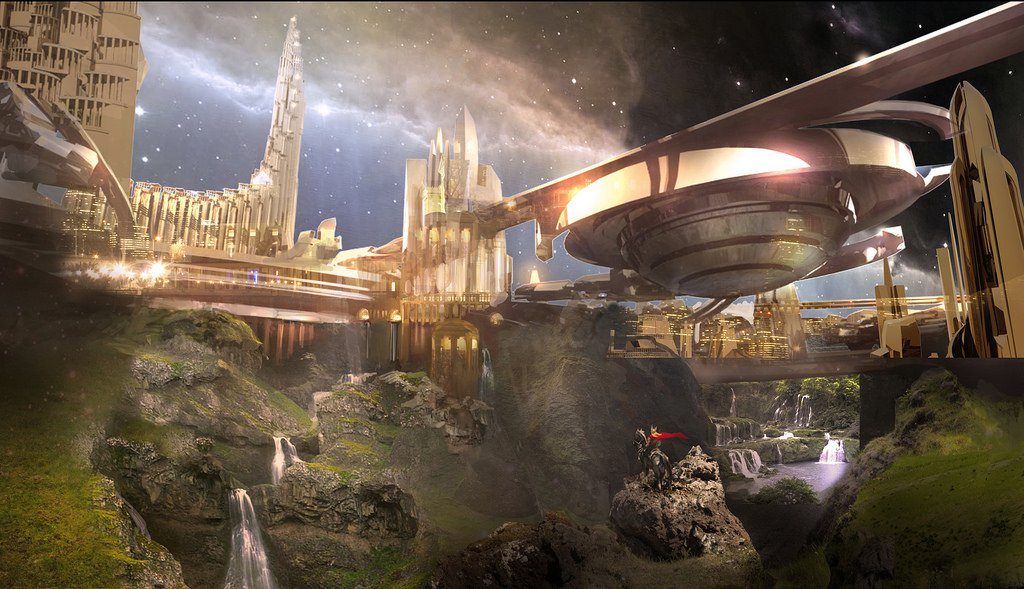 An artist's depiction of Asgardia. Flickr user CarlosR38.
That's it? All I need to become a citizen of Asgardia is to read something and then apply?
Once you join — and they are accepting applications — they ask for your information: where you live, your education, the best way to contact you, and that's pretty much it.
The Independent has reported that Asgardia might consider an IQ test for prospective citizens, but the potential of citizens having to take an IQ test sets up a decent (and relevant) follow-up question.
Is this all a scam?
There's not an implausible chance. Outsiders being offered IQ tests and then being told that they either have 'just the intelligence' needed for a 'special project' or that there's something wrong with them that only someone else can fix — as Scientology has done for years — sounds like a scam.
The website Stop Fake — a collection of Ukranian journalists seeking to point out Russian propaganda — notes that Asgardia "encourages people to buy shares in its joint stock company, Asgardia AG" and invest in their own cryptocurrency.
There's also a not implausible chance that this might also be a Russian thing.
(For the balance of this story please see: https://bigthink.com/evan-fleischer/the-first-space-nation-asgardia-is-accepting-applications-for-citizenship-but-is-it-a-hoax/)
++++++++++
Michio Kaku: Let's not advertise our existence to aliens

Michio Kaku – Theoretical Physicist, Author, and Science Educator Professor of Theoretical Physics, CUNY.

If advanced alien civilizations do exist, theoretical physicist Michio Kaku asks, why would they want anything to do with us? It would be like an academic talking to a squirrel, he suggests, and he has a great point. Hollywood and science fiction novels have conditioned us for years to believe that aliens either want to hang out on our intellectual level and learn from us… or destroy us. If alien life really does have the technology and know-how to make it all the way here, perhaps we should just play it cool and not assume that we are the top species in the universe. Besides, if we play our cards wrong and go all Will Smith in Independence Day on our smart new neighbors, it could be the end of us. Mankind's biggest folly, Kaku suggests, might just be in its insistence that we are an exceptional species. Michio Kaku's latest book is the wonderful and enlightening The Future of Humanity: Terraforming Mars, Interstellar Travel, Immortality, and Out Destiny Beyond Earth.
Michio Kaku: We have this mental image that a flying saucer will circle the White House lawn, land on the White House lawn and give us a bounty of all sorts of technological goodies to initiate an age of Aquarius on the planet earth. Personally, I don't think that's going to happen. For example, if you're in the forest do you go out and talk to the squirrels and the deer? Maybe you do for a while, but after a while, you get bored because they don't talk back to you because they have nothing interesting to tell you because they can't relate to our values and our ideas.
If you go down to an anthill do you go down to the ants and say I bring you trinkets; I bring you bees; take me to your aunt queen; I give you nuclear energy. So I think for the most part the aliens are probably not going to be interested in us because we're so arrogant to believe that we have something to offer them. Realize that they could be thousands, maybe millions of years ahead of us in technology and they may have no interest in interacting with us in the same way that we don't necessarily want to deal with the squirrels and the deer in the forest.
Now some people say that we should not try to make contact with them because they could be potentially dangerous. For the most part, I think they're going to be peaceful because they'll be thousands of years ahead of us, but we cannot take the chance. So I personally believe that we should not try to advertise our existence to alien life in outer space because of the fact that we don't know their intentions.
Then the other question is what happens if they're evil? Well, I think the question of evil is actually a relative question because the real danger to a deer in the forest is not the hunter with a gigantic rifle; he's not the main danger to a deer in the forest. The main danger to a deer in the forest is the developer; the guy with blueprints; the guy in a three-piece suit; the guy with a slide rule and calculator; the guy that's going to pave the forest and perhaps destroy whole ecosystems.
In other words, the aliens don't have to be evil in order to be dangerous to us, they might not care, they just might not care about us and in the process pave us over. In fact, if you read the novel War of the Worlds the Martians in HG Wells seminal novel were not evil in the sense they wanted to torture us and they wanted to do all sorts of barbaric things to humanity. No, we were just in the way. And so I think that is a potential problem. We could be in the way of a very advanced civilization that simply is not evil but simply views us as we would view squirrels and deer in the forest.

So personally I think that we should not advertise our existence when we go into outer space. For the most part, however, I do think they are going to be peaceful, they're not going to want to plunder the earth because there are plenty of planets out there that have nobody on them that they can plunder at will without having to worry about restive natives called humanity. And so I think they're not going to come to visit the earth to plunder us, to do all sorts of mischief. For the most part, I think they'll just leave us alone.
(Source: https://bigthink.com/videos/michio-kaku-michio-kaku-lets-not-advertise-our-existence-to-aliens/)


++++++++++
The ear, grown to replace one lost in a car crash, will have functional blood vessels and nerve endings.
++++++++++
++++++++++
++++++++++
.
++++++++++
by Angel San Juan, KFDM Staff

Photo: KFDM Staff
++++++++++
++++++++++
++++++++++
++++++++++
++++++++++
++++++++++
Outbreak of Sea Lice in Water…!
+++++++++
++++++++++
++++++++++
++++++++++
++++++++++
Eindhoven, the Netherlands, looks poised to become something of a 3D-printed architecture boom town. Following the construction of a 3D-printed bridge in the city, a total of five rental homes made using the cutting edge tech are now planned too.   Read more
++++++++++
by Conner Flynn
I thought that the urinal was the only safe place left to get away from ads being played, but nope. And once you start peeing you are a captive audience as long as that stream is going with these new video urinals from Dutch toilet company Mr.Friendly. Brilliant idea, marketing guys.
This high-tech urinal actually has several nice features like a waterless/flushless function and an anti-bacterial surface, but the big new upgrade is the built-in display with an automatic sensor that'll play advertisements while you pee.
I know that online they use ads based on your browsing and buying habits, so I can only guess that this thing chooses the ads based on peeing technique? I hope it doesn't have any other sensors that give it info about your junk because it could be pretty embarrassing if several guys are peeing and watching ads, and one guy gets the erectile dysfunction ad.
Also, we probably shouldn't be distracted in the bathroom unless you want pee everywhere. Let's just focus on the task at hand and leave the urinal an ad-free zone, guys. And how many people are going to be pissed off at the ads so that they piss on them for real? People are nasty after all. This is a bad idea.
(Article source: https://technabob.com/blog/2018/04/20/video-ad-bathroom-urinal/)
++++++++++
++++++++++
I'm going through a divorce. It's amicable, mature, and adult. We just don't work together as a couple anymore, but we'll try and remain friends. As a writer, I work from home. I'm alone all day and now, no one is coming home at night. As a result, I'm taking great pains to be social, to go out, to see friends and family, to make phone calls, and to avoid social isolation. There's no shame in admitting as much, although our rugged individualist society may look down on opening up about such things, especially as a straight male. Aren't we supposed to be stoic mavericks, able to set out on our own, without anyone's help at all? Turns out, not so much.

A young man sits by himself in a stadium. Image credit: Getty Images.

In fact, staying connected is the healthiest thing to do, and not just psychologically. According to a 2014 University of Chicago study, loneliness can have a significant negative impact on physical health. It can increase the rate of atherosclerosis—the hardening of the arteries, increase the risk of high blood pressure and stroke, and decrease retention, which can even hurt learning and memory. What's more, the lonely often make worse life choices and are more prone to substance abuse.
Some research suggests loneliness is worse for you than smoking or obesity. It can even increase the risk of type 2 diabetes. Seniors are often the focus. Those who face social isolation actually see a 14% increased risk of premature death.
(To continue with this article visit: bigthink.com/philip-perry/theres-a-loneliness-epidemic-in-the-us-and-its-getting-worse/)

++++++++++
Ireland gives us whiskey, Bitcoin gives us… hmm.
++++++++++
(Source: https://www.popsci.com/what-is-horsepower)
++++++++++
The Nuclear Regulatory Commission (NRC) wants public input on a "scoping study" intended to justify calling some nuclear waste "very low-level waste" or VLLW. We call it "Very Large Loophole Waste."
Comments are due by May 15th. Tell the NRC to keep all nuclear waste regulated, and to increase radioactive controls.
Nuclear power reactors generate nuclear waste, and the reactors themselves become nuclear waste.
Radioactive gasses seep into concrete lodging and decay becoming other radioactive elements. Metal parts in the reactor are bombarded with neutrons during nuclear power production process and become activated radioactive metal.
As reactors and other processing factories that are a part of the nuclear fuel chain shut down, the buildings and their parts, the soil, the uniforms employees wore, the tools used to service reactors and other machinery, etc., all have become contaminated with radioactivity, and must be isolated from the environment and the public.
Instead of paying to manage these contaminated items as the nuclear waste they are, the Department of Energy (DOE) and nuclear industry are attempting to reclassify the waste as "Very Low-Level" and allow it to be dumped in landfills and/or incinerators, or recycled with consumer goods.
If the NRC starts classifying radioactive waste as "Very Low-Level", massive amounts of nuclear power waste would be allowed to go into regular garbage dumps, to industrial or hazardous waste sites, and into recycling facilities that reuse materials to make everyday household and personal-use items.
Huge amounts of dangerous but hard-to-detect nuclear wastes would no longer be regulated as radioactive and would have "alternative methods of disposal," not at licensed radioactive waste sites.
Send your comments to the NRC by May 15th.
The term "low-level" radioactive waste is already deceptive and can mean very high risk to humans and other life. Help protect us, our communities, and future generations!
Thanks for all you do, Diane D'Arrigo, Radioactive Waste Project Director
Nuclear Information and Resource Service, 6930 Carroll Ave, Ste. 340, Takoma Park, MD 20912,(301) 270-6477, www.NIRS.org
++++++++++
++++++++++
++++++++++
Can you raed this?
Olny 55 plepoe out of 100 can.
I cdnuolt blveiee that I cluod aulaclty uesdnatnrd what I was rdanieg. The ph aonmneal pweor of the hmuan mnid, aoccdrnig to a rscheearch at Cmabrigde Uinervtisy, it dseno't mtaetr in what oerdr the ltteres in a word are, the olny iproamtnt tihng is that the frsit and last ltteer be in the rghit pclae. The rset can be a taotl mses and you can still raed it whotuit a pboerlm. This is bcuseae the huamn mnid deos not raed ervey lteter by istlef, but the word as a wlohe. Azanmig huh? Yaeh and I awlyas tghuhot slpeling was ipmorantt! If you can raed this forwrad it. 
++++++++++
Walk With Me While I Age
A BEAUTIFUL POEM ABOUT GROWING OLDER
*
*
*
*
*
*
++++++++++