++++++++++
++++++++++

Airplane!, 1980, Paramount Pictures. 
.
A Harvard study of 44 students has cohttps://bigthink.com/ned-dymoke/harvard-study-heat-slows-down-the-brain-by-13/nfirmed what each and every one of us who has ever been an adult human has learned: summer heat doesn't help you think.
Half the students lived in a building with air conditioning, and half didn't. They were all asked to take a cognitive assessment test on their phones right after getting up. The students with air conditioning did normally, while the students without air-conditioning, however, had 13.4% worse reaction times and coincidentally performed 13.3% worse on the cognitive tests.
The study was conducted over a 12-day period in the summer of 2016, during which there was a five-day heatwave. What's interesting is the heat continued inside long after the outside heat left. Since many buildings are built to retain heat during the winter, they have a tendency to keep all heat in, meaning that a non-air-conditioned building can keep the heatwave going inside for sometimes up to 48 hours after the initial natural one. As someone that lived in a crappy Brooklyn building for a particularly brutal summer, I can attest to it getting up to 87ºF inside at night if you forgot to set the timer on the thermostat.
The study has socioeconomic findings, too: if you're too poor to afford air-conditioning you might fall behind at work or at school. In fact, studies are proving this repeatedly.
America, by and large, has an obsession with A/C… 87% of American homes have A/C. There are currently 1.6 billion A/C units in the world, and that figure is expected to be five times greater by 2050 as climate change takes its toll.
(For accompanying video presentations please visit: https://bigthink.com/ned-dymoke/harvard-study-heat-slows-down-the-brain-by-13/)
++++++++++
++++++++++
++++++++++
https://inciweb.nwcg.gov/
Use the map or search bar to locate wildland fire and other natural resource incidents. Click a marker on the map and use the "Go to Incident" button for detailed information. From the incident page you can access announcements, closures, news, maps, and photographs from the menu below the map (on mobile phones tap the menu button).
The redesigned site has a modern layout and can be viewed from your phone, computer, or tablet.
Map options:
Cog Icon for map settings Change map properties
Location Icon Find your current location
Back arrow icon for resetting map Reset map position
(View at: https://inciweb.nwcg.gov/)
++++++++++
One of the primary problems with renewable energy, particularly wind and solar, is that power gets generated when the wind or sun is available, rather than when it's most needed. This problem would more or less disappear if the world could come up with a massive, cheap, long-lasting battery design that could be used to store power at grid-scale levels and feed it back out when required.
Lithium batteries are the current darlings (heh heh) of the electric vehicle and consumer electronics industries, due to their high performance, power density and light weight. But lithium is way too expensive a material for grid-scale storage, and when you're talking about making batteries for a whole city, size and weight are far less important than making something super cheap, safe and reliable that will last for as long as possible. All the better if it can be made out of common and easily available materials.
Good news, then, from MIT on this front, as a team of researchers has found a cheap, effective and durable way of resurrecting an old battery idea first documented 50 years ago.
The discovery centers around molten salt batteries such as sodium/sulfur or sodium/nickel chloride designs in which electrodes are kept at high temperatures to keep them in a molten state and allow charge to transfer between them.
(For complete article see: https://newatlas.com/mit-molten-salt-battery-membrane/53085/)
++++++++++
Co-founder and President, The High Conflict Institute –
Here's a fast fact about high-conflict people: life is better when you avoid them. Bill Eddy, mediation expert and president of the High Conflict Institute, describes them not only as difficult but also potentially dangerous. So how can we avoid becoming a target in their path of destruction?
First, you have to be able to recognize them, says Eddy. They tend to share these four key characteristics: a preoccupation with blaming others, all-or-nothing thinking, unmanaged emotions, and extreme behaviors. Once you know what you're dealing with—a textbook high-conflict personality—you can take measures to manage this relationship, whether it's at home, at work, or beyond.
.
Eddy shares his matter-of-fact methods for withdrawing from these people or, if that's not an option, for how to resist their conflict lures and disengage from the drama.
.
++++++++++
Car Hammock turns your automobile into a suspended camping lounge
++++++++++
++++++++++
++++++++++
This year, we made our first trip over to Germany's Abenteuer & Allrad (Adventure & Allwheel) show. Very similar to Overland Expo, but considerably larger, Abenteuer & Allrad bills itself as the world's largest "cross-country expo." Most expos start when you enter the gates, but this one starts the second you step out of the car because the camp area parking lot hosts the wildest collection of otherworldly 4×4+ camping vehicles you're likely to ever see gathered together. If you've ever looked at one of the six- or seven-figure expedition vehicles we've covered and wondered if anyone actually buys such an odd extravagance, the Abenteuer & Allrad camping lot answers with a big, fat "YES!!"
Overland Expo attracted about 14,500 visitors this year, its biggest show yet. Abenteuer & Allrad claims an average upwards of 50,000 each year. But that's not necessarily what makes this the "biggest" show of its kind. It's the massive expedition trucks that really put it on a scale all its own. While you will see a number of large expedition rigs riding on 'Mogs and MAN trucks at Overland Expo, Abenteuer & Allrad is absolutely full of beastly 4×4, 6×6, even 8×8 builds, and the trucks underpinning those builds vary as widely as the designs – from Ivecos, to Steyrs, to Mowags and more.
Here are a few vehicles we particularly enjoyed stumbling into:
Gooo Travel's green monster
Thanks to its neon-green color, hulking size and shipping container-like layout, this MAN-based machine of exploration was one of the most memorable of the camp area, if not the entire show. It got even better when we got back to the computer and realized Gooo (Get out of office) Travel, the company name that was all over the truck, is actually a new Dutch rental company – so you might actually be able to rent this beast for an ultimate adventure of your own. We don't see this specific model listed on the website, but maybe if you send 'em the above photo and say that's the one you want, they'll send you a quote. If not, the company advertises similarly large expedition trucks with Bliss Mobil modules, as well as smaller vans and 4x4s.
(For the full article visit: https://newatlas.com/abenteuer-allrad-adventure-allwheel-camping-vehicles-2018/54932/)
++++++++++
Whether you're cycling to the office and don't want to arrive too sweaty and out of puff, or you just need some help getting up a steep hill, e-bikes can be a great way to get around. For many though, buying a brand new bicycle when you already have a perfectly good one just doesn't make sense. That's where add-ons like the Copenhagen Wheel and the Rubbee come in, transforming an existing two-wheeler into an e-bike. The latest to join the add-on kit party is UK-based Revolution Works, with the three-part Revos system.
Currently raising production funds over on Kickstarter, Revolution Works reckons that riders will be able to go from standard non-powered bicycle to pedal-assist e-bike in under 10 minutes with no special tools. The kit will come as a drive unit, a pedal-assist sensor and a battery.
(For more information on this visit: https://newatlas.com/revos-add-on-ebike-kit/54876/)
++++++++++
Istanbul-based Architecture and Ideas recently installed this interesting little prefabricated cabin near the Turkish/Greek border. Configured to run off-the-grid, the aptly-named Cabin on the Border can also be opened up to the outside with a large operable wall section.   Read more
++++++++++
If You Weren't Already Worried About Russia, You Should Be Now…!

The United States urgently needs to strengthen our defense of the national grid system. This cannot be just the responsibility of the private sector, for a number of reasons. First, there are 
more than 8,000 power plants
 in the country, ranging from large, well-connected investor owned utilities to small, rural co-ops with a fraction of the customer base. There are thousands of companies that own or supply equipment in this complicated mix of wires, metal, and minerals. These businesses are generally optimized for reliability, not security, which makes sense, given that weather, human error, and animals damage grid infrastructure and cause power outages in the United States every day. As one industry executive told me: "We're ready for 
squirrels
, not nation states."
Right now, however, the US government does not have a coherent grid security policy: Even 
the coverage
 of the recent alert mentioned DHS, the FBI, CYBERCOM, and the Department of Energy. There are other players in the mix, as well, including the Federal Energy Regulatory Commission and the North American Electric Reliability Corporation. It's urgent to clarify roles and missions, clearly designate who will take the lead, and produce coherent, thorough threat assessments. That also means ensuring the grid security agencies have sufficient staffing, technology, funding and leadership support. We can't expect the FBI to keep us safe from attacks on the homeland, for example, if the commander in chief is constantly undermining the institution itself.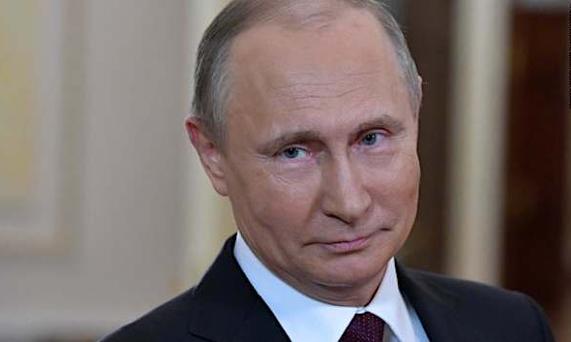 Vladamir Putin
(This is an excerpt. For the full article see: https://www.cnn.com/2018/03/21/opinions/russia-electric-grid-should-worry-americans-burke/)
++++++++++
Safe Keeping
Here's a simple idea. Instead of arming teachers, let's just give them each a rubber door wedge, available at any hardware store for about a buck. This will keep any intruder from entering a classroom and not add additional risks for anyone.
Arthur Lynn  Galisteo, NM
From The Santa Fe New Mexican, 2018 Mar 19
++++++++++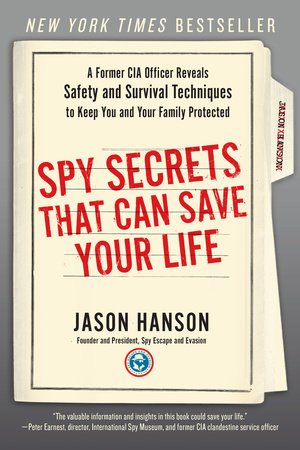 From Page 83: The Invisible Dog
If you have a dog, great. Dogs can definitely add another layer of protection to your home. Whether or not you actually have a dog, purchase large dog bowls to be displayed near your front and back door. This is one of the easiest and most effective home security tips I can give you. Dogs are loud. Burglars don't want to deal with your dog. If they think it's even possible you have one, they'll likely skip your house and look for an easier target.
Spy Secrets That Can Save Your Life by Jason Hanson, former CIA Agent.  ISBN: 978-0-399-17567-1 $25.00, 255 Pages. Perigee imprint of Penguin Random House LLC.
https://images.penguinrandomhouse.com/cover/9780399175671
++++++++++
Survival Theory Audiobook | Audible.com
Publisher's Summary —
If you're looking for information on how to prepare for a short-term natural disaster, this is not the book for you.

Best-selling author Jonathan Hollerman will present evidence that America as we know it could be destroyed in the near future from the loss of America's electric grid or other societal collapse scenarios. Many preparedness "experts" severely underestimate the threat posed by millions of starving, desperate people and offer dangerous advice because of it.

This preparedness guide will help you develop a plan to escape the deadly rioting and looting, showing you where you can take your family to keep them safe, even if you can't afford a fully-stocked survival retreat. Hollerman's in-depth expertise and recommendations will cover many topics including bug-out bags, SHTF Weapons, tactical gear, survival tools, knives, long-term food storage, livestock, bug-out locations, survival retreat recommendations, and much more.
©2016 Jonathan Hollerman (P)2016 Jonathan Hollerman
++++++++++
tipsforsurvivalists.com/top-20-websites-for-survivalists
++++++++++