++++++++++
++++++++++
The Sentinelese are among the last people worldwide to remain virtually untouched by modern civilization.
2009 NASA image of North Sentinel Island; the island's protective fringe of coral reefs can be seen clearly.
North Sentinel Island is one of the Andaman Islands, which includes South Sentinel Island, in the Bay of Bengal. It is home to the Sentinelese who, often violently, reject any contact with the outside world, and are among the last people worldwide to remain virtually untouched by modern civilization. As such, only limited information about the island is known.
Nominally, the island belongs to the South Andaman administrative district, part of the Indian union territory of Andaman and Nicobar Islands.[8] In practice, Indian authorities recognise the islanders' desire to be left alone and restrict their role to remote monitoring, even allowing them to kill non-Sentinelese people without prosecution.[9][10] Thus the island can be considered a sovereign entity under Indian protection.
(Source: https://en.wikipedia.org/wiki/North_Sentinel_Island)
++++++++++
A paper recently published in International Journal of Astrobiology asks a fascinating question: "Would it be possible to detect an industrial civilization in the geological record?" Put another way, "How do we really know our civilization is the only one that's ever been on earth?" The truth is, we don't. Think about it: The earliest evidence we have of humans is from 2.6 million years ago, the Quarternary period. Earth is 4.54 billion years old. That leaves 4,537,400,000 years unaccounted for, plenty of time for evidence of an earlier industrial civilization to disappear into dust.
The paper grew out of a conversation between co-authors Gavin Schmidt, director of NASA's Goddard Institute for Space Studies, and astrophysics professor Adam Frank. (Frank recalls the exchange in an excellent piece in The Atlantic.) Considering the possible inevitability of any planets' civilization destroying the environment on which it depends, Schmidt suddenly asked, "Wait a second. How do you know we're the only time there's been a civilization on our own planet?"
Schmidt and Frank recognize the whole question is a bit trippy, writing, "While much idle speculation and late night chatter has been devoted to this question, we are unaware of previous serious treatments of the problem of detectability of prior terrestrial industrial civilizations in the geologic past."
There's a thought-provoking paradox to consider here, too, which is that the longest-surviving civilizations might be expected to be the most sustainable, and thus leave less of a footprint than shorter-lived ones. So the most successful past civilizations would leave the least evidence for us to discover now. Hm.
Earlier humans, or…something else?
One of the astounding implications of the authors' question is that it would mean — at least as far as we can tell from the available geologic record — that an earlier industrial civilization could not be human, or at least not homo sapiens or our cousins. We appeared only about 300,000 years back. So anyone else would have to have been some other intelligent species for which no evidence remains, and that we thus know nothing about. Schmidt is calling the notion of some previous non-human civilization the "Silurian hypothesis," named for brainy reptiles featured in a 1970 episode of Dr. Who.
Wouldn't there be fossils?
Well, no. "The fraction of life that gets fossilized is always extremely small and varies widely as a function of time, habitat and degree of soft tissue versus hard shells or bones,' says the paper, noting further that, even for dinosaurs, there are only a few thousand nearly complete specimens. Chillingly, "species as short-lived as Homo Sapiens (so far) might not be represented in the existing fossil record at all."
(For full article visit: http://bigthink.com/robby-berman/is-human-civilization-earths-first)
++++++++++
She was wide awake and it was nearly two in the morning. When asked if everything was alright, she said, "Yes." Asked why she couldn't get to sleep she said, "I don't know." Neuroscientist Russell Foster of Oxford might suggest she was exhibiting "a throwback to the bi-modal sleep pattern." Research suggests we used to sleep in two segments with a period of wakefulness in-between.
A. Roger Ekirch, historian at Virginia Tech, uncovered our segmented sleep history in his 2005 book At Day's Close: A Night in Time's Past. There's very little direct scientific research on sleep done before the 20th century, so Ekirch spent years going through early literature, court records, diaries, and medical records to find out how we slumbered. He found over 500 references to first and second sleep going all the way back to Homer's Odyssey. "It's not just the number of references—it is the way they refer to it as if it was common knowledge," Ekirch tells BBC.
"He knew this, even in the horror with which he started from his first sleep, and threw up the window to dispel it by the presence of some object, beyond the room, which had not been, as it were, the witness of his dream." — Charles Dickens, Barnaby Rudge (1840)
Here's a suggestion for dealing with depression from English ballad 'Old Robin of Portingale':
"And at the wakening of your first sleepe/You shall have a hott drinke made/And at the wakening of your next sleepe/Your sorrowes will have a slake."
Two-part sleep was practiced into the 20th century by people in Central America and Brazil and is still practiced in areas of Nigeria.

(Photo: Alex Berger)
Night split in half
Segmented sleep—also known as broken sleep or biphasic sleep—worked like this:
First sleep or dead sleep began around dusk, lasting for three to four hours.
People woke up around midnight for a few hours of activity sometimes called "the watching." They used it for things like praying, chopping wood, socializing with neighbors, and for sex. A 1500s character in Chaucer's Canterbury Tales posited that the lower classes had more children because they used the waking period for procreation. In fact, some doctors recommended it for making babies. Ekirch found a doctor's reference from 16th century France that said the best time to conceive was not upon first going to bed, but after a restful first sleep, when it was likely to lead to "more enjoyment" and when lovers were more likely to "do it better."
"Second sleep," or morning sleep, began after the waking period and lasted until morning.
Why and when it ended
Given that we spend a third of our lives in slumber, it is odd that so little is known about our early sleep habits, though Ekirch says that writings prove people slept that way for thousands of years. If for no other reason, someone had to wake in the middle of the night to tend to fires and stoves.
Author Craig Koslofsky suggests in Evening's Empire that before the 18th century, the wee hours beyond the home were the domain of the disreputable, and so the watching was all the nighttime activity anyone wanted. With the advent of modern lighting, though, there was an explosion in all manner of nighttime activity, and it ultimately left people exhausted. Staying up all night and sleepwalking through the day came to be viewed as distastefully self-indulgent, as noted in this advice for parents from an 1825 medical journal found by Ekirch: "If no disease or accident there intervene, they will need no further repose than that obtained in their first sleep, which custom will have caused to terminate by itself just at the usual hour. And then, if they turn upon their ear to take a second nap, they will be taught to look upon it as an intemperance not at all redounding to their credit." Coupled with the desire for efficiency promoted by industrialization, the watch was increasingly considered a pointless disruption of much-needed rest.
The rise of insomnia
Intriguingly, right about the time accounts of first sleep and second sleep began to wane, references to insomnia began appearing. Foster isn't the only one who wonders if this isn't a biological response to un-segmented sleep. Sleep psychologist Gregg Jacobs tells BBC, "For most of evolution we slept a certain way. Waking up during the night is part of normal human physiology." He also notes that the watch was often a time for reflection and meditation that we may miss. "Today we spend less time doing those things," he says. "It's not a coincidence that, in modern life, the number of people who report anxiety, stress, depression, alcoholism and drug abuse has gone up." It may also not a coincidence, though, that we don't die at 40 anymore.
Subjects in an experiment in the 1990s gradually settled themselves into bi-phasic sleep after being kept in darkness 10 hours a day for a month, so it may be the way we naturally want to sleep. But is it the healthiest way?
Science says we're doing it right right now
Not everyone restricts their rest to a full night of sleep. Siestas are popular in various places, and there are geniuses who swear by short power naps throughout a day. Some have no choice but to sleep in segments, such as parents of infants and shift workers.
But, according to sleep specialist Timothy A. Connolly of Center of Sleep Medicine at St. Luke's Episcopal Hospital in Houston speaking to Everyday Health, "Studies show adults who consistently sleep seven to eight hours every night live longest." Some people do fine on six hours, and some need 10, but it needs to be in one solid chunk. He says that each time sleep is disrupted, it impacts every cell, tissue, and organ, and the chances go up for a range of serious issues including stroke, heart disease, obesity and mood disorders.
Modern science is pretty unanimous: Sleeping a long, solid chunk each night gives you the best chance of living a long life, natural or not.
(Article source: http://bigthink.com/robby-berman/for-1000s-of-years-we-went-to-bed-twice-a-night-2)
++++++++++
Between quantum physics and neuroscience, a theory emerges of a mental field we each have, existing in another dimension and behaving in some ways like a black hole
October 11, 2017 12:22 pm, Last Updated: October 16, 2017 1:58 pm
The relationship between the mind and the brain is a mystery that is central to how we understand our very existence as sentient beings. Some say the mind is strictly a function of the brain — consciousness is the product of firing neurons. But some strive to scientifically understand the existence of a mind independent of, or at least to some degree separate from, the brain.
The peer-reviewed scientific journal NeuroQuantology brings together neuroscience and quantum physics — an interface that some scientists have used to explore this fundamental relationship between mind and brain.
An article published in the September 2017 edition of NeuroQuantology reviews and expands upon the current theories of consciousness that arise from this meeting of neuroscience and quantum physics.
Dr. Dirk K.F. Meijer, a professor at the University of Groningen in the Netherlands, hypothesizes that consciousness resides in a field surrounding the brain. This field is in another dimension. It shares information with the brain through quantum entanglement, among other methods. And it has certain similarities with a black hole.
This field may be able to pick up information from the Earth's magnetic field, dark energy, and other sources. It then "transmits wave information into the brain tissue, that … is instrumental in high-speed conscious and subconscious information processing," Dirk wrote.
In other words, the "mind" is a field that exists around the brain; it picks up information from outside the brain and communicates it to the brain in an extremely fast process.
He described this field alternately as "a holographic structured field," a "receptive mental workspace," a "meta-cognitive domain," and the "global memory space of the individual."
Extremely rapid functions of the brain suggest it processes information through a mechanism not yet revealed.
There's an unsolved mystery in neuroscience called the "binding problem." Different parts of the brain are responsible for different things: some parts work on processing color, some on processing sound, et cetera. But, it somehow all comes together as a unified perception, or consciousness.
Information comes together and interacts in the brain more quickly than can be explained by our current understanding of neural transmissions in the brain. It thus seems the mind is more than just neurons firing in the brain.
(To read the entire article visit: https://m.theepochtimes.com/uplift/a-new-theory-of-consciousness-the-mind-exists-as-a-field-connected-to-the-brain_2325840.html)
++++++++++
Dogon dwelling on the Bandiagara Escarpment in Mali, West Africa – 300px-Falaise_de_Bandiagara
Starting with the French anthropologist Marcel Griaule, several authors have claimed that Dogon traditional religion incorporates details about extrasolar astronomical bodies that could not have been discerned from naked-eye observation. This idea has entered the New Age and ancient astronaut literature as evidence that extraterrestrial aliens visited Mali in the distant past.
https://en.wikipedia.org/wiki/Dogon_people
++++++++++
++++++++++

(http://strangemaps.files.wordpress.com/2007/10/england2410_468x8161.jpg)
In Great Britain as in the US, two cultural sub-nations identify themselves (and the other) as North and South. The US's North and South are quite clearly delineated, by the states' affiliations during the Civil War (which in the east coincides with the Mason-Dixon line). That line has become so emblematic that the US South is referred to as 'Dixieland'.
There's no similarly precise border in Great Britain, maybe because the 'Two Englands' never fought a civil war against each other.There is, however, a place used as shorthand for describing the divide, with the rougher, poorer North and wealthier, middle-to-upper-class South referring to each other as 'on the other side of the Watford Gap'.
Not to be confused with the sizeable town of Watford in Hertfordshire, Watford Gap is a small village in Northamptonshire. It was named for the eponymous hill pass that has facilitated travel east-west and north-south since at least Roman times (cf. Watling Street, now passing through it as the A5 motorway). Other routes passing through the Gap are the West Coast Main Line railway, the Grand Union Canal and the M1, the UK's main North-South motorway.
In olden times, the Gap was the location of an important coaching inn (operating until closure in approximately 2000 as the Watford Gap Pub), and nowadays it has the modern equivalent in a service station – which happened to be the first one in the UK – on the M1, the main North-South motorway in the UK.
Because of its function as a crossroads, its location on the main road and its proximity to the perceived 'border' between North and South, the Watford Gap has become the colloquial separator between both. Other such markers don't really exist, so the border between North and South is quite vague. Until now, that is.
It turns out the divide is more between the Northwest and the Southeast: on this map, the line (which, incidentally, does cross the Watford Gap –  somewhere in between Coventry and Leicester) runs from the estuary of the Severn (near the Welsh-English border) to the mouth of the Humber. Which means that a town like Worcester is firmly in the North, although it's much farther south than the 'southern' town of Lincoln.
At least, that's the result of a Sheffield University study, which 'divided' Britain according to statistics about education standards, life expectancy, death rates, unemployment levels, house prices and voting patterns. The result splits the Midlands in two. "The idea of the Midlands region adds more confusion than light," the study says.
The line divides Britain according to health and wealth, separating upland from lowland Britain, Tory from Labour Britain, and indicates a £100.000 house price gap – and a year's worth of difference in life expectancy (in case you're wondering: those in the North live a year less than those in the South).
The line does not take into account 'pockets of wealth' in the North (such as the Vale of York) or 'pockets of poverty' in the South, especially in London.
The map was produced for the Myth of the North exhibition at the Lowry arts complex in Manchester, and was mentioned recently in the Daily Mail . I'm afraid I don't have an exact link to the article, but here is the page at the Lowry for the aforementioned exhibition.

(This article from: http://bigthink.com/strange-maps/193-the-border-between-the-two-englands)
++++++++++
You may wonder how I came to search for traces of Wendish as far afield as Japan. It happened quite accidentally. I became curious about whether there was a linguistic connection between ancient Japanese and Wendish in the mid-1980s, when reading a biography of an American who had grown up in Japan. He mentions that a very ancient Japanese sword is called meich in Japanese. Surprisingly, meich or mech has the same meaning also in Wendish. How did Wends reach Japan, and when? I decided to find out first if this particular word, meich, really exists in Japanese. And, if it does, at which point in time in the past Wendish speakers could have had contact with Japanese islands.
I describe in more detail, mentioning my tentative conclusions with regard to the origins of Wendish in Japanese, and its relation to the Ainu language, in the 5th installment of my article,The Extraordinary History of a Unique People, published in the Glasilo magazine, Toronto, Canada. Anyone interested will find all the already published installments of this article, including the 5th installment, on my still not quite organized website, www.GlobalWends.com. In the next, winter issue of Glasilo, i.e., in the 6th installment of my article, I will report my discoveries and conclusions with regard to the origins of Wendish in the Ainu language, the language of the aboriginal white population of Japan.
I started my search for the word meich by buying Kenkyusha's New School Japanese-English Dictionary. Unfortunately, I had acquired a dictionary meant for ordinary students and meich is not mentioned in it. Obviously, I should have bought a dictionary of Old Japanese instead, in which ancient terms are mentioned. Nevertheless, to my amazement, I found in Kenkyusha's concise dictionary, instead of meich, many other Wendish words and cognates, which I am quoting below in my List.
I found it intriguing that the present form of words in Japanese, with clearly Wendish roots, show that Chinese and Korean immigrants to the islands were trying to learn Wendish, not vice versa. This indicates that the original population of Japan was Caucasian and that the influx of the Asian population was, at least at first, gradual. Today, after over 3000 years of Chinese and Korean immigrations, about half of the Japanese vocabulary is based on Chinese.
There is another puzzle to be solved. Logically, one would expect the language of the white aboriginies of Japan, the Ainu – also deeply influenced by Wendish – to have been the origin of Wendish in modern Japanese. Yet, considering the set up of the Wendish vocabulary occurring in Japanese, Ainu does not seem to have played any part in the formation of modern Japanese, or only a negligible one. Wendish vocabulary in Japanese points to a different source. It seems to have been the result of a second, perhaps even a third Wendish migration wave into the Islands, at a much later date. Ainu seem to have arrived already in the Ice Age, when present Japan was still a part of the Asian continent. They have remained hunters and gatherers until their final demise in the mid-20th century. They retained their Ice Age religion, which regarded everything in the universe and on earth as a spiritual entity, to be respected and venerated – including rocks and stars. Wendish words in Japanese, however, mirror an evolved megalithic agricultural culture and a sun-venerating religion.
A list of all Wendish cognates I have discovered in the Kenkyusha's dictionary is on my website, under the heading of a List of Wendish in Japanese. It is by no means a complete list. My Japanese is very limited, based solely on Kenkyusha's dictionary and some introductory lessons to the Japanese culture, history, language, literature and legends, by a Japanese friend of mine, with an authentic Wendish name Hiroko, pronounced in the Tokyo dialect, as in Wendish, shiroko, wide, all-encompassing. Besides, although I have a university level knowledge of Wendish, I do not possess the extensive Wendish vocabulary necessary to discover most of Wendish words which may have changed somewhat their meaning with thousands of passing years, complicated by the arrival of a new population whose language had nothing in common with Wendish.
Future, more thorough and patient researchers – whose mother-tongue is Wendish but who also have a thorough knowledge of Japanese – will, no doubt, find a vastly larger number of Wendish cognates in Japanese than I did.
(For more information visit: https://www.globalwends.com/introduction.html)
++++++++++
Marcos Rodríguez Pantoja, who lived among animals for 12 years, finds it hard just to get through the winter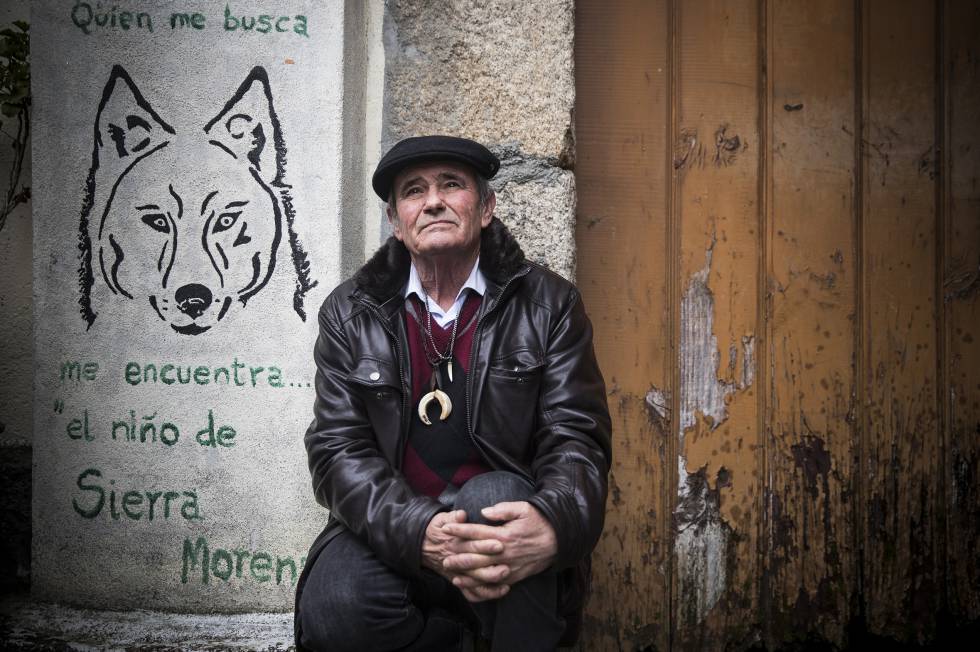 Ourense 
Marcos Rodríguez Pantoja was once the "Mowgli" of Spain's Sierra Morena mountain range, but life has changed a lot since then. Now the 72-year-old lives in a small, cold house in the village of Rante, in the Galician province of Ourense. This past winter has been hard for him, and a violent cough interrupts him often as he speaks.
His last happy memories were of his childhood with the wolves. The wolf cubs accepted him as a brother, while the she-wolf who fed him taught him the meaning of motherhood. He slept in a cave alongside bats, snakes and deer, listening to them as they exchanged squawks and howls. Together they taught him how to survive. Thanks to them, Rodríguez learned which berries and mushrooms were safe to eat.
Today, the former wolf boy, who was 19 when he was discovered by the Civil Guard and ripped away from his natural home, struggles with the coldness of the human world. It's something that didn't affect him so much when he was running around barefoot and half-naked with the wolves. "I only wrapped my feet up when they hurt because of the snow," he remembers. "I had such big calluses on my feet that kicking a rock was like kicking a ball."
After he was captured, Rodríguez's world fell apart and he has never been able to fully recover. He's been cheated and abused, exploited by bosses in the hospitality and construction industries, and never fully reintegrated to the human tribe. But at least his neighbors in Rante accept him as "one of them." And now, the environmental group Amig@s das Arbores is raising money to insulate Rodríguez's house and buy him a small pellet boiler – things that his meager pension cannot cover.
They laugh at me because I don't know about politics or soccer

Marcos Rodríguez Pantoja
Rodríguez is one of the few documented cases in the world of a child being raised by animals away from humans. He was born in Añora, in Córdoba province, in 1946. His mother died giving birth when he was three years old, and his father left to live with another woman in Fuencaliente. Rodríguez only remembers abuse during this period of his life.
They took him to the mountains to replace an old goatherd who cared for 300 animals. The man taught him the use of fire and how to make utensils, but then died suddenly or disappeared, leaving Rodríguez completely alone around 1954, when he was just seven years old. When authorities found Rodríguez, he had swapped words for grunts. But he could still cry. "Animals also cry," he says.
He admits that he has tried to return to the mountains but "it is not what it used to be," he says. Now the wolves don't see him as a brother anymore. "You can tell that they are right there, you hear them panting, it gives you goosebumps … but it's not that easy to see them," he explains. "There are wolves and if I call out to them they are going to respond, but they are not going to approach me," he says with a sigh. "I smell like people, I wear cologne." He was also sad to see that there were now cottages and big electric gates where his cave used to be.
His experience has been the subject of various anthropological studies, books by authors such as Gabriel Janer, and the 2010 film Among wolves (Entrelobos) by Gerardo Olivares. He insists that life has been much harder since he was thrown back into the modern world. "I think they laugh at me because I don't know about politics or soccer," he said one day. "Laugh back at them," his doctor told him. "Everyone knows less than you."
He has encountered many bad people along the way, but there have also been acts of solidarity. The forest officer Xosé Santos, a member of Amig@s das Arbores, organizes sessions at schools where Rodríguez can talk about his love for animals and the importance of caring for the environment. "It's amazing how he enthralls the children with his life experience," says Santos. Children, after all, are the humans whom Rodríguez feels most comfortable with.
(From: https://elpais.com/elpais/2018/03/28/inenglish/1522237746_629465.html?id_externo_rsoc=FB_CM)
English version by Melissa Kitson.
++++++++++
Findings out of Kenya offer a new understanding of when early humans got organized and started trading.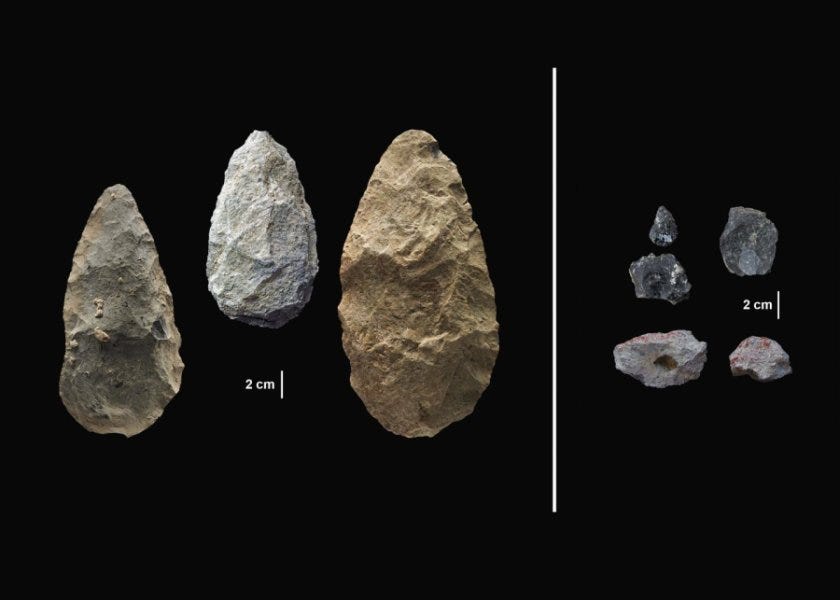 A team of anthropologists have determined that humanity has been handy for far longer than ever realized. These researchers discovered tools in East Africa that date back to around 320,000 years ago, far earlier than scientists previously thought humans were using such items.
Coming from the Olorgesailie geologic formation in southern Kenya, the findings, published in Science, show how the collection and creation of various colors through a pigmentation process was crucial to early human society. In addition to color creation, the team also found a variety of stone tools.
The earliest human life found in Olorgesailie dates back 1.2 million years. The question is, when did homo sapiens started becoming a collective society? When did the transition occur, and what did it look like? That date has generally been seen as around 100,000 years ago, thanks to evidence such as cave paintings in Ethiopia. However, the findings at Olorgesailie, where famed paleonanthropologists Louis and Mary Leaky also worked, show evidence of a social contract between geographically distant groups.
++++++++++
In mid-January, the snow made the little coastal town of Šventoji in north-west Lithuania feel like a film set. Restaurants, shops and wooden holiday cabins all sat silently with their lights off, waiting for the arrival of spring.
I found what I was looking for on the edge of the town, not far from the banks of the iced-over Šventoji river and within earshot of the Baltic Sea: Žemaitiu alka, a shrine constructed by the Lithuanian neo-pagan organisation Romuva. Atop a small hillock stood 12 tall, thin, slightly tapering wooden figures. The decorations are austere but illustrative: two finish in little curving horns; affixed to the top of another is an orb emitting metal rays. One is adorned with nothing but a simple octagon. I looked down to the words carved vertically into the base and read 'Austėja'. Below it was the English word: 'bees'.
You may also be interested in:
• Ethiopia's dangerous art of beekeeping
• Europe's earliest written language
• The town that's losing its language
This was not the first time I'd encountered references to bees in Lithuania. During previous visits, my Lithuanian friends had told me about the significance of bees to their culture.
Lithuanians don't speak about bees grouping together in a colony like English-speakers do. Instead, the word for a human family (šeimas) is used. In the Lithuanian language, there are separate words for death depending on whether you're talking about people or animals, but for bees – and only for bees – the former is used. And if you want to show a new-found Lithuanian pal what a good friend they are, you might please them by calling them bičiulis, a word roughly equivalent to 'mate', which has its root in bitė – bee. In Lithuania, it seems, a bee is like a good friend and a good friend is like a bee.
A bee is like a good friend and a good friend is like a bee
Seeing the shrine in Šventoji made me wonder: could all these references be explained by ancient Lithuanians worshipping bees as part of their pagan practices?
Lithuania has an extensive history of paganism. In fact, Lithuania was the last pagan state in Europe. Almost 1,000 years after the official conversion of the Roman Empire facilitated the gradual spread of Christianity, the Lithuanians continued to perform their ancient animist rituals and worship their gods in sacred groves. By the 13th Century, modern-day Estonia and Latvia were overrun and forcibly converted by crusaders, but the Lithuanians successfully resisted their attacks. Eventually, the state gave up paganism of its own accord: Grand Duke Jogaila converted to Catholicism in 1386 in order to marry the Queen of Poland.
This rich pagan history is understandably a source of fascination for modern Lithuanians – and many others besides. The problem is that few primary sources exist to tell us what Lithuanians believed before the arrival of Christianity. We can be sure that the god of thunder Perkūnas was of great importance as he is extensively documented in folklore and song, but most of the pantheon is based on guesswork. However, the Lithuanian language may provide – not proof, exactly, but clues, tantalising hints, about those gaps in the country's past.
In Kaunas, Lithuania's second-largest city, I spoke to Dalia Senvaitytė, a professor of cultural anthropology at Vytautas Magnus University. She was sceptical about my bee-worshipping theory, telling me that there may have been a bee goddess by the name of Austėja, but she's attested in just one source: a 16th-Century book on traditional Lithuanian beliefs written by a Polish historian.
It's more likely, she said, that these bee-related terms reflect the significance of bees in medieval Lithuania. Beekeeping, she explained "was regulated by community rules, as well as in special formal regulations". Honey and beeswax were abundant and among the main exports, I learned, which is why its production was strictly controlled.
But the fact that these references to bees have been preserved over hundreds of years demonstrates something rather interesting about the Lithuanian language: according to the Lithuanian Quarterly Journal of Arts and Sciences, it's the most conservative of all living Indo-European languages. While its grammar, vocabulary and characteristic sounds have changed over time, they've done so only very slowly. For this reason, the Lithuanian language is of enormous use to researchers trying to reconstruct Proto-Indo-European, the single language, spoken around four to five millennia ago, that was the progenitor of tongues as diverse as English, Armenian, Italian and Bengali.
All these languages are related, but profound sound shifts that have gradually taken place have made them distinct from one another. You'd need to be a language expert to see the connection between English 'five' and French cinq – let alone the word that Proto-Indo-Europeans are thought to have used, pénkʷe. However, that connection is slightly easier to make out from the Latvian word pieci, and no trouble at all with Lithuanian penki. This is why famous French linguist Antoine Meillet once declared that "anyone wishing to hear how Indo-Europeans spoke should come and listen to a Lithuanian peasant". [Editor's note: The little finger, or pinky finger, is also known as the fifth digit or just pinky.]
Lines can be drawn to other ancient languages too, even those that are quite geographically distant. For example, the Lithuanian word for castle or fortress – pilis – is completely different from those used by its non-Baltic neighbours, but is recognisably similar to the Ancient Greek word for town, polis. Surprisingly, Lithuanian is also thought to be the closest surviving European relative to Sanskrit, the oldest written Indo-European language, which is still used in Hindu ceremonies. [Editor's note: The strength of the castle or fortress is similar, in some ways, to the strength of the Police.]
This last detail has led to claims of similarities between Indian and ancient Baltic cultures. A Lithuanian friend, Dovilas Bukauskas, told me about an event organised by local pagans that he attended. It began with the blessing of a figure of a grass snake – a sacred animal in Baltic tradition – and ended with a Hindu chant.
I asked Senvaitytė about the word gyvatė. This means 'snake', but it shares the same root with gyvybė, which means 'life'. The grass snake has long been a sacred animal in Lithuania, reverenced as a symbol of fertility and luck, partially for its ability to shed its skin. A coincidence? Perhaps, but Senvaitytė thinks in this case probably not.
The language may also have played a role in preserving traditions in a different way. After Grand Duke Jogaila took the Polish throne in 1386, Lithuania's gentry increasingly adopted not only Catholicism, but also the Polish language. Meanwhile, rural Lithuanians were much slower to adopt Christianity, not least because it was almost always preached in Polish or Latin. Even once Christianity had taken hold, Lithuanians were reluctant to give up their animist traditions. Hundreds of years after the country had officially adopted Christianity, travellers through the Lithuanian countryside reported seeing people leave bowls of milk out for grass snakes, in the hope that the animals would befriend the community and bring good luck.
Anyone wishing to hear how Indo-Europeans spoke should come and listen to a Lithuanian peasant
Similarly, bees and bee products seem to have retained importance, especially in folk medicine, for their perceived healing powers. Venom from a bee was used to treat viper bites, and one treatment for epilepsy apparently recommended drinking water with boiled dead bees. But only, of course, if the bees had died from natural causes.
But Lithuanian is no longer exclusively a rural language. The last century was a tumultuous one, bringing war, industrialisation and political change, and all of the country's major cities now have majorities of Lithuanian-speakers. Following its accession to the EU in 2004, the country is now also increasingly integrated with Europe and the global market, which has led to the increasing presence of English-derived words, such as alternatyvus (alternative) and prioritetas (priority).
Given Lithuania's troubled history, it's in many ways amazing the language has survived to the present day. At its peak in the 14th Century, the Grand Duchy of Lithuania stretched as far as the Black Sea, but in the centuries since, the country has several times disappeared from the map entirely.
It's too simplistic to say that Lithuanian allows us to piece together the more mysterious stretches in its history, such as the early, pagan years in which I'm so interested. But the language acts a little like the amber that people on the eastern shores of the Baltic have traded since ancient times, preserving, almost intact, meanings and structures that time has long since worn away everywhere else.
And whether or not Austėja was really worshipped, she has certainly remained a prominent presence. Austėja remains consistently in the top 10 most popular girls names in Lithuania. It seems that, despite Lithuania's inevitable cultural and linguistic evolution, the bee will always be held in high esteem.
Join more than three million BBC Travel fans by liking us on Facebook, or follow us on Twitter and Instagram.
If you liked this story, sign up for the weekly bbc.com features newsletter called "If You Only Read 6 Things This Week". A handpicked selection of stories from BBC Future, Earth, Culture, Capital and Travel, delivered to your inbox every Friday.
(www.bbc.com/travel/story/20180319-are-lithuanians-obsessed-with-bees)
++++++++++