++++++++++
++++++++++
A look at the available evidence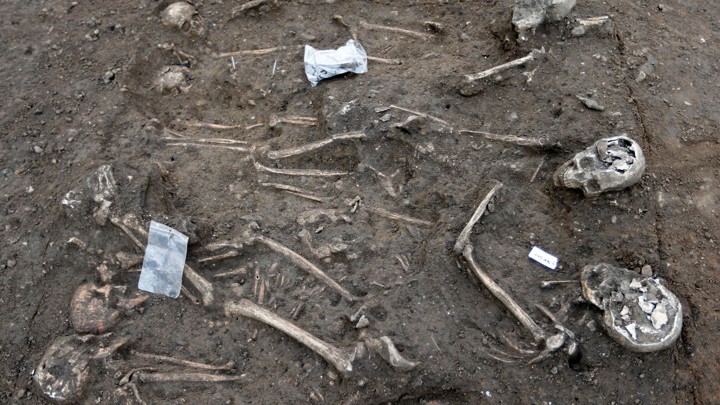 Regis Duvignau / Reuters
And, if we're going back this far, we're not talking about human civilizations anymore. Homo sapiens didn't make their appearance on the planet until just 300,000 years or so ago. That means the question shifts to other species, which is why Gavin called the idea the Silurian hypothesis, after an old Dr. Who episode with intelligent reptiles.
So, could researchers find clear evidence that an ancient species built a relatively short-lived industrial civilization long before our own? Perhaps, for example, some early mammal rose briefly to civilization building during the Paleocene epoch about 60 million years ago. There are fossils, of course. But the fraction of life that gets fossilized is always minuscule and varies a lot depending on time and habitat. It would be easy, therefore, to miss an industrial civilization that only lasted 100,000 years—which would be 500 times longer than our industrial civilization has made it so far.
Given that all direct evidence would be long gone after many millions of years, what kinds of evidence might then still exist? The best way to answer this question is to figure out what evidence we'd leave behind if human civilization collapsed at its current stage of development.
(For the balance of this article please see: https://www.theatlantic.com/science/archive/2018/04/are-we-earths-only-civilization/557180/)
++++++++++
The seven ancient wonders of the world
++++++++++
Meet Hypatia, the ancient mathematician who helped preserve seminal texts
Her dramatic death often overshadows her epic life, but it shouldn't
++++++++++
++++++++++
For centuries, no one could read it.
++++++++++
++++++++++
++++++++++
++++++++++
++++++++++
++++++++++
10 Times Great Philosophers Revealed Their Personalities
++++++++++
++++++++++
++++++++++
++++++++++
++++++++++
The Tacoma Bridge collapse of 1940 in Washington, USA was a calamity of the world's third longest suspension bridge back then and had a crucial impact on engineering. It caused the governing of the modeling of all the long-span bridges in the future.
Image credits: University of Washington Libraries Digital Collection's photostream/Flickr , Botaurus-stellaris/Wikimedia
The Tacoma Narrows Bridge was an iconic, long-span bridge built in the state of Washington in the USA in the 1930s. It was opened to traffic on t July 1940. Leon Moisseiff planned the building's design to be far more flexible than the acceptable standard ratios.
On 7 November 1940, strong winds of 40 mph battered the area and the bridge oscillated significantly. The bridge towers were made of strong, structural carbon steel, yet they proved no match for the violent movements which eventually caused the bridge to collapse. Fortunately, there were no fatalities except for a dog. The estimated loss from the mishap was $6.4 million.
(For more on other engineering disasters visit: http://mrbublenews.com/index.php/2018/04/14/the-14-worst-disasters-engineering-history/)
++++++++++
Published  2018 Apr 17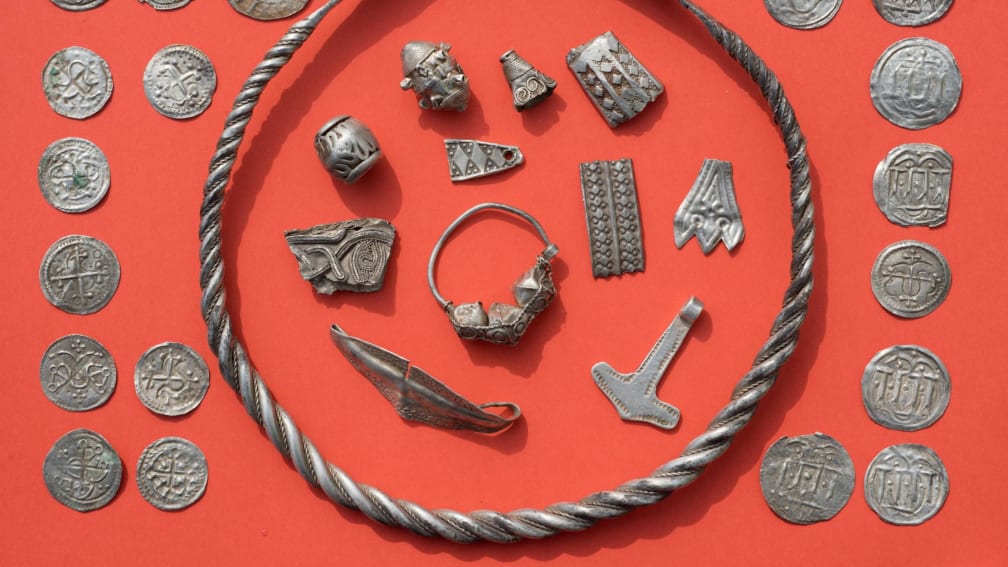 A 13-year-old boy and an amateur archaeologist have helped to uncover a unique stash of lost treasure thought to be associated with the legendary Danish King "Harry Bluetooth," who brought Christianity to Denmark in the 10th century.
René Schön and his student Luca Malaschnitschenko are reported to have been scouring a field with metal detectors in January, on the German island of Rügen close to Denmark in the Baltic sea, when they chanced upon what they believed to be a piece of aluminum.
++++++++++
Abandoned Train – Pinterest.com – Abandoned Steam Engine Train – Skeleton Coast – Namibia – 622ccc3f121cfb3e345284d4ca685a13 – "Dead End" by Keith Alexander, South African visual artist.
++++++++++
Heady feelings of triumph for the people of the central New Mexico pueblos didn't last long after the Pueblo Revolt of 1680.  Governor Otermín's attempted return reminded the Puebloans that the Spanish would eventually return, and remembering how they seemed to stand in the path of any conquering army, they decided to relocate.  When the Spanish did return, many more relocated, and after the failed revolt in 1696,many pueblos were abandoned entirely, out of fear of retribution.  Some of these refuges found a home on the Hopi First Mesa [in what is, today, Arizona].
For the full story, see the chapter entitled The Tewa Village in Hopi in the book Forgotten Tales of New Mexico by Ellen Dornan published by The History Press. ArcadiaPublishing.com. ISBN: 978-1609494858. $13.00. 176 pages. 5″x7″.
++++++++++