++++++++++
++++++++++
++++++++++
++++++++++
++++++++++
In 2012, a video depicting a golden eagle snatching a toddler in Montreal went mega-viral. It proved to be a doctored hoax, but it was a flashback to a time when birds of prey really did hunt humans. According to new, unpublished research, big birds hungry for the taste of human flesh have been a problem for thousands of years. The evidence: the recently discovered hand bones of a Neanderthal child, which were clearly digested by a large bird.
The public information service Science in Poland described the small bone fragments — each no longer than a centimeter — that were found in Cave Cinema, in southwestern Poland. At 115,000 years old, the bones are the oldest human remains ever found in the country.
Study co-author and Jagiellonian University professor Pawel Valde-Nowak, Ph.D., told Science in Poland that "analyses show that this is a result of passing through the digestive system of a large bird." This theory is supported by the fact that the bones are covered in dozens of holes. The child is believed to have been between five to seven years old at the time of the attack.
A full analysis of the bones will be published later this year in the Journal of Paleolithic Archeology, helping identify what Homo species the child belonged to, but for now the team is pretty sure it was a Neanderthal.
Unfortunately, they can't run DNA analysis on the bones because they're in such poor quality. Nevertheless, the scientists are confident that the bones belonged to a Neanderthal because they were found in a particularly deep layer of dirt. Homo neanderthalensis is thought to have lived throughout Europe and Asia from about 400,000 to 40,000 years ago, and archeologists had previously found tools believed to have been used by Neanderthals in this same layer as the child's bones.
What the scientists don't know is how this Neanderthal child ended up in the belly of a giant bird. They hypothesize that the bird could have attacked and partially consumed the child or fed upon the child's corpse. Either is plausible — and not unprecedented.
One of the most famous hominin specimens, the Taung Child, was a three-and-a-half year old Australopithecus africanus whose death remained a mystery for a long time. Its skull, with both human-like and ape-like features, was found in Africa in 1924, but scientists in 2006 discovered puncture marks at the bottom of the skull's eye sockets clearly made by eagle talons. Further examination of the bones surrounding African crown eagle nests by scientists at Ohio State University revealed that these eagles still kill large monkeys that weigh the same as a human toddler.
And while there are the rare real-life cases of eagles that still pluck up babies and dogs, whether or not a bird could even fly away with a Neanderthal child is a bit of a moot point. In the same Ohio State University study, study lead W. Scott McGraw, Ph.D. pointed out eagles don't need the strength to lift a primate or a child. Instead, they dismember their prey and take pieces of the carcass back to the nest. That's bad news for a kid or a monkey, but good news for the scientists digging up their bones later on.
(For the source of this article, and to watch a video, please visit: https://www.inverse.com/article/49767-neanderthal-child-bird-attack/)

++++++++++
++++++++++
This fierce all-female army was so ruthless that European colonists called them the Amazons after the merciless warriors of Greek mythology.
by Fleur Macdonald –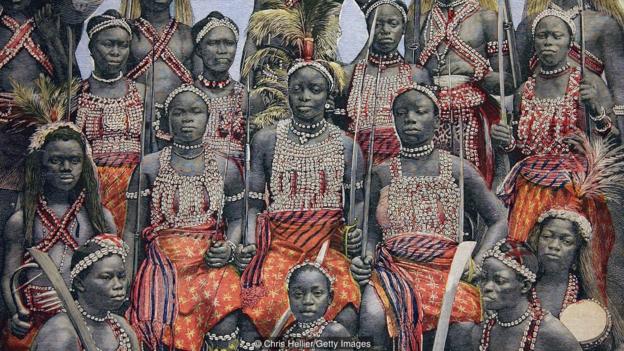 Actors Chadwick Boseman and Michael B Jordan earned high praise for their roles in the 2018 Marvel film Black Panther. But for me, the real stars were the Dora Milaje, the special forces unit of the fictional Kingdom of Wakanda. Fearsome yet principled, these female bodyguards provided the film's moral compass.
I was thrilled to find out that the inspiration for these powerful women is rooted in reality, and that the descendants of these women still keep their traditions alive.
"She is our King. She is our God. We would die for her," said Rubinelle, choosing her words carefully. The 24-year-old secretary was talking about her grandmother, who was sitting on a bed in one of the front rooms of a house in Abomey, the former capital of the Kingdom of Dahomey and now a thriving city in southern Benin. The elderly woman's head was adorned with a crown.
I had been granted an audience with Dahomian royalty: a descendant of Queen Hangbe, who according to local legend is the founder of the Amazons, an elite group of female warriors. As her living embodiment, the elderly woman has inherited her name and her authority. Four Amazons were attending to her, sitting on a woven mat on the floor. The room was relatively grand: there was a table and chairs for visitors and, in the corner, sat an old-fashioned television next to a makeshift drinks cabinet.
After indicating that I should prostrate myself before the queen and take a ceremonial sip of water, Rubinelle and her grandmother told me the story of their ancestors.
++++++++++
++++++++++
by Matt Davis –
Big Think illustration.

Juan (Joan) Pujol García was instrumental in ensuring the success of the Allied invasion of Europe on D Day and, by extension, the Allied victory in the Second World War. But his actions during the war aren't widely known. Despite being a little-known figure in history, García is one of the few, if not the only, individuals in the war to receive both an Iron Cross from Hitler and an MBE (a Member of the Order of the British Empire) from King George VI. His lack of fame might seem unjust, but a famous spy is kind of an oxymoron.
Arguably, García would become one of the most important figures in World War II, but prior to the war, he hadn't amounted to much in his life. Mostly, he was a chicken farmer in Spain. He tried and failed to run a variety of businesses, including managing a cinema. When the Spanish Civil War broke out, he deserted the Republican army to join the Nationalists, only to be imprisoned when he expressed sympathy for the monarchy.
When World War II broke out, he was running a dumpy, one-star hotel in Madrid. He had been a mediocre soldier and had admitted he was ill-suited to warfare; so his motives for approaching the British to offer his services are unclear. The British seemed to think that a military deserter, ex-chicken farmer, and failed businessman would not be of much use in the war and turned him away. However, García was determined to participate in the war, and he would repeat his request to the British on three separate instances, only to be refused each time.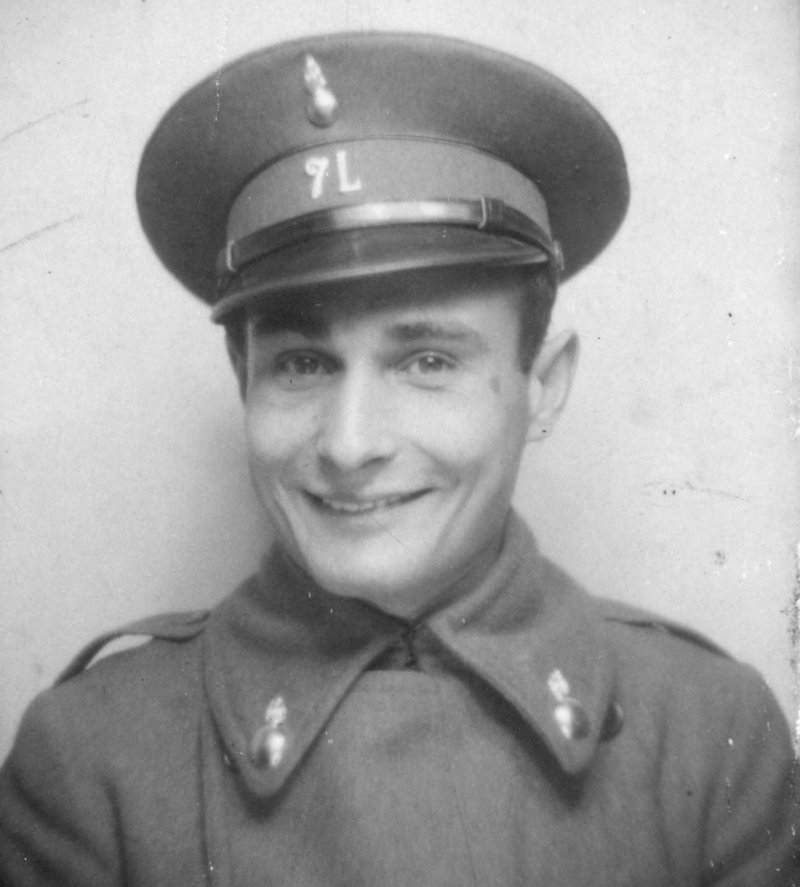 Juan Pujol García in the 7th Light Artillery uniform prior to the Spanish Civil War. Photo from Wikimedia Commons. 
A self-made spy
In what might be one of history's greatest examples of unearned confidence, García decided that in order to build a resume as a spy, he should gain the trust of the Nazis and feed them misinformation from within. At that time, the Spanish government was sympathetic to but unallied with the Nazi government, and it was easy to make contact with the German army.
He tricked a printer in Portugal into thinking he was a Spanish government official working at the local embassy and obtained a diplomatic visa, which he used to bolster a false identity as a Nazi supporter who regularly traveled to London on diplomatic business. Considering that García spoke no English, this was a particularly bold lie.
The Nazis, however, bought García's fabrication. They provided him with a crash course in spycraft, gave him £600 (equivalent to around $42,000 US today), and sent him on his way to London to recruit a network of spies. Without any English skills and with a fake passport, García went to Lisbon, Portugal, instead.
García had gotten what he wanted. He had gained the trust of the Nazis and was in contact with them. But now he had to supply them with misinformation. By combining publicly available information from newsreels, magazines, and tourists guides, García fabricated seemingly realistic reports of life in London and British activities, ostensibly fabricated by an entirely fictional spy network he had accumulated in London. These reports weren't perfect, of course: at one point, he described how Glaswegians would do "anything for a litre of wine," which is very much not the Scottish beverage of choice.
Despite all of this, his mocked-up reports were widely believed. They were so thoroughly believed that the British, upon intercepting the reports, launched a nationwide manhunt for the spy who had infiltrated their country. At the time, there were supposed to be no Axis spies in Britain, so this was very disconcerting news for the Allies.
Gaining the trust of the Allies
The trick that made the British believe in García's value as a spy occurred when he invented an entirely fictional British armada in Malta that the Axis responded to in full force. Despite the nonexistence of an armada, the Nazis continued to trust García's information. With his bona fides established, García was finally able to convince the British of his value in 1942.
Working with British intelligence, García invented 27 fictional sub-agents from whom he attributed the various pieces of intel that he cobbled together into coded, handwritten reports he sent to the Germans and later over the radio.
García's reports consisted of a mixture of misinformation; true but useless information; and true, high-value information that always arrived too late. For instance, he provided accurate information on Allied forces landing in North Africa in a letter postmarked before the landings but delivered afterwards. The Nazis apologized to García for failing to act on his wonderful intelligence in time.
To account for why he failed to provide key information he would ostensibly have access to, García needed to fabricate a variety of different excuses. When he failed to report on a major movement of the British fleet, García informed his Nazi counterparts that his relevant sub-agent had fallen ill and later died. Bolstered by a fictional obituary in British papers, the Nazis were obliged to provide the fictional man's fictional widow a very factual pension. To support García's spy network, the Nazis were paying him $340,000 US (close to $6 million today).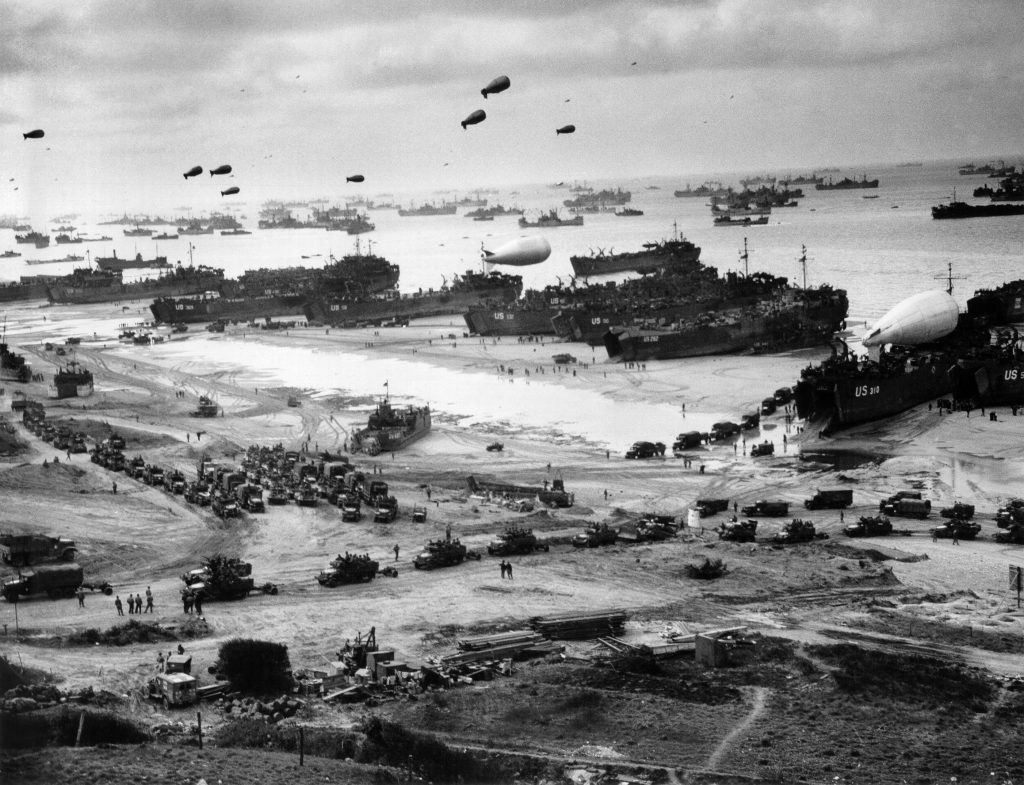 The troops, tanks, and equipment used to overthrow the Nazis in Europe arriving at Normandy after D Day. Without Juan Pujol García's spycraft, the success of the invasion would have been much less certain. Photo c/o Wikimedia Commons.
Exploiting the Nazis
García's greatest moment came during Operation Overlord, which began during the invasion at Normandy on D Day. Having built up trust with the Nazis over the course of the war, Operation Overlord represented the opportunity to exploit that trust.
Through a flurry of reports, García convinced the German High Command that an invasion would take place at the Strait of Dover (which Hitler believed to be the case anyhow). In order to maintain his credibility, García told the Nazis to wait for a high-priority message at 3 AM: this was designed to provide the Germans with information on the actual target, Normandy, but just a little too late to prevent the invasion.
In a stroke of luck, the Nazis missed the 3 AM appointment and didn't respond until later that morning. García chastised his handlers for missing the critical first message, saying "I cannot accept excuses or negligence. Were it not for my ideals, I would abandon the work."
With this extra layer of credibility, García invented a fictional army—the First U.S. Army Group—led by General Patton himself and consisting of 150,000 men. With a combination of fake radio chatter and—no joke—inflatable tanks, German High Command was convinced of the presence of an army stationed in south Britain. García convinced the Nazis that this was the true invasion and that Normandy was a diversion. Two Nazi armored divisions and 19 infantry divisions were withheld at the Strait of Dover in anticipation of another attack, allowing the invading force from Normandy to establish a stronger position in France. Without these extra troops, the Axis failed to beat back the Allied invasion.
By inventing a fake army and controlling the flow of information to the Nazis, García ranks among one of the most influential figures of the war. His identity as a double agent was not revealed until decades after, which might explain why so little is heard of him. To be safe, he faked his death from malaria in 1949 and moved to Venezuela to run a bookshop.
(Source of this, and other very interesting articles: https://bigthink.com/matt-davis/juan-pujol-garcia-the-wwii-double-agent-who-invented-a-fake-army/)
++++++++++
++++++++++
A look at the available evidence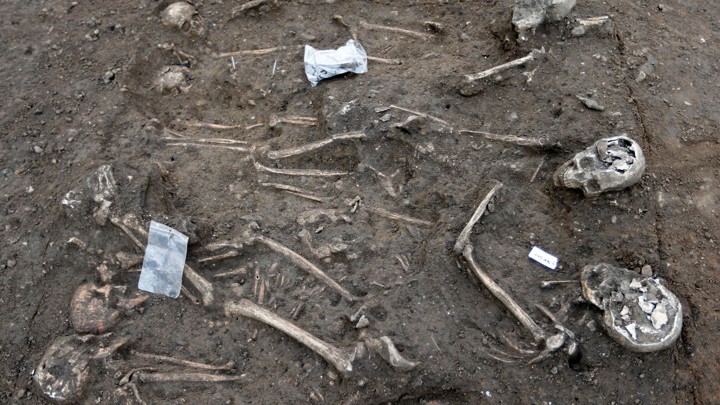 Regis Duvignau / Reuters
And, if we're going back this far, we're not talking about human civilizations anymore. Homo sapiens didn't make their appearance on the planet until just 300,000 years or so ago. That means the question shifts to other species, which is why Gavin called the idea the Silurian hypothesis, after an old Dr. Who episode with intelligent reptiles.
So, could researchers find clear evidence that an ancient species built a relatively short-lived industrial civilization long before our own? Perhaps, for example, some early mammal rose briefly to civilization building during the Paleocene epoch about 60 million years ago. There are fossils, of course. But the fraction of life that gets fossilized is always minuscule and varies a lot depending on time and habitat. It would be easy, therefore, to miss an industrial civilization that only lasted 100,000 years—which would be 500 times longer than our industrial civilization has made it so far.
Given that all direct evidence would be long gone after many millions of years, what kinds of evidence might then still exist? The best way to answer this question is to figure out what evidence we'd leave behind if human civilization collapsed at its current stage of development.
(For the balance of this article please see: https://www.theatlantic.com/science/archive/2018/04/are-we-earths-only-civilization/557180/)
++++++++++
The seven ancient wonders of the world
++++++++++
Meet Hypatia, the ancient mathematician who helped preserve seminal texts
Her dramatic death often overshadows her epic life, but it shouldn't
++++++++++
++++++++++
For centuries, no one could read it.
++++++++++
++++++++++
++++++++++
++++++++++
++++++++++
++++++++++
10 Times Great Philosophers Revealed Their Personalities
++++++++++
++++++++++
++++++++++
++++++++++
++++++++++
The Tacoma Bridge collapse of 1940 in Washington, USA was a calamity of the world's third longest suspension bridge back then and had a crucial impact on engineering. It caused the governing of the modeling of all the long-span bridges in the future.
Image credits: University of Washington Libraries Digital Collection's photostream/Flickr , Botaurus-stellaris/Wikimedia
The Tacoma Narrows Bridge was an iconic, long-span bridge built in the state of Washington in the USA in the 1930s. It was opened to traffic on t July 1940. Leon Moisseiff planned the building's design to be far more flexible than the acceptable standard ratios.
On 7 November 1940, strong winds of 40 mph battered the area and the bridge oscillated significantly. The bridge towers were made of strong, structural carbon steel, yet they proved no match for the violent movements which eventually caused the bridge to collapse. Fortunately, there were no fatalities except for a dog. The estimated loss from the mishap was $6.4 million.
(For more on other engineering disasters visit: https://mrbublenews.com/index.php/2018/04/14/the-14-worst-disasters-engineering-history/)
++++++++++
Published  2018 Apr 17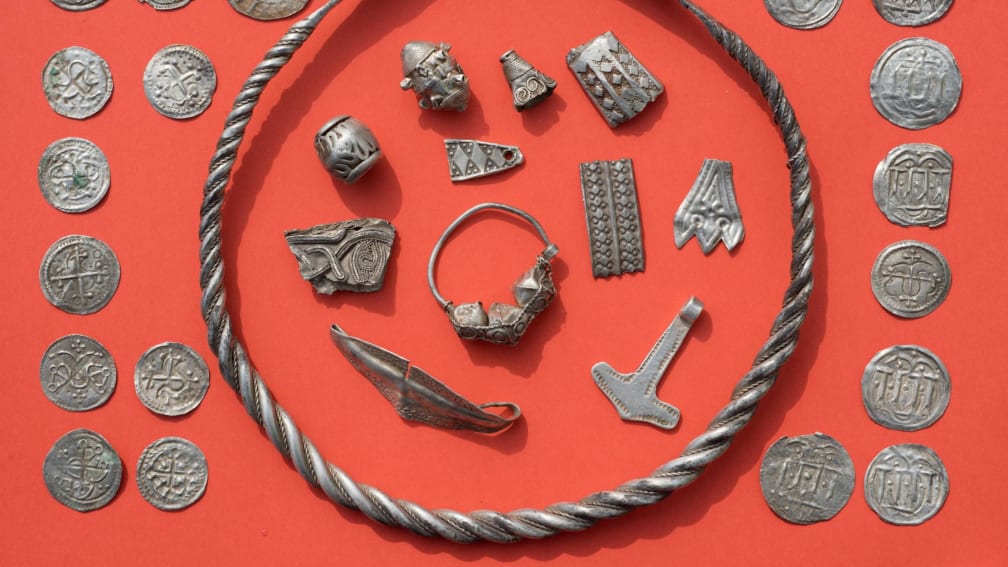 A 13-year-old boy and an amateur archaeologist have helped to uncover a unique stash of lost treasure thought to be associated with the legendary Danish King "Harry Bluetooth," who brought Christianity to Denmark in the 10th century.
René Schön and his student Luca Malaschnitschenko are reported to have been scouring a field with metal detectors in January, on the German island of Rügen close to Denmark in the Baltic sea, when they chanced upon what they believed to be a piece of aluminum.
++++++++++
Abandoned Train – Pinterest.com – Abandoned Steam Engine Train – Skeleton Coast – Namibia – 622ccc3f121cfb3e345284d4ca685a13 – "Dead End" by Keith Alexander, South African visual artist.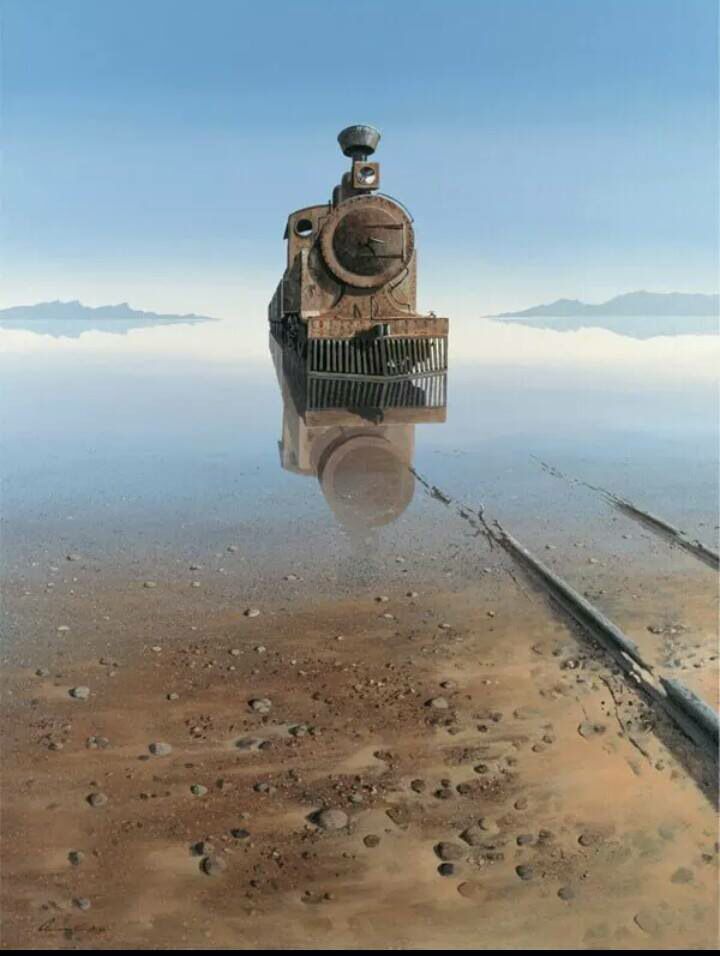 ++++++++++
Heady feelings of triumph for the people of the central New Mexico pueblos didn't last long after the Pueblo Revolt of 1680.  Governor Otermín's attempted return reminded the Puebloans that the Spanish would eventually return, and remembering how they seemed to stand in the path of any conquering army, they decided to relocate.  When the Spanish did return, many more relocated, and after the failed revolt in 1696,many pueblos were abandoned entirely, out of fear of retribution.  Some of these refuges found a home on the Hopi First Mesa [in what is, today, Arizona].
For the full story, see the chapter entitled The Tewa Village in Hopi in the book Forgotten Tales of New Mexico by Ellen Dornan published by The History Press. ArcadiaPublishing.com. ISBN: 978-1609494858. $13.00. 176 pages. 5″x7″.
++++++++++