++++++++++
Release Date:  April 18, 2018
Contact:    Lorenzo Vigil, Lorenzo_vigil@nps.gov, 505-425-8025 X 226
Watrous, NM: Fort Union National Monument volunteer Mitch Barker has taken home the prestigious National Park Service regional George and Helen Hartzog Award. Each year the award goes to a national park volunteer "who gives of his or her skills, talents, and time beyond the normal call of duty."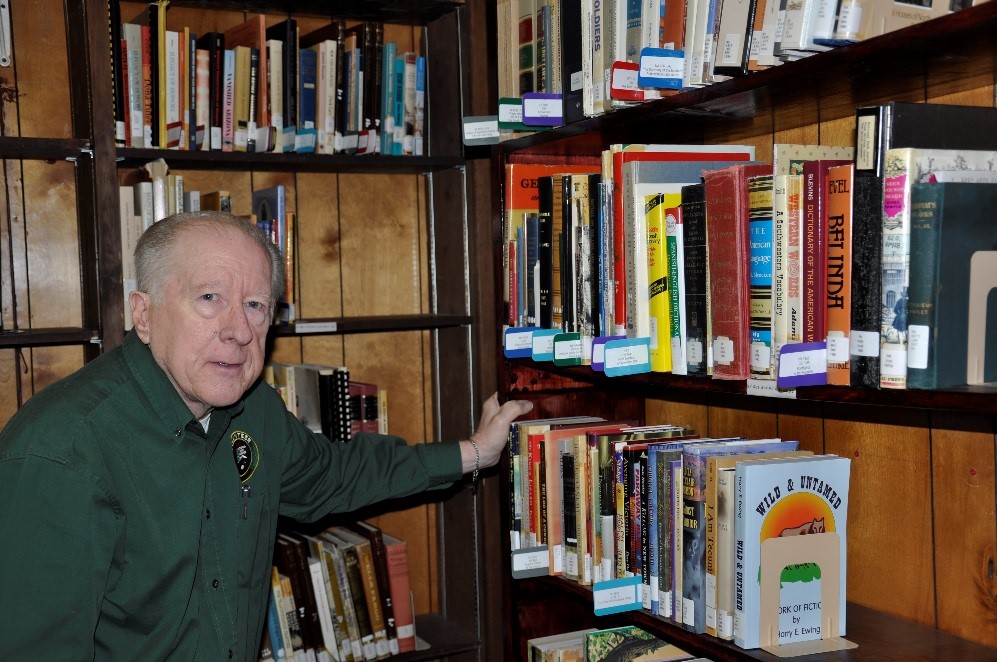 Fort Union volunteer – Mitch Barker
Mitch has volunteered once a week the past four years at the Fort Union library. In that time, Mitch has reorganized and streamlined the monument's library. His improvements include better-protected paper records and improved storage of small and fragile pamphlets. He organized some of the monument's files into searchable, online databases.
Mitch's work has made it easier for the park staff to answer visitor inquiries about the soldiers that served at Fort Union and other questions about the history of the fort. The monument library is open to the public by appointment and Mitch spends some of his time at the monument helping the public with research inquiries.
"Fort Union has one of the finest libraries in the National Park system, and Mitch Barker's hard work has made a big contribution to the quality of our library," said Monument Superintendent Charles Strickfaden. "I am especially proud that Mitch took it upon himself to learn the ins and outs of the computer system used by the Park Service library network."
Mitch is a retired media affairs officer in the office of the assistant administrator of the Federal Aviation Administration for Public Affairs.
He lives in Ojitos Frios Ranches subdivision near Romeroville. He has been making the 75-mile round trip to the monument once a week for more than four years. In that time, Mitch has volunteered about 1,300 hours at the monument, which is equivalent to more than five months of full-time work.
Using a value of volunteer labor of about $24 per hour (as calculated by the Independent Sector), Mitch's contribution to the monument has been worth about $31,200.
When asked to explain why he is volunteering, Mitch replied, "From the time I was kid, the National Park Service has enriched my life, I learned about our country's history, wildlife, geology, and much else.
"Sometimes free, sometimes for a few dollars, getting into a park or a historical site is one of the best bargains you can find," Mitch said. Now I'm paying back a little of what I've gained over my lifetime."
Mitch competed against volunteers from almost 80 other national parks in the western part of the country, including such icons as Grand Canyon National Park, Rocky Mountain National Park and Grand Tetons National Park. The George and Helen Hartzog Award is named after the former director of the National Park Service and his wife. During his tenure, Hartzog established the national parks' volunteer program.
Lorenzo Vigil, Chief of Interpretation & Operations, Fort Union National Monument, PO Box 127, Watrous, NM 87753, Ph: 505-425-8025 Xtn. 226 voice, Fax: 505-454-9272, Email: lorenzo_vigil@nps.gov
Fort Union National Monument, 3115 SR 161, Watrous, NM 87753


++++++++++
Goldman Sachs analysts attempted to address a touchy subject for biotech companies, especially those involved in the pioneering "gene therapy" treatment: cures could be bad for business in the long run.
"Is curing patients a sustainable business model?" analysts ask in an April 10 report entitled "The Genome Revolution."
"The potential to deliver 'one shot cures' is one of the most attractive aspects of gene therapy, genetically-engineered cell therapy and gene editing. However, such treatments offer a very different outlook with regard to recurring revenue versus chronic therapies," analyst Salveen Richter wrote in the note to clients Tuesday. "While this proposition carries tremendous value for patients and society, it could represent a challenge for genome medicine developers looking for sustained cash flow."
Richter cited Gilead Sciences' treatments for hepatitis C, which achieved cure rates of more than 90 percent. The company's U.S. sales for these hepatitis C treatments peaked at $12.5 billion in 2015, but have been falling ever since. Goldman estimates the U.S. sales for these treatments will be less than $4 billion this year, according to a table in the report.
"GILD is a case in point, where the success of its hepatitis C franchise has gradually exhausted the available pool of treatable patients," the analyst wrote. "In the case of infectious diseases such as hepatitis C, curing existing patients also decreases the number of carriers able to transmit the virus to new patients, thus the incident pool also declines … Where an incident pool remains stable (eg, in cancer) the potential for a cure poses less risk to the sustainability of a franchise."
The analyst didn't immediately respond to a request for comment.
The report suggested three potential solutions for biotech firms:
"Solution 1: Address large markets: Hemophilia is a $9-10bn WW market (hemophilia A, B), growing at ~6-7% annually."

"Solution 2: Address disorders with high incidence: Spinal muscular atrophy (SMA) affects the cells (neurons) in the spinal cord, impacting the ability to walk, eat, or breathe."

"Solution 3: Constant innovation and portfolio expansion: There are hundreds of inherited retinal diseases (genetics forms of blindness) … Pace of innovation will also play a role as future programs can offset the declining revenue trajectory of prior assets."

(From: https://www.cnbc.com/2018/04/11/goldman-asks-is-curing-patients-a-sustainable-business-model.html)
tipsforsurvivalists.com/top-20-websites-for-survivalists
++++++++++