++++++++++
By
Yasmin Tayag – 
The "Mona Lisa" has her own room in the Louvre, where she attracts six million visitors each year. Her room is frequently crowded with frenzied guests attempting to catch a glimpse of her enigmatic smile. Over a year ago, Boston physician Dr. Mandeep R. Mehra was in that endless line, hoping to do the same. During the long wait, he pondered the details of La Giaconda's strange looks — her yellowing skin, her thinning hair, and of course, her lopsided smile.
In that time, he came to a realization: This woman is ill.
"I had the chance to just stand there for an hour and a half staring at nothing but this painting," Mehra, medical director of the Heart & Vascular Center at Brigham and Women's Hospital, tells Inverse. "I'm not an artist. I don't know how to appreciate art. But I do sure know how to make a clinical diagnosis."
Over the next year, Mehra dug into the history of Lisa Gherardini, the woman in the legendary portrait, as well as the public health records of historical and modern-day Florence, where the painting was created. As he outlines in a new paper in the Mayo Clinic Proceedings journal, Gherardini suffered from an ailment that is still common — and quite treatable — today.

"I don't know how to appreciate art. But I do sure know how to make a clinical diagnosis."

When you are stuck in a small room at the Louvre, looking very closely at the "Mona Lisa," says Mehra, you start to notice a lot of strange details.
Take, for example, the inner corner of her left eye: There's a small, fleshy bump there, just between her tear duct and the bridge of her nose. Her hair is oddly thin and lank, and her hairline is receding behind her veil. She has no eyebrows, whatsoever.
If you look closely at her eyes, you'll notice they are oddly yellow — far more so than her skin.
The right side of her neck has a slight but pronounced bulge, and her face is slightly puffy.
And on her right hand, folded delicately over her left, there's a noticeable bulge between her index and forefinger.
"It became clear to me that there was something wrong with her," says Mehra. 
"So, I'm basically looking at a receding hairline, loss of eyebrows, a swelling in the neck, coarse, thin hair," he says. Then there's the xanthalesma and the lipoma or xanthoma. "And I'm looking at a slightly edematous, swollen woman with no hair throughout. That, to me is a classic picture of clinical hypothyroidism, or an underactive thyroid gland."
Put that way, it looks plain as day. Poor Lisa.

This diagnosis — common in women who had just had a baby, like Ghirardelli — even explains the perplexing smile of the "Mona Lisa." While previous historians had tried to chalk it up to Bell's Palsy, a form of temporary facial paralysis that weakens the muscles in one of half of the face, Mehra says this explanation doesn't hold because there's no unevenness in the rest of her face.
His hypothyroidism diagnosis, however, accounts for her inscrutable expression, and casts a certain sadness over the portrait.
"The more characteristic reason for why that smile is not a full-blown smile or is partially asymmetric is probably hypothyroidism," he says, "because when you have hypothyroidism you're a little depressed, and your facial muscles are puffy and weak. You can't even bring yourself to a full smile."

To back up his diagnosis, Mehra examined life in 16th-century Florence, looking for evidence that hypothyroidism might have been a common ailment.
Sure enough, he found that the food being eaten at the time — largely vegetables — was heavily deficient in iodine, which is necessary for maintaining thyroid health. Furthermore, many of the vegetables Renaissance Florentines ate, like cauliflower, cabbage, and kale, were goitrogens, or "goiter-promoting foods," he says. Other studies on paintings by Renaissance masters back up his theory: About one-third of the paintings by Da Vinci's contemporaries, like Caravaggio or Raphael, depict people with thyroid problems, says Mehra.
The problem Lisa Ghirardelli faced was not, it seems, isolated to the era in which she lived. Digging through public health records, Mehra discovered that thyroid deficiency remains an issue in some parts of modern Italy. "As recently as 1999 there are populations of people in iodine-deficient areas in Italy that had as much as 60 percent incidence of thyroid swelling," he says.

Thyroid problems persist, even in some parts of modern Italy. 
The hypothyroidism diagnosis means that Ghirardelli's life would have been uncomfortable, and increasingly so. "It's slow. It happens over time," says Mehra. People with hypothyroidism have trouble sleeping and difficulty regulating their body temperature; they become depressed and find it hard to think, and later become sedentary, and unable to exercise. It can be life threatening, but only in the very long term. Ghirardelli, for her part, is known to have lived to the ripe age of 63.

Da Vinci, a man of science, might have realized that his subject was ill, though it's impossible to know. What is clear is that he deliberately depicted her with all her strange and compelling imperfections, which is perhaps the reason why the "Mona Lisa" has captivated onlookers for over five centuries.
"He was an incredibly accurate artist," Mehra says. "I would call him a forensic artist. Almost a scientific artist. He didn't just look at art and show what he thought would be eye-pleasing. He wanted to depict the form as it happens naturally, and that was his greatness."

(For the full illustrated version of this, and many other great articles, please visit: https://www.inverse.com/article/48736-mona-lisa-smile-due-to-hypothyroidism/)

++++++++++
++++++++++

The new quantum radar would negate the near-invisibility of stealth aircraft like the B-2 Spirit bomber (Credit: USAF)
Stealth technology may not be very stealthy in the future thanks to a US$2.7-million project by the Canadian Department of National Defence to develop a new quantum radar system. The project, led by Jonathan Baugh at the University of Waterloo's Institute for Quantum Computing (IQC), uses the phenomenon of quantum entanglement to eliminate heavy background noise, thereby defeating stealth anti-radar technologies to detect incoming aircraft and missiles with much greater accuracy. 
Ever since the development of modern camouflage during the First World War, the military forces of major powers have been in a continual arms race between more advanced sensors and more effective stealth technologies. Using composite materials, novel geometries that limit microwave reflections, and special radar-absorbing paints, modern stealth aircraft have been able to reduce their radar profiles to that of a small bird – if they can be seen at all.
This stealthiness is compounded by modern radar jamming and deception technologies and by natural phenomena. In fact, one reason the Canadian Department of National Defence is pursuing the quantum radar project is that, in addition to Canada being at the frontier of any incoming strategic attacks directed against the West, it's also in a region that is extremely hostile to conventional radar.
"In the Arctic, space weather such as geomagnetic storms and solar flares interfere with radar operation and make the effective identification of objects more challenging," says Baugh. "By moving from traditional radar to quantum radar, we hope to not only cut through this noise, but also to identify objects that have been specifically designed to avoid detection."
Conventional radar suffers from a universal problem of all radio communications and detection, which is the signal to noise ratio. That is, if there is too much random noise mixed in with the signal you're trying to detect, it doesn't' matter how much you turn up the volume. That only turns up the noise as well.
Quantum radar, on the other hand, gets around this using something called quantum illumination to filter out the noise by making the outgoing photons that make up the radar signal identifiable. It does this by means of the principle of quantum entanglement. This is when two photons are generated or made to interact in such a way that their properties are linked together. When this happens, if you can determine the position, momentum, spin, or polarization of one photon, you can ascertain the complementary position, momentum, spin, or polarization of its partner.
The upshot of this is that by shooting one photon out of the radar dish and retaining its pair, it's possible to filter out unpaired photons from the returning beam. This way, background noise and electronic jamming is eliminated and the radar image becomes clear enough to detect even the most advanced stealth craft.
(For the balance of this article please see: https://newatlas.com/quantum-radar-detect-steath-aircraft/54356/)
++++++++++
++++++++++
++++++++++
++++++++++
++++++++++
++++++++++
++++++++++
++++++++++
++++++++++
++++++++++
++++++++++
++++++++++
++++++++++
You don't have to know a whole lot about science to know that black holes normally suck things in, not spew things out. But NASA detected something mighty bizarre at the supermassive black hole Markarian 335. Two of NASA's space telescopes, including the Nuclear Spectroscopic Telescope Array (NuSTAR), amazingly observed a black hole's corona "launched" away from the supermassive black hole.
Then an enormous pulse of X-ray energy spewed out. This kind of phenomena has never been observed before.
"This is the first time we have been able to link the launching of the corona to a flare. This will help us comprehend how supermassive black holes power some of the brightest objects in the cosmos." Dan Wilkins, of Saint Mary's University, said. This is one of the most important discoveries so far.
NuSTAR's principal investigator, Fiona Harrison, noted that the nature of the energetic source was "enigmatic," but added that the capability to in fact record the event should have provided some clues about the black hole's size and structure, along with (hopefully) some fresh info on how black holes work. Fortunately for us, this black hole is still 324 million light-years away.
So, no matter what bizarre things it was doing, it shouldn't had any effect on our corner of the cosmos.
While we like to think we have a fairly good understanding of space, much of what we count as knowledge is just theory which has yet to be disproved. So it looks like some textbooks will need to be rewritten. And while this particular supermassive black hole is 324 million light-years away, I'm not taking any chances.
 (For more articles like this visit: www.thespaceacademy.org)
++++++++++
+++++++++++
​Fans of human-powered transport can already choose between having both feet on a skateboard, or each foot in a rollerblade. If you're more into motorized self-balancing devices, though, you've been pretty much stuck putting both feet on a Segway-like hoverboard. That's not the case with Hovershoes.   Read more
++++++++++
Astronomers scanning the skies just got a huge surprise. They discovered a gigantic galaxy orbiting our own, where none had been seen before. It just came out of nowhere. So, just how did the recently-discovered Crater 2 succeed to pull off this feat, like a deer jumping out from the interstellar bushes to suddenly shock us? Even though the appearance may seem sudden, the Crater 2 has been there all along. We just never saw it.
Milky Way, Image Credit: ESO / Serge Brunier, Frederic Tapissier via NASA

Now that astronomer know it's there, though, there are a few other crushing facts that astronomers discovered. First of all, we can't blame the galaxy's size for its relative insignificance. Crater 2 is so massive that researchers have already identified it as the fourth largest galaxy orbiting our own. We can't even blame its distance, either. Crater 2's orbit around the Milky Way puts it just precisely in our neighborhood.
That being said, the question arises, how did we still not know it was there? A new research paper published in Monthly Notices of the Royal Astronomical Society from astronomers at the University of Cambridge has an answer for us. It turns out that, regardless of being huge and close, Crater 2 is also a pretty dark galaxy. Actually, it's one of the faintest galaxies ever detected in the cosmos. That, along with some much perkier neighbors, let the galaxy that astronomers have nicknamed "the feeble giant" remain hidden from our eyes until now.
Now that we have observed Crater 2, nevertheless, the discovery yields some questions about what else could be out there that we are still missing. Astronomers are already talking about starting a hunt for similarly large, dark galaxies near us. It's a good thing that there's still so much about cosmos that we still don't know.
(Article source: https://www.ispacea.com/2018/02/a-giant-galaxy-orbiting-our-own-just.html)
++++++++++
By Mike Colagrossi
The world is teeming with intelligence, from little wormy grubs in the garden to physicists poring over equations in university offices. In the past few years we've also come to view our virtual assistants as possessing some kind of intelligence—imperfect and sometimes downright creepy, but intelligence nonetheless. A.I. has come a long way since Microsoft's Clippy.
Image credit: Shutterstock/Big Think
Whether we're talking to Siri like a friend or asking our dogs for advice, humans love to imagine other animals' intelligence. As we enter into the infancy of A.I., it's fun to speculate how some existing lifeforms stack up to our best A.I so far. Scientifically, it's hard to get a read on how they compare, but there are some interesting comparisons to be made.
Intelligence and consciousness is still a widely debated topic amongst scientists and philosophers alike. There is no exact consensus on what makes a human or animal, let alone an A.I. software program or robot, have intelligence. One recent idea of determining general intelligence comes from Robert Sternberg who put forth the Triarchic Theory of Intelligence. He argued that intelligence cannot be solely derived from IQ tests but instead can be broken down into analytic, creative, and practical.

Today we view animal cognition as something worthy of increased study. It's possible that many different kinds of animals have a much richer inner life than we ever imagined. Understanding animal intelligence can help us change and evolve our views on creating A.I. systems, as research scientist Heather Roff writes for The Conversation, "Instead of thinking about A.I. as something superhuman or alien, it's easier to analogize them to animals, intelligent nonhumans we have experience training." Roff continues: "The analogy works at a deeper level too. I'm not expecting the sitting dog to understand complex concepts like "love" or "good." I'm expecting him to learn a behavior. Just as we can get dogs to sit, stay and roll over, we can get A.I. systems to move cars around public roads. But it's too much to expect the car to "solve" the ethical problems that can arise in driving emergencies."
Will we ever have A.I. that understands feelings and ethics, and how far have we come on the road to creating intelligence?
(To continue reading this article visit: https://bigthink.com/mike-colagrossi/what-animals-is-ai-currently-smarter-than?)
++++++++++
++++++++++
++++++++++
++++++++++
++++++++++
++++++++++
++++++++++
Researchers have looked to the past to determine whether the weakening magnetic field is indicative of an imminent pole reversal(Credit: Peter Reid, The University of Edinburgh)
We owe our existence to the Earth's magnetic field, the invisible barrier that protects the planet from the harsh radiation of space. But this shield is far from static, and tends to wane and even reverse at semi-regular intervals. With the magnetic field currently weakening, there's been a lot of talk in recent years that another flip might be imminent, but a new study has looked at the history of these events and found that a reversal probably isn't about to happen.
++++++++++

++++++++++
++++++++++

Estimates by astronomers indicate that there could be more than 100 BILLION Earth-like worlds in the Milky Way that could be home to life. Think that's a big number? According to astronomers, there are roughly 500 billion galaxies in the known universe, which means there are around 50,000,000,000,000,000,000,000 (5×1022) habitable planets. That's of course if there's just ONE universe.
In fact, just inside our own Milky Way Galaxy experts now believe are some 400 BILLION STARS, but this number may seem small as some astrophysicists believe that stars in our galaxy could figure the TRILLION. This means that the Milky Way alone could be home to more than 100 BILLION planets.

However, since astronomers aren't able to see our galaxy from the outside, they can't really know for sure the number of planets the Milky Way is home to. They can only provide estimates.
To do this, experts calculate our galaxy's mass and calculate how much of that mass is composed of stars. Based on these calculations scientists believe our galaxy is home to at least 400 billion stars, but as I mentioned above, this number could drastically rise.
There are some calculations which suggest that the Milky Way is home on an average between 800 billion and 3.2 trillion planets, but there are some experts who believe the number could be as high as eight trillion.

Furthermore, if we take a look at what NASA has to say, well find out how the space agency believes there are at least 1,500 planets located within 50 light years from Earth. These conclusions are based on observations taken over a period of six years by the PLANET—Probing Lensing Anomalies NETwork—collaboration, founded in 1995. The study concluded that there are way more Earth-sized planets than Jupiter-sized worlds.
(For the full article visit: https://www.thespaceacademy.org/2018/03/astronomers-admit-we-were-wrong100.html)
++++++++++
++++++++++
++++++++++

After a year in space, astronaut's DNA no longer matches that of his identical twin
https://www.cnn.com/2018/03/14/health/scott-kelly-dna-nasa-twins-study/index.html
++++++++++
HomeBiogas 2.0 – Convert Food Waste to Energy — DudeIWantThat.com
In a way, we all produce HomeBiogas right inside our amazing bodies. And I don't mean that just as a Beavis & Butthead joke (though, check out the biogas I'm making from these chili cheese jalapeno nachos, Beavis. Hehheh, heheh.) When we eat food, our bodies digest it, absorb the nutrients, and release the rest as waste.
With the HomeBiogas 2.0, it's bacteria that are eating the food – in this case our own inedible or leftover food scraps, or animal manure – digesting and absorbing the nutrients they need, and releasing the rest as waste. It's called biogas. And HomeBiogas 2.0 has figured out something way more productive to use the bacteria's waste for than stinking your friend Cornelius out of the living room right at the big reveal in Arrival.
Read more at: https://www.dudeiwantthat.com/household/miscellaneous/homebiogas-20-convert-food-waste-to-energy.asp
++++++++++
Code Girls: The Untold Story of the American Women Code Breakers of World War II Paperback – October 9, 2018
++++++++++
The Radium Girls: The Dark Story of America's Shining Women Paperback – March 6, 2018
++++++++++
https://digg.com/video/boston-dynamics-robo-dog-door-open
++++++++++
Scientists Warn of a Global Cyber-Attack… From ALIENS
The 13th Floor
I should make two points clear up front: first, this story is sourced from a legitimate scientific publication and has been covered by major outlets (including the Washington Post), not just some fringe conspiracy site; second — and this should put your mind at ease for the moment — it's purely a hypothetical thought experiment…. Read the full story
Shared from Apple News
++++++++++
For Immediate Release February 22, 2018
NNSA Releases Draft Environmental Assessment for LANL Rad Lab; Raises Plutonium Limit 10 Times for Expanded Pit Production
Santa Fe, NM.  Today the National Nuclear Security Administration (NNSA) announced an Environmental Assessment (EA) to increase the amount of plutonium used in the Radiological Laboratory Utility and Office Building (AKA the "Rad Lab") at the Los Alamos National Laboratory (LANL) from 38.6 grams of plutonium-239 equivalent to 400 grams. [See NNSA notice below.] This 10-fold increase is significant because it will dramatically expand materials characterization[1] and analytical chemistry[2] capabilities in the Rad Lab in support of expanded plutonium pit production for future nuclear weapons designs. It also re-categorizes the Rad Lab from a "radiological facility" to a "Hazard Category-3" nuclear facility.
There is currently no plutonium pit production scheduled for the existing nuclear weapons stockpile. Instead, independent scientists have concluded that pits last a century or more (without a proscribed end date), and the U.S. already has some 15,000 pits stored at the Pantex Plant near Amarillo, TX. Despite that, LANL is now tooling up to produce new pits for a proposed Interoperable Warhead that is supposed to replace existing warheads on the Air Force's Minuteman III intercontinental ballistic missiles and the Navy's sub-launched Trident missiles. However, the future of the Interoperable Warhead is still very much in doubt because the Navy doesn't want it.[3]
In December 2015 the Defense Nuclear Facilities Safety Board (DNFSB) reported that then-DOE Secretary Moniz approved re-categorizing the Rad Lab "with a material-at-risk limit of 400 g plutonium- 239 equivalent." [4] Starting in 2016, NNSA has already spent $2 million in the process to re-categorize the Rad Lab. However, the National Environmental Policy Act (NEPA) requires that federal officials conduct public review and comment before reaching a decision to commit "irretrievable resources" (such as taxpayer funding) to a proposed project. Hence conducting an environmental assessment (EA) after the fact arguably violates the law.
Moreover, NEPA also prohibits the "segmentation" of issues and requires that all "connected" actions be included in the same public review. This environmental assessment (EA) to raise the plutonium limit in the Rad Lab should not be a standalone document, but instead be part of a far broader programmatic environmental impact statement on expanded plutonium pit production.
NNSA will no doubt argue that this narrow environmental assessment to raise the amount of plutonium at the Rad Lab is legal because it merely seeks to replace the capabilities of the old and dangerous Chemistry and Metallurgy Research Building. However, this all goes back to the Department of Energy's 1996 Stockpile Stewardship and Management Programmatic Environmental Statement, which resulted in a formal Record of Decision to relocate plutonium pit production at the Los Alamos Lab.[5] However, that decision specifically limited pit production at LANL to 20 pits per year because of the dangerous, deteriorating conditions at the old CMR Building, which the Rad Lab was to partially replace.
The larger Chemistry and Metallurgy Research Replacement (CMRR) Project "Nuclear Facility" was canceled in 2012 when project costs exploded from an originally estimated $600 million to as high as $6.5 billion. Following that NNSA decided without any NEPA review to pursue a 3-fold strategy to maintain plutonium operations at LANL by 1) raising the plutonium limit in the Rad Lab; 2) upgrading LANL's main plutonium facility PF-4; and 3) building two or three underground "modular" facilities at $1 billion each.[6]
However, over the last decade plutonium operations at LANL have had a very troubled history. In February 2014 a radioactive plutonium waste drum improperly prepared by the Lab ruptured underground at the Waste Isolation Pilot Plant, contaminating 21 workers and closing that facility for nearly three years, at a cost of at least $1.5 billion to the taxpayer to reopen. Also during that time many major plutonium operations at PF-4 were suspended for three years because of serious nuclear criticality safety concerns.[7] As a result, NNSA is now openly considering whether to have expanded plutonium pit production at LANL or the Savannah River Site near Aiken, SC, or both, while the construction of underground modules at LANL seems increasingly unlikely.
Today's draft environmental assessment claims that nothing has changed in the Rad Lab's purpose and need since 2003, when an environmental impact statement was completed for the entire Chemistry and Metallurgy Research Replacement Project.[8] That statement is preposterous on its face because of the cancellation of the CMRR-Nuclear Facility alone. The draft environmental assessment itself states that the plutonium increase in the Rad Lab is expected to be "Sufficient for the combined RLUOB and PF-4 capabilities to satisfy anticipated programmatic needs for AC [analytical chemistry] and MC [materials characterization][9] (Emphasis added.). "Anticipated programmatic needs for AC and MC" are easily foreseeable as Congress has statutorily required the expansion of plutonium pit production to demonstrate the capability of producing up to 80 pits per year by 2027. More recently, the Trump Administration's Nuclear Posture Review requires NNSA to "Provide the enduring capability and capacity to produce plutonium pits at a rate of no fewer than 80 pits per year by 2030." (Emphasis added.) But the 1996 ceiling of 20 pits per year has never been officially raised following NEPA review, despite numerous NNSA attempts to do so.[10]
Jay Coghlan, Nuclear Watch Director, commented, "NNSA needs to get its NEPA house in order. Instead of this lessor environmental assessment to increase the amount of plutonium in the Rad Lab, there should instead be programmatic review of all aspects of expanded plutonium pit production, including the inevitable cost overruns, nuclear safety problems, and contamination. Most of all, the need for expanded plutonium pit production should be publicly and firmly established, instead of vaguely being for speculative future new nuclear weapons designs that aren't needed and may actually degrade national security because they can't be full-scale tested."
# # # Draft Environmental Assessment Available for Public Comment
The National Nuclear Security Administration released a draft environmental assessment for public comment today that proposes operational changes to the Radiological Laboratory Utility Office Building (RLUOB) at Los Alamos National Laboratory.
NNSA prepared the Draft Environmental Assessment of Proposed Changes for Analytical Chemistry and Materials Characterization at the Radiological Laboratory/Utility/Office Building, Los Alamos National Laboratory, Los Alamos, New Mexico (Draft EA) (DOE/EA-2052), in accordance with the National Environmental Policy Act (NEPA).
This Draft EA evaluates the potential environmental impacts of recategorizing RLUOB from a Radiological Facility to a Hazard Category 3 Nuclear (HC-3) Facility with an increased material-at-risk limit of 400 grams of plutonium-equivalent material (PuE), which is 15 percent of PuE allowed in an HC-3 Facility.
Increasing the allowable radioactive material inventory from the current 38.6 grams of PuE to 400 grams would enhance the use of laboratory space in Technical Area55.
The proposed approach would allow some analytical chemistry and materials characterization capabilities previously planned for LANL's Plutonium Facility-4 Building to be installed in RLUOB. The purpose of the EA will provide sufficient evidence and analysis to determine whether to prepare an Environmental Impact Statement or to issue a Finding of No Significant Impact.
The public is invited to comment on the Draft EA during the 30-day review period ending on March 26, 2018.  The Draft EA is available on the Department of Energy's NEPA website. A copy of the Draft EA is also available for review at the Los Alamos National Laboratory Reading Room, 94 Cities of Gold Road, Pojoaque, NM 87506.
Comments may be submitted via e-mail at RLUOBEA@hq.doe.gov or U.S. mail at:  U.S. Mail:   NNSA Los Alamos Field Office, ATTN: CMRR Project Management Office, 3747 West Jemez Road, Los Alamos, NM  87544
[1] Materials characterization ensures that the plutonium and/or highly enriched uranium is of sufficient "weapons-grade" to begin pit production to begin with.
[2] Analytical chemistry performs up to a hundred quality control samples per pit as it is being produced.
[3] See 2012 Navy memo leaked to Nuclear Watch and Tri-Valley CAREs at https://www.nukewatch.org/importantdocs/resources/Navy-Memo-W87W88.pdf.
[5] That decision was prompted by a 1989 FBI raid investigating environmental crimes that abruptly stopped production at the Rocky Flats Plant near Denver, CO.
[6] The Rad Lab itself has increased from original actual costs of $400 million to build and equip to a total estimated cost of $1.4 billion to raise the plutonium limit and install additional equipment by 2026 for expanded plutonium pit production.
[7] See the investigative series Nuclear Negligence, Patrick Malone, Center for Public Integrity, https://apps.publicintegrity.org/nuclear-negligence/ The factual basis for that groundbreaking series is from the NNSA's Performance Evaluation Report, which are publicly available because Nuclear Watch successfully sued for them in 2012.
[8] EA-2052: Proposed Changes for Analytical Chemistry and Materials Characterization at the Radiological Laboratory/Utility/Office Building, Los Alamos National Laboratory, Los Alamos, New Mexico, 1.2 Purpose and Need for Agency Action, p. 5, https://energy.gov/nepa/ea-2052-proposed-changes-analytical-chemistry-and-materials-characterization-radiological
[9] Ibid., page 10. [10] NNSA tried but failed to raise the pit production cap in the 2003 Modern Pit Facility environmental impact statement, the 2008 LANL Site-Wide Environmental Impact Statement, and the 2010 Complex Transformation Programmatic Environmental Impact Statement.
– Jay Coghlan Executive Director, Nuclear Watch New Mexico
jay@nukewatch.org
www.nukewatch.org
______________________________________________________________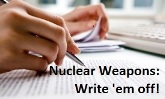 Friends, Our work at Nuclear Watch IS making a difference, and YOUR support makes our work possible.
Please join us in this effort and help us press on at this critical juncture by making a tax-deductible contribution of whatever amount you can afford.You can make a donation  online at Nukewatch.org, or you can send a check to Nuclear Watch of New Mexico, 903 W. Alameda #325, Santa Fe NM 87501
Thanks!
Still hungry for facts? All you can eat at www.nukewatch.org! Our website keeps expanding and adding new sections; Have you visited lately
______________________________________________________________________

(l.) NukeWatch Exec. Director Jay Coghlan, on PBS News Hour, Oct 11, 2012.
(ctr.) Scott Kovac, Operations Director.
(rt.) Stephen Miller, Website Editor