By Ashley Strickland, CNN –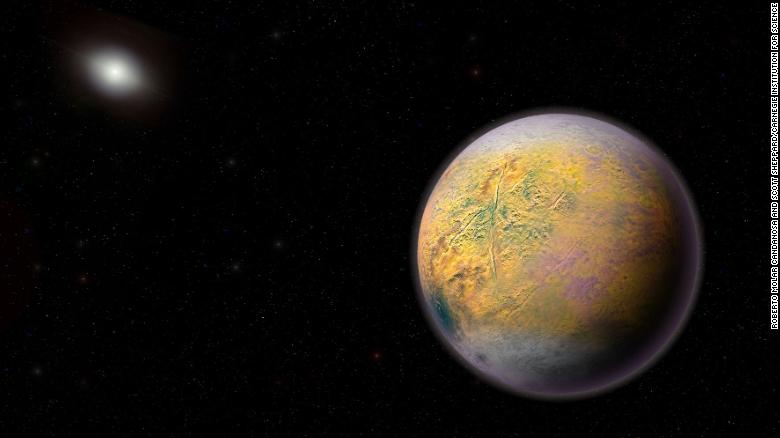 An Artist's Conception of the Mysterious Planet X.
(CNN) While searching for the mysterious Planet X that some astronomers believe lurks on the edge of our solar system, researchers instead found an extremely distant object they dubbed "the Goblin." And this object provides compelling evidence for the existence of Planet X.
The object is on the small end of being a dwarf planet, with a 40,000-year orbit — meaning it takes that long to go around the sun. That's more than 2,000 times the distance between the Earth and the sun. Its current location is about 2½ times farther from the sun than from Pluto.
"I think we are nearing the 90% likelihood of Planet X being real with this discovery," said Scott Sheppard, an astronomer at the Carnegie Institution for Science.
The Goblin got its nickname because the scientists first observed it around Halloween 2015. It is considered an Inner Oort Cloud object. The Oort Cloud is a predicted bubble around our solar system far beyond Pluto, filled with trillions of icy bodies and the supposed birthplace of long-term comets.
The International Astronomical Union's Minor Planet Center announced the object, formally known as 2015 TG387, recently. The researchers, including Sheppard, Northern Arizona University's Chad Trujillo and the University of Hawaii's David Tholen, have also submitted a paper to the Astronomical Journal detailing their findings.
"This new object has the largest orbit of all the extremely distant objects that stay well beyond Pluto," Sheppard said. Given its orbit, the Goblin never comes close enough to the giant planets in our solar system to be affected by their gravitational influence.
It joins other objects Sheppard and his team have found on the edge of the solar system since 2012. Their isolation makes them unique. "They can be used as probes to understand what is happening at the edge of our solar system," Sheppard said.
(For the balance of this article please visit: https://www.cnn.com/2018/10/02/us/planet-x-search-new-object/index.html)