After notching up eight generations of prototype electric three-wheelers, Arcimoto has followed a 15 model Beta Series by kicking off the manufacture of 25 Pilot Series Fun Utility Vehicles ahead of retail series production by the end of 2018.
Arcimoto began designing and building prototypes for a new "affordable, joyful, pure electric vehicle for everyday drivers and fleets" in 2007. The first was a bright yellow open air single-seater with a configurable rear section. Next, the designers added partial weather protection for the driver and then raided a Toyota Yaris for the bodywork of the Pulse in 2009.
Room for two came with project Darkwing, and everything that had come before was brought together for the first SRK in 2011. Optimization was the order of the day for Gen 6, while the prototype that followed refined the design for future production. And this brings us to Gen 8, the FUV that's heading for retail launch later this year.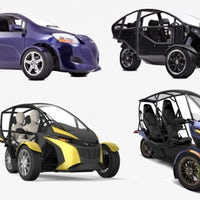 The motorcycle-class two-seater rocks a dual motor drive system that gets it from standstill to 60 mph (96.5 km/h) in 7.5 seconds, on its way to a top speed of 80 mph (129 km/h). Range on the base model will be about 70 miles (113 km) per charge of its 12 kWh Li-ion battery pack, with an extended range option also available for 130 miles per charge.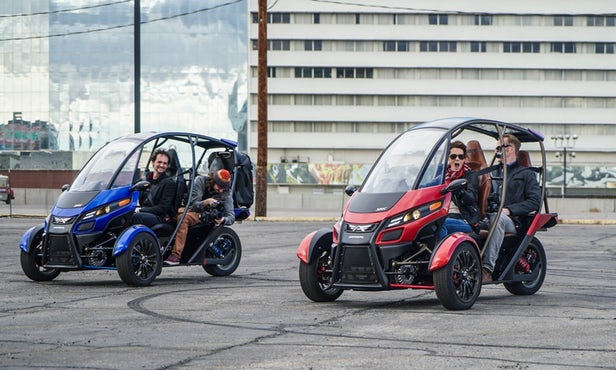 Arcimoto says that it's aiming for a curb weight of 1,100 lb (500 kg) and that the "low center of gravity, lightweight platform, and anti-dive optimization make for an extremely agile and responsive ride." The target starting price is US$11,900.
The first of 10 Signature Series FUVs was delivered to Hollywood actor Nathan Fillion in December 2017 after a debut at the LA Auto Show. Arcimoto has since built 15 beta vehicles – five will go to the company's own rental location that's due to open in Eugene, Oregon, in the next few months; five more are on their way to partner rental firm HulaCar in San Diego; and the remainder have been snapped up by a group of early customers.
The Pilot Series vehicles are currently being built in the company's own manufacturing plant, and pre-orders for the retail FUV are open now, with $100 refundable deposit cementing interest. You can see the beta FUVs rolling out in the video below.
(For the source: Arcimoto and to see additional pictures and a video, please visit: https://newatlas.com/arcimoto-srk-pilot-series/56699/)