By Richard Arghiris –
Image courtesy Crazy Horse Memorial. 
"Upon suffering beyond suffering," said Crazy Horse in 1877, describing his final vision to Chief Sitting Bull. "The Red Nation shall rise again, and it shall be a blessing for a sick world. A world filled with broken promises, selfishness and separations. A world longing for light again. I see a time of seven generations when all the colors of mankind will gather under the sacred Tree of Life and the whole Earth will become one circle again."
Crazy Horse died just four days later. Yet today, he is regarded as among the most iconic Native Americans of all time – a powerful warrior, seer and freedom fighter who led his people against the U.S. federal government in the American Indian Wars. Despite living through the terrors of ethnic cleansing, he left the world with a positive vision and a prophecy: global unity, catalyzed by traditional Native American wisdom.
It seems appropriate, then, that a man who had such an immense and enduring vision is commemorated with an immense and enduring monument; at least, that is what some members of Crazy Horse's tribe have been working to accomplish. But there is a problem: the monument they have planned is so huge that despite seven decades of work, it remains unfinished. In fact, it may not be finished for another century, if ever at all.

Image by Bernd00

Born in the 1840s approximately 40 miles from the present-day memorial, Crazy Horse was a member of the Oglala Lakota – also known as the Oglala Sioux – one of seven tribes of the Great Sioux Nation. In the 1800s the tribe was exposed to white trappers and hunters, transforming its members' economy and lifestyles. And eventually, conflict with the U.S. federal government divided the Oglala Lakota: some resisted the authorities' encroachments; others surrendered.
Known as "Curly" thanks to his wavy hair, the young boy who grew up to become Crazy Horse was reportedly a quiet and thoughtful child. He was likely to have had a traditional upbringing in the prairies, acquiring skills and knowledge from his relatives. Certainly, by the age of five, he was expected to be proficient in horse-riding as well as the use of weapons such as bows and tomahawks.
At the age of 12, Curly then witnessed the murder of Chief Conquering Bear at the hands of U.S. troopers, apparently over a wayward cow. The attack resulted in violent reprisals. In fact, all 30 soldiers and their interpreter were massacred. And thereafter, Curly began experiencing visions, which he cultivated by undertaking a Vision Quest – a rite of passage that requires participants to venture into the wilderness totally alone and without food or water for four days.
Having meanwhile proved himself to be a brave and gifted warrior, Curly was renamed Crazy Horse in his teenage years. He then went on to participate in a number of pivotal battles against the U.S. government, including the Battle of Little Big Horn, in which General George A. Custer was killed. Indeed, myth holds that Crazy Horse himself killed the general, although there is no historical evidence to support the claim.
Subsequently, on September 5, 1877, Crazy Horse was negotiating with the U.S. military at Fort Robinson when an inaccurate translation by an interpreter apparently led the authorities to believe that he posed an imminent threat. As the warrior was thereupon escorted to jail, he pulled a knife, and a struggle ensued. An infantry guard then lunged at Crazy Horse, severely injuring him with his bayonet. And so, at about midnight, the great Native American war leader died.
Painting by Nelson
As we know, however, the memory of the man lived on. And in 1939 Chief Henry Standing Bear of the Oglala Lakota commissioned a renowned Polish-American sculptor, Korczak Ziolkowski, to construct a historic monument to Crazy Horse. "My fellow chiefs and I would like the white man to know that the red man has great heroes, too," the chief told Ziolkowski.
Photo by Jim Bowen

But Chief Standing Bear appeared to ask the impossible: a stone monument even grander than that of the iconic four presidents at Mount Rushmore, which Ziolkowski himself had worked on under the sculptor Gutzon Borglum. Fortunately, though, Ziolkowski was a dreamer. "He believed you can do anything in this world," his wife, Ruth, told National Public Radio (NPR) in 2013. "Nothing is impossible as long as you're willing to work hard enough and pay the price."
Photo by J. Stephen Conn
Today, the Crazy Horse Memorial has been under construction since 1948. It is located on private land some 17 miles from Mount Rushmore in Custer County, South Dakota. The enormous monument is being carved from Thunderhead Mountain in the Black Hills, in an area with sacred significance for some Oglala Lakota. And if it is ever completed, it will tower above the presidents at Mount Rushmore.
Image by Good Free Photos
Depicting Crazy Horse riding a stallion with one of his arms outstretched, the finished memorial will soar 563 feet tall and stretch to 641 feet in length. Crazy Horse's face already measures 87 feet high in total – some 27 feet more than the heads at Mount Rushmore. Meanwhile, the stallion's head will stand 219 feet tall – the equivalent of a 22-story building.
Image by PxHere

The Crazy Horse Memorial may in fact become the largest statue in the world – a record not held by a secular sculpture since the Soviet Union's "The Motherland Calls" in 1967. However, even with 70 years of effort already expended, there is still no finish in sight. And what's more, the monument's sculptors won't commit to an end date.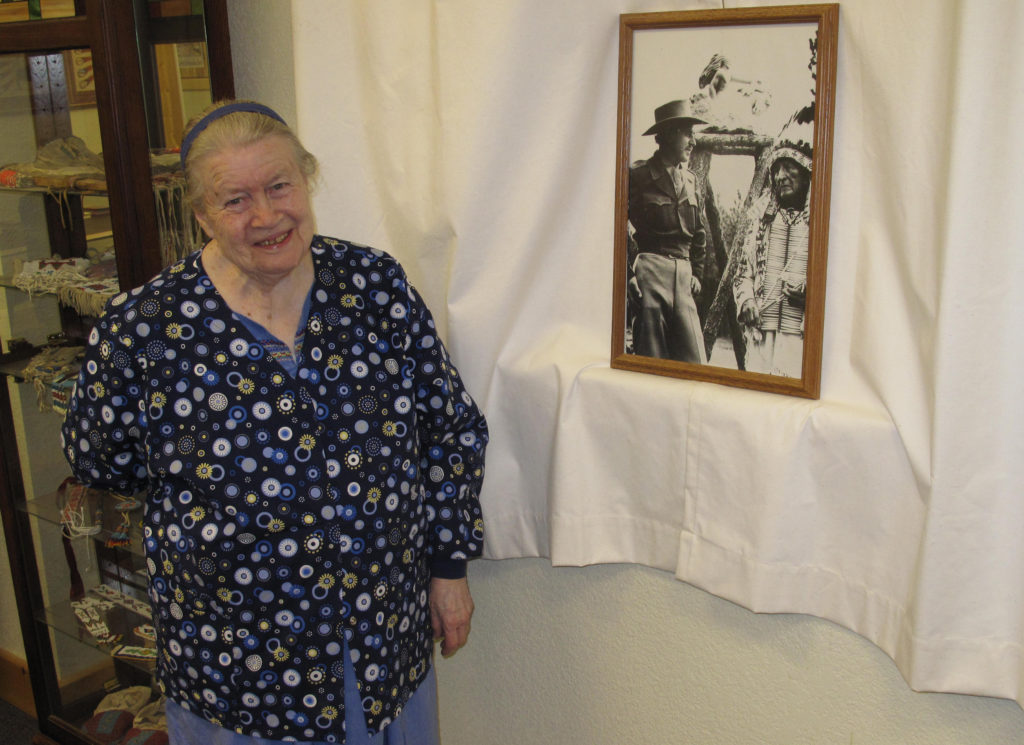 Ruth Ziolkowski stands before a photo of Korczak and Chief Henry Standing Bear – photo by Carol M. Highsmith.
"I, for one, would like to have it go faster," Ruth Ziolkowski told NPR, having assumed responsibility for the memorial after the death of her husband in 1982. "But there are so many things that you have to do in order to do it right that it takes the time… [Korczak told me to] 'go slowly so you do it right.'"
Photo by Thomas Hawk
If anything, though, the memorial has finally taken shape under Ruth's direction. Rather than following her husband's plan, which called for carving out the horse first, she focused instead on Crazy Horse's face. Indeed, the visage was completed in 1998, allowing the memorial to generate revenue as a tourist attraction. And today, it receives a million visitors annually.
(For the balance of this article, plus additional pictures, please visit: http://www.scribol.com/a/anthropology-and-history/huge-crazy-horse-monument-years-to-complete/)