A surprise on the far side of the Moon.
–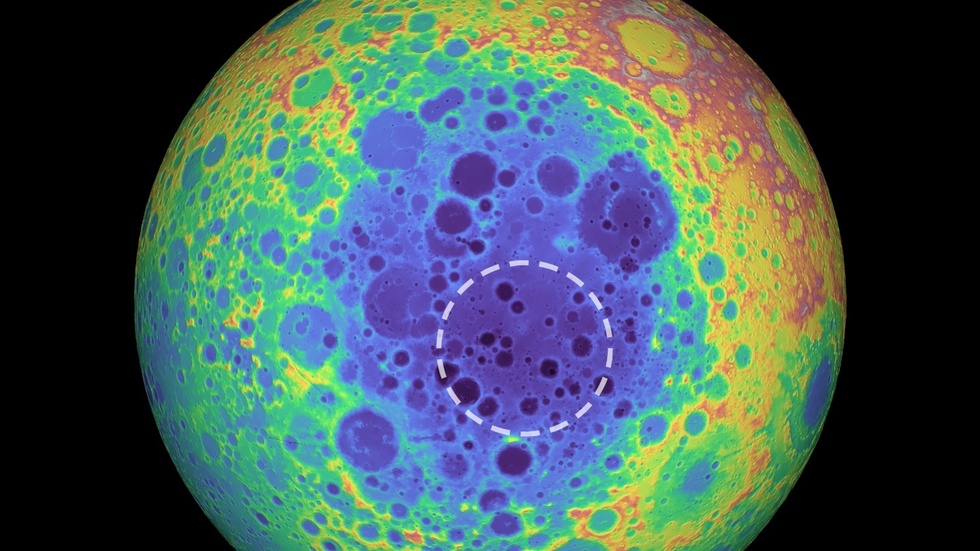 Scientists detect a gigantic, underground, metallic anomaly down a crater on the Moon.
"Whatever it is, wherever it came from," it looks to be billions of years old.
It's probably the remains of an asteroid that hit the Moon.
"Imagine taking a pile of metal five times larger than the Big Island of Hawaii and burying it underground. That's roughly how much unexpected mass we detected." That's Peter B. James of Baylor University talking about a gigantic anomaly found beneath the Moon's surface. He's the lead author of a study published in Geophysical Research Letters describing the odd find. There are a few theories about what it could be.
Mystery mass
China's Yutu-2 rover departs from the Chang'e-4 lander on the Moon's far side. 
Image source: CNSA/CLEP.

The thing sits beneath the Moon's South Pole-Aitken basin, believed to be the largest intact crater in our solar system. The oval-shaped feature is thought to be about 4 billion years old, and it's big: about 2,000 kilometers across at some points. Situated on the far side of the Moon, it can't be directly seen from Earth. Even so, James calls it, "one of the best natural laboratories for studying catastrophic impact events, an ancient process that shaped all of the rocky planets and moons we see today."
In studying the basin, James and his colleagues pored through data from NASA's Gravity Recovery and Interior Laboratory (GRAIL) mission to document changes in the strength of the Moon's gravity. "When we combined that with lunar topography data from the Lunar Reconnaissance Orbiter," says James, "we discovered the unexpectedly large amount of mass hundreds of miles underneath the South Pole-Aitken basin." He says "whatever it is, wherever it came from," it's pulling down the floor of the crater by more than half a mile.
So, erm, what is it?
The two most likely theories are that it's the iron-nickel core of a long-ago asteroid impact, or that it's a leftover clump of dense oxides from the cooling of the Moon's magma. Or, sure, a giant spaceship or hidden underground civilization, ahem.
James says, "We did the math and showed that a sufficiently dispersed core of the asteroid that made the impact could remain suspended in the Moon's mantle until the present day, rather than sinking to the Moon's core."
It's an intriguing find, and with ongoing international efforts to study the Moon's far side — such as China's Chang'e 4 mission — we look forward to further insights on this huge anomaly.
(For the source of this, and many other important articles, please visit: https://bigthink.com/surprising-science/moon-anomaly/)
Related Articles Around the Web