In our digital world, a misdirected text or simple keyboard error can trigger huge unintended consequences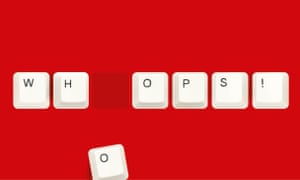 One day in May this year, Luigi Rimonti left his home in Gateshead to catch a ferry from North Shields, the first stage in a 1,000-mile drive across Europe to Italy. A dapper, energetic 81-year-old, Rimonti had grown up in a suburb of Rome before coming to the north-east of England as a young man. Often, over the years, he had driven back to Rome, insisting to his two adult sons, Gino and Valter, that he preferred to make this long journey by car. They worried about their father on these drives, and this spring, for the first time, they persuaded Rimonti to equip his car with a satellite-navigation device.
Off the ferry in Amsterdam, Rimonti began to have difficulties with the satnav. He stopped in a petrol station: could someone there help him re-input his destination? A stranger obliged. Tap-tap-tap, enter. Rimonti thanked the stranger and drove on – south, he presumed, towards Rome.
After a day's driving, Rimonti was looking forward to stopping somewhere for an overnight rest. The satnav hadn't taken him on a route he recognized, but he seemed to be making good progress. He was surprised, then, to be told by the smooth, computerized voice of the satnav that he'd shortly be arriving at his destination. He had clocked hundreds of miles, though not yet the 1,000 he knew it would take to reach Rome. Rimonti's son, Gino, picks up the story: "Dad was like, 'This isn't Italy.' So he got out to check where he was. He must not have pulled the handbrake on properly."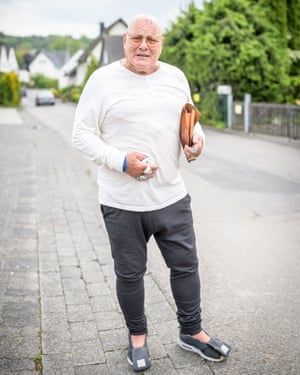 Rimonti had stopped his car on a slight slope. When he clambered out, the better to read the nearest road sign, his car began to roll backwards. Struck by the open door of the car, Rimonti was knocked over and dragged along. When the car struck the very road sign he'd been trying to read, it jolted, and Rimonti was able to tumble clear. He lay in shock on the road. His suitcases and belongings were now trapped in the boot of the car, which had been crunched shut by the collision. The car had also immobilized itself and would later be towed. Rimonti lay still, shaken and badly injured, too hurt to stand. He later told his sons: "Pensavo di essere morto." I thought I was dead.
The road sign he had been trying to read was on the ground beside him. "Rom," it said, identifying this location as a tiny hamlet in the hills of Mecklenburg-Western Pomerania in Germany, due east from Amsterdam and a good 600 miles from the Italian border. Rimonti would be in Pomerania for the better part of a week, recuperating. Rome would have to wait.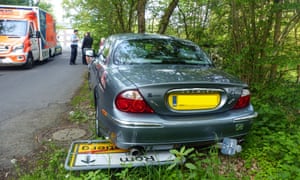 We live in curious times, part-digital, part-manual. It's a hybrid era that presumably won't last for long, and in which we've come to rely on code and algorithms to handle many of our affairs, though usually with a human hand setting everything in train. Miracle tech! Unimaginable automation! And so much of it conditional on an accurate animal prod at the outset, a finger landed correctly on a keyboard, a thumb touching the right quarter-inch of screen, a mouse button clicked just so.
Things go wrong. Back in March 2015, a single misplaced digit (15 degrees 19.8 minutes east, entered into a cockpit computer, instead of 151 degrees 9.8 minutes east) led to a passenger jet bound from Sydney to Kuala Lumpur landing in Melbourne. In January 2018, an extraordinary clerical error led to a million Hawaiians being texted the news that their destruction by ballistic missile was imminent. "Seek immediate shelter," the message read, "this is not a drill." Not a drill, no: an inaccurate click, later tracked back to one computer, one drop-down menu, one government employee who was a few pixels off in their aim.
In our almost-automated age, we tend to be asked to do our bit at the beginning of any enterprise, before a million digital processes occur quickly, incomprehensibly, out of sight. When things do go wrong, it can seem as if we've pushed the first domino in a long run and then turned away, trusting the dominoes will fall neatly. Err on that first nudge, and the consequences can be amplified far out of proportion to the initial mistake.
Two years ago, in a hospital in Tennessee, a nurse clicked to order the wrong drug from an electronic medication cabinet (like a vending machine for pills). She wanted anti-anxiety medication for a patient. She ended up administering a poison meant for killing prisoners on death row, and is now on trial for reckless homicide.