Was the real Lone Ranger African American?  Most likely, yes – and his name was Bass Reeves.
Bass Reeves was born into slavery in 1838 in Arkansas but later became one of the most successful and respected lawmen in the American West. This real-life Lone Ranger was a skilled gunslinger with integrity and ingenuity that outmatched criminals and other lawmen alike. The man was an imposing presence on the landscape. He stood over six feet tall and 200 pounds, and he wore a large hat.
Reeves became a legendary character in the Indian Territory – feared by criminals and revered by locals. He set the foundation for the masked man of Western popular culture fame.
He Arrested His Own Son For Domestic Murder
After working as a deputy marshal for over 20 years, Bass Reeves carried out what was probably his most difficult arrest. In 1902, his son Benjamin killed his wife for sleeping with other men. When he first discovered his wife with another man, Benjamin forgave her, but after a second indiscretion, he beat the man "senseless, and shot his wife to death."
Bennie, as he was known to his father, worked as a barber in Muskogee, OK, and fled after killing his wife, and a warrant was issued for his arrest. None of the marshals wanted to carry out the warrant, out of respect for Reeves, and his boss, Marshal Leo Bennett, was hesitant to give the job to Reeves. In the end, Reeves insisted that he take responsibility for his son. After two weeks on the road, Reeves found Bennie and brought him back to Muskogee, where the younger man stood trial for murder. Bennie was convicted and sent to Leavenworth Prison in Kansas. He was later pardoned and released.
Reeves Memorized Warrants And Writs Because He Couldn't Read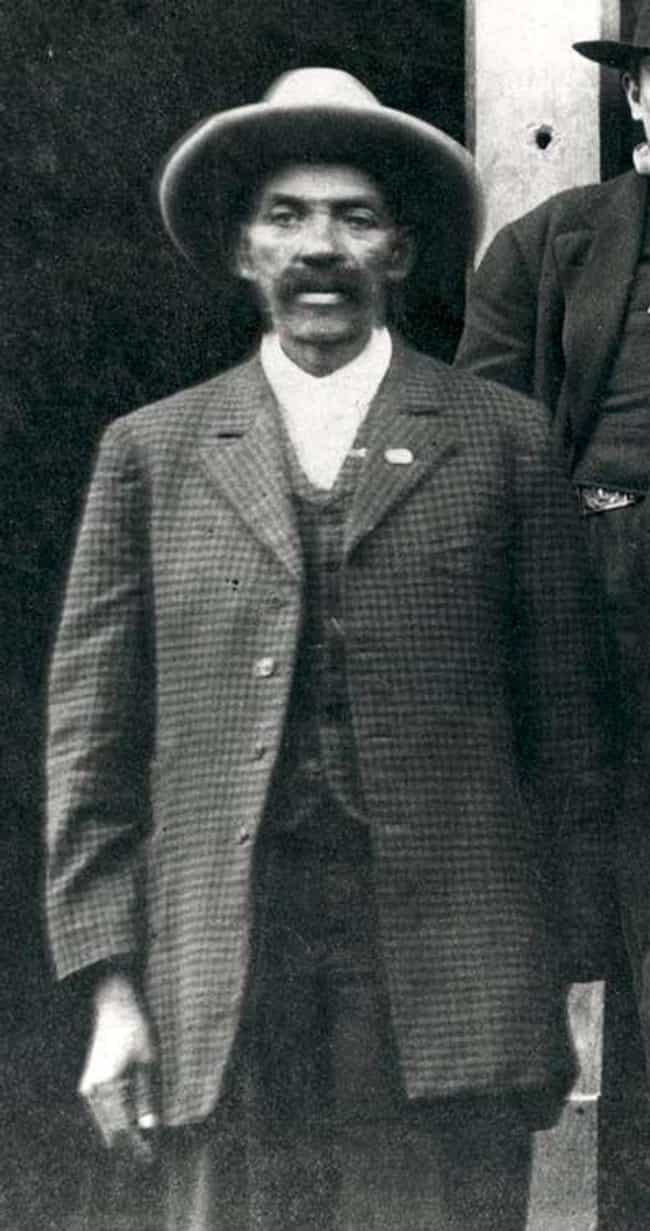 Photo:  Unknown/Wikimedia Commons/CC BY-SA
As a former slave, Bass Reeves – a surname he got from his masters – wasn't given an education and was illiterate for his entire career. Instead of reading warrants and writs of the outlaws he pursued, he memorized the information on the documents. Regardless of his illiteracy, Reeves was extremely intelligent.
He learned numerous Native American languages as he traveled through and worked in Indian Territory. This gave Reeves a one-up on many of his targets and made him a valuable asset to law enforcement.
Reeves Was In Several Shootouts But Never Wounded

Given his vocation, Reeves engaged in numerous shootouts as he tracked down criminals, but he was never injured in the process. He claimed that he killed 14 men in self defense during his career, although newspapers often inflated the number to over 20. In one instance, he and a fellow marshal were in pursuit of outlaws when they saw one running through a field. Bass looked at his colleague and told him "he would break the outlaw's neck with one shot from his Winchester rifle at a distance of a quarter of a mile," which is exactly what he did.
Reeves became a skilled shooter after escaping his owners during the Civil War, mastering the pistol and using a rifle often in competitive turkey shoots. Once he became a deputy marshal, he continued to hone his abilities, using Winchester rifles and Colt revolvers as he tracked down outlaws.
He Dressed In Disguises To Avoid Detection By Criminals He Was Tracking Down

Bass Reeves was an incredible sleuth and used a lot of creative techniques to find the criminals he was after. Unlike the Lone Ranger character, Reeves often dressed up in disguises – everything from a woman, to a preacher, to a farmer, to an outlaw himself.
On one occasion, he was supposed to have dressed like a vagrant and walked 28 miles to the home of the mother of two outlaws he was after. He got to her house and told her he was on the run, needed a place to stay, and was hungry. She fed him, gave him shelter, and "in the middle of the night he handcuffed the sons to their beds and left the next morning, walking the two outlaws 28 miles back to his camp. The mother was alleged to have followed for three miles cursing him."
Just Like The Lone Ranger Character, Reeves Had A Native American Sidekick
Maybe "sidekick" isn't the best word to describe him, but the Native American deputy marshal Grant Johnson was a colleague and a friend to Bass Reeves. Johnson was a free Creek Indian who, like Reeves, was hired because he knew the land and the languages needed to traverse Indian Territory.
The two men often worked together and were known for their successful arrest records. They may have given rise to the Lone Ranger and Tonto legend.
Reeves Supposedly Captured Over 3,000 Criminals

Over the course of his 32-year career in law enforcement, Bass Reeves was supposed to have arrested over 3,000 felons. He was known to be fearless, walking right up to some of the men he was after and telling them "I've come to arrest you." It was also common for Reeves to bring in more than one criminal at a time, including a group of 17 on one occasion, using trickery if necessary.
His letter trick was a common ruse for Reeves, one he used when he was kidnaped by two Texan criminals. The Texans tired of keeping Reeves with them and gave him a chance to relate his final words before they killed him. Reeves told them he had a letter from his wife that they should read, and, after they dropped their eyes to read it, he pulled his gun on them and arrested them.
Reeves Escaped From Slavery While He Was With His Owner's Son

Exactly how Bass Reeves was able to free himself from being a slave is unclear, but at some point during the Civil War, he was able to flee to Indian Territory. In one version of the story, Reeves accompanied George Reeves, his master's son, to Texas where George fought for the Confederacy.
At some point, George and Bass may have gotten into a dispute over a card game, one that led to Bass beating George up and fleeing. In another telling, Bass simply saw freedom as a possibility and fled when he had the chance.
Reeves Was Accused Of Murder In 1886, And It Almost Ruined His Career
While out on patrol in April 1884, Bass Reeves shot his cook, William Leach, in the shoulder. Leach later died from his wounds, but, after an inquest, no charges were brought against Reeves. In 1886, a new US Attorney revisited the case and charged Reeves with murder.
Perhaps as a result of a racially and politically motivated arrest, Reeves was held in jail for three months before going to trial. Some witnesses at Reeves's trial stated that Leach and Reeves had been fighting over a dog while others testified that it was an accident, and his gun misfired. The media surrounding the trial was intense, and Reeves had to sell his house to pay for his defense. He was acquitted, but his reputation suffered for years after the trial.
Reeves Was Feared By Criminals And Fascinated The Public

Belle Starr  Photo: Unknown/Wikimedia Commons/
With so many arrests under his belt, Bass Reeves built up quite the reputation, and criminals grew to fear him. One man who tried to kill his fiance "had a nightmare that Bass shot him while he was trying to get away. The first thing he did the next morning is go to the federal office and turn himself in." Supposedly, Belle Starr turned herself into authorities after she heard Reeves was holding a warrant for her, as well.
Reeves was a well-known figure. Newspapers wrote about him, and his activities took on legendary proportions. It was reported he had superhuman strength and could walk between bullets, and soon songs were created about his deeds. Because many of the criminals he captured were sent to prison in Detroit, there's some thought that his notoriety and their presence in the city influenced the creation of the Lone Ranger radio program that began in 1933.  It's unclear if Reeves was the basis of the Lone Ranger legend, but there's definitely a case to be made for it based on the activities of his life and those of his radio, television, and film counterparts.
After Leaving His Federal Job, Reeves Became A Local Policeman In Oklahoma
Once Oklahoma became a state in 1907 and took over law enforcement in the area, Bass Reeves was no longer able to work as a federal deputy marshal. The new state prohibited African Americans from working as deputy marshals, but Reeves became a patrolman in Muskogee, Oklahoma. He walked a beat for two years, during which time no crimes were supposed to have taken place.
Reeves died in 1910 of a kidney disease at the age of 71. Upon his death, the local newspaper wrote that he had a "devotion to duty equaling that of the old Roman, Brutus, whose greatest claim on fame has been that the love for his son could not sway him from justice. [Bass] said, 'give me the writ,' and went out and arrested his son, [and] brought him into court." The location of Reeves's final resting place is unknown.
Reeves Started A Family In Arkansas Before Being Hired As A Federal Marshal In 1875
Photo: Mathew Brady/Wikimedia Commons/CC
Once Bass Reeves escaped slavery, he went to Indian Territory where he learned the land, languages, hunting, tracking, and other skills that later served him well. After the Emancipation Proclamation of 1863 (or the 13th Amendment in 1865), however, Reeves returned to his native Arkansas where he became a farmer and a rancher. He married Nellie Jennie, and they began a family, having 10 or 11 children total.
Reeves spent a decade in Arkansas before being recruited by US Marshal James Fagan to work as one of 200 deputy marshals across 75,000 square miles of Indian Territory. Reeves was one of the few men of color hired as a deputy marshal and spent 32 years as a lawman in the West.

Unlike The Character The Lone Ranger, Reeves Gave Out Silver Coins

In popular culture, the Lone Ranger's calling card is a silver bullet. He leaves this behind after he corrects whatever injustice he has just fixed. Bass Reeves, on the other hand, is said to have left silver coins behind. This was usually more of an honorable act on his part, however.
Reeves also left money for the families that housed and fed him as he traveled Indian Territory looking for criminals and making arrests.
(For the source of this, and many other equally interesting articles, please visit: https://www.ranker.com/list/the-truth-about-the-lone-ranger-bass-reeves/melissa-sartore/)