What she found in a tiny crevice in Gypsum Cave rewrote the history of humans in North America.
In the desert near Las Vegas, Nevada, Bertha Parker completed her daily tasks of cooking, cleaning, and organizing the day's finds from the Gypsum Cave excavation and stole away from her role as expedition secretary. She put on a dust-mask and head-lamp, and went exploring. Being small, Parker was able to sneak through a small opening others on the archaeological team couldn't. There, under a slab of rock, she uncovered the most important discovery of the Gypsum Cave Expedition: An intact skull of a long-extinct giant ground sloth, sitting near man-made artifacts. Her find of these two artifacts, so close together, was compelling evidence that about 10,000 years ago, the sloth and tool-wielding humans had lived in the cave at the same time.  It was the earliest record of human inhabitance in North America at the time.
After this groundbreaking discovery in 1930, Parker gained wide acclaim as the first Indigenous archaeologist. Not only was she one of the first women to achieve such success in the field, she followed a non-traditional path to get there.
Parker was literally born into archaeology—her father, Arthur C. Parker, was an archaeologist and anthropologist from the Seneca tribe, and Parker was reportedly born in a tent at one of his dig sites. But she was never formally trained in the field. She accompanied her father to excavations as a child, but this apprenticeship ended when her parents divorced, and Parker moved with her mother to Los Angeles when she was only seven years old. There, Parker and her mother worked in show business, performing in films and as a part of the "Pocahontas" show with the Ringling Brothers, Barnum, and Bailey circus.
Parker met her first husband, Joseph Pallan, on a Hollywood set and the two had a daughter they called Billie. But Pallan became abusive, and when Parker tried to get a divorce, Pallan kidnapped her and Billie, taking them across the border to Mexico. Parker was rescued by her uncle and famed archaeologist, Mark Raymond Harrington, who rode after them and brought them back to a dig site in Nevada.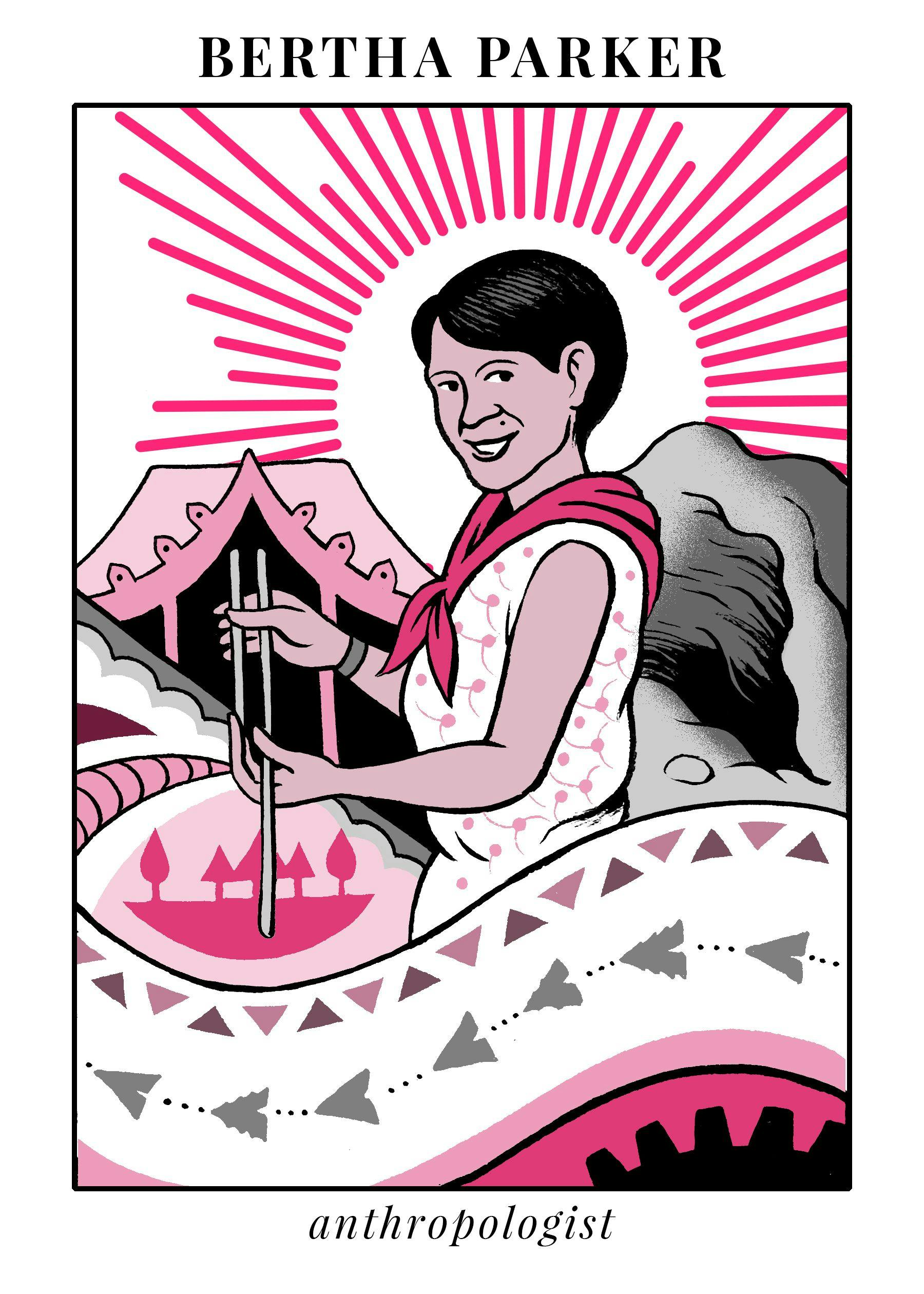 There, Harrington and his wife offered Parker and Billie a place to stay, hiring Parker as the secretary and cook for the expedition. While she had no formal education or training, she enjoyed being in the field, and had a keen eye for discerning man-made objects from surrounding natural features—a skill that made her a valuable member of the team. While working with Harrington, she learned excavation techniques, and frequently spent her free time helping at the dig.
Parker eventually found several archaeological sites, including the Scorpion Hill pueblo site—which she discovered, named, excavated, and documented completely on her own. One such find, the Corn Creek Campsite, she discovered after noticing fossilized camel bones in a lake bed. But by far her most notable discovery was that of the ground sloth skull in Gypsum Cave. It was lauded as "the most outstanding anthropological find ever made in the United States." Harrington recognized it as the most important discovery of his expedition, and it secured funding for further field work.
When Parker found the skull, the idea of human migration into North America via the Bering Strait land bridge was still highly debated. Her Gypsum Cave excavation placed early humans in North America at the same time as the ancient ground sloth (Nothrotherium shastense)—in the Pleistocene, nearly 10,000 years before present. This supported the contentious idea of an earlier migration into the Americas. In fact, at that time, the Gypsum Cave artifacts were the oldest human artifacts found in North America. While older sites have since been found, Gypsum Cave remains an important archaeological site and expeditions in the area are ongoing.
The Gypsum Cave excavation is also where Parker met her second husband, a fellow archaeologist named James Thurston. The marriage was short lived, however, after Thurston died tragically only a year later from a heart attack at the site in 1932. Parker herself fell ill shortly after his death and left Nevada to return to Los Angeles.
In California, Parker was appointed a position at the Southwest Museum, first as a secretary, where she documented the findings collected during the Gypsum Cave expedition, and later as an assistant archaeologist and ethnologist. In this role, she was able to make a series of trips to visit the Indigenous peoples of California, including individuals from the Maidu, Paiute, Pomo, and the Yurok tribes. She was able to document important records of the culture, traditions, history, and folklore of these tribes, which she preserved in detailed notes and published in numerous reports for the Southwest Museum's journal, Masterkey. Due to her heritage, she was more sensitive than many other academics to tribal concerns, redacting people's names from reports when desired, but giving editorial or co-authorship credits to many of her interviewees. Parker's reports gave a voice to often overlooked people.
In 1936, Parker married her third and final husband, the acclaimed actor Iron Eyes Cody. With Cody, she returned to the film industry, where she advocated for and helped to support Indigenous actors. Alongside her husband, she worked as a consultant to ensure respectful representation of Indigenous people in TV and film. The couple also hosted a television series in California on the history and folklore of Indigenous peoples.
Parker died in 1978, and the fame and recognition she had gained in the archaeological community during her lifetime quickly faded. Years after her death, Iron Eyes Cody published an autobiography, in which he falsely described  his relationship with Parker and marked her as a partier and a drunk. But this isn't the only thing that's kept Parker out of history books. Even though Parker published often in Masterkey, the legacy of her work is almost completely tied to the men in her life. Even in her obituary, she was named as "Arthur Parker's daughter," "M.R. Harrington's niece," and "Iron Eyes Cody's wife." Her gravestone is engraved only with the words "Mrs. Iron Eyes Cody."
Perhaps her achievements were hard to track due to the numerous name changes over the course of her three marriages , or because her more notable accomplishments are encompassed in the writings of the men she worked and lived with—who refer to her as a "daughter" or "wife," rather than by her own name. Whatever the reason, it is time that Bertha Parker—the self-taught archaeologist and ethnologist, who gave a voice to the overlooked and under-represented Indigenous peoples in America—receives recognition for her role as a trailblazer.
(For the source of this, and other equally interesting and important articles, please visit: https://massivesci.com/articles/bertha-parker-pallan-archaeology-native-american-abenaki-seneca/)