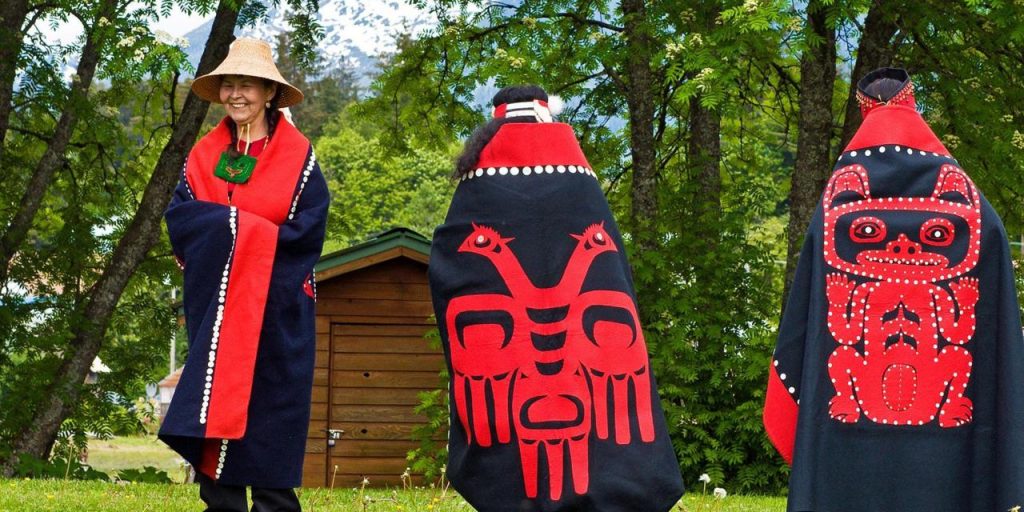 It's almost an unthinkable practice in our modern era and one that may teach us a lot about generosity: giving to your community until you have little else to give.
They have a surprising way of showing gratitude – an almost unthinkable practice in our modern era – that may teach us a lot about generosity: giving to your community until you have little else to give.
Huge ceremonies, known as ku.éex' (literally meaning 'invitation to a ceremony'), have punctuated their lives for thousands of years, marking special occasions with lavish home-cooked feasts, songs and gift giving. In this deep tradition to honor deaths, births, weddings, totem raisings and changes in social ranking, hosts would traditionally feed hundreds of guests and give away large sums of cash and gifts (like blankets, canoes, sewing machines, flour, dishes and kettles) that they'd saved up for all year to every invitee.
But when Christian missionaries and other outsiders witnessed these expansive, expensive events, they labelled them wasteful. They didn't see these large and relatively frequent giving ceremonies as a normal valuation of one's own property; instead, this alternate type of subsistence economy was considered a barrier to assimilation.
In 1867, what was popularly known as the potlatch was banned by federal law and discouraged by civil authorities and missionaries in the US. Clan leaders and noblewomen were jailed, clan houses demolished and ceremonial objects burned or taken to Canadian and American museums..
The ban lasted until 1951 – but thankfully these displays of generosity were never lost, though the term potlatch is now a loaded one for Natives, who explain that the word's sacredness has been undermined since the tradition under that name was outlawed and forced underground for nearly a century. Elders prefer the traditional term ku.éex'.
Today, the ku.éex' has been condensed into a two- or three-day ceremony held in autumn at the end of the fishing season. About 30 ku.éex' are held annually across the southeast Alaska region, and some estimate that the value of gifts and money exchanged between clan members tops US$2m in total each year.
When the opportunity arose, I headed to Klawock, Alaska — one among many Native towns across the region – to learn more about the forgotten art of giving back to your community.
Our motorboat left from the quaint yet burgeoning tourist-and-cruise hub of Ketchikan, Alaska, weaving past evergreen-covered mountains with their peaks obscured by the misty morning fog. We crossed vast deep-blue waters filled with cresting humpback whales, traversed golden kelp clusters and left behind wild islands that had no name.
Sixty minutes later, I and 15 other tourists arrived in the small Tlingit village of just under 900 people, on the southeast corner of Prince of Wales Island.
Standing at the shore was a Native woman dressed in jeans and a thick wool sweater. She was all smiles and seemed genuinely happy to see us. She led us to Totem Park, the site for which the former fishing camp and cannery hub is now most famous, to see Alaska's largest collection of authentic totem poles, currently numbered at 21. Originals and replicas towered far into the blue summer skies, and as if on cue, a bald eagle soared overhead. It felt like a very good omen.
We walked to a totem carving house, a large wooden warehouse where master carvers work for months on end to create stunning 3m- to 18m-tall totems  that represent the many Northwest Coast Native lineages, starting with the Tlingit-Haida's Eagle and Raven family moieties (meaning 'halves').
Waiting for us was a small, demonstration version of the traditional ku.éex' feast, which included an array of crunchy sea asparagus, seaweed rice and platters piled high with heaping chunks of smoked salmon and halibut. What looked like a freshly baked bundt cake was actually a hearty fish loaf with a sour cream and chive topping, ready for slicing. An oversize tin of whole halibut with mayonnaise, lemon pepper and garlic showed off an impressive fish harvest. Plates of gooey wild-berry cobbler, made with local blackberries and blueberries, awaited us at the end.
I was moved knowing that our hosts had handpicked the sea asparagus, seaweed and berries, and caught and prepared several huge local fish just for us. This was their way of showing true gratitude for us coming to learn more about their community.
To fully understand the culture's ceremonies of giving so many gifts and feeding hundreds of people, I reached out to Rosita Kaa háni Worl, president of the Sealaska Heritage Institute, an organization of cultural preservation, creation, advocacy and education for Native Alaskan artists. Worl – who is Tlingit Eagle from the Thunderbird Clan and House Lowered from the Sun, a Child of the Sockeye Clan – helped clarify how this practice came to be.
"We live in an absolutely beautiful land that's so easy to marvel at," Worl explained. "It's a rich rainforest, and the greatest resource for us has been from the seas, in particular the salmon that provide us food. The trees provide wood for our monumental art, large clan houses and canoes for when we traveled for trading expeditions as far away as Oregon and the northern areas."
In short, these ceremonies of generosity are an economic, social, religious and political glue like no other. As Worl explained, "These ceremonies bring together opposite clans and help create balance among our moieties, clans and houses; and our ancestors. They keep harmony in our very complex social structure — and that's really important."
Northwest Coast Native tradition is dynamic; the totem carvings, songs, food, gatherings and giving spirit represent a thriving and celebratory culture that stands the test of time every day. That we may all learn to be as generous to our communities would be a gift in itself.
If you liked this story, sign up for the weekly bbc.com features newsletter, called "If You Only Read 6 Things This Week". A handpicked selection of stories from BBC Future, Earth, Culture, Capital, Travel and Autos, delivered to your inbox every Friday.
[Editor's Note: The connections between the Haida and Tlingit and the Ainu of Hokaido, Japan, can not be over-stated.]
  (Sean Connery? No…! an Ainu Man – Ainu are the aboriginal "lost Caucasian race" people of Hokkaido, Japan's most northern island.)
(see: noriohayakawa.wordpress.com/2017/11/10/the-untold-story-of-japans-first-people-the-ainu/)
The Ainu constructed a type of totem pole in the north of Japan. Northern Asians are linked to North American Natives. – HubPages.Com
  (Ainu totem pole)
The traditional clothing is remarkably similar, and even the existence of "carved and sculpted poles…" – hubpages.com

(For the source of this, and many other equally interesting articles, please visit: http://www.bbc.com/travel/story/20170202-a-surprising-way-of-showing-gratitude/)