Pride of eight lions photographed snoozing on tarmac in Kruger National Park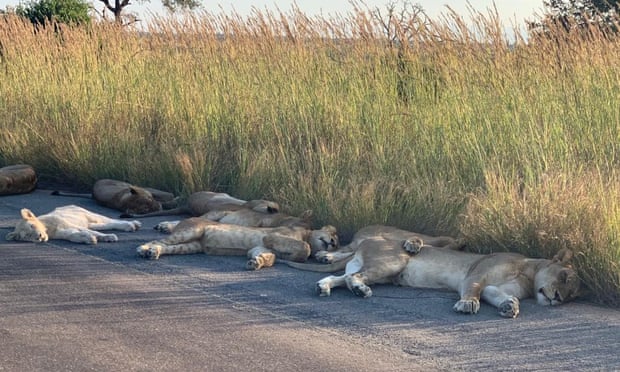 Lions and other wild animals have been taking advantage of the peace and quiet in South Africa's vast Kruger national park as the country's strict lockdown continues.
On Thursday, park ranger Richard Sowry took photographs of a pride of at least eight lions, including a few young cubs, snoozing on the tarmac just outside one of the park's rest lodges.
Kruger media officer Isaac Phaala told the BBC the lions would normally be in the bushes but that they were "very smart and now they are enjoying the freedom of the park without us".
The lions liked the road because it was dry, Phaala said.
In a Twitter post, the park explained that the pride was not usually resident in areas of the park open to tourists – let alone accustomed enough to cars to generally sleep in the middle of the road near a busy exit and entrance.
Kruger visitors that tourists do not normally see. #SALockdown This lion pride are usually resident on Kempiana Contractual Park, an area Kruger tourists do not see. This afternoon they were lying on the tar road just outside of Orpen Rest Camp.
Section Ranger Richard Sowry
4,190 people are talking about thi
Earlier in the week, Jean Rossouw, captain of the Skukuza golf club located within the park, captured early-morning videos and images of lions and hyenas on the green. Lionesses stopped to drink from ponds on the course, eyed and chased hyenas.
88 people are talking about this
Kruger National Park
@SANParksKNP
Even as the sun rises, without all our human visitors, the urge to sing the 'lion sleeps tonight' is just a whim away, a whim away, a whim away!



Jean Rossouw; Skukuza Golf Club , Kruger National Park@SANParks
211 people are talking about this
The week before, it was the wild dogs' turn for a round of play:
16 people are talking about this
But not everything has been rosy for the residents of other parks in the country. In March, the New York Times reported that rhino poachers were taking advantage of the lack of people to poach in what were normally tourist hotspots.
In the country's Northwest Province, bordering Botswana, nine Rhinos had been poached between the start of the lockdown on 23 March and 8 April. Wildlife conservation organizations fear their funding will be severely affected by the drop in tourism.
But in a well-timed victory for Kruger – which is roughly the size of Israel or Wales – on 21 March, before the lockdown came into effect, four suspected Rhino poachers were arrested at the park, South Africa's Sunday Times newspaper reported.
–
America faces an epic choice…
… in the coming year, and the results will define the country for a generation. These are perilous times. Over the last three years, much of what the Guardian holds dear has been threatened – democracy, civility, truth. This administration has cleared out science and scientists across all departments. America's reputation as a competent global leader is in peril. Truth is being chased away. But with your help we can continue to put it center stage.
Rampant disinformation, partisan news sources and social media's tsunami of fake news are no bases on which to inform the American public in 2020. We believe every one of us deserves equal access to fact-based news and analysis. So we've decided to keep Guardian journalism free for all readers, regardless of where they live or what they can afford to pay. This would not be possible without the generosity of readers, who now support our work from across America in all 50 states.
Our journalism relies on our readers' generosity – your financial support has meant we can keep investigating, disentangling and interrogating. It has protected our independence, which has never been so critical. We are so grateful.
We hope you will consider supporting us today. We need your support to keep delivering quality journalism that's open and independent. Every reader contribution, however big or small, is so valuable. Support the Guardian from as little as $1 – and it only takes a minute. Thank you.
Support The Guardian
–
(For the source of this, and many other equally intriguing articles, please visit: https://www.theguardian.com/world/2020/apr/17/you-cant-leave-that-lion-there-big-cats-nap-on-road-in-south-africa-amid-covid19-lockdown/)