Possible outbreaks in China and Mongolia have brought bans on hunting and eating the rodents, which can carry the disease.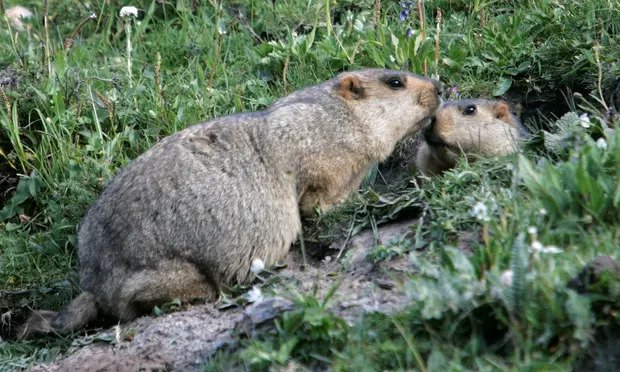 Reuters, last modified on 2020 Jul 06
Russia has stepped up patrols to stop people hunting marmots near its border with China and Mongolia after the countries reported possible cases of bubonic plague, which can be carried by the animals.
Authorities in Bayan Nur, a city in the Chinese region of Inner Mongolia, issued a warning on Sunday after a hospital reported a suspected case of the deadly disease.
The Chinese region forbade the hunting and eating of the large rodents and asked the public to report any suspected cases, as well as any sick or dead marmots.
Neighboring Mongolia also reported two cases of bubonic plague linked to people eating marmot meat in its western Khovd province last week.
Authorities in Russia's Altai region, which borders Kazakhstan, China and Mongolia, said officials were patrolling the area to enforce a ban on hunting marmots and to warn people about the dangers, TASS news agency reported.
The local branch of Rospotrebnadzor, the consumer health watchdog, said the cases across the border did not pose a threat to people in Altai, TASS reported.
The bubonic plague, known as the Black Death in the Middle Ages, is a highly infectious and often fatal disease that is spread mostly by rodents. however it can be treated with commonly available antibiotics. Bubonic plague outbreaks have become increasingly rare.
America faces an epic choice …
… this year, and the results will define the country for a generation. These are perilous times. Over the last three years, much of what the Guardian holds dear has been threatened – democracy, civility, truth.
The country is at a critical crossroads. Science and reason are in a battle to be heard and to try to drive public policy in the middle of a pandemic. At the same time, the US is in the midst of a historic reckoning with centuries of racial injustice – even as the White House stokes division along racial lines. Meanwhile the pandemic has exposed the painful inequities underlying American life. The coming months will determine whether they might finally be addressed.
At a time like this, an independent news organization that fights for truth and holds power to account is not just optional. It is essential. The Guardian has been significantly impacted by the pandemic. Like many other news organizations, we are facing an unprecedented collapse in advertising revenues. We rely to an ever greater extent on our readers, both for the moral force to continue doing journalism at a time like this and for the financial strength to facilitate that reporting.
You've read more than in the last nine months. We believe every one of us deserves equal access to fact-based news and analysis. We've decided to keep Guardian journalism free for all readers, regardless of where they live or what they can afford to pay. This is made possible thanks to the support we receive from readers across America in all 50 states.
As our business model comes under even greater pressure, we'd love your help so that we can carry on our essential work. If you can, support the Guardian from as little as $1 – and it only takes a minute. Thank you.