Epidemiologist Shanna Swan says low counts and changes to sexual development could endanger the human species.
Last modified on Sat 2021 Feb 27
–
Falling sperm counts and changes to sexual development are "threatening human survival" and leading to a fertility crisis, a leading epidemiologist has warned.
Writing in a new book, Shanna Swan, an environmental and reproductive epidemiologist at Icahn School of Medicine at Mount Sinai in New York, warns that the impending fertility crisis poses a global threat comparable to that of the climate crisis.
–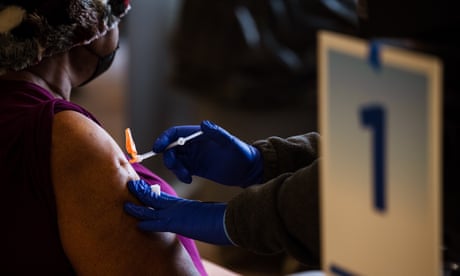 US racial inequities in vaccination raise risk of new Covid hotspots and variants
"The current state of reproductive affairs can't continue much longer without threatening human survival," she writes in Count Down.
It comes after a study she co-authored in 2017 found that sperm counts in the west had plummeted by 59% between 1973 and 2011, making headlines globally.
Now, Swan says, following current projections, sperm counts are set to reach zero in 2045. "That's a little concerning, to say the least," she told Axios.
In the book, Swan and co-author Stacey Colino explore how modern life is threatening sperm counts, changing male and female reproductive development and endangering human life.
It points to lifestyle and chemical exposures that are changing and threatening human sexual development and fertility. Such is the gravity of the threats they pose, she argues, that humans could become an endangered species.
"Of five possible criteria for what makes a species endangered," Swan writes, "only one needs to be met; the current state of affairs for humans meets at least three."
Swan offers advice on how to protect themselves from damaging chemicals and urges people to "do what we can to safeguard our fertility, the fate of mankind, and the planet".
Between 1964 and 2018 the global fertility rate fell from 5.06 births per woman to 2.4. Now approximately half the world's countries have fertility rates below 2.1, the population replacement level.
While contraception, cultural shifts and the cost of having children are likely to be contributing factors, Swan warns of indicators that suggest there are also biological reasons – including increasing miscarriage rates, more genital abnormalities among boys and earlier puberty for girls.
Swan blames "everywhere chemicals", found in plastics, cosmetics and pesticides, that affect endocrines such as phthalates and bisphenol-A.
"Chemicals in our environment and unhealthy lifestyle practices in our modern world are disrupting our hormonal balance, causing various degrees of reproductive havoc," she writes.
She also said factors such as tobacco smoking, marijuana and growing obesity play a role.
–
• This article was amended on 2021 Feb 27 to remove an erroneous reference to a median sperm count.
–
–
–
As 2021 unfolds …
… we have a small favor to ask. Through these turbulent and challenging times, millions rely on the Guardian for independent journalism that stands for truth and integrity. Readers chose to support us financially more than 1.5 million times in 2020, joining existing supporters in 180 countries.
For 2021, we're committing to another year of high-impact reporting that can counter misinformation and offer an authoritative, trustworthy source of news for everyone. With no shareholders or billionaire owner, we set our own agenda and provide independent journalism that's free from commercial and political influence. When it's never mattered more, we can investigate and challenge without fear or favor.
Unlike many others, we have never put up a paywall. We have chosen to keep Guardian journalism free and open for all readers, regardless of where they live or what they can afford to pay. We do this because we believe everyone deserves to read accurate news and thoughtful analysis.
In the last year alone, we offered readers a comprehensive, international perspective on critical events – from the Black Lives Matter protests, to the US presidential election, Brexit, and the ongoing pandemic. We enhanced our reputation for urgent, powerful reporting on the climate emergency, and made the decision to reject advertising from fossil fuel companies, divest from the oil and gas industries, and set a course to achieve net zero emissions by 2030.
If there were ever a time to join us, it is now. Every contribution, however big or small, powers our journalism and helps sustain our future. Support the Guardian from as little as $1 – and it only takes a minute. Thank you.