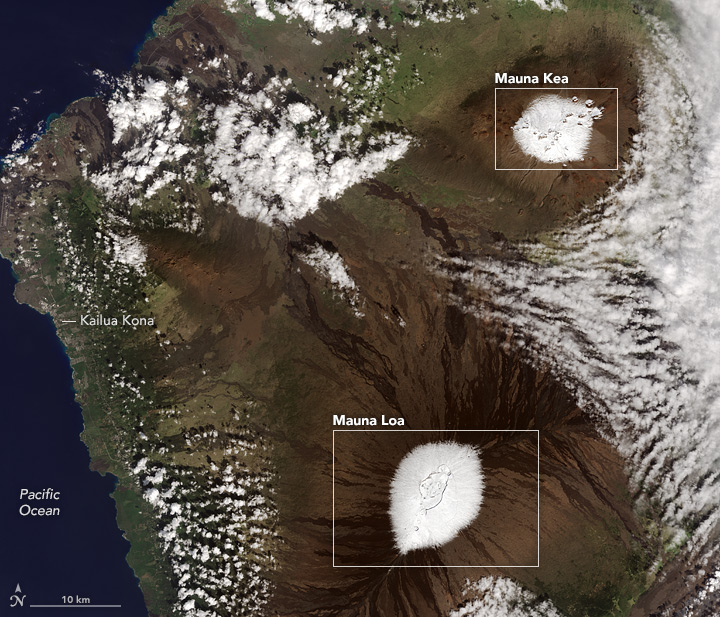 Image of snow covering Hawaiian peaks courtesy https://earthobservatory.nasa.gov/images/89356/snow-capped-summits-in-hawaii
–
Much of the 50th state has been abnormally dry recently, with parts of Hawaii in severe to extreme drought. Needed rain began on Friday, but it may be too much of a good thing.
Due to the threat of excessive rainfall, flood watches have been issued for all of the islands and are expected to remain in place through Monday afternoon.
Drought that has been developing over Hawaii became more intense after a very dry November. Honolulu, which averages 2.25 inches of rain in November, picked up just a mere 0.09 of an inch.
Hilo, located on the Big Island, received just under 6 inches of rain last month, but the city typically gets over 14 inches of rain in November.
CLICK HERE FOR THE FREE ACCUWEATHER APP
The first two days of December produced just a trace of rain in Honolulu and 0.36 of an inch in Hilo.
Winds in Hawaii often blow from east to west or northeast to southwest, and this can mean large differences in rainfall from one side of the mountains to the other.
"When winds from the east come down from the mountains, this can restrict precipitation," explained AccuWeather Senior Meteorologist Carl Babinski.
Honolulu, to the south of higher terrain, is in one such location. However, Hilo is right at the coast on the Big Island which allows it to receive much more precipitation.
Regardless of terrain, all of the islands will be in line for heavy rain over the next several days.
A cold front moved from northwest to southeast across the state from Friday into Friday night. Rainfall focused along the front, dropping 0.16 of an inch of rain in Honolulu.
The front is expected to stall on Saturday. At the same time, a low pressure area known as a Kona low could then drop down toward the state by Sunday and Monday.
Kona lows form when a southward dip in the jet stream breaks off and moves in a circular pattern.
These Kona lows are most common between late fall and early spring, and Hawaii can get two to three such storms during that timeframe. They typically produce a wide variety of weather, and this time will be no different.
The drought began to be reversed in many areas following the rain on Friday, and this will likely continue on Saturday, so more rain from Sunday into Monday may not be welcome. With the addition of the Kona low, rain could be even heavier than what fell on Friday and what is expected to fall on Saturday.
"There is the potential for 6-12 inches of rain to fall on Honolulu with an AccuWeather Local StormMax™ of 40 inches possible for the south- and southwest-facing mountainsides of the islands," AccuWeather Senior Meteorologist Alex Sosnowski warned.
Regardless of prior drought or not, rainfall of that magnitude over several days can lead to widespread problems in the form of flooding and mudslides.
After the cold front passes through much of the island chain, the threat of snow will occur over the highest peaks, some of which are more than 10,000 feet high.
Blizzard warnings have been issued for the summits of the Big Island, and wind gusts up to 100 mph will be possible, according to the warning statement from the NWS. Some locations could receive up to a foot of snow. The most recent time blizzard warnings were issued for Hawaii was in the spring of 2018.
"Travel could be very difficult to impossible. Blowing snow will significantly reduce visibility at times, with periods of zero visibility," the NWS warned.
Blizzards are not totally uncommon in Hawaii. In fact, prior to this week, the NWS had issued blizzard warnings for parts of Hawaii more recently than for much of the East Coast, including cities such as Philadelphia and New York.
"Although Hawaii has the reputation of year-round warmth, snow actually makes a yearly appearance atop some of its highest peaks," said AccuWeather Meteorologist Lauren Hyde.
A somewhat drier pattern will slowly evolve later next week. However, as the cold front reverses course and moves back toward the northwest, heavy rain may linger in the northwestern Hawaiian Islands into Wednesday and possibly even Thursday before a more typical pattern resumes by the end of the week.
–
–
For the latest weather news check back on AccuWeather.com. Watch the AccuWeather Network on DIRECTV, Frontier, Spectrum, fuboTV, Philo, and Verizon Fios. AccuWeather Now is now available on your preferred streaming platform.
Weather News
–
Where's the snow? Early-December US snow coverage lowest in 18 years
–
AccuWeather's white Christmas forecast 2021
–

'Dramatic' weather twists may end with snow in parts of Northeast
–

Daily coronavirus briefing: Omicron poses higher risk of reinfection
–

Phoenix shatters Nov. temperature record that stood since 1949

–

Snowstorm strands dozens inside an IKEA for the night
–

'Stuff of nightmares' washes ashore on San Diego beach
–

Back-to-back storms to help replenish snowpack in Northwest
–

Countdown begins: NORAD's Santa tracker is up & running for 66th year
–
video
Rabbi says mild temperatures good for lighting at Brooklyn's largest m…
–