A research station in India is on call 24/7 to aid wayward reptiles in need.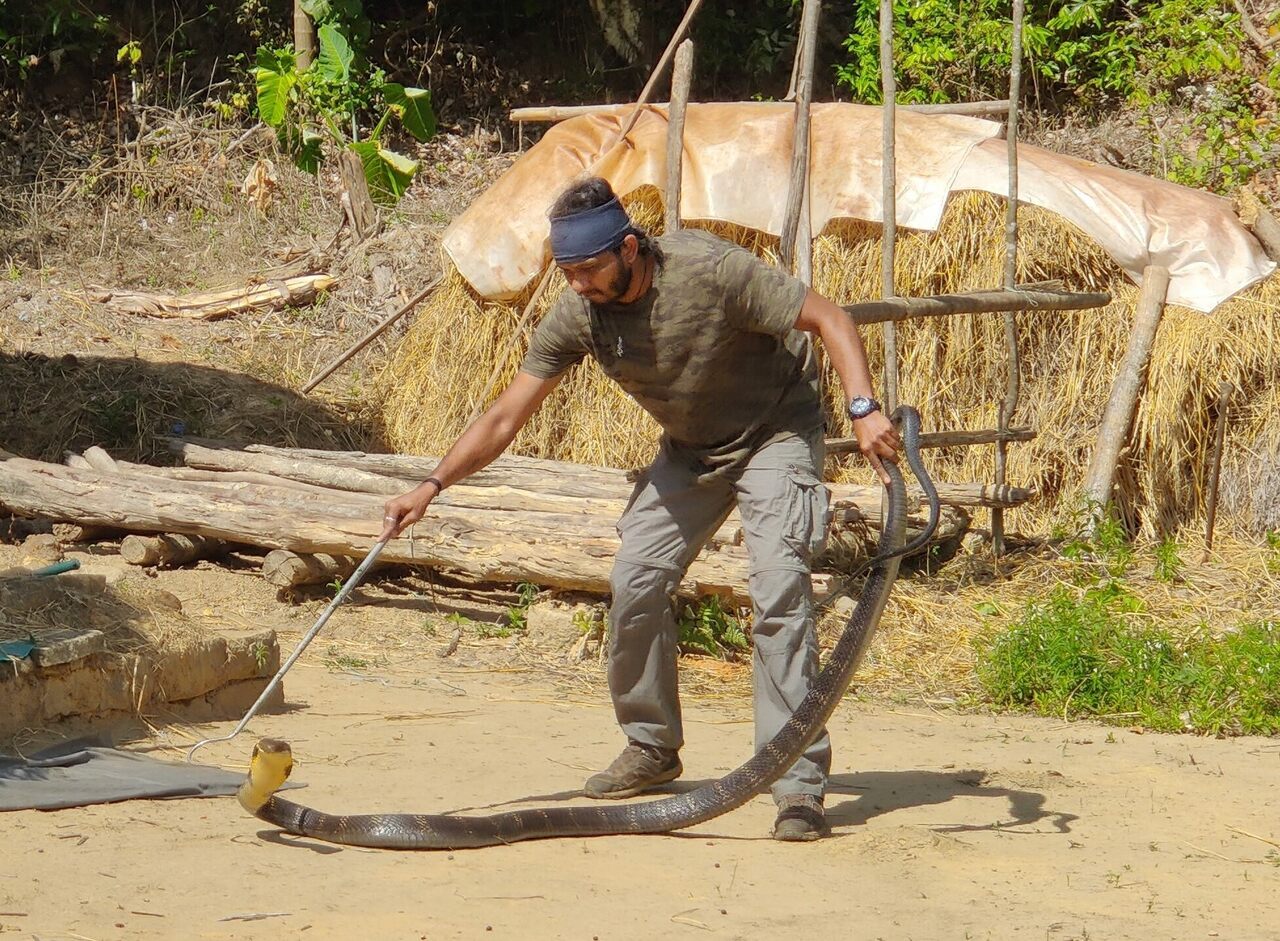 Wrangling an eight-foot king cobra is all in a day's work for Ajay Giri, field director of the Agumbe Reserve Research Station in western India. Mahima A. Jain
Ajay Giri juggles an eight-foot

king cobra in one hand and a snake hook in the other. The cobra's forked tongue flicks. Its tail, coiled around Giri's left arm, twitches restlessly. Hay, huts, fields, and farmers are all scorched under the afternoon sun at Heggodu, an agricultural village bordering the Agumbe Reserve Forest. Here, deep within India's mountainous Western Ghats, Giri has come to rescue the king.

"King cobras are shy. They don't attack humans unless provoked," says Giri, the 35-year-old field director of the Agumbe Rainforest Research Station.

The Western Ghats have lost more than 35 percent of their rainforests in the last century thanks to plantations and other development: The habitat of the region's king cobras is shrinking. The snakes now hunt for prey in farms bordering the forests, putting them in closer proximity to humans. But, while snakes overall are responsible for more than 50,000 deaths each year in India, very few are caused by the king cobra.
"For most people this is the scariest snake. But you'll hardly ever find records of a king cobra bite," says Romulus Whitaker. The herpetologist founded the Agumbe Rainforest Research Station, and is co-founder of the King Cobra Conservancy global initiative.
Although the king cobra is one of the most venomous snakes, it has little interest in humans. Its scientific name reveals its true target: Ophiophagus hannah, the snake eater.
"King cobras are essential to the ecosystem," says Meghana Nagaraja, the research station's outreach officer. She has accompanied Giri to Heggodu this afternoon for the snake rescue, and is using the opportunity to educate some of the bystanders. Farms attract rodents, which in turn draw snakes, including several venomous species that are responsible for many human fatalities. King cobras, Nagaraja explains, maintain balance by eating those snakes.
Like most Indians, people in this region fear the king cobras—but here, they also consider them deities. This reverence makes it easier for Nagaraja and her colleagues to persuade local residents not to harm the species, and instead to contact research station staff.
The genus of the king cobra is Ophiophagus, or "snake eater," for good reason. Thai National Parks/CC BY-SA 2.0
–

The Agumbe Rainforest Research Station has championed ethical rescues of king cobras since its creation in 2005. Giri joined the team in 2009, and is on standby to rescue and study the snakes. The cobra currently coiled around Giri's hand is one such snake; its hunt for a wounded rat snake was interrupted after a farmer discovered it next to his house.
While Nagaraja handles crowd control, Giri gets an assist from another colleague, Jaykumar SS. The veteran rescuer, who goes by Kumar, has 27 years of experience. He and Giri have perfected their technique to cause minimal harm to the snakes.
–
First, Kumar chases the snake towards Giri, who uses the snake hook to grab the cobra from its tail end. He directs the snake to a nearby trap: a PVC pipe the length of his arm with a gray cloth bag attached at the other end. The cobra hisses at Giri and dodges the mouth of the trap. Hood flared and showing its fangs, the snake does a U-turn toward Giri's leg. Giri pushes it away using the hook. Everyone but the rescuers flinches; the duo have a track record of never being bitten.
Though time slows down for those watching the rescue, it takes Giri little more than three minutes to coax the snake into the trap. Kumar takes over, ties the bag, weighs it, notes other details, and nonchalantly places it by a nearby plastic chair.
Jaykumar SS, a seasoned snake rescuer from the Agumbe Reserve Research Station, weighs a safely trapped king cobra. Mahima A. Jain
–

The trapped snake will be safely released, but many other king cobras are not so fortunate. In India, apart from the Western Ghats, king cobras are found in the equally mountainous Eastern Ghats and the rainforests of the northeast. Other habitats include parts of Southeast Asia and southern China. In some of these areas, king cobras and other snakes are killed in large numbers either for snakeskin or out of fear.
Much of the fear of king cobras is unfounded, says Nagaraja. "King cobras get nothing from biting humans. They generally don't want to waste their venom. It's precious to them," she says.
And some of the people fatally bit by snakes have only themselves to blame.
"There's this craze among so-called rescuers who manhandle snakes, thereby agitating (them), while posing for social media," Giri says with disapproval. Under Indian law, handling snakes is prohibited without special permits. "On social media there are pictures of people trying to kiss the snake. They are bound to get a kiss of death instead."
Whitaker agrees. "When humans die of bites we blame the snakes, without examining our actions and stupidity," he says, adding that, while we have estimates for human fatalities, no one has calculated a similar statistic for snakes.
During a rescue in the village of Heggodu, members of the Agumbe Reserve Research Station chat with locals about the king cobra's importance to the ecosystem. Mahima A. Jain
–

Giri estimates that the Agumbe Rainforest Research Station has responded to more than 2,000 rescue calls in just a decade; nearly 500 were for king cobras. Every call is a chance to save a snake—and to advance science.
In 2008, the research station began the world's first king cobra radio tracking project. Staff embedded an electronic tag under the skin of some of the rescued snakes, allowing researchers to follow their daily movements.
"It's a 9-to-5 job," Whitaker says with a laugh. "King cobras are diurnal, which means their day begins at about 8 a.m. and ends before sunset. So our trackers have time for breakfast and dinner."
Tracking the rescued snakes has revealed new details about the animals, including that female king cobras build nests, a behavior unique amongst all snakes. Another insight particularly important for Giri and other snake rescuers: A king cobra's home range is 15-20 square kilometers, or less than eight square miles, and moving them outside that territory can lead to their death.
Members of the Agumbe Reserve Research Station have transported hundreds of trapped king cobras to safety. Mahima A. Jain
–

"During the monsoon you can see several snakes right outside the research station. It can seem scary, but it is their space too," says Nagaraja. "Sometimes there's no need for a rescue, you need to let them be."
When locals call for the research station's rescue team, the snakes they remove from homes and other areas of human activity are not taken far. The animals are typically released within a mile or two of the capture site.
Upon release, the rescued king cobra makes for its forest home. Mahima A. Jain
–

"These snakes don't end up in a zoo or a sanctuary, their place is in the wild," Giri says as he places the bagged snake under the front seat of his jeep. After a short drive, he parks the jeep by a patch of grass near the woods, ignoring the impatient hisses coming from the bag. Giri picks it up and makes his way towards the forest. He opens the bag, and the cobra languidly slithers into the woods. Its black scales glitter like sequins in the sunlight as it makes its way back home.
–
–
–
Read next
Werner Härtl says the unusual medium has "a life of its own."