Technology is changing the face of modern warfare – for good and bad.  Depositphotos
–

The Russian invasion of Ukraine is the biggest military assault on a European state since World War II. While there certainly is nothing unique about human beings fighting one another, the nature of war is always profoundly affected by current technology, and this war is no exception.
Here are five recent stories of technology changing the face of modern warfare – for good and bad …
Domestic drones
Over the last decade a multi-billion dollar commercial drone market has emerged allowing people cheap access to a technology previously only really available for military purposes. For a few hundred dollars anyone can buy a small drone, and when Russia began their invasion in February the Ukraine drone community quickly jumped into action.
The Ukrainian military reportedly posted a call out on Facebook for citizens to donate their drones to help with surveillance operations. "Kyiv needs you and your drone at this moment of fury!" read the post.
A commercial drone retailer in Kyiv dispensed around 300 DJI drones to the military. However, concerns have already been raised over what responsibility DJI as a company has in regulating the uses of its products in a time of war.
A recent open letter from Ukraine's Vice Prime Minister to DJI called on the company to block access to its products registered in Russia. The letter also claimed the Russian military was using a DJI product called AeroScope to target missiles at Ukrainian citizens.
AeroScope is a surveillance system that geolocates DJI drones and their pilots in real time. Unverified reports out of Ukraine allege Russian forces are using AeroScope technology to locate and target civilians who are assisting the military with their domestic drones.
DJI has responded to the Ukrainian letter claiming it has no control over the use of AeroScope technology and cannot disable those systems. The company did suggest it was open to geofencing DJI products in Ukraine's airspace, essentially disabling use of its drones in the country.
–

Ukraine government official
In 21 days of the war, russian troops has already killed 100 Ukrainian children. they are using DJI products in order to navigate their missile.
are you sure you want to be a partner in these murders? Block your products that are helping russia to kill the Ukrainians!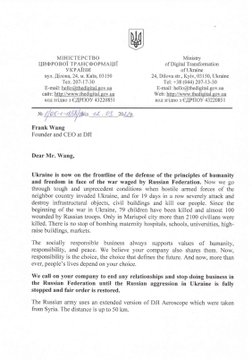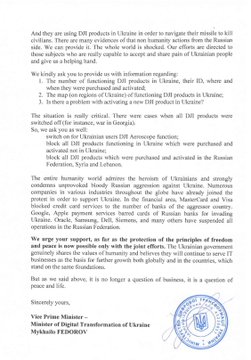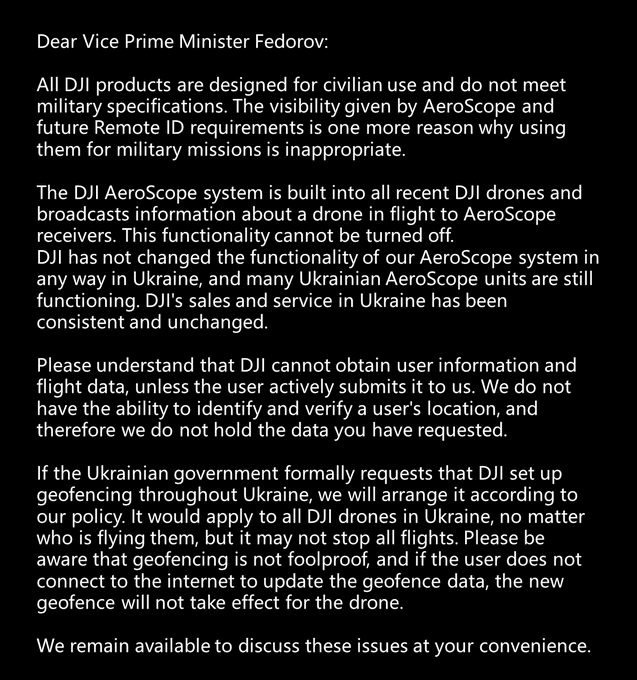 Airbnb Humanitarians
As billions of people watch the devastation in Ukraine from afar it is a natural response to want to help. In times of crisis non-government organizations and charities quickly step up to offer aid to victims of war, and donating to those organizations is often the first port of call for someone looking to help.
However, in today's hyper-connected world new ways of offering aid in times of crisis have emerged. Within days of Russian forces invading Ukraine people around the world started booking out Airbnb stays in the country as a way of sending money to those directly in need.
The idea quickly went viral and within two days more than 61,000 nights in Ukrainian Airbnb stays were purchased, totaling nearly US$2 million dollars. Airbnb immediately suspended its own fees on Ukraine stays so all the money went directly to the hosts.
Of course, you can probably guess what happened next. As soon as the trend picked up pace scammers appeared posting fake listings to skim cash from unsuspecting humanitarians.
In a recent statement Airbnb claims to have suspended a small number of fake accounts. The company also reports around $15 million dollars has been sent to Ukraine through international donation bookings.
–
Brian Chesky
In 48 hours, 61,406 nights have been booked in Ukraine. That's $1.9M going to Hosts in need Such a cool idea from our community. Thank you
twitter.com/maitlis/status
7:08 PM · 2022 Mar 11
–
–
Brian Chesky
One week later, 434,000 nights have been booked. That's $15M going to Hosts in Ukraine On behalf of our Hosts in Ukraine, thank you.
–

Besides scammers, some commentators have questioned whether "donating" money through Airbnb listings sends cash to the people who really need it. Anit Mukherjee, from the Center for Global Development, recently made the point to Vox News that those in Ukraine who own Airbnb listings are likely among the wealthiest one percent in the country. So despite good intentions this is probably not the most effectively targeted way to deliver support to those in need.
TikTik Correspondents
New media has always profoundly changed the way the general public relate to war. Perhaps the most studied example is how television in the 1960s brought the Vietnam war into the lounge rooms of millions of Americans, with some experts arguing this ultimately bolstered the anti-war movement.
Smartphones and social media have already made their mark on international politics. Most prominently, around a decade ago Twitter was widely used to mobilize protests during the Arab Spring wave of revolutions in the Middle East and North Africa.
In 2022 the invasion of Ukraine has ushered in a new type of war correspondence: young people using the social media app TikTok, a platform with over one billion active users. TikTok is characterized by users posting short pithy videos, often with backing music. And it has been this form that young Ukrainian influencers have been using to communicate their experiences within a modern war zone.
So far TikTok posts from the frontline have spanned everything from traditional vlog-style reports from young people huddling in bunkers while their cities are bombed, to more surreal posts in classic TikTok-style showing explosions in the sky over Kyiv while pop music plays on the soundtrack.
And of course, as with any new medium of communication, misinformation has quickly become a major problem. As Russia worked hard to control the narrative of the war within its borders, TikTok swiftly banned user uploads from inside the country.
An investigation by Vice News recently revealed pro-Russia disinformation is still spreading on TikTok. The Kremlin is allegedly paying Russian social media influencers to post propagandic messages on the platform.
Deep Fake Propaganda
For the last few years researchers have warned us about the dangers of deepfakes, and now we have seen one of the first wartime deployments of the technology. This video of Ukrainian president Volodymyr Zelenskyy calling for his solders to lay down their weapons and surrender to the Russians recently appeared on a tabloid news site.

https://twitter.com/i/status/1504123674516885507
The editor of the Ukraine-based Russian-language news site where the video appeared claims the website was hacked by Russians, but the true source of the deepfake has yet to be revealed. Although Russian media has been promoting the video, some experts suggest the the poor quality deepfake may not necessarily be Kremlin-sourced propaganda.
Regardless of the video's ultimate source the appearance of a fake video such as this is a strong example of how modern technology offers new and perfidious methods to build on traditional modes of wartime propaganda. In World War II, for example, an infamous fake radio show was created in the UK and broadcast across radio stations in Germany.
The short profane rants from a German character known as The Chief told the story of rebel Nazis conspiring against the corrupt state. The Chief's broadcasts were reportedly so convincing that US officials in Berlin passed the fake news onto Franklin D. Roosevelt who was ultimately amused to find out the project was fake.
The Tinder Trap
Dating apps are a global phenomenon and they work because of the precise ability for smartphones to geolocate a user and match them with other users in a nearby vicinity. So what happens when a bunch of Tinder-linked young, single, Russian, male soldiers invade a neighboring country?
Early in the invasion an extraordinary report from The Sun described a number of experiences where Ukrainian women suddenly had their phones light up with automated Tinder matches from nearby Russian soldiers waiting across the border to invade. The surreal story recounts Ukrainian women dealing with flirty Russian soldiers just miles away.
As word of the Tinder situation spread, users around the world quickly started to change their locations to spots in Ukraine or Russia in order to either troll Russian soldiers or attempt to counter propaganda spread within Russia. A group of Slovakian creatives started a movement called Special Love Operation designed to connect with Tinder users inside Russia and help spread genuine news about the war.
While there is no evidence Tinder has been used in any spy or surveillance capacity so far, the involvement of the technology does allude to a long history of women as resistance fighters seducing enemy soldiers in war and luring them to their death.
–