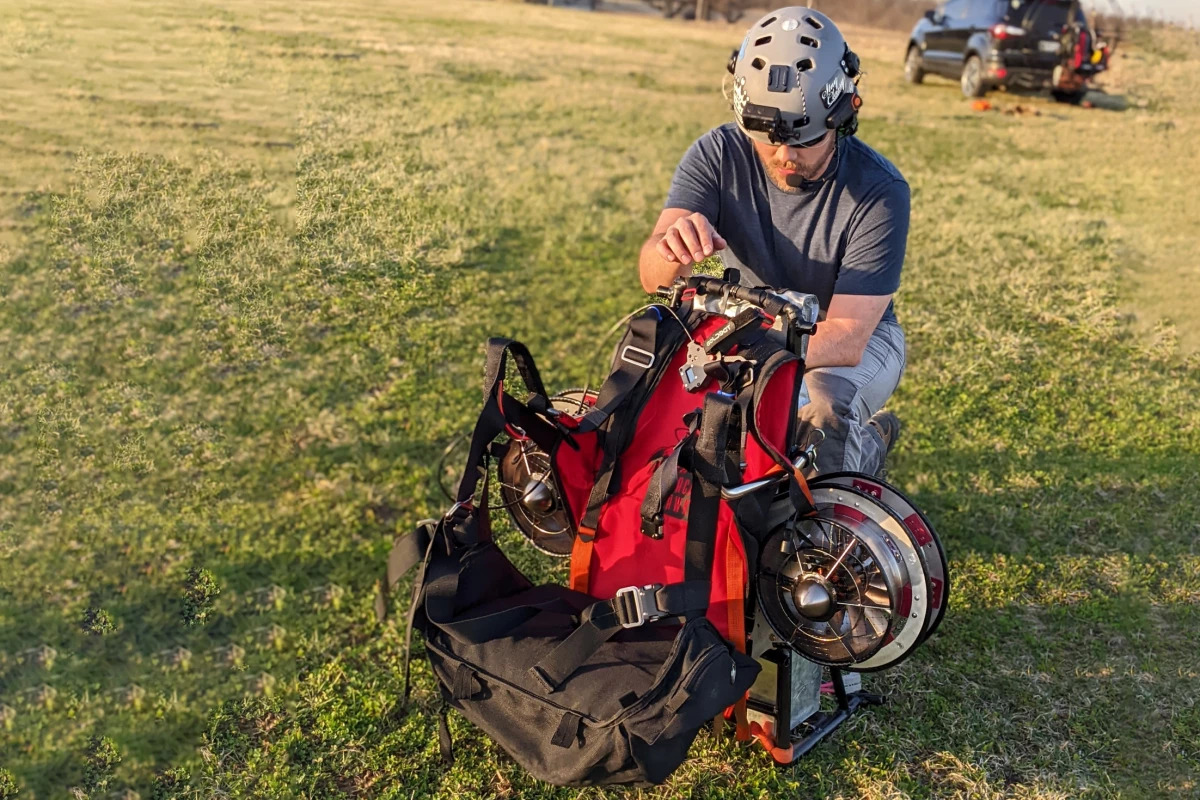 The Canop-E electric paramotor. Just add parachute.  Pete Bitar
–
Not too full, though, to give parts of the LEO's propulsion system a second home in an electric paraglider system. Bitar's spent plenty of time with parachutes in the past; before XADS stood for Xtreme Alternative Defense Systems, it stood for Xtreme Ads, a business in which Bitar painted adverts on parachutes. The Canop-E had to happen.
This prototype started out as a test for two of the six forward propulsion jets designed for the LEO eVTOL. Weighing in at 57 lb (26 kg), it comprises a seat, two 216-mm ducted fans, a harness, and a 100-V, 18-Ah, 1.8-kWh battery pack mounted in a simple frame. To the top, one attaches a 28-m (92-ft) parachute canopy, and from there it functions like a regular paramotor rig.
Bitar and his team have test-flown the Canop-E, claiming an endurance of around 20 minutes for the prototype, and a top speed somewhere around 70 mph (110 km/h).
Electric paramotors are not new, but Bitar says typically they're much bulkier than this, with single propellers shrouded by a protective cage that need some teardown or folding to fit in a car. The Canop-E, he says, needs no further safety gear around its ducted electric turbines, and can be thrown in the seat or the trunk of a car as it is, ready to hook up and fly.
"The plan is to offer a higher end, novelty CanopE-Jet 1, and a lower cost, ducted propeller CanopE-Jet Light," Bitar told us. "Not including paraglider, the Light model will sell for US$8,995 and the CanopE-Jet 1 will sell for $18,995. I think we'll open up pre-orders soon on CanopE-Jet, because I think we can start delivering units by Q3 of this year."
In other news, Bitar says he's completed a seed round of funding for the LEO eVTOL project, and "should be flying the LX-1 manned prototype by May." And while he can't say too much about the electric jetpack at the moment, "that's a very cool project, and getting cooler all the time." See the Canop-E fly in the video below.
CanopE-Jet First Flight!

–
Source: Electric Jet Aircraft
–
–