Swimming-induced pulmonary oedema involves the accumulation of fluid in the lungs of swimmers without it having been inhaled.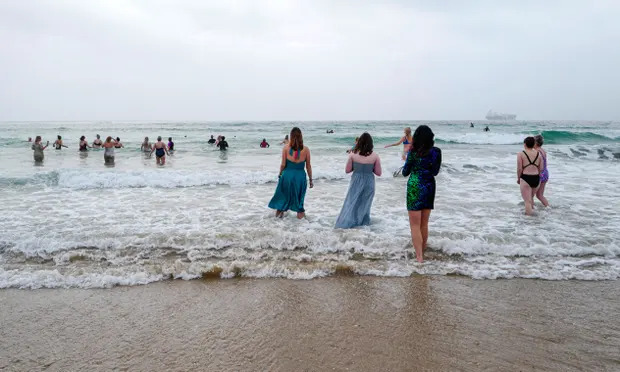 Members of the She Swims group going for their new year swim in Falmouth. Sport England estimates that 2.7 million people participated in some form of open-water swimming from 2020-21. Photograph: Hugh R Hastings/Getty Images
–
By Nicola Davis Science correspondent @NicolaKSDavis
2023 Jan 09
–
A potentially life-threatening condition that can affect fit and healthy open-water swimmers causing them to "drown from the inside" may involve a buildup of fluid in the heart muscle, researchers have suggested.
Swimming-induced pulmonary oedema – SIPE – is a form of immersion pulmonary oedema and involves the accumulation of fluid in the lungs of swimmers without it having been inhaled. The condition is thought to be a result of increased pressure on the body's blood vessels as a result of exertion, immersion and cold.
The condition can cause breathing difficulties, low blood oxygen levels, coughing, frothy or blood-stained spit and, in some cases, death.
"I suspect that the majority of people who die in the water [having entered voluntarily] – that is, swimmers or divers – die from immersion pulmonary oedema, not drowning," said Dr Peter Wilmshurst, a consultant cardiologist at Royal Stoke University Hospital and a member of the UK Diving Medical Committee, who first described IPE in the 1980s.
Wilmshurst added that the condition is far from rare: about 1 in 200 people who take part in Sweden's annual race, the Vansbro Swim, get SIPE, while 1 in 20 young men have been reported as having the condition during selection for the US Navy Seals.
While cases frequently occur in people who are fit and healthy, there are a number of known risk factors, including age, having high blood pressure, being a woman, and swimming in cold water.
Figures from Sport England suggesting about 2.7 million people participated in open water swimming in England between November 2020 and November 2021.
Now a medical team in the UK who diagnosed IPE in a fit and healthy woman in her 50s, who had been swimming in open water at 17C, say they found fluid accumulation in her heart muscle.
"While it is conceivable that this represents a pre-existing inflammatory process such as myocarditis, which contributed towards IPE, it is also potentially a consequence of the acute episode," the team wrote in the journal BMJ case reports, noting that it is not the first report of heart muscle dysfunction in the context of IPE.
The woman described how she experienced difficulties while participating in a night swim at a quarry. "When I got out, I undid my wetsuit and immediately felt the sensation of my lungs filling with fluid," she said, noting that she developed a cough and frothy pink sputum. "I was very lucky to be surrounded by a great team at the quarry who all knew I had SIPE."
The woman's symptoms settled within two hours of reaching the emergency department and she was discharged from hospital the next day.
The authors say that while the woman had received a Covid booster jab a few hours before the swim, this is unlikely to be related to the IPE. Indeed, the woman noted that she had experienced a milder form of breathlessness after swimming in the sea two weeks before, and during other exercise. "I had just assumed I was a bit under the weather," she said in the report.
Wilmshurt, who was not involved in compiling the report, also said it was unlikely that the vaccination caused the fluid in the heart muscle, given the short time between the jab and onset of symptoms. While it was not possible to say whether it was caused by IPE or was a pre-exisiting condition, he said, he suspected the former.
Dr Doug Watts, medical director of DDRC Healthcare, specialists in diving medicine, said people should be aware of IPE, and get out of the water immediately and seek medical attention if they find themselves unusually short of breath while swimming. "If you have one episode, you're likely to have another episode, and the next one might be fatal," he said.
Wilmshurst said it is important not to go open-water swimming alone, and cited the need for medical attention in the case of IPE. "If you get it … it may be the first sign that you've got underlying heart disease or hypertension," he said.
Topics