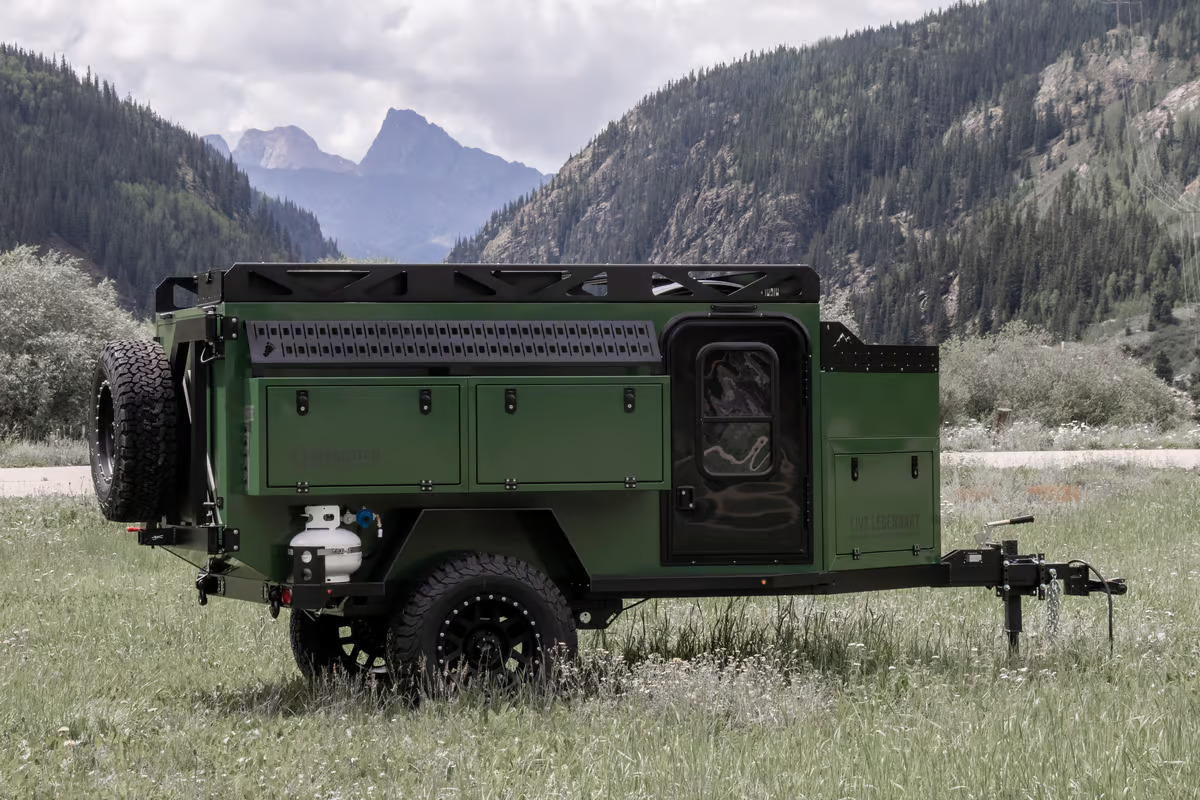 Sasquatch Highland 60 expedition camper trailer.  Sasquatch Expedition Campers  View gallery – 21 images
–
Sasquatch proudly represents its hometown of Silverton (pop. 650 hardy mountain folks). Nestled away in the imposing San Juan Mountains of southwestern Colorado, Silverton was founded as a mining boomtown in the late-19th century, long before it transitioned into a base camp for a very different breed of bright-eyed prospector — the kind that comes looking to mine natural resources like fresh snow, abundant trail and backcountry solitude. The town itself sits at over 9,000 feet (2,743 m) in elevation and is fenced by steep, sharp 13ers and 14ers that hypnotize locals and tourists alike.
The Sasquatch Highland 60 was inspired by Silverton's rugged surroundings, and like its hometown was conceived to serve as a tiny, cozy refuge for ambitious, boundary-smashing explorers. At 16.3 feet (5 m) long and 6.8 feet (2.1 m) high, the trailer isn't unusually compact, but something about its flat-roofed rectangular shape and cargo box-lugging flanks gives it more the appearance of a tent-topped cargo trailer like the Beaver Built Wapos, less the appearance of a sleep-in squaredrop.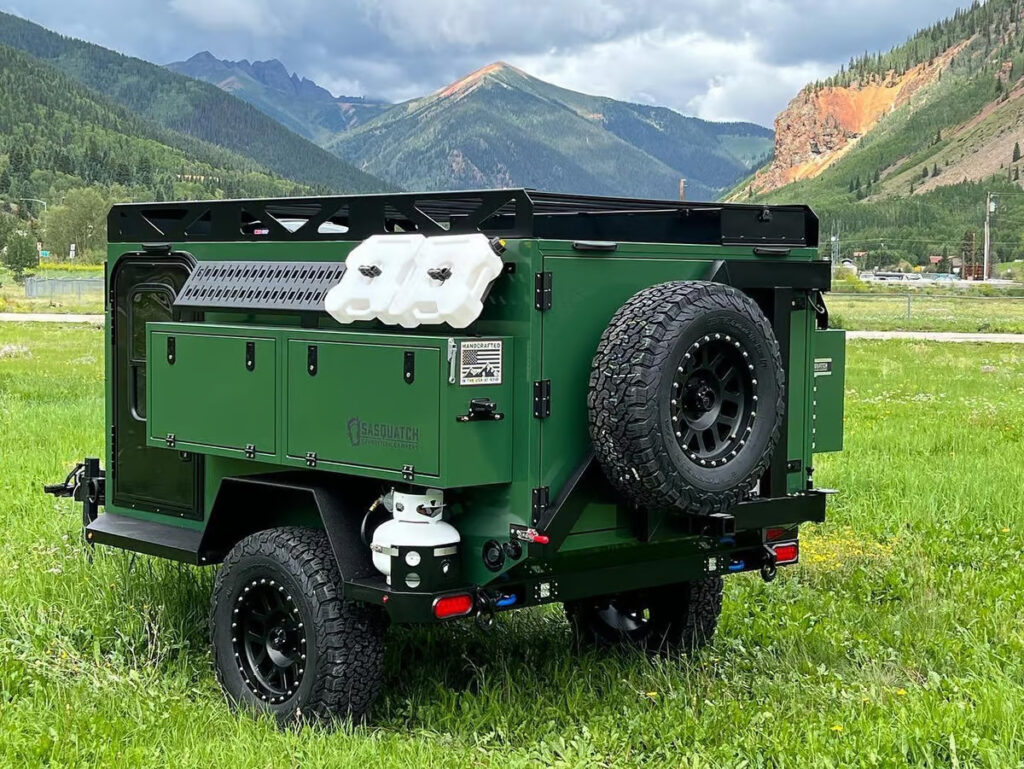 Let your eye wander around the Highland 60 profile, though, and it will quickly land on a side door, making clear that the trailer is in fact a live-in 'drop camper. And Sasquatch specs out the Highland's width to be particularly comfortable for that role — a 60-in-wide (152-cm) interior makes room for a proper queen-width, 75-in-long (191-cm) memory-foam mattress to sleep two campers in the type of toss, turn and stretch comfort they will be glad to have after a day of exploring peaks and valleys.
A 6,500-BTU Propex heater warms the Highland cabin when the temperature outside drops below comfortable, and the fully insulated walls, roof and floor hold in the heat. The cabin is crafted from durable, water-resistant paneling derived sustainably from rice husks.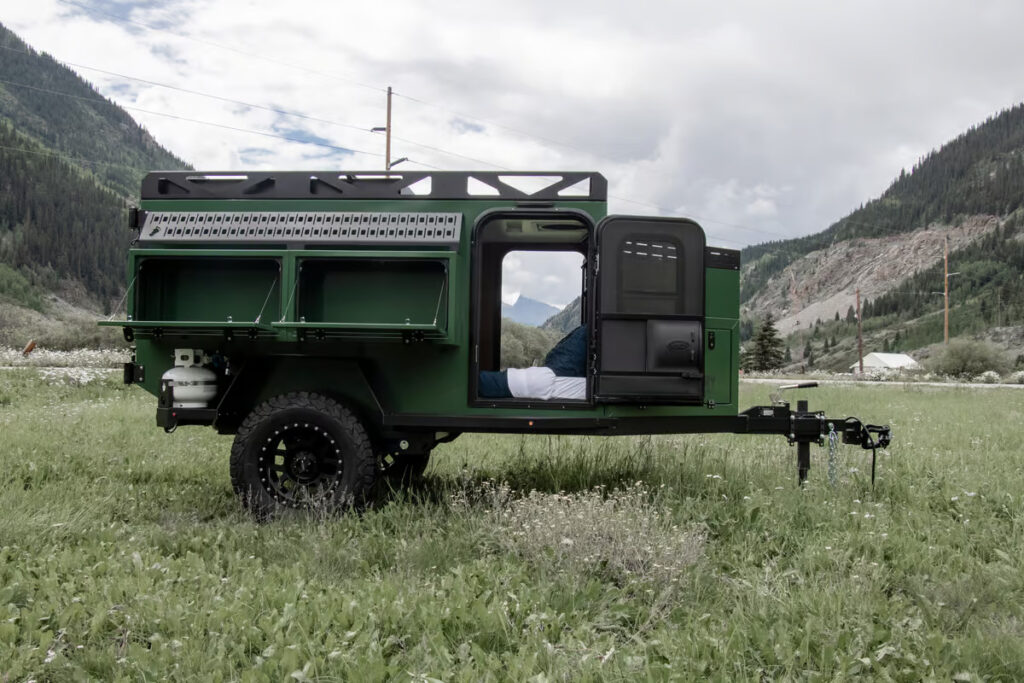 Sasquatch adds to the Highland's high comfort level with its rear kitchen design, installing a triple-burner Furrion gas stove atop a low-set counter area inside the rear door. The available 62-L Iceco dual-zone fridge mounts on a door shelf, rather than a slide-out below the counter, freeing space for camp cooks to work comfortably side by side at the kitchen. An optional secondary worktop drops down from the swing-out spare tire carrier, and the fridge easily pulls off the shelf to open up even more work space.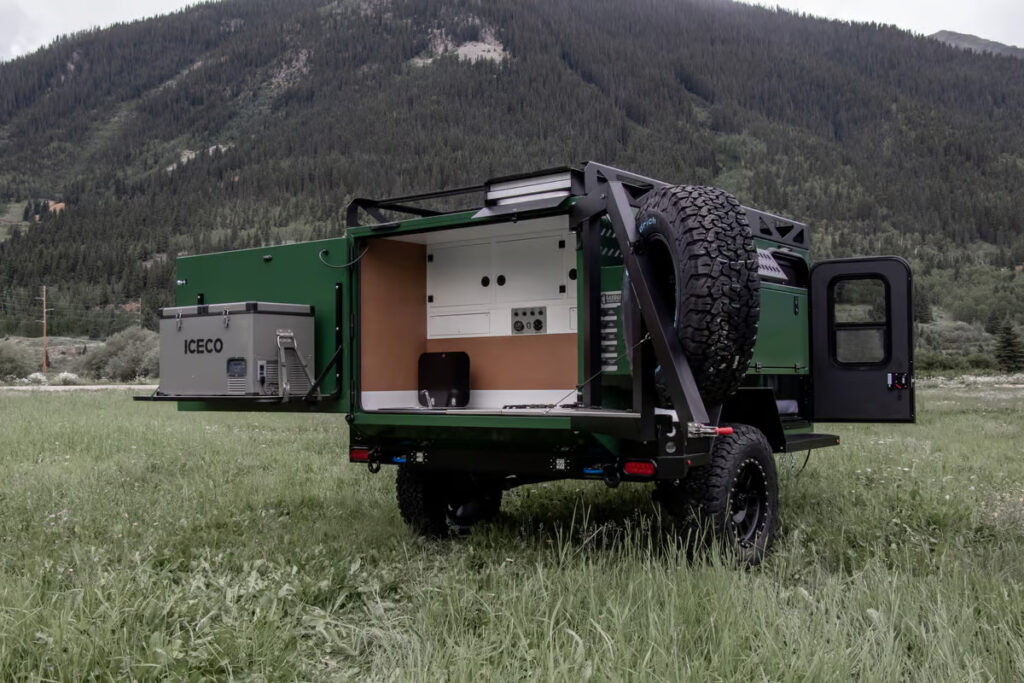 The kitchen also includes a sink with hot and cold water, overhead storage cabinets, LED lighting, and 110-V, 12-V and USB outlets. The 200-Ah gel or lithium Renogy battery powers the DC outlets directly, while the path to the AC outlet runs through a 1,000-W Renogy inverter. A battery monitor is standard, a 200-W solar charging system optional. Fresh water stores in a 136-L tank that also supplies the hot/cold outdoor shower.
Silverton is a remote, rugged starting point, but the Highland 60 is really made to journey even farther into the harsh, foreboding lands that beckon from beyond city limits. Interestingly, Sasquatch reaches for powder-coated aluminum square tubing, as opposed to steel, in building up its chassis. But it slaps a lifetime warranty onto those tubes to help ease any doubts of the aluminum's go-anywhere readiness. Also covered under that limited lifetime warranty are components of the independent coil-over suspension system Sasquatch prepares in-house. The thick Fox coil-overs lend 5 inches (127 mm) of cushion to the BFG all-terrain tire-sheathed 17-in steel wheels.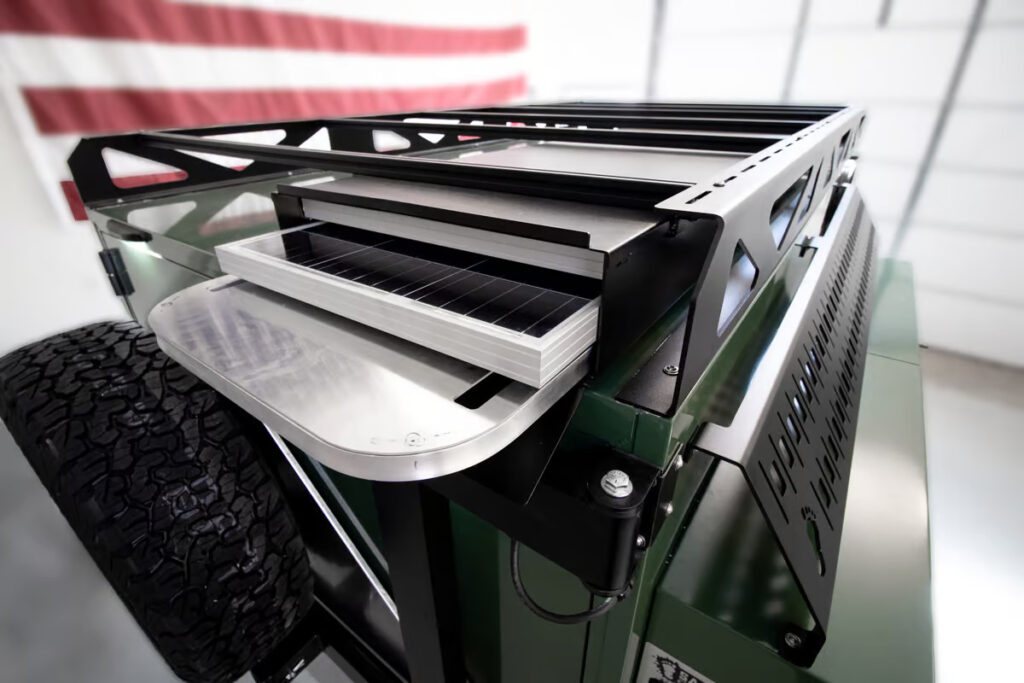 Sasquatch recognizes that the modern adventurer needs his or her accoutrements and equips the Highland 60 accordingly. The trailer comes with 70 cu ft (2 cu m) of total storage inside its various interior cabinets and exterior cargo boxes. It also includes a standard roof rack with five T-track cross bars for carrying gear that doesn't fit into a box. The angled expedition racks running along the upper sides are meant for recovery equipment and Rotopax canisters, and the optional "Squatch Box" sitting between the roof and crossbars comes sized around a custom folding camping table and two standalone solar panels.
Sasquatch was founded in 2021 ahead of a pivotal 2022 that saw it establish itself and launch both the Highland 60 and the lower-priced Smuggler tent-top trailer. The Highland 60 starts at US$47,000 for the base-level Trail model, with base prices rising to $50,950 for the mid-level Pro model and $54,950 for the flagship Pro-X. That's a bit rich for our blood but not outside the ever-ballooning limits of overland trailer pricing.
Source: Sasquatch Expedition Campers