2023 Feb 08
–
California's lush hillsides and verdant valleys may soon be awash with color, as hints that another botanical bonanza is budding after the state was doused with rain. Soaked soils could help set off another super bloom – a spectacle of wildflowers that coat the deserts and grasslands in vibrant hues of orange, purple and yellow.
But the possibility of another eruption in blossoms has some officials bracing. The flowers set off a frenzy four years ago when heavy Winter rains coated a Lake Elsinore canyon in wild poppies. The town 60 miles (96km) south-east of Los Angeles was flooded by tourists, who crushed the delicate flowers and unleashed chaos upon the small city.
This time, as Spring approaches, Lake Elsinore has a message for visitors: don't come.
"The flowers were beautiful; the scene was a nightmare," said Lake Elsinore's mayor, Natasha Johnson, in a press conference announcing that the canyon where the wild poppies are already starting to grow will be closed, along with nearby parking areas.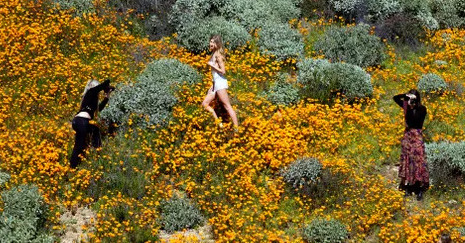 This year's set aren't expected to rival those that sprouted in 2019 – which were so robust that splashes of color across California deserts could be seen from space – but the town isn't taking chances on more super bloom bedlam.
"Back in 2019 numerous safety incidents occurred on the trail and on our roadways," Johnson said. "Tens of thousands of people, as many as 100,000 in a weekend – Disneyland-sized crowds – seeking to experience nature trampled the very habitat that they placed so high in regard and sought to enjoy."
People illegally parked their cars along the freeway and neighborhoods were so gridlocked that parts of the city were essentially severed, affecting emergency services and the ability of residents to go to stores and work. Long lines encircled the canyon as people waited for hours to pose with the poppies. Some, Johnson said, came unprepared for a hike, resulting in injuries.
The mayor said Lake Elsinore usually welcomes visitors but the 2019 phenomenon came at a cost that was too high for residents. So, as the poppies start to sprout, California highway patrol has begun saturation patrols of the area to ensure no one sneaks in. The Riverside county sheriff, Chad Bianco, warned that there will be zero tolerance for parking violations and the result could be a citation, a vehicle being towed or worse.
"It is a misdemeanor infraction," Bianco said, "and you're subject to arrest and booking into jail."
Despite the extra caution in Lake Elsinore, there's no guarantee that a super bloom will materialize across California. Though the state was hammered by downpours at the start of the year, rainfall totals don't yet rival levels from 2016 or 2019. There is still a chance California could have a dry spell before the start of Spring.
Softer rains, spread throughout the season, are best for nurturing growth but the severe storms that delivered strong deluges may have washed away tiny dormant seeds scattered across the southern part of the state.
But if the variables do come together and California is treated to a colorful display, officials and scientists are pleading with the public to experience the phenomenon in less harmful ways. Selfie stick-wielding spectators not only caused calamity in Lake Elsinore – they also devastated the landscapes and the delicate flowers they came to enjoy.
Native wildflowers are already under siege, threatened by climactic changes, invasive species and human encroachment. Cautioning the need for a better understanding of what she called "the ramifications of recreation", Dr Naomi Fraga, the director of conservation at the California Botanic Garden called for more awareness around how the public engages with the bloom.
"I don't think it has to be this way, where we have to cordon off nature from humans. We can have a more positive relationship," she said, noting that the issue largely stems from a lack of connection to the natural world that is missing in modern society.
She cautioned those who seek out wildflowers from inundating one area or straying from marked paths onto the sensitive soils. But even beyond the super bloom, there's a need to shift perspective. In the age of social media, where landscapes have become backdrops for "likes", a broader understanding of the ecology at work behind beautiful scenery is often neglected, which is why visitors overlook the damage they are doing.
"There is something missing there, in understanding that this is a natural ecosystem," Fraga said. "It's not just the poppies – it is the pollinators, and the soil microbes, and a network of biological life that requires an ethic of care for nature."
"It is not just for pulling likes and clicks and endorphins," she added. "If an educational voice can be a louder voice than the influencers, that could do a lot of good."
The Associated Press contributed to this story.
–

Topics