Canadian prime minister says he has spoken to US president Joe Biden about the object.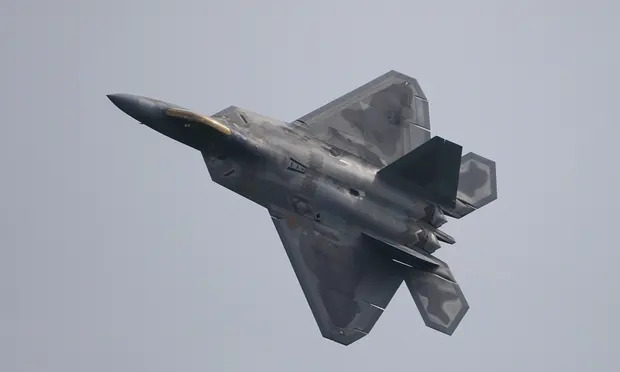 US F-22 Raptor fighter jet. Photograph: Suhaimi Abdullah/Getty Images
–

The downing of the latest object over Canada comes just over 24 hours after the US military took down another airborne object that was in Alaskan airspace. An American F-22 fighter jet shot down the high-altitude object off Deadhorse, Alaska, along the northern coast of the state, on Friday afternoon. Officials said the object entered US airspace but was heading toward the north pole at 20 to 40 mph.
Few details about the object have been released by the US government. At a White House press briefing on Friday afternoon, national security council spokesperson John Kirby described the object as being the size of a small car and said it was flying at an altitude of 45,000 ft, the level of a commercial plane.
In a statement on Saturday, NORAD and the US northern command said they, along with the Alaska National Coast Guard, FBI and local law enforcement, were conducting search and recovery activities of the object.
"Arctic weather conditions, including wind chill, snow and limited daylight are a factor in this operation, and personnel will adjust recovery operations to maintain safety. Recovery activities are occurring on sea ice," the statement said. "We have no further details at this time about the object, including its capabilities, purpose or origin."
The shooting down of the objects over Canada and Alaska comes a week after the US military took down a Chinese spy balloon off the coast of South Carolina on 4 February. Though Chinese officials apologized for the balloon and said it was a civilian airship meant for weather research, US officials maintain that the balloon was carrying equipment capable of intercepting and geolocating communications and did not have equipment consistent with weather balloons.
US officials say the balloon was part of a fleet that has been used to collect intelligence in more than 40 countries on five continents. They maintain that balloons went into US airspace at least three times during Donald Trump's presidency and twice so far during Biden's.
Despite the technology carried by the balloon, the Pentagon said the balloons do not give China any intelligence-collecting capacity beyond existing technology, such as satellites.
The appearance of the Chinese balloon over US airspace has caused a rift in the strained and delicate relationship between the Chinese and US governments. The US secretary of state, Antony Blinken, postponed an trip to Beijing, which would have been the first visit to the country by a top American diplomat since 2018.
Blinken said the spy balloon was "an irresponsible act and a clear violation of US sovereignty and international law that undermined the purpose of this trip".
–
Topics