The Oscar Mayer crew didn't relish their time in Las Vegas after the vehicle had to be towed to an auto body shop.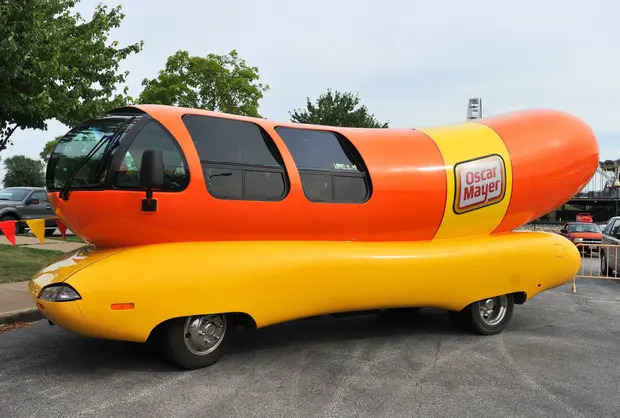 The Wienermobile makes a stop in Davenport, Iowa, in 2020. Photograph: Meg Mclaughlin/Dispatch Argus/Zuma Wire/Rex/Shutterstock
–
One of the US's most easily recognizable vehicles is back on the road after it fell victim to a crime that has grown more common in recent years: catalytic converter theft. While parked in
Las Vegas
ahead of a Super Bowl weekend appearance, the Wienermobile, a 27ft-long bright yellow-and-red hotdog on wheels, was disabled after someone took the vehicle's hardware.
The Wienermobile is actually a fleet of six vehicles used as a promotional tool for the celebrated Wisconsin-based hotdog brand Oscar Mayer. The Wienermobiles are driven across the nation by "hotdoggers" who claim the job for a one-year assignment. The morning after the converter was taken, the Wienermobile was towed to a nearby auto repair shop where mechanics installed a temporary converter that would allow the Wienermobile's crew to drive it.
"A hotdog truck, no way," Joseph Rodríguez, parts administrator for the auto shop where the Wienermobile was serviced, told Eight News Now, Las Vegas's CBS affiliate. "Imagine like a huge hotdog in the middle of your bay."
This is not the first time the Wienermobile has made national headlines. In late-January 2020, the roving shrine to processed meat was pulled over by a sheriff's deputy in Waukesha, Wisconsin, for disobeying traffic laws.
Catalytic converters are vehicle exhaust devices that convert toxic gases into safer emissions. They use precious metals like palladium and platinum in their core and can be worth more than $1,000 on the black market, according to the US Department of Justice.
Last year, federal law enforcement announced 21 arrests across the country connected to a catalytic converter theft ring that raked in more than $54m from the sales of metals recovered from the devices.
Topics