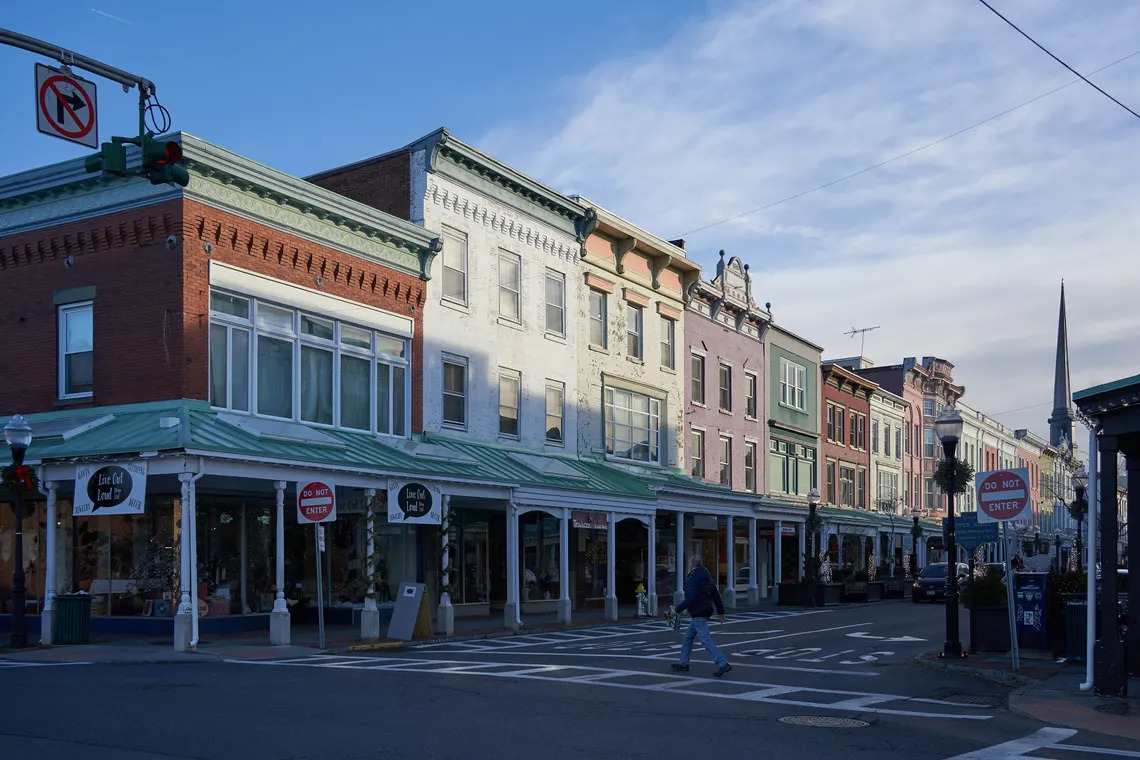 The median rent for a two-bedroom apartment in Kingston hit $1,615 this year – roughly 25% more expensive than three years ago. Photograph: Wilfred Chan
–
In Kingston, New York, tenants say their survival depends on the city ordering a rent reduction – something that's never been done before
–
By
Wilfred Chan in Kingston, New York

Last modified on 2023 Mar 08
–

I
t's 2pm after an overnight shift, and Amanda Treasure is lying in bed unable to sleep. She can't stop thinking about how most of what she brings home from her full-time job as a caretaker – two $900 checks a month – goes to rent for the two-bedroom apartment with a mold problem she shares with her disabled husband, teenage son and five pets.
Treasure has lived her whole life in Kingston, New York, a quiet city about 90 miles north of Manhattan. She got her first job at 14 delivering papers, and by 16 she was paying for her first car and insurance. The skating rink and bowling alley Treasure frequented as a teen disappeared soon after the IBM factory that once employed thousands of residents closed in the early 1990s, devastating the town. "Now there's nothing to do here, and the prices are through the roof," Treasure says. "And I'm working my butt off, but there's nothing to show. This world is just not what I expected being 52 years old."
Half of Kingston's 24,000 residents are renters, but finding a vacant apartment has become nearly impossible. The median rent for a two-bedroom apartment in Kingston hit $1,615 this year – roughly 25% more expensive than three years ago. That's devastating in a city where the median per-capita income is just over $32,000, and nearly one-fifth of residents live under the federal poverty line.
Mayor Steve Noble says the situation is untenable. "We are a close-knit community, and housing is a right people should have access to. But I can't have an apartment that cost $1,000 three years ago cost $2,250 today, when I know I haven't raised taxes in seven years in this city."
What began 10 years ago as a trend of city-dwellers flocking to Kingston as an alternative to the Hamptons was exacerbated by the pandemic. Younger New Yorkers drawn to Kingston's Instagram-worthy Uptown and the Rondout district's charming riverfront also found its outdoorsy backdrops suitable for remote work. Landlords in Kingston responded to the demand by converting houses into Airbnbs – between 2019 and 2021, there was a 30% surge in short-term rental bookings in Ulster county, which includes Kingston and the nearby town of Woodstock, with nearly 2,000 active vacation rentals charging an average nightly rate of $441, according to a rental industry report.
Some transplants tussled with investors and developers and snatched up properties of their own. All of this has led to a surge in housing prices in the last few years, at one point more rapidly than in any other city in the country.
This race to profit has pushed tenants like Treasure to the brink, forcing them to fight for what could become one of the most dramatic rent overhauls in recent American history. Last year, Treasure and other residents helped enact an unprecedented housing regulation, using a decades-old "housing emergency" law to order a rent reduction across 1,200 of Kingston's older apartments.
It marked the first time an American city had ever rolled rents back this way – stunning New York's landlords, who blocked it with a lawsuit that tenants have vowed to appeal. That's after another suit they have filed to block rent stabilization altogether, in a case that could soon reach the supreme court. Both sides know that what happens in Kingston could send a strong message to the rest of the country about rent regulation, as more Americans wonder: should cities be able to halt rents when they've gotten too high to survive?
'Kingston is the new Brooklyn'
If the upstate property rush was pioneered by weekend adventurers, it's become a goldmine for some of New York's largest developers, who have made aggressive moves to take over Kingston's housing estates. Between 2016 and 2019, one Brooklyn-based property firm, E&M, became one of the biggest landlords in Ulster county after buying five Kingston complexes. The largest of those was an ageing development called Stony Run – E&M paid $28m in 2019 for its 267 units, including Treasure's.
E&M was new to Kingston, but in New York City it had become infamous for buying affordable rental buildings and pushing low-income residents out. In 2019, after buying Stony Run, E&M's managing partner, Daniel Goldstein, told the Real Deal that it was pulling out of New York and investing in Kingston partly to escape the negative publicity in the city. But there was another big perk, he noted: unlike apartments in New York City, none of Kingston's were rent-stabilized.
Rent stabilization protects nearly half of New York City's apartments, limiting their rent increases to a small percentage each year. It's governed by a 1974 New York state law, the Emergency Tenant Protection Act, which covers buildings with six or more units built before that year. But to opt into the ETPA, a city must first declare a "housing emergency", defined as having an apartment vacancy rate of under 5%. Kingston had tried opting into it in 2019, but it found a 6.7% vacancy rate. Great news for Kingston landlords; not so much for renters.
Carolina Soto and her husband, who are retired, moved to Kingston in late 2020 after being priced out of their longtime New York City apartment. "But we were standing in line with 30 other people looking at apartments, and they were all Brooklyn prices. And the realtors were saying, 'Oh, well, Kingston is the new Brooklyn.'"
Then they found a two-bedroom at Stony Run, in "passable" condition. Soto, 71, remembers it had cracked flooring, a badly patched ceiling and a stained carpet – but it was affordable, at $1,250 a month. Promised fixes to their unit never came. Meanwhile, E&M was hiking rents for longtime residents – for Amanda Treasure, nearly 18% over two years. Then, in 2021, it sold Stony Run and three other Kingston complexes to a startup called Aker, which paid $81m for the portfolio, netting E&M a quick $26m profit.
Aker was led by a pair of millennials with Wharton degrees and Ivy League haircuts, Mike Amato and Will Brocker. "We want to truly build communities," Amato told Hudson Valley media after the deal closed. Brocker added: "We're the epitome of long-term holders … We're not going anywhere."
The pair also promised big upgrades, and claimed existing tenants would see "very very minimal increases" in rent. But they sold a very different story to investors. In its fundraising materials, Aker boasted of plans to hike rents at Stony Run as much as $428 over five years, before selling the buildings with "meat on the bone" – meaning room to push rents even higher.
Those increases came even sooner than expected. Carolina Soto's first renewal offer in 2021 came with a 10% hike, which she haggled down to 7.5%. The next August, she came home to a threatening letter taped to her door: if she signed a renewal within two weeks, Aker would only raise her rent by 18%. If not, her rent would go up by 30%. And if she didn't sign by the fall, it would go up to $2,200 a month. (Aker declined to be interviewed but said in an emailed statement that "ever single dollar of rent we've collected" has gone toward "making repairs to the decades of deferred maintenance at the property".)
Soto called her neighbors. Some were sobbing: they had also gotten big increases even as their homes were falling apart. Soto's neighbor in her 90s said her kitchen flooded every time it rained. Another told her: "My sewage is backing up in my sink, and they're not answering my calls." Everyone had the same fear: "I'm losing my apartment, but there's nowhere else that's the same rent I've been paying."
But they had more power than they realized. Just days earlier, Kingston officials had declared a housing emergency after it found the city's apartment vacancy rate had plunged to 1.57%, making Kingston the first city in upstate New York to qualify for rent stabilization. That meant the city would select a board of nine residents to vote on how much to adjust buildings' rent for next year.
In New York City, the rent guidelines board has gone as far as to freeze rents completely during times of crisis, such as the pandemic. But Michael McKee, a veteran New York City tenant organizer and housing law expert, told the Kingston tenants they could go even further. Why not decrease the rents?
Soto was selected to join Kingston's rent guidelines board. McKee and two non-profits, Citizen Action and For the Many – the latter led by a former Bernie Sanders campaign organizer, June Nemon – organized Soto's neighbors into a formidable tenants' union. Wuyatta Reece, a 47-year-old nursing assistant, had been part of similar efforts in Brooklyn: "I know about going up to landlords," she said. "I'm not afraid of them." Treasure brought in her 25-year-old neighbors Charlotte Lloyd and Darin DeMatteo, also Kingston natives about to be priced out. Marie Talaska, a 69-year-old retiree, joined after receiving a 30% rent increase that meant she wouldn't have enough money for her blood pressure medication. So did Teresa Greene, a 62-year-old wigmaker who said rent stabilization wasn't just about saving money but rather saving their community.
A historic reduction
For nearly five hours on 5 November last year, residents pleaded for a rent decrease at a packed public hearing held by the rent guidelines board at the Kingston library. One retiree's voice trembled as she described paying $1,660 for a leaky one-bedroom out of "sheer desperation" because nothing else in the city was available. "You're our last hope," she told the board. A pregnant woman and her husband broke into tears describing being evicted when their home became an Airbnb, forcing them to move to a cabin in the woods with no running water. And Amanda Treasure seethed as she recalled coming back to a moldy apartment after working around the clock: "That's not how someone should live."
Rich Lanzarone was the most defiant of the few landlords who spoke. In a speech that drew boos, he blasted the board as "illegal" and dismissed Kingston's ballooning rents as "nothing really unusual". The real problem was entitled tenants, he argued: "When I hear tenants talk about how their landlord is terrible because the central air conditioning was slow to get fixed, I want to puke," he said.
It didn't persuade the room, and on 9 November, the Kingston rent guidelines board was ready to hand the tenants a win. It took more than three hours of deliberation – Carolina Soto had tried holding firm for a 30% rent reduction – but in the end, they settled on 15%, a number Soto knew would still be a lifeline. It was the first time any American city had voted to decrease rents this way, and the tenants were ecstatic. "This is huge," thought Teresa Greene. Nemon, the former Bernie Sanders organizer, says it was "the best I've felt since the Iowa caucuses".
But the landlords were ready: a group founded by Lanzarone called the Hudson Valley Property Owners Association filed a lawsuit to stop the rent regulation. The suit accused Kingston of underestimating its vacancy rate – HVPOA claims it's actually closer to 8%, too high to declare a housing emergency. It also said that the rent board had overstepped its authority in decreasing rents. In February, a county judge delivered a mixed ruling, upholding Kingston's rent stabilization but striking down the 15% rent reduction. Both sides are planning to appeal.
Rich Lanzarone says his determination to defeat rent regulation is simple: "First of all, it's a threat to my income, a threat to my financial life." Second, an unnamed Kingston official urged him last summer to "get property owners together and fight this thing". (The group now has about 75 members.)
Lanzarone, 71, is originally from Brooklyn, and an executive at Turner Construction, where he's helped build some of New York City's prisons ("a necessary evil", he calls them). Since moving to Kingston about 30 years ago, he's poured hundreds of thousands of dollars into properties here, including a six-unit building he says used to be the "ugliest building in Kingston", and he thinks regulating rents would do nothing except bleed him dry.
"My tenants are driving Teslas, BMWs, Volvo XC90s," he says. "I'm driving a 20-plus-year-old Jeep with 400,000 miles." And while he concedes the price of apartments "might be a hardship" for some renters, "if you're a relatively young and mobile person, I don't think it's a big deal."
The true housing emergency, Lanzarone argues, is the one hitting landlords' pocketbooks: "If there's no profit, there will be no investment. It's just a fact of life." Aker echoed this in an email, saying it was struggling to fix Stony Run after the new rent rules made its lenders "unwilling to provide supplementary funding for repairs". So did Jay Martin, executive director of the Community Housing Improvement Program, one of the New York landlord groups trying to take rent stabilization to the supreme court. He says Kingston's rent regulation would reduce "the incentive for others to build more housing", creating a "death spiral" into "perpetual housing scarcity".
Housing activists dismiss those arguments as fearmongering. "There's no reason that only buildings built before 1974 should be subject to rent regulation," says Michael McKee. Ideally, "rent regulation should be treated as a public utility, for the public good. Like how New York state regulates the price of milk. You don't have to declare an emergency to regulate the price of electricity."
In addition to rent regulation, activists want good cause protections, which would require landlords to provide justification before evicting tenants or hiking rents. They say governments need to sharply limit short-term rentals, and invest far more in permanently affordable housing. These are things that Kingston has partially accomplished – it passed its own version of good cause last year; has ordered Airbnb owners to get hotel permits; and has even approved a raft of new condominiums with affordable units. Mayor Noble says his city proves affordable housing policy can coexist with new development: "We've yet to see any developer walk away" because of rent regulations. He thinks that big wins in small places like Kingston can inspire change at the state or even national level, but that hasn't materialized – yet.
All that now hangs in the balance. After the county judge's February ruling, Noble proposed a one-off deal that would keep Stony Run affordable for middle-class renters for 40 years, but tenants have rejected it, worrying it could undercut their fight for broader protections.
They are also anxious about whether the state attorney general, Letitia James, will make a show of force in defending the rent reduction that the judge struck down. "My understanding is what we did was legal there, it's just that there's no precedent for it," says Soto.
Amanda Treasure runs through worst-case scenarios about the lawsuit every day. Her voice cracks slightly when she talks about it. "They're just dangling it over our heads. It's like, what's gonna become of where we're living? Are we going to be able to stay?"
McKee thinks there's reason for hope. "Tenants are in the ascendant right now – we have a huge amount of momentum."
Nearly every Stony Run tenant recalls Nemon encouraging them during moments of doubt. "Tenants are beaten down to think they can't change anything," Nemon says. "But we have to show them winning is possible, because that's the only way they'll believe they can do something. And once you believe that, everything changes."
–
Topics