New Mexico's ancient water systems nurtured its rural farmlands through climate change. But after last year's wildfires, there's little time left to save them.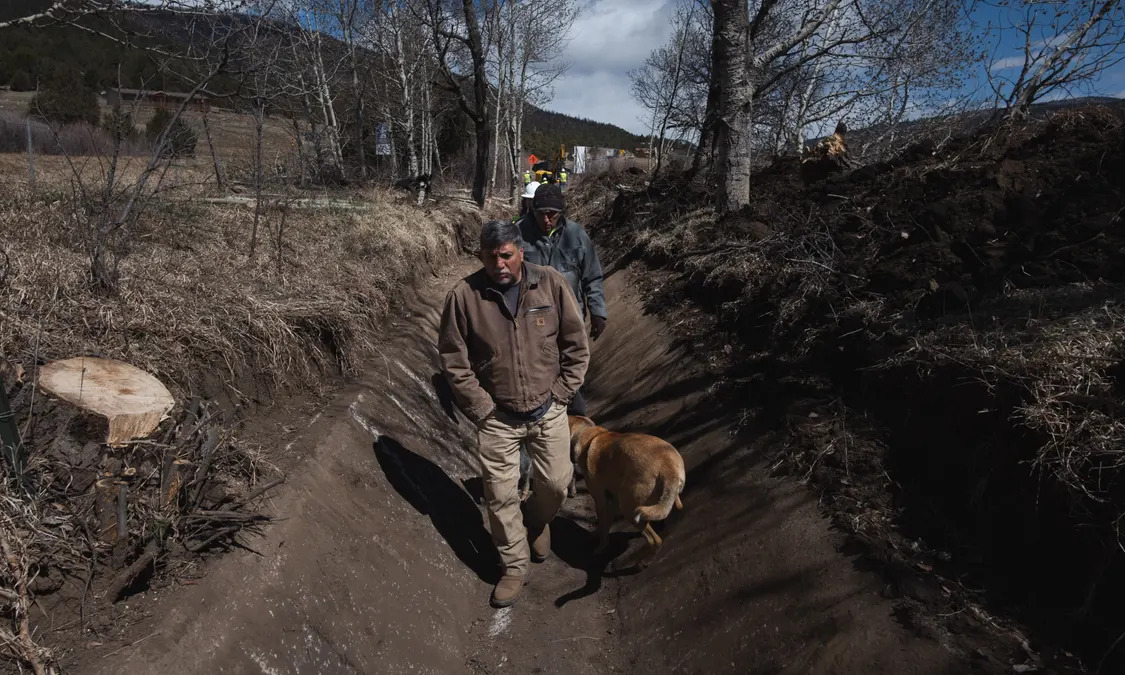 Mayordomos Carlos Arellano and Jimmy Sánchez walk through a recently cleared acequia in Holman, New Mexico, where government funding for repairs has been slow. Photograph: Ramsay de Give/The Guardian
–
Last modified on 2023 Apr 12
–
Jimmy Sánchez knows that making things grow during a megadrought isn't impossible – it just requires a bit of creativity.
In 1882, his ancestors constructed a 24-mile-long ditch to bring water from headwaters in the nearby mountains to the bone-dry foothills where they lived in Holman, New Mexico, allowing their village to sustain fruit, vegetables, and livestock.
"They celebrated down here at the churches that there was water, and water is life," said Sánchez, "and here we are."
This acequia, powered only by gravity, made it possible for once barren land to bloom. Now 61, Sánchez serves as the acequia's mayordomo, or custodian, ensuring everyone in the village receives a fair share of water.
But natural disasters last year battered dozens of New Mexico's centuries-old acequias, threatening to block precious water from reaching the foothills this Spring and sending Sánchez and other mayordomos in a race against time to repair the damage before the mountaintop snow melts – or possibly lose the acequias forever.
"If we can't harvest that water that comes down to feed these communities, to feed these other ditches? Wow," Sánchez said. "It's over."
Last Spring, the largest wildfire in state history tore through northern New Mexico, destroying more than 900 homes, farms and other structures and leaving centuries-old rural communities in ruins. Then, in August, torrential rains flooded the same area, clogging acequias with ash and debris from the blaze and instantly cutting off villages like Holman from their natural water supply.
"If we sleep on it, before you know it, they'll be erased," Sánchez said.
Last year's historically severe wildfire season devastated more than 100 acequias in New Mexico.
More than 70 acequias in the state's north were damaged by the Hermit's Peak/Calf Canyon fire and the flooding that followed, according to Paula García, executive director of the nonprofit New Mexico Acequia Association. Another 30 or more were harmed by the smaller Black fire in the state's south-west, imperiling the state's acequias like never before. "We've grown up with fire," García said. "But to this extent, over such a wide area, it really is a big catastrophe."
García, 51, grew up on a ranch in northern New Mexico which didn't have access to an acequia. She knows the difficulties of dry land farming and the importance of acequias in sustaining its rugged, self-reliant spirit. "I thought this was going to be our little utopia," she said. "I didn't think the apocalypse was hitting here first."
Acequias were first introduced by Spanish settlers to New Mexico in the 1600s, who adapted similar techniques already used by the area's Indigenous Pueblo people. But their history spanned cultures and continents even before that. The technology was brought to southern Spain in the eighth century by Berber and Arab settlers who had honed the practice in arid North Africa.
Each acequia serves a unique community – and in each case, mayordomos control the water access of dues-paying members. They divide water proportionately and cut everyone's supply in dry years – a form of small-scale democratic governance that predates the existence of the United States. And acequias run entirely on gravity, with no need for powered pumps or any other assistance, meaning they're completely carbon neutral – and their water keeps flowing even when the power goes out.
"That's what's so enchanting about it," García said. "You get a feeling for the calculation of the ancestors. They were so deliberate in those terraces, you see how they were thinking it through."
But the recent undertaking to repair New Mexico's acequias is unprecedented in their centuries-long history. In a given year, tending to these intricate, labyrinthine networks requires intimate knowledge of their inner workings that mayordomos have gleaned over generations. Sánchez gestured to the fresh bed of packed, smooth earth in one small section of his acequia, which he had cleared with a backhoe that morning.
"That is history, from all the silt, the leaves, from 100 some years," he said. "That water's gonna flow."
Just feet away, however, the ditch was blocked by heavy mounds of blackened branches and soot. In other areas, it was filled in completely with dirt, leaving almost no sign of what was there before.
Repairing these types of damage can run above $250,000, "and that's a conservative estimate", García said. After factoring in additional labor costs and the heavier machinery needed in some cases, she said, that cost could double or even triple.
The specific nature of acequia management also meant that Federal Emergency Management Agency (FEMA) officials did not immediately know how to remedy them. In New Mexico, acequia associations are legally considered to be local government entities, which should have allowed FEMA to immediately disburse aid. Yet it took months for the disaster agency to correctly classify them as political subdivisions rather than nonprofits.
At the time of publication, only one acequia that applied for FEMA funding has started receiving help, García said. And while the New Mexico department of transportation has started working with the federal agency to remove debris from acequias, neither agency has secured funding to begin rebuilding their headgates, diversion dams and other parts that have been destroyed.
"I'm happy we've made progress," García said. "But it's probably too late. I don't know if we're going to get many of the acequias cleaned in time for the Spring runoff."
Of the 37 acequias that have applied for Fema assistance through the New Mexico Acequia Association, six have been cleared to receive debris removal services from the transportation department, according to a regional FEMA spokesperson. FEMA will evaluate individual acequias to assess permanent repair work once debris has been removed, the spokesperson said.
New Mexico governor Michelle Luján Grisham's latest budget proposal, released in January, set aside a one-time appropriation of $5m for acequia construction – which would bring the total amount of funding available this year for acequia maintenance to $7.5m. But acequia advocates say Luján Grisham's proposal is far from enough – and the state legislature's own budget proposal did not mention any additional funding for acequia repair.
And while President Joe Biden promised last year the federal government would cover the entire cost of wildfire damages, Congress has thus far approved less than half of what New Mexico estimates it needs – and the aid which has been disbursed has gone to individuals filing damage claims, not to acequias.
The New Mexico Acequia Association partnered last year with local health insurance provider Western Sky Community Care to issue $3,000 micro-grants to acequias. These grants are tiny, but in some cases allow associations to cover the cost of clearing small segments of their acequias.
But most acequia associations, accustomed to keeping just a few thousand dollars in their bank accounts, need far more help than the grants provide. FEMA's slow response has added to a deep sense of resentment toward the federal government, which residents accuse of mismanaging the forest for centuries. The Hermit's Peak/Calf Canyon fire started after the US Forest Service lost control of a prescribed burn.
Ralph Vigil, chair of the New Mexico Acequia Commission, which advises the state government, bristles at the difficulties acequia associations face in securing federal funding while money flows to the Forest Service and US Army Corps of Engineers, which operates under the Department of Defense. "But yet we don't defend ourselves from this stuff," Vigil said. "These forest fires cause way more of a mess than any terrorist who has ever come here."
And the August monsoon rains that followed the wildfire left their own destruction, flooding the wildfire's burn scar and contaminating the main water supply of Las Vegas, a city of 13,000 just 65 miles east of Santa Fe. Vigil, who is also an organic farmer and the mayordomo of an acequia in nearby Pecos, said some residents no longer trust the water quality from local acequias or the private wells that draw from aquifers.
"People are calling me, telling me their livestock won't drink the water," he said. "They're afraid to irrigate their crops."
Vigil, 44, worries that failing to repair the acequias around Pecos would also cut the only local sources of fresh produce and dairy in what is already a food-insecure community. "All we have are Dollar General and Family Dollar in this town," he said. "You're stuck with that. Your options are nothing."
Acequias are, at their heart, an ancient form of water sharing designed to promote equity while working in concert with the natural world. The model can be imperfect; water rights disputes between Indigenous communities that predate the acequias and the communities that currently depend on them have occurred. And yet, those who shepherd these systems and have for decades hope to see them last, even as funding sources seem scarce.
However, the window of time to protect these networks is closing, with Spring snowmelt happening earlier each year due to climate change. Sánchez fears that acequias which aren't cleared this year will be abandoned, deemed too damaged and costly to bother repairing.
"If we don't get the water down this year, we're never gonna get it down," Sánchez said. "It has to happen now."
–
Topics