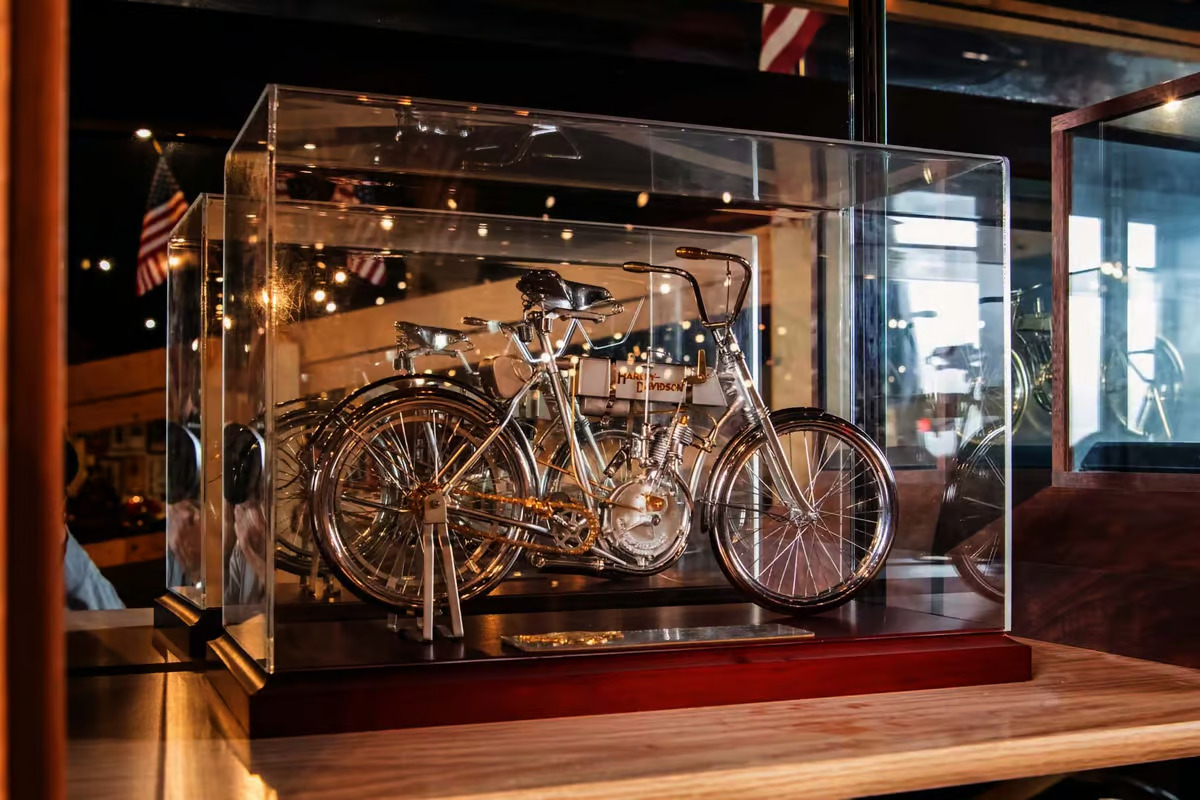 From board trackers to streamliners, and everything in between … and enough historic memorabilia for 100 man caves. That's a Diamond Anniversary replica of the first Harley (a single).  View gallery – 41 images
–
Parham was the driving force behind the National Motorcycle Museum in Iowa. Following his death, his 300-plus motorcycle collection which formed the core of the museum display, was sold off by Mecum Auctions "in situ" and it contained so many of history's most important motorcycles that it offered something for everyone, regardless of their two-wheeled interests.
From board trackers to dirt trackers to road racers to plain old transportation, the depth and breadth of the Parham Collection was vast, and it also contained significant machines from the bicycle and aviation industries which ran in close parallel to the motorcycle industry for several decades.
From an historic perspective, several of the motorcycles sold were unicorn rare, so this sale might one day be seen as one of the history's most significant motorcycle auctions, along with the original Steve McQueen Estate Auction in 1984, the Otis Chandler Estate Auction in 2006 and the EJ Cole Collection Auction in 2015.
V-twin Heaven
An eccentric firing order is as American as apple pie, rock 'n' roll and blue jeans. Throughout the last century, America embraced both the v-twin for its motorcycles and the V8 for its automobiles, and this auction had the finest examples of almost every significant v-twin in history, with specimens of every major American v-twin except for a Cyclone, and in most cases it offered multiple examples of the finest models. Indian made its first V-twin in 1905, Flying Merkel in 1908 and Harley-Davidson made its first V-twin engine in 1909, but the grandaddy of them all was included in this sale, made by one of the foremost engineering prodigies of the modern era. That's the Curtiss V-twin at top right above.
While the Curtiss is one of the most important motorcycles in the country, the 1150cc Sears Dreadnaught at top left in the above image is also an extremely rare model that just 22 years ago was the most valuable motorcycle that had ever been sold at auction.
On 15 September 2001, Sotheby's Motorcycles and Bicycles Auction in Chicago sold an exceptional unrestored 1914 Sears Dreadnaught Nine for $126,750, the same day it sold Bruno Spaggiari's Ducati 750SS race bike (the bike that finished second in the legendary 1972 Imola 200 Ducati 1-2) for $121,250. They were the first two motorcycles to sell for more than $100,000 at auction.