County sheriff's office euthanize animal after removing it from the water, but identity of the dead person yet to be established.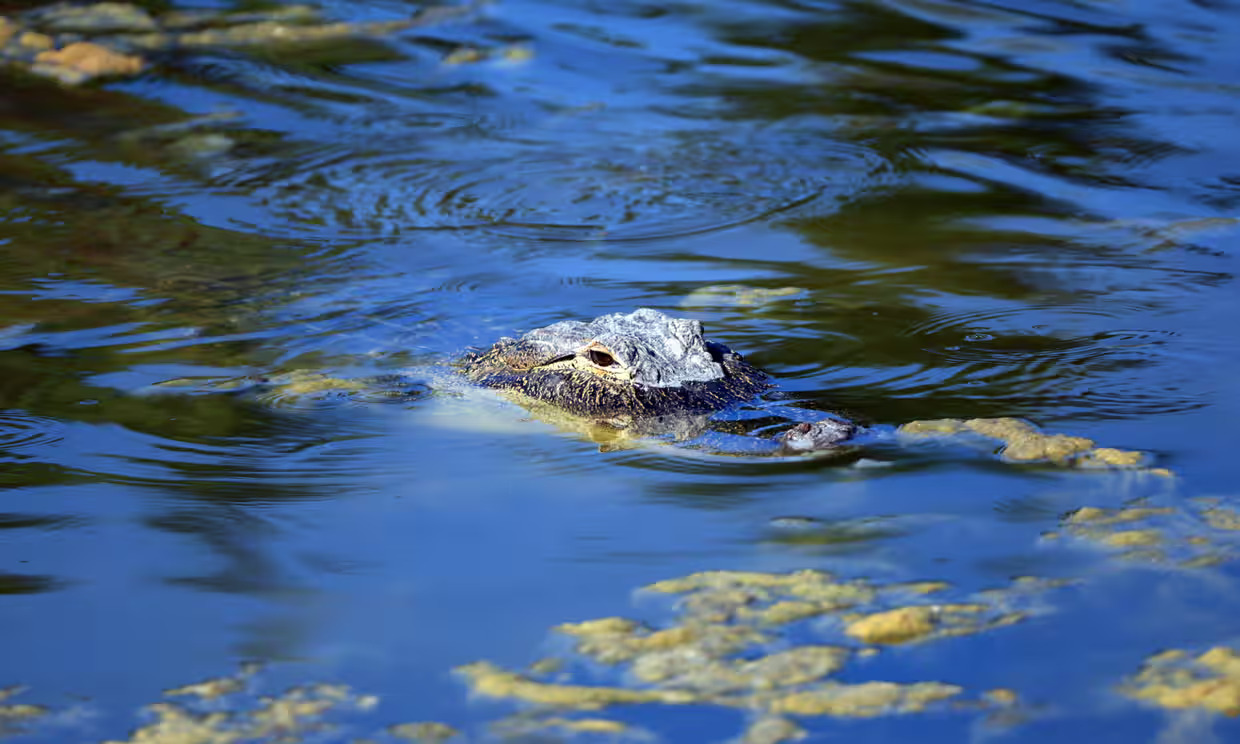 Deputies did not say whether investigators believed the alligator (not pictured) had killed the person whose remains were in its mouth. Photograph: Sam Greenwood/Getty Images
–

Last modified on 2023 Sep 23
–
Authorities euthanized a 13ft alligator with human remains in its mouth after the animal turned up on Friday afternoon in a canal in Largo,
Florida
.
The Pinellas county sheriff's office said in a news release that the male alligator measured 13ft 8.5in and was "humanely" killed after being removed from the water. The sheriff's dive team recovered the human remains from the waterway.
Deputies stopped short of saying whether investigators believed the alligator had killed the person whose remains were in the animal's mouth.
Deadly alligator attacks are rare. According to the online animal encylopedia AZ Animals, there are an average of about six fatal alligator attacks reported in the US each year.
More than 1 million alligators reside in Florida. Over the last 10 years, Florida has annually averaged about eight unprovoked alligator bites on people that have warranted medical attention.
Jamarcus Bullard described spotting the alligator on Friday afternoon in remarks to a local NBC News affiliate.
"I threw a rock at the gator just to see if it was really a gator and like it pulled the body – like it was holding on to the lower part of the torso and pulled it under the water," he said. Bullard then recorded the alligator with his cellphone and provided it to authorities.
Investigators said they were conducting an autopsy of the person whose remains were found with the alligator to determine a cause of death. The identity of the dead person had also not been established, according to officials.
–
–
Congratulations on being one of our top readers globally!

Allow us to cut to the chase. You are one of the Guardian's most avid readers. We are proud that you turn to us so often for our independent, authoritative journalism.
We'd like to humbly suggest that as our work appears to bring some value to you, it is only fair to ask you to pay a modest something in return.
Our open journalism is supported by readers like you. We have no billionaire owner or shareholder – but this is a huge advantage: it means we have the freedom to challenge powerful, influential people and fearlessly chase the truth.
Your support will enhance this work, investing in journalism that's always free from commercial or political interference. Give just once from $1, or better yet, power us every month with a little more. Thank you.
Continue
Explore more on these topics