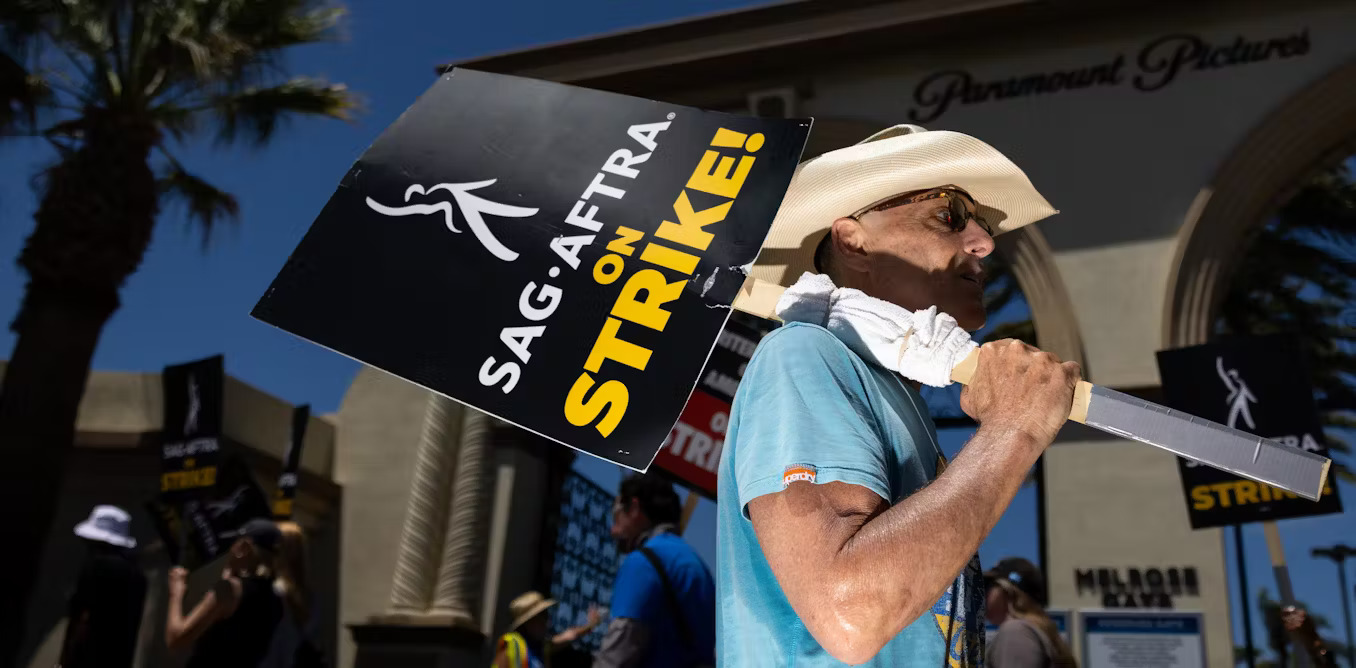 That shift has also changed how actors get paid. And some of the gains actors made through prior labor struggles – particularly through residuals, which are a small percentage of shared earnings from film or television – have vanished.
Though the Writers Guild of America ended its strike on 2023 Sep 27, actors represented by SAG-AFTRA remain on strike. Residuals are one of their main sticking points: They want to receive 2% of revenue generated by shows they appear in on streaming platforms.
Studios counter that the number is unrealistic – that it amounts to actors not assuming any financial risk when shows and movies flop, while reaping rewards when they succeed.
But in reality, actors simply want to adapt existing payout models to changing technology and consumption habits.
The pandemic revealed a glimpse of the future
The extent to which streaming changed the entertainment landscape came into focus during the COVID-19 pandemic.
With many movie theaters shuttered because of government restrictions and most people reluctant to sit in a theater, some movie studios decided to release their movies through streaming services using what they called premium video on demand.
For the made-to-be-blockbuster "Black Widow," Disney decided to release the film simultaneously in theaters and on its propriety streaming service, Disney+, for US$30.
The film's star, Scarlett Johansson, sued Disney for breach of contract. Johansson claimed to have lost $50 million from the simultaneous release, because her contract did not have the same revenue-sharing deal in place for streaming as it did for a theater release.
At $30, the price to stream "Black Widow" on television was equivalent to roughly three theater tickets. At the same time, premium video on demand cuts most costs associated with exhibiting a film in the theater: The studios generally keep 80% of the revenue as opposed to the standard 50% split with theaters.
Actors decided to strike because they see the pitfalls for their own livelihoods tied to the structure of the contracts they are currently fighting to negotiate.
A struggle for dignity
The tensions today echo Hollywood's 20th-century labor battles.
The Hollywood studio system of the 1930s and 1940s was an era of vertical integration in the film industry. The "Big Five" major studios – Metro-Goldwyn-Mayer, Warner Bros., Paramount, 20th Century Fox and RKO – employed directors, writers, actors and camera operators. Filming, editing, distribution and showings were all handled in-house.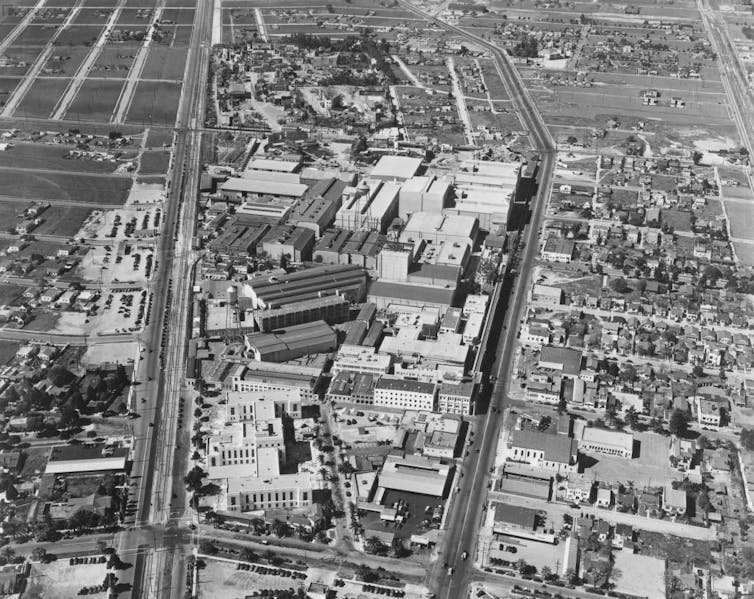 This created an efficient system that allowed for assembly-linelike production of films, not unlike Ford automotive factories. Actors – just like everyone else employed by the studios – received a salary for the length of their contracts. They didn't make any extra money if a film became a blockbuster hit.
This period was rife with exploitation, with low wages, sexual violence and little bargaining power for actors.
Actors fought hard against this system; they wanted to be able to negotiate payouts tied to their work on specific films. In 1948, the U.S. Supreme Court ruled that the studio system violated antitrust laws, ending these unfair contracts. Actors' newfound free agency allowed them to sign contracts with studios for individual films. This resulted in large earnings for some stars, but they were still largely cut out of any studio revenue.
Some actors began receiving residuals in the 1950s as part of their individual contracts. The system was modeled on royalties earned in music based on the sale of copyrighted music. But where composers and recording artists share in the copyright, actors do not have a claim to copyrights.
In the 1960s, SAG-AFTRA went on strike to insist on residuals as part of the basic contract to provide revenue sharing with all actors. Ultimately, they received them.
Getting a slice of streaming revenue
It's key to remember that today's actors already receive 2% residuals on revenue from traditional television in secondary markets. A secondary market is a market outside of the film or television show's original domestic release. Examples include foreign box office revenue, DVD sales, syndicated television shows and theater releases that appear on television.
So shows originally produced for broadcast television aren't an issue. When "Friends," which was originally an NBC sitcom, generates $1 billion dollars on streaming platforms, the five leads each earn 2%, or $20 million apiece. But a show like "Stranger Things" – produced and owned by Netflix – never goes to a secondary market as long as it is aired only on Netflix, so the stars earn only their original pay.
The problem, then, comes from the fact that the existing residual model, per the expiring SAG-AFTRA contract, doesn't take streaming into account.
In the streaming era, all new shows produced by streaming platforms are concurrently reruns and original runs. Actors want 2% of streaming revenue generated by the show or film to replace this line of income.
One issue is that revenue from streaming remains an opaque process. Data on earnings tied to streams aren't as clear as ticket sales or advertising revenue, and streaming platforms tend to keep this information in-house. But streaming services have their own metrics to determine the value of a show or film to the company, such as the number of streams, the first show a subscriber watches upon paying for a subscription and how long a customer remains a subscriber.
This 2% of streaming demand isn't all that different from what writers received to negotiate the end of their strike on 2023 Sep 27. As part of that deal, the Writers Guild of America negotiated residuals based on viewership on streaming platforms, and producers agreed to share data with the WGA, such as total streaming hours, to help determine payouts.
While 2% of revenue generated from shows and films equates to a larger demand for residuals than the WGA, actors have always had higher residuals than writers.
Closing the loophole
The original shows and movies created for streaming services like Netflix, Max or Disney+ reflect a vertically integrated system in which the platform owns the studio and the rights to those productions. In this sense, it harks back to the old studio system of the 1930s and 1940s.
For this reason, there is no benefit for studios and platforms to offer actors revenue for every stream, because technically there is no secondary market. Studios and platforms see larger profit margins, while actors see a loss of income. This is the loophole striking actors are looking to close.
When reporters characterize SAG-AFTRA President Fran Drescher as taking a "hard line" for 2% of revenue, they fail to see that is what actors already have. Actors simply want it to apply to shows and films that originate on streaming platforms.
They fought this battle to end the studio system. The fight for 2% is about demonstrating that the work actors do for streaming television is just as valuable as it's always been.
–
–
David Arditi does not work for, consult, own shares in or receive funding from any company or organization that would benefit from this article, and has disclosed no relevant affiliations beyond his academic appointment.

We believe in the free flow of information
Republish our articles for free, online or in print, under a Creative Commons license.
–
Want to write?
Write an article and join a growing community of more than 171,300 academics and researchers from 4,744 institutions.